When you're the biggest female breakout star Marvel has had in many years, you don't have to wait long for your first statue to be released! This weekend at the 2016 Winter Wonder Festival, the Kotobukiya Spider-Gwen Bishoujo statue was fully revealed–including an unmasked Gwen Stacy head! But Gwen's not coming alone–Kotobukiya Bishoujo Loki (!!!) and Lady Thor statues were also announced at the event!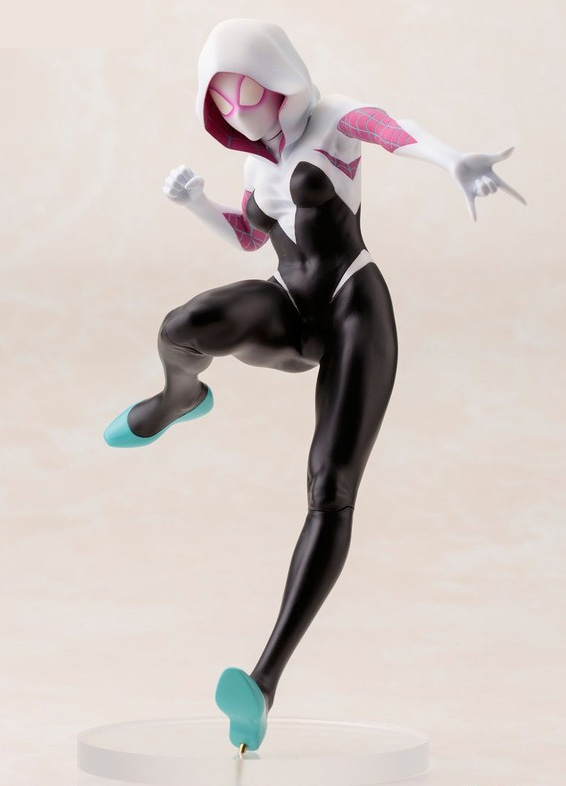 We've known about the impending arrival of the Bishoujo Spider-Gwen statue since last summer (when the artwork was revealed at San Diego Comic-Con 2015), but finally Koto is almost ready to open up pre-orders for what I expect to be one of their hottest-selling Marvel Bishoujo statues ever.
And at the Winter Wonder Festival 2016 in Chiba, Japan today, we got to see unmasked Spider-Gwen for the very first time. While I was pretty sour on the zombie-looking unmasked Gwen Stacy head in my Hasbro Marvel Legends Spider-Gwen figure review, this Kotobukiya Gwen head is a totally different matter.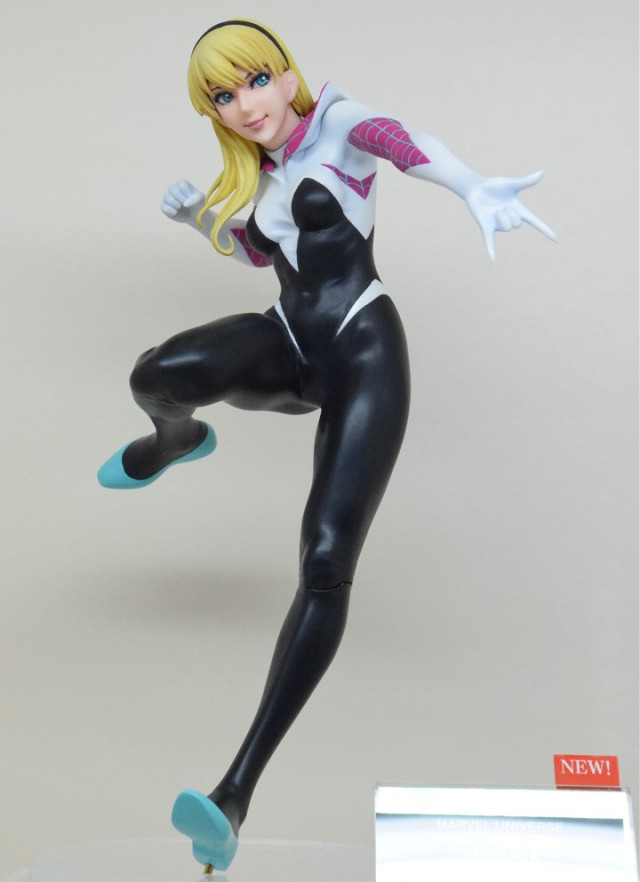 This time out, Gwen Stacy looks young, vibrant and happy–just the way she should. She obviously been stylized to fit in with the rest of the Bishoujo line, but I can accept Koto's work here with no problems. I think Gwen looks great!
And to my immense surprise, so does my wife (who's an even harsher critic of the Kotobukiya Bishoujo statues than I am)! My wife said she was very pleased with the anatomy and proportions on the Koto Spider-Gwen, something she's never said about any entry in the line. I guess Gwen will be coming home later this year!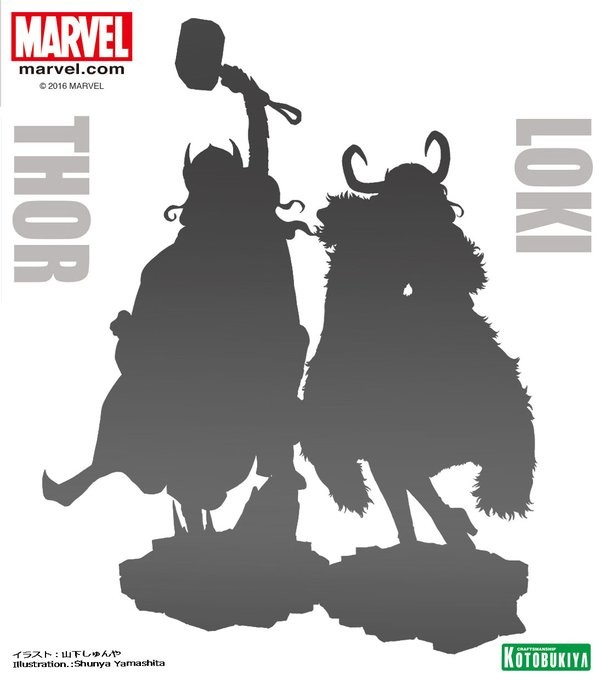 In addition, Kotobukiya Bishoujo Lady Thor and Loki statues were also announced (in silhouette form) at Winter WonderFest today!
Whereas DST chose to do their Femme Fatales Jane Foster Thor statue in a semi-awkward walking pose, Koto has opted for the semi-classic "raising Mjolnir into the air" pose, which looks far more iconic and heroic to me. Hopefully the manga-stylizing of Thor doesn't do anything wacky to ruin what should otherwise be a home run.
Lady Thor is another hot character, so she's no surprise at all, but I am thrilled with the announcement of a female Loki statue. While Lady Loki isn't my favorite version of the God of Stories (that's Kid Loki), I never imagined any company would make a Lady Loki anything, so the Loki Bishoujo is a must-have for me. The pose seems a bit peculiar to me in silhouette form, but I'm sure once we see the actual prototype it'll be more clear exactly what Kotobukiya is going for with the design of this one.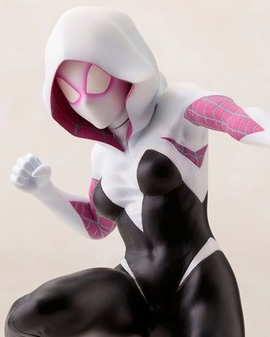 I'll post additional hi-res photos of any new statues Kotobukiya displays at New York Toy Fair 2016 next weekend, so be sure to follow the Marvel Toy News Twitter and Facebook Pages for updates and photos throughout the event. I'm really looking forward to seeing Spider-Gwen in-person!
Anyone out there totally psyched about the Spider-Gwen prototype and the announcement of Bishoujo Thor and Loki? If you're not pumped about these, what female characters that haven't been done yet were you hoping to see Kotobukiya tackle?