Over the weekend I talked about a trio of new Kotobukiya Marvel statues that unexpectedly debuted at SDCC 2016 last week–but I didn't talk about the statues we were expecting to see that were revealed there. Such is the case with a piece I was skeptical about–right up until I saw it. It might be one of the very best (and most classy) additions to the Marvel Bishoujo line yet: the 1/7 Kotobukiya Lady Thor Bishoujo statue is now up for order!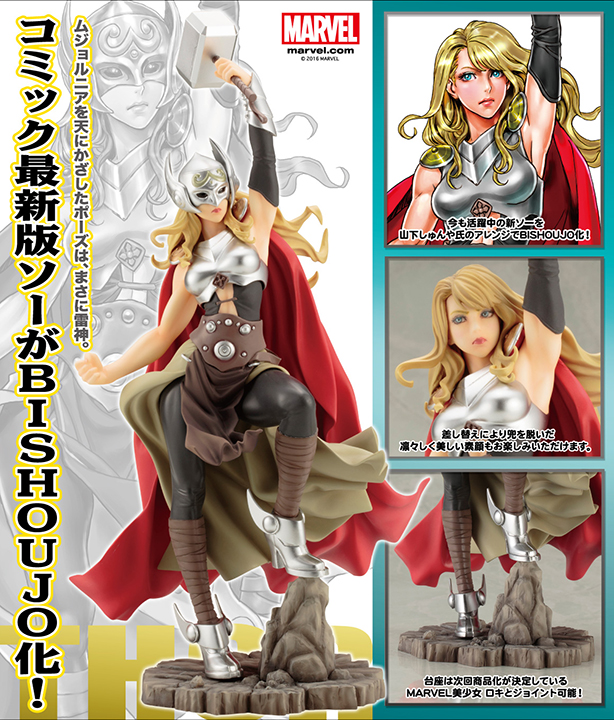 Much like I was dubious about it being worthwhile when Marvel first announced that a female Thor was on the way, I had my doubts that sculptor Shunya Yamashita would create a classy Kotobukiya Bishoujo statue worthy of the majesty of Jane Foster Thor. I was wrong on both counts.
Debuting at San Diego Comic-Con 2016 last week, it turns out that the Bishoujo Lady Thor statue just may be Kotobukiya's best work in the entire Bishoujo line to date!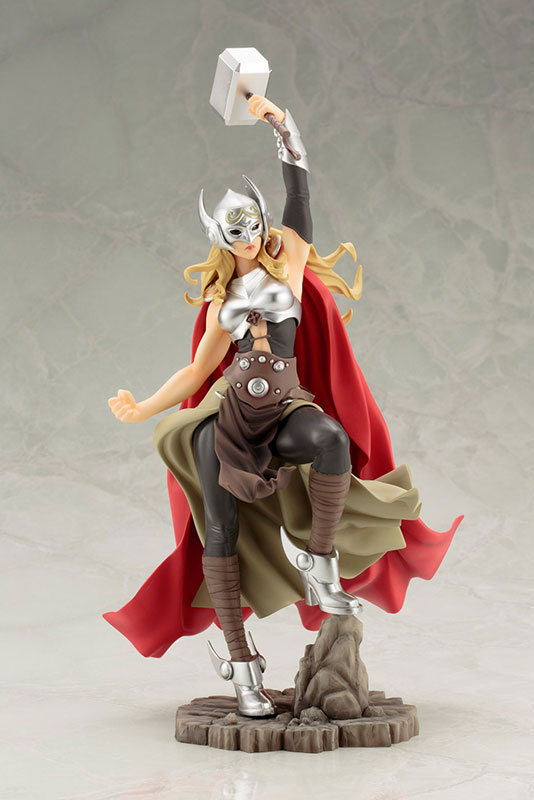 Long gone are the days of embarassing, seductive poses in the Marvel Bishoujo statues series. Instead, here we see Jane Foster Thor standing powerfully upon a rocky base, lifting Mjolnir into the sky with confidence.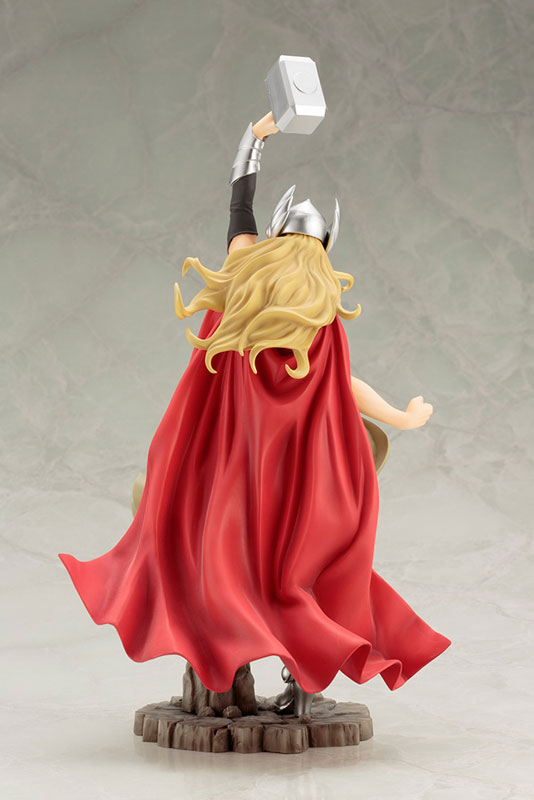 Lady Thor is still a great beauty in this piece–but I don't feel like it's objectifying her and I won't be embarrassed to have friends and family see this statue in my home (unlike some past Koto Bishoujo statues).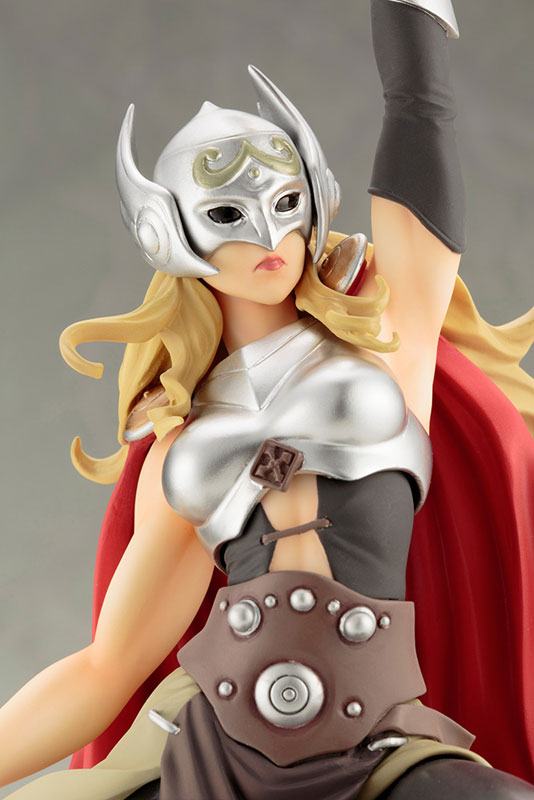 Because of the pose she's in, this statue stands just under 12″ tall–that makes it the largest entry in the whole Bishoujo Marvel line thus far! And with Thor being a powerhouse Thunder goddess, the extra presence seems only right.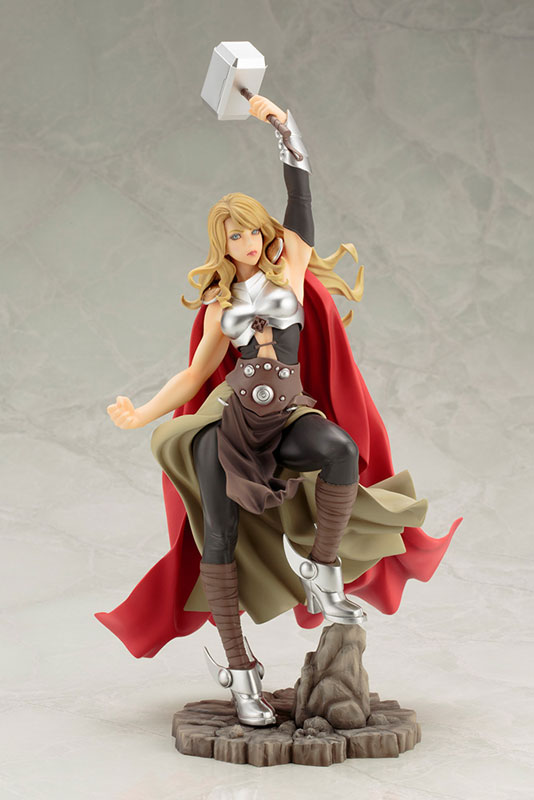 As an unexpected surprise, every Koto Thor Bishoujo statue comes with an awesome extra: an interchangeable unmasked Jane Foster Thor head!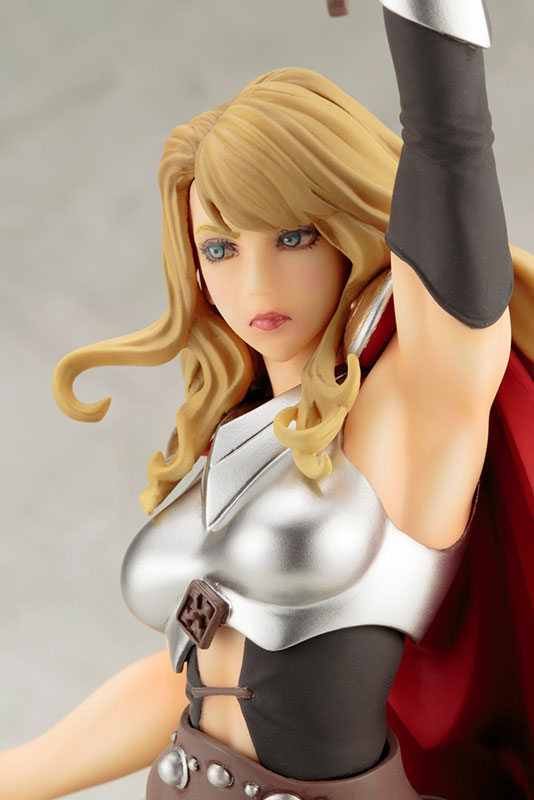 The head itself is beautiful and I think Kotobukiya did a terrific job of it, but as Jane Foster Thor rarely (if ever) removes her helmet in the comics, I'm going to stick with the default helmeted head myself.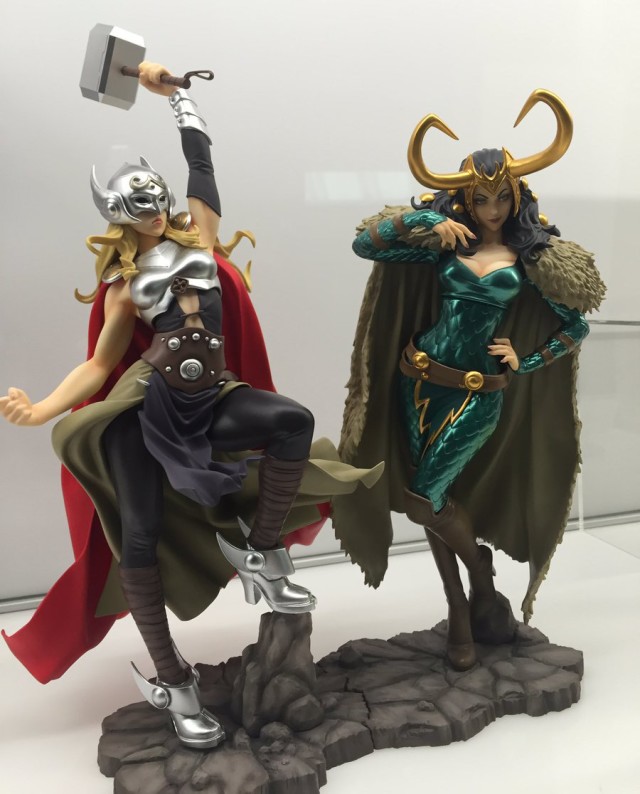 Although we don't have a pre-order or a release date for it just yet, we do know that the Jane Foster Thir Bishoujo statue is going to have some company in the very near future–in the form of the Kotobukiya Loki statue that also debuted at San Diego-Comic Con!
We knew from the silhouette shown at New York Toy Fair that this would be a Lady Loki (based off the modern Marvel comics), and I think we can all agree that this sculpture has turned out to be the most attractive Loki statue ever. Loki and Thor will have interlocking bases, as the two characters are fairly intertwined.  I'll look forward to getting this Loki to accompany Bishoujo Thor!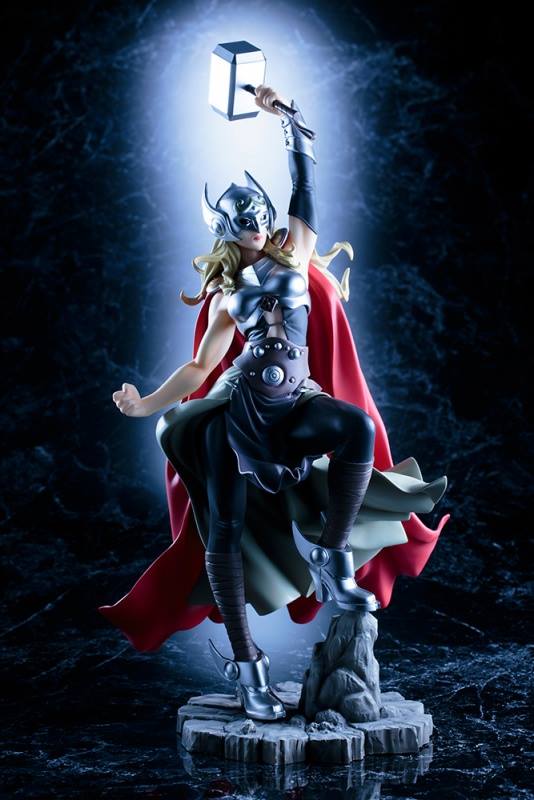 The Kotobukiya Bishoujo Thor statue is now available for pre-order, and is scheduled to ship out in January 2017. Her MSRP of $89.99 is more expensive than were used to from this Koto Bishoujo line, but she's also the largest statue in the Marvel series to date and can be pre-ordered with a discount right now from BBTS.
How do you feel about Kotobukiya's Goddess of Thunder statue, Marvel collectors? Is this very tasteful Bishoujo the best representation of Lady Thor that we've seen yet from any manufacturer, or is there something about this statue that's leaving you dissatisfied?