I'm committed to completing my review of the entire Captain America Marvel Legends Red Onslaught series before I leave for Toy Fair International 2016 in two days, and I've got two figures to talk about in that time. One is an almost 100% new tool that came close to totally blowing me away and is super hot on the aftermarket, and the other… isn't. Today I'll be reviewing the latter: Marvel Legends Whirlwind is now available–should you order one?
The Right:
Say what you will about the 1990's Iron Man animated series, but not only did it give us a rockin' theme song that's hummed by millions (well, maybe thousands) to this day, but it also accomplished four other feats: it made me fall in love with the characters of MODOK, Blizzard, Whirlwind and Century.
Now, I somehow doubt that Century will be getting the Legends treatment from Hasbro any time before never, but after over a decade of anticipation from his legions of fans, the 6″ Marvel Legends Whirlwind action figure has arrived!
Now, Whirlwind's costume may not be the most compelling design that you've ever seen, but what it is is "authentic": Hasbro has done a fabulous job of bringing Whirlwind's look to life with his first six inch figure ever.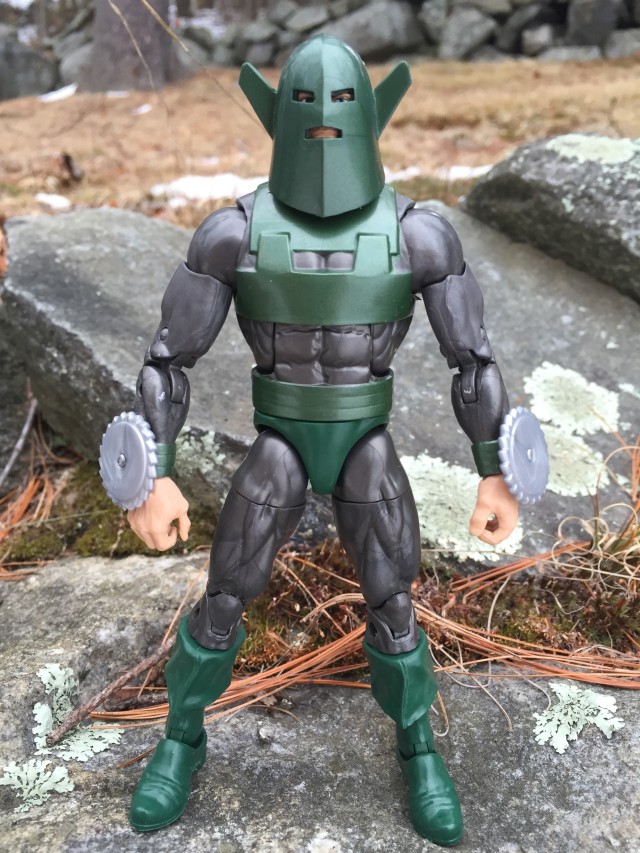 While Hasbro could have cheaped out and used boring paint/plastic on this figure, they opted to give Whirlwind the nice plastic with swirls in the green and grey. It's tough to see in photos, but this plastic choice really has a lot of depth to it up-close and looks great.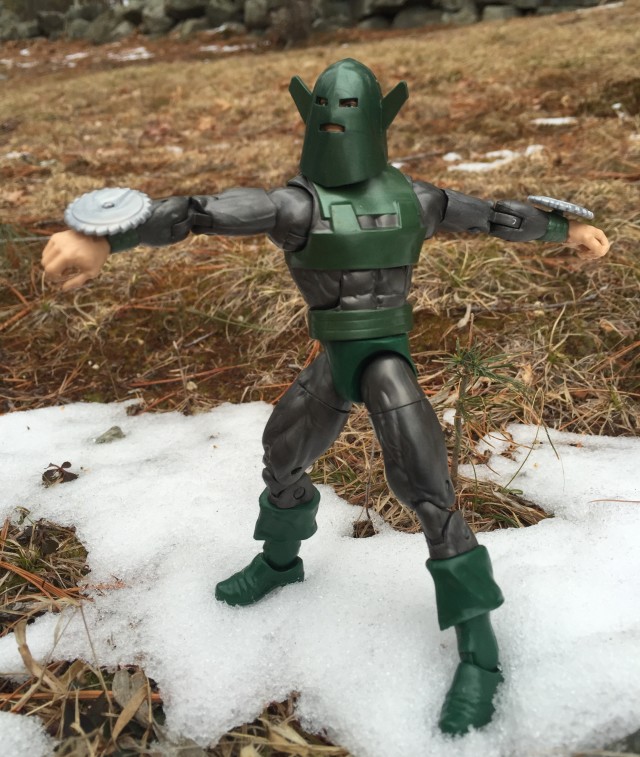 Quality-wise, the 6″ Whirlwind Legends figure is a triumph. There's not one spot where the paint applications go astray, and the joints on Whirlwind are nice and tight in all of his many points of articulation.
On the articulation front, Captain America Legends Whirlwind joins a growing number of 6″ figures in this line with every conceivable point of articulation. Ankle rockers, double-jointed knees and elbows, ball-jointed head/hips/shoulders, swivel waist/biceps/thighs/calves, upper torso ab crunch… every point you could want is present and accounted for.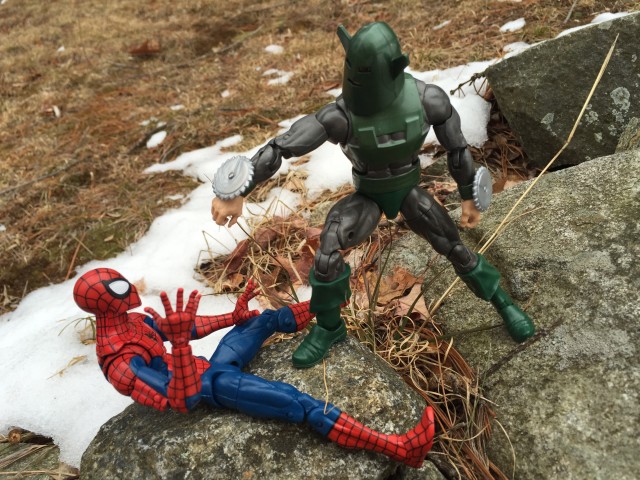 There's not much in the way of accessories, but two spinning saw blades are included, attached to Whirlwind's wrists. I thought these might be glued-on, but it turns out that while they're tightly connected, you can pop them off with some pressure if you really want.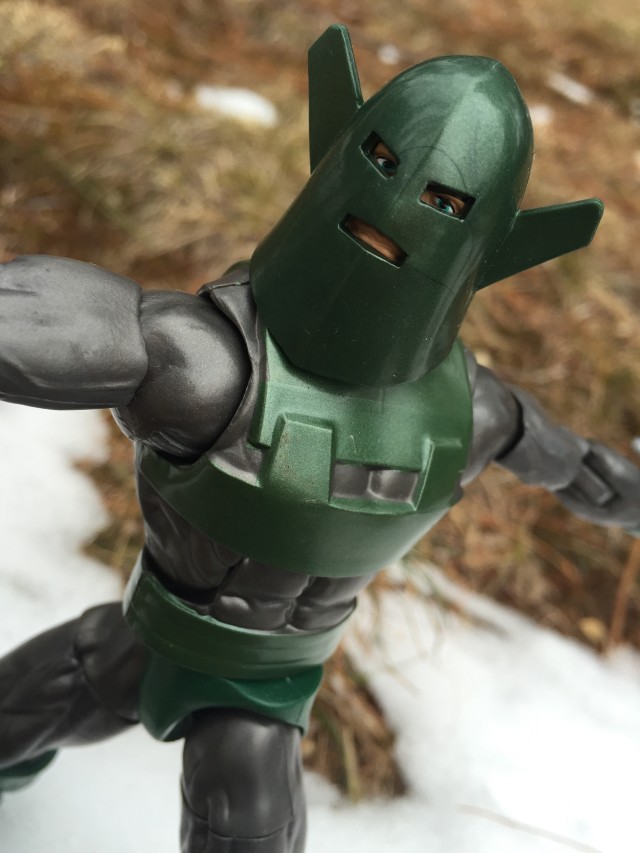 Another detail on this figure that I just love is how well-painted Whirlwind's eyes as are inside of his helmet. They're really quite piercing through the slits in the helmet!
The Wrong:
Considering that Captain America Legends Whirlwind is among the slowest sellers in the Red Onslaught Build-A-Figure series, you might expect "The Wrong" to be filled with complaints about the figure. But, well… I don't really have any.
For $20-$22, it would be nice if the Whirlwind Marvel Legends figure came with more than two tiny saw blades and a Red Skull BAF arm as accessories, other than a huge "spinning lower body effects piece" (which would be unfeasible at this size and price-point), I can't think of a single meaningful accessory that Hasbro could have included.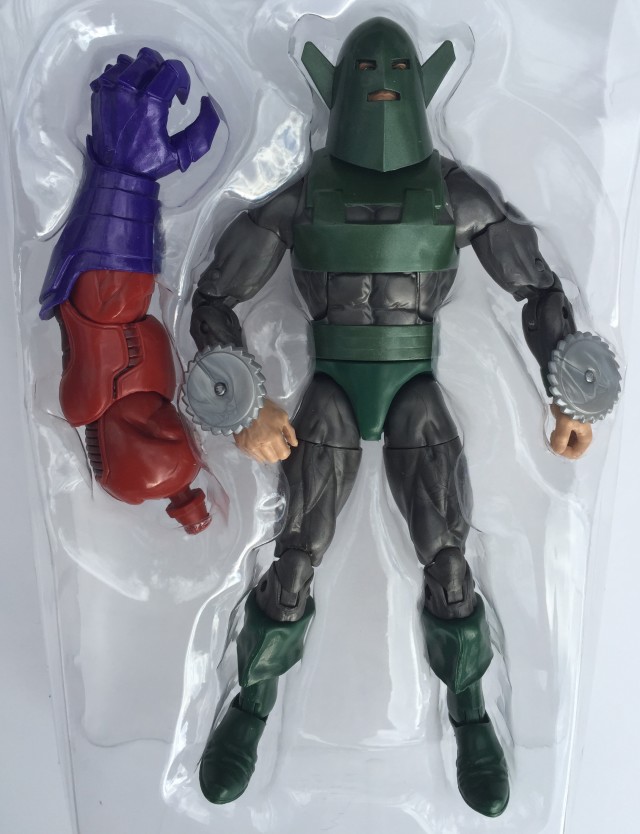 I'm sure someone will read this and point out some nitpick that I should be critiquing here (and if you're that reader, make sure you're leaving a comment to let me know), but I'm drawing a blank for viable things to complain about on this 6″ figure of this legendary character.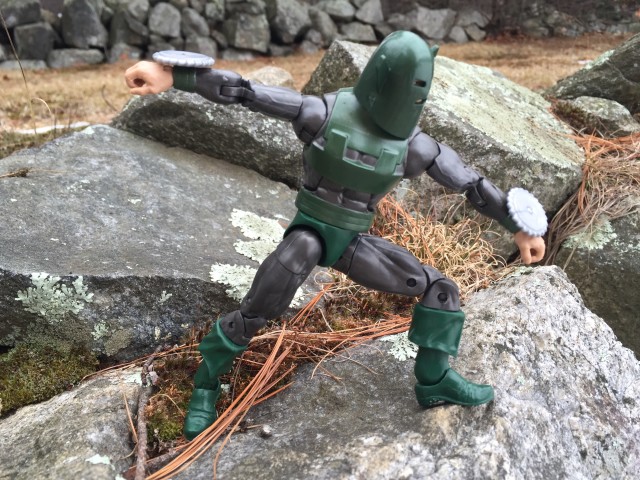 Overall: While the Captain America Marvel Legends Whirlwind figure isn't the most eye-grabbing or scintillating toy in the series, I'm hard-pressed to find anything to complain about with this release. The articulation, paint applications, quality control and sculpting are all top-notch. A really cool spinning effects piece would have pushed Whirlwind into 'A+' territory, but even without, this is a perfect representation of the character. If you've ever wanted a Whirlwind action figure, this one will never be topped.
GRADE: A