Before the ridiculousness of the overblown #WheresRey campaign, fans asked a less preposterous question: "Where's Gamora?" Despite a fair number of Gamora figures released in several major lines in 2014, she legit did have less merch produced and appear on less GOTG paraphernalia than any other main character in the movie. But now Sideshow is giving Gamora a smidge of revenge: the Sideshow Exclusive Gamora Premium Format Figure statue is now up for order!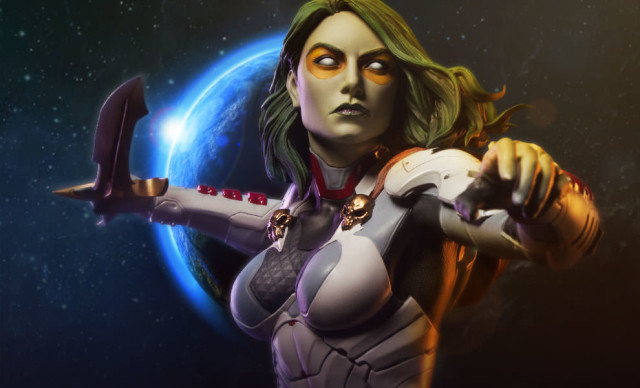 If there's a word to describe Sideshow Collectibles' play for high-end collectors' money to kick off this year, that word is likely "merciless". In just the first month and a half of 2016, Sideshow has already put up three jaw-droppingly gorgeous, wallet-crushingly expensive female Premium Format Figures up for sale.
But you know what? If they're going to be as beautiful as this Premium Format Gamora statue, I think I'm okay with Sideshow taking a huge bite out of my bank account this year.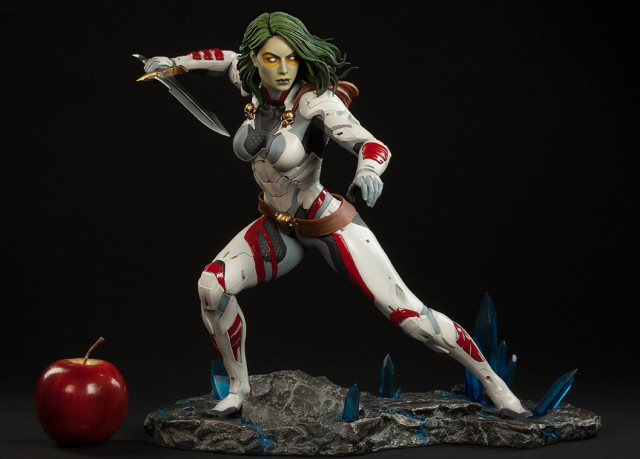 To the shock of basically everyone, Gamora has turned out to be the very first member of the core Guardians of the Galaxy team to receive the quarter-scale statue Sideshow Premium Format Figure treatment! While Sneak Peeks for Star-Lord and Rocket Raccoon were shown in 2014, those PFs were never actually produced.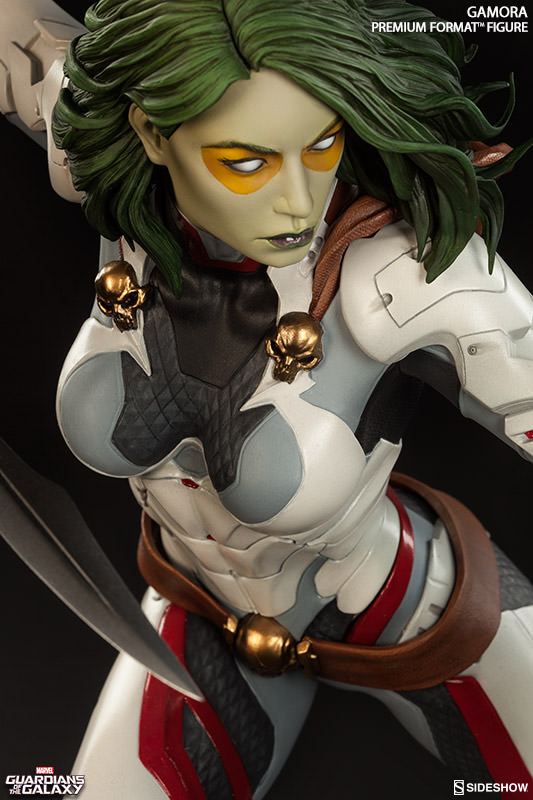 It's taken almost a year and a half, but I finally realize what I didn't like about the Guardians of the Galaxy movie Gamora design: the lack of the yellow outlines around Gamora's eyes. Present here, the yellow outlines definitely give Thanos's daughter an extra air of danger.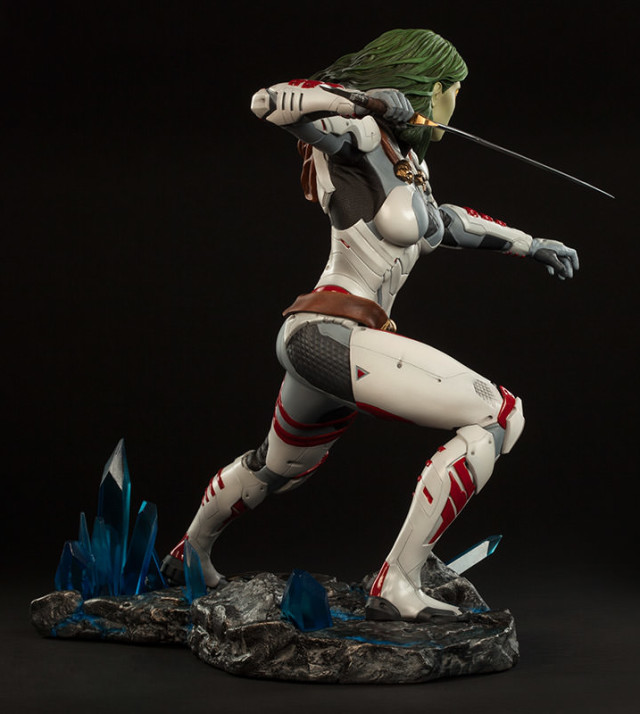 Rather than her sort of boring movie costume, Sideshow Collectibles is giving us the Marvel NOW! Gamora costume, which has a great sci-fi space suit look to it and reminds me quite a bit of the Starboost Iron Man armor.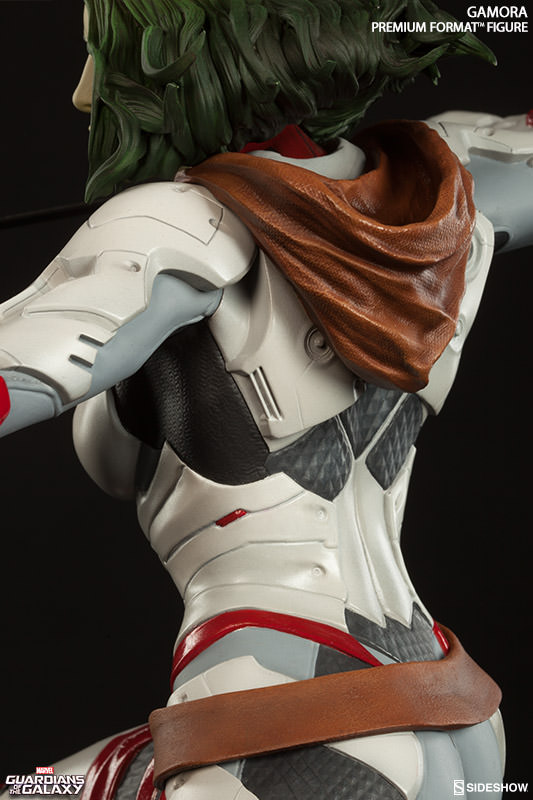 The white battle armor is adorned with gold skulls and a brown sculpted hood–both of which looking absolutely superb.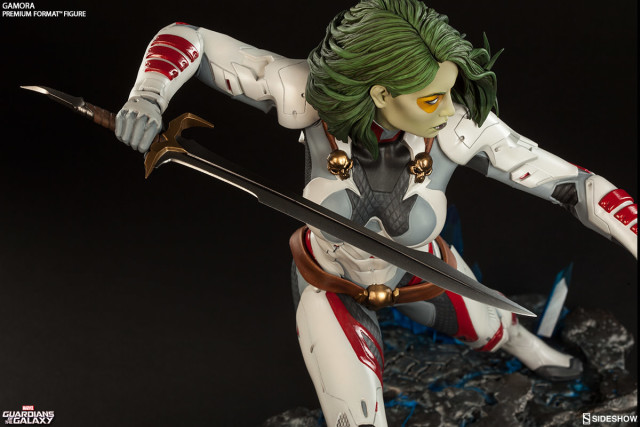 And the highly-detailed Godslayer blade sword definitely looks appropriate as a weapon for the most dangerous woman in the universe!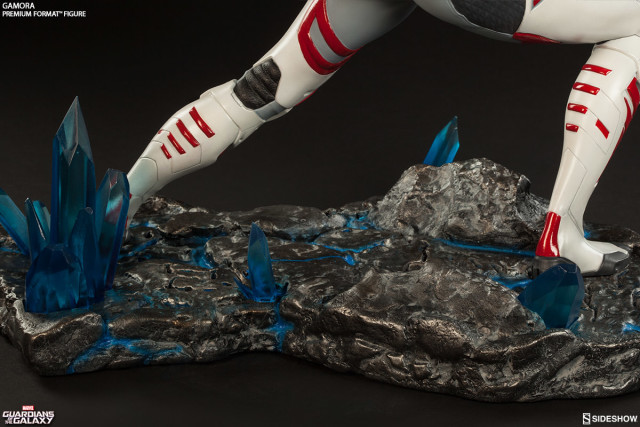 Even the base for this Premium Format Figure Gamora statue looks stupendous, as Gamora is poised aggressively atop a rocky terrain with translucent blue crystals implanted in it. Sideshow's products have reached a whole other level in this past year.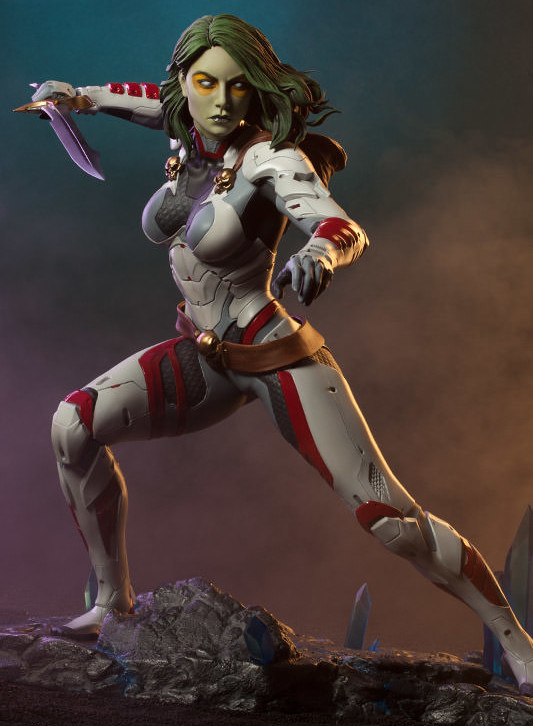 On another positive note, while this 1/4 Sideshow Gamora figure is still enormously expensive, it's a full $50 cheaper than the Carol Danvers and Dark Phoenix figures that went up for order last month. With prices what they are on Premium Format Figures today, I'm happy to save every $50 I can!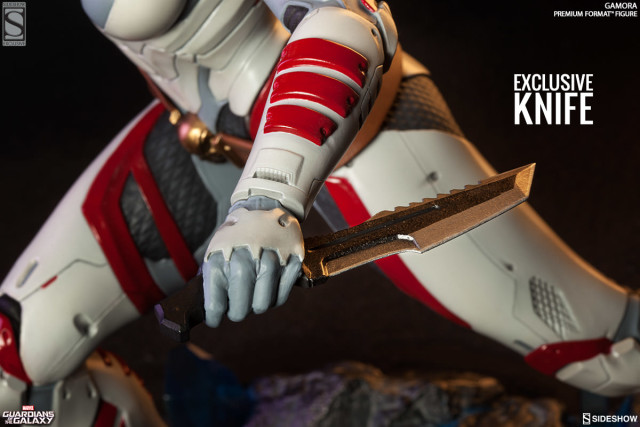 As usual, there's a limited Sideshow Exclusive Gamora going up for order this week as well. The exclusive edition will come with one additional weapon for the Gamora statue: a swap-out knife accessory that Gamora can utilize for dual-wielding action.
Now, this is definitely not as cool an exclusive as the alternate portraits of the Captain Marvel and Dark Phoenix Premium Format Figures, but the knife looks masterfully painted and sculpted. I think that the dual-wielding look is going to be the best way to display this statue, so I'm in.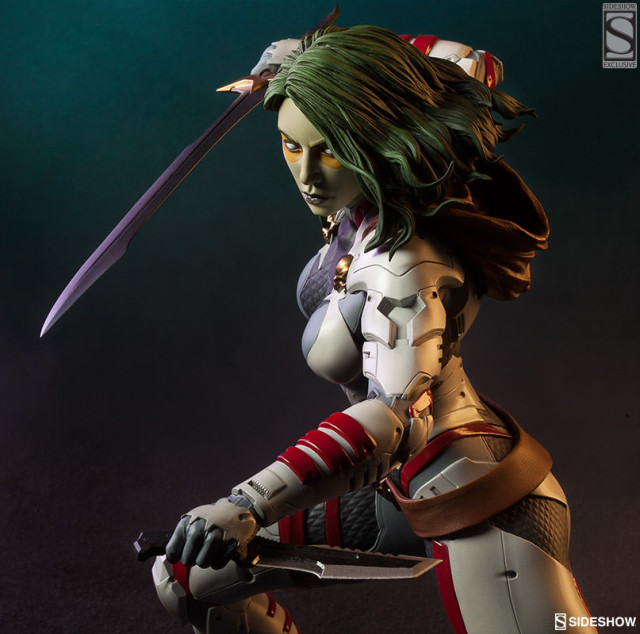 The Sideshow Exclusive Premium Format Gamora statue goes up for order on Thursday afternoon 2/11, and will only be available via the Sideshow Collectibles website. Thankfully, payment plans are available to make the terrifying price-tag a mite less intimidating (and to keep those of us wanting all three 2016 Marvel women PFs from going bankrupt all at once).
Which of the first three Marvel Premium Format statues of 2016 is your favorite, Marvel collectors? Are you taking the plunge and paying out the big bucks for Gamora or any of the other female statues Sideshow has put up for sale this winter, or are these beautiful pieces too pricy for your blood?