I posted my reviews of the Guardians of the Galaxy Vol. 2 Marvel Legends Yondu and Star-Lord figures earlier this month, and now it's time to complete the set with the last movie figure in Wave 1! Drax is arguably the least popular member of the team, and you can get this new Marvel Legends Drax figure for about $17 online right now–but is it worth upgrading if you already own the 6″ Drax figure from the first movie?
The Right:
In 2014, Hasbro released their first Guardians of the Galaxy Marvel Legends Drax movie figure, based on the Dave Bautista version of the character. And, well–that figure was pretty great. I wasn't hugely in love with the somewhat attitude-less neutral expression on the head sculpt–or the final battle red pants chosen–but otherwise that Drax Marvel Legends 6″ figure was a complete winner.
Three years later, that same figure is back–but with changes to the two aspects I didn't like before! Is this Drax toy perfect now?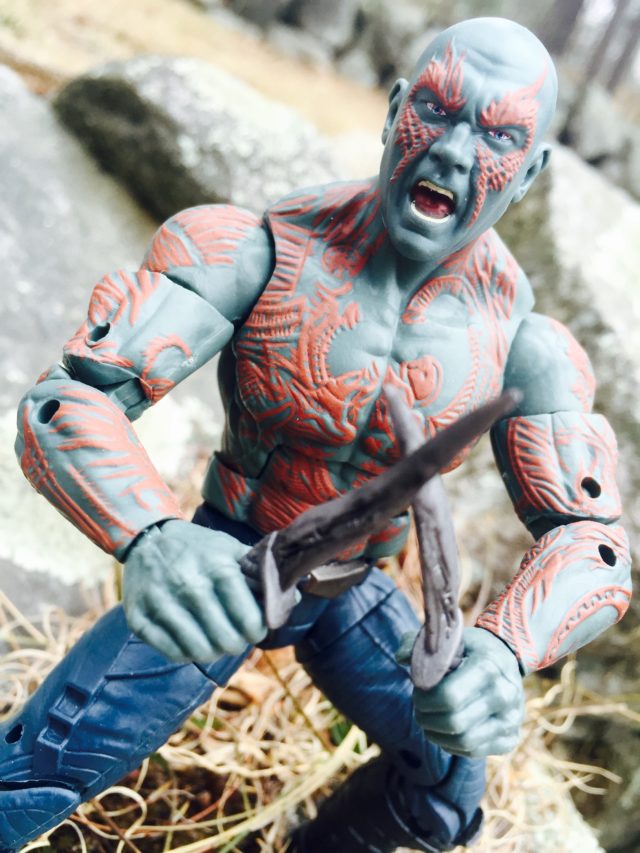 The only (and I mean only) new tooling on the body for this GOTG Vol. 2 Drax Marvel Legends figure for 2017 is the head sculpt. Gone is the boring head from the original version of this figure, replaced with an aggressive, yelling Drax head.
This new head sculpt is galaxies more expressive than the last one, and while it's not exactly Hot Toys level, I can see a bit of a Dave Bautista likeness in the portrait. On the head sculpt front, I would say this is a humongous improvement.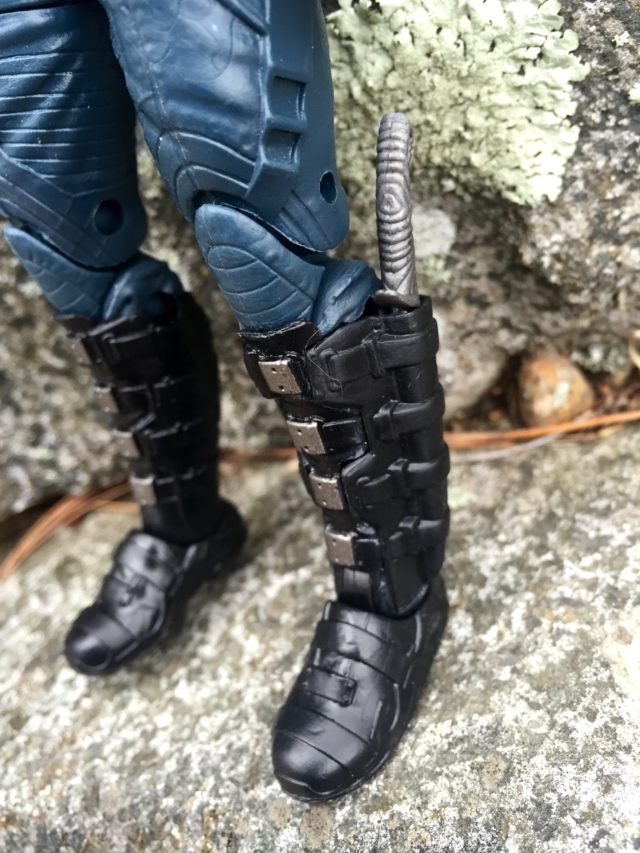 The rest of the body mold remains the same as in 2014, but that's not necessarily a bad thing. In fact, it's totally fine, because Hasbro nailed the mold for this figure three years ago.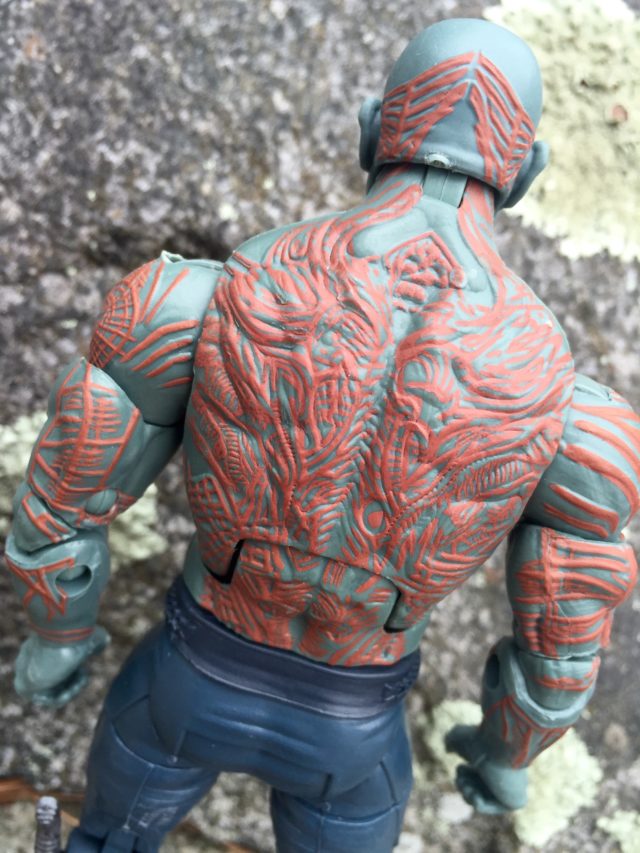 The boots (with sculpted knife sheathes) and pants look good, and be sculpted tattoos on the upper-body still look incredible. This mold may be an oldie, but it's also still a goodie.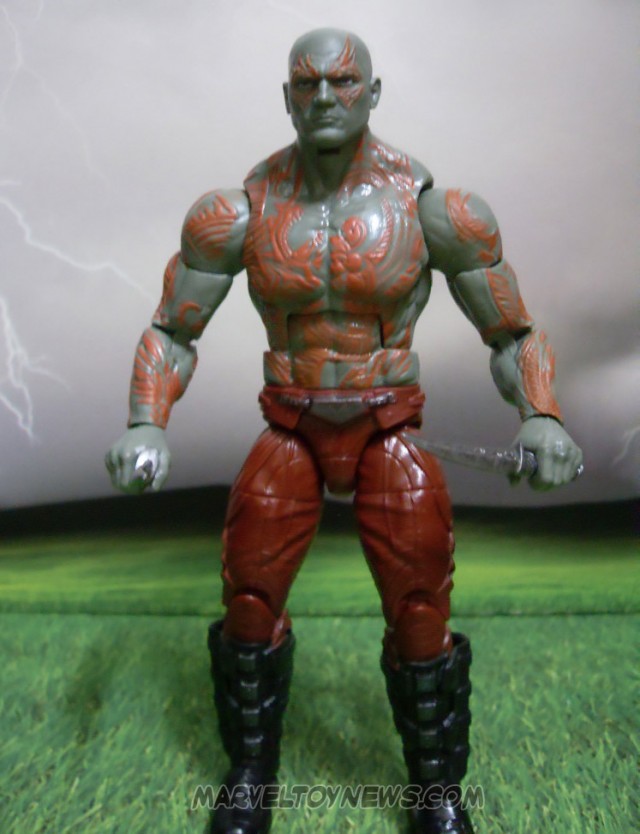 My other qualm with the original iteration of movie Drax was the red pants Hasbro selected for that figure. While I admit to loving the "Cherry Bomb" sequence and final battle of the movie, it never made sense to me to make Drax in that attire and the rest of the team in their regular costumes.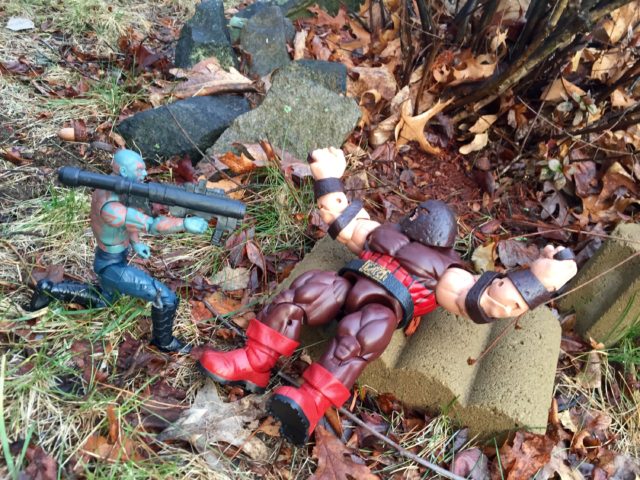 The weirdness of that decision has been rectified this time out, though, as Drax is sporting a neutral dark blue pair of pants. I think this is a much more sensible choice, and will allow this 2017 Marvel Legends Drax to fit seamlessly into a display with a team roster from either movie. Thumbs up.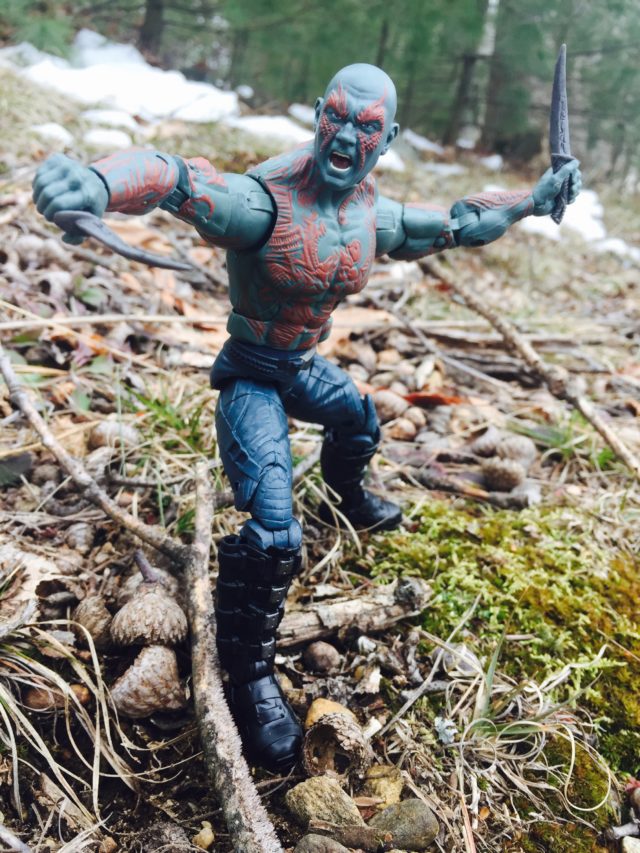 For those who already have that original movie Drax figure, the articulation scheme here will seem familiar–but no less top-notch.
This may be a three-year old body mold, but it's as articulated as what we get today: double-jointed knees and elbows; hinge ankles with rockers; swivel thighs/waist/biceps; ball-hinge neck/shoulders/wrists; ball hips and ab crunch. The only common articulation point missing is swivel boots, and Drax's specific boot design wouldn't play nicely with a swivel.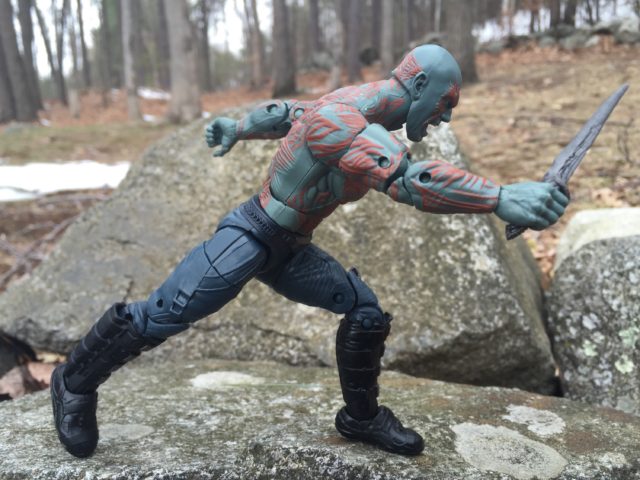 Not only does Drax have a lot of articulation, but it's also all very usable. My figure feels sturdy and had tight joints that allow him to stand up easily in whatever stances I want to put him in–even running poses.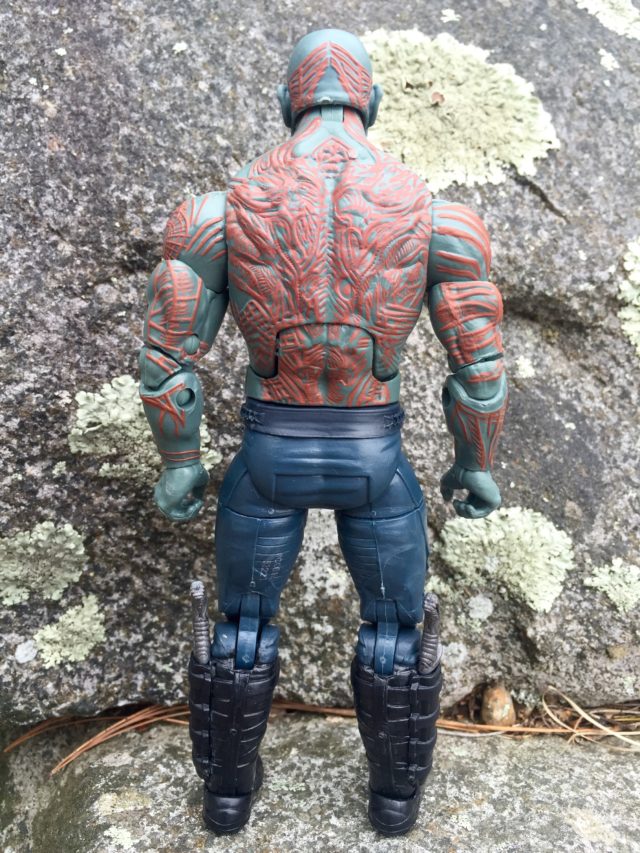 The paintwork is also on-target, and I've got zero complaints about any paint slop or inconsistencies. Hasbro gets top marks from me for the quality control on this figure.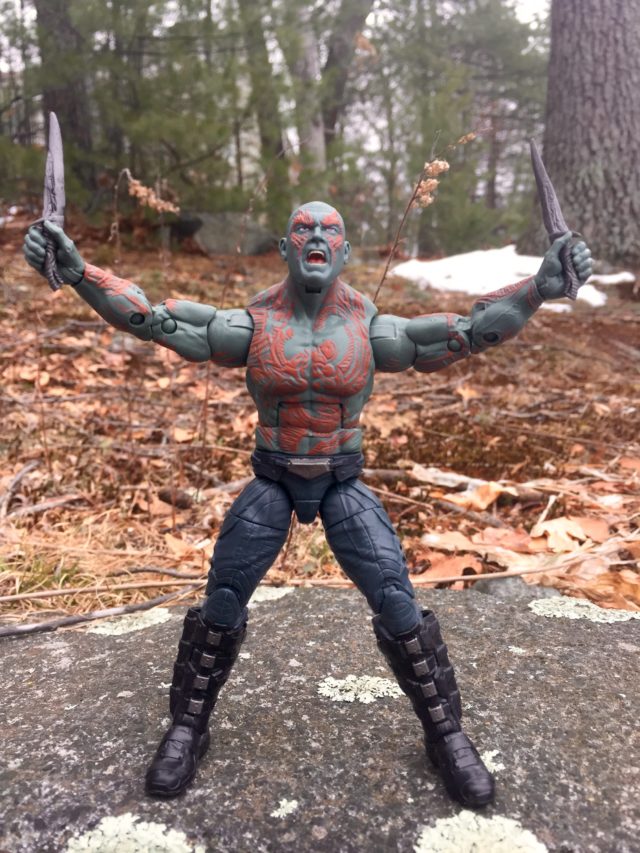 As with the 2014 version, the Marvel Legends Guardians of the Galaxy 2 Drax figure comes with two knives (as well as a Titus Build-A-Figure arm piece). The knives fit snuggly in Drax's hands and boot holsters, and have nicely-sculpted hilts. I would've liked some paint on the hilts, but otherwise I've got no gripes about them.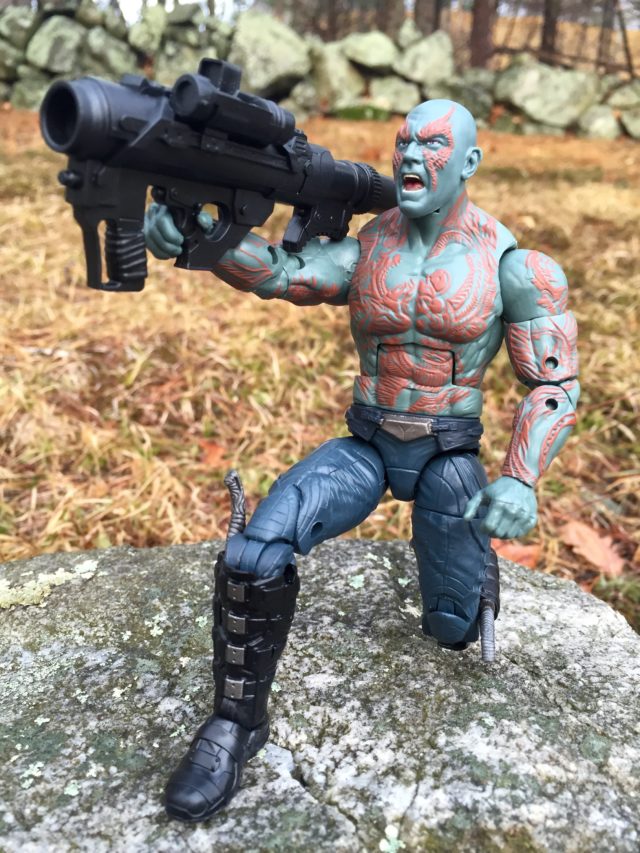 …But that's not all! Perhaps feeling that Drax needed some increased destructive potential to fully vent his rage, Hasbro included a huge 4″ bazooka with the figure as well! The gun doesn't have any paint deco on it, but it looks great posed on top of Drax's shoulder and is an all-around fun inclusion. Hasbro didn't have to include an extra weapon like this, but I'm glad they did!
The Wrong:
While I'm really pleased with the new paint deco choices and the awesome new head sculpt (plus bazooka!), that is literally
it
as far as new elements to the figure itself go. And for my second $20 version of Drax, I'd like just a little bit more.
I understand not going to the expense of including the original head as an accessory, but at least some alternate hands would have gone a long way to improving my enjoyment of this figure.
Drax is a brawler, after all, so some fists would have been a solid inclusion that would have raised the posing possibilities for this figure immensely. As it is, we're really limited to knife-wielding and bazooka-toting poses.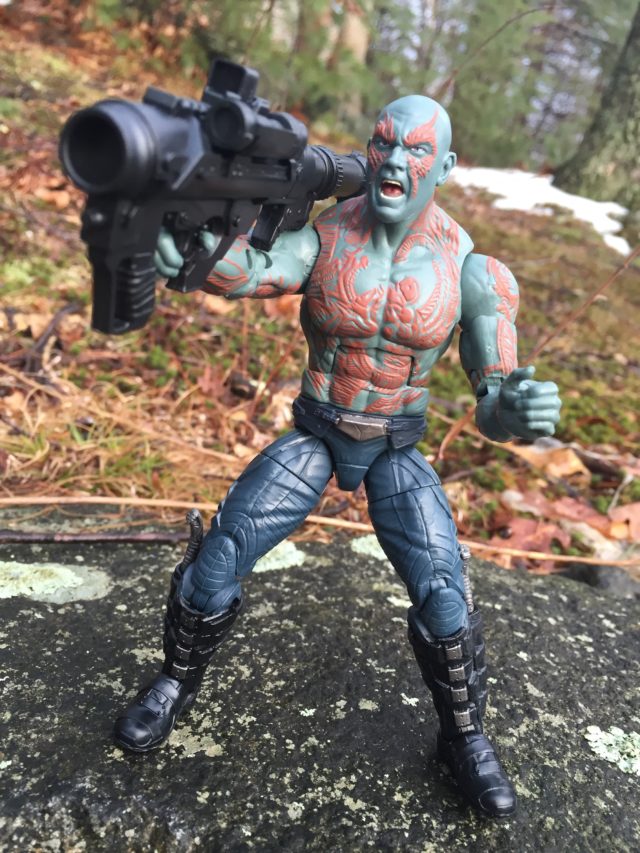 Overall: If you don't have a movie Drax Marvel Legends figure yet, then this is the one you want, no questions asked. But if you do have the original GOTG Marvel Legends Drax, I'm not convinced that this figure is a large enough upgrade to warrant another purchase for casual collectors.
The new yelling head is great and I much prefer the non-red pants on this version and the heavy artillery bazooka, but otherwise this is in essence the same (awesome) figure from 2014. I bought it because I like this version more and I'm all-in for Guardians of the Galaxy toys (under $600), but this 6″ Drax definitely isn't essential for those who have the original and don't care about the Titus Build-A-Figure part.
GRADE: A-