Although some of the very first photos that I uploaded to the site from New York Toy Fair 2017 last month were of the newly-revealed Kotobukiya Ms. Marvel Bishoujo statue, I got sidetracked and never went back to really talk about the figure. Sorry, Kamala Khan! But don't worry, Kamala, you won't be getting ignored anymore: the Kotobukiya Bishoujo Ms. Marvel statue is now up for order! Let's take a look at the very first statue of one of Marvel's most popular young heroes…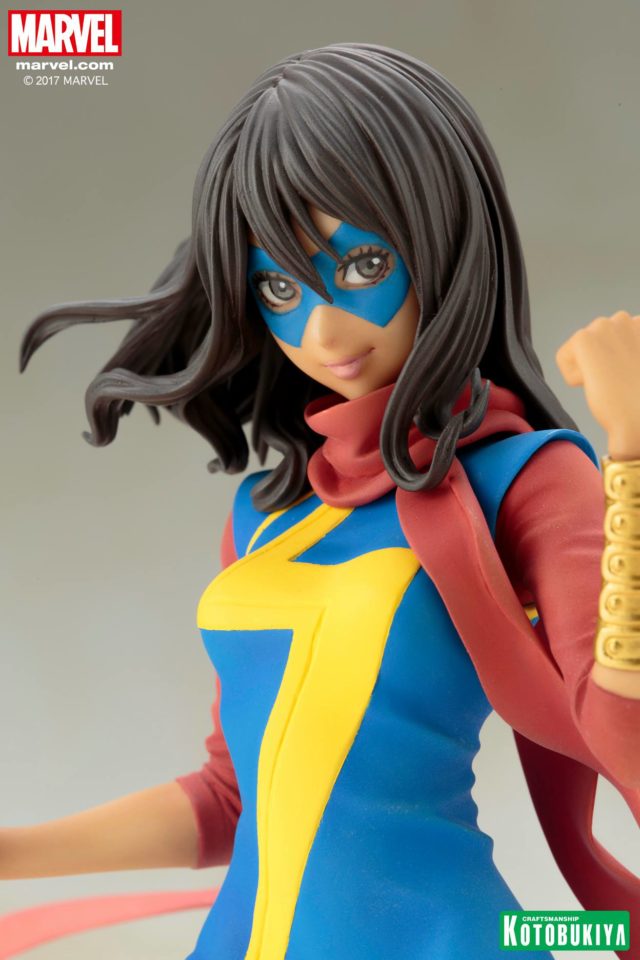 When Pakistani-American Kamala Khan burst on the scene as the new Ms. Marvel (taking the former name of her hero, Carol Danvers), I didn't have a lot of faith that the character's comic was going to last more than a few months before being canned (as so many series starring new characters are these days).
But as it turns out, the Kamala Khan Ms. Marvel comic book has been consistently popular–and consistently excellent–for over three years.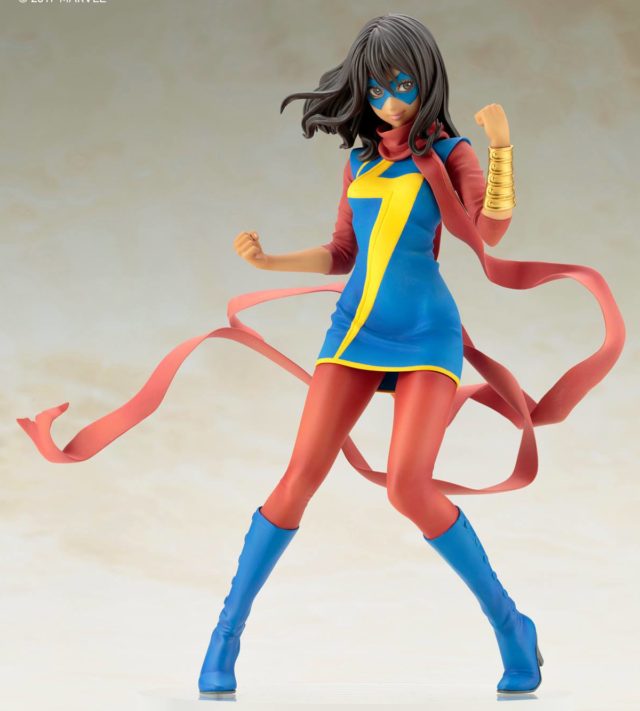 And now, Ms. Marvel has hit the big time, as her first toys have started to pour out into stores over the last few months! I reviewed the Marvel Legends Kamala Khan figure in December, and the Funko POP Ms. Marvel and LEGO Kamala figures also began hitting stores this winter.
Given that they're the first-to-market with statues of many modern comic characters like Gwenpool and Ironheart, you might expect Diamond Select Toys to be the first company to deploy a Kamala Ms. Marvel statue, but it's actually Kotobukiya!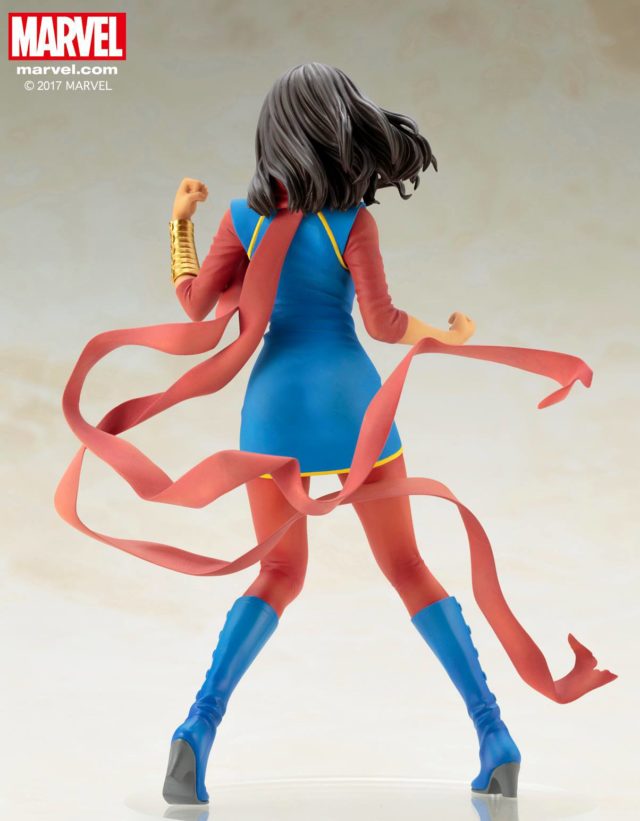 Gone are the dark days where I criticize Koto for over-sexualizing Marvel females–the 1/7 Bishoujo Ms Marvel statue looks bright, innocent and beautiful–just the way that the character should be represented. I'm really pleased with the look of this statue–Kamala looks youthful, pretty and cute without looking even slightly trashy.
More good news is that the Koto Bishoujo Kamala Khan PVC figure is going to be on the cheap(-ish) end: she'll retail for the same $74.99 MSRP as Spider-Gwen and Lady Deadpool before her.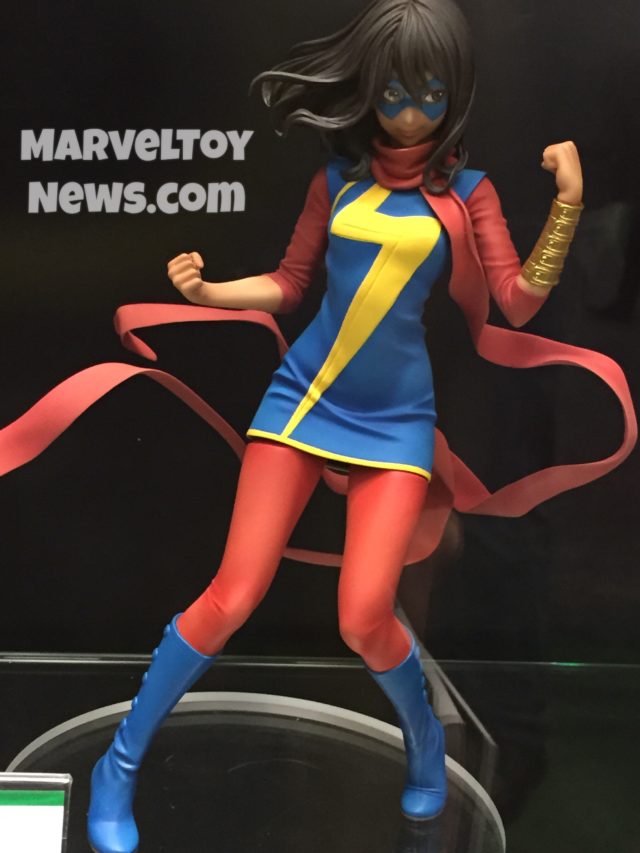 Now, don't get me wrong: 75 bucks is still a lot of money–but I'm much happier paying $75 for Ms. Marvel than I was paying $90 each for the (awesome) Loki and Thor Bishoujo statues that came out earlier this winter. I very much appreciate when Koto can keep the prices on these statues down.
Kamala Khan isn't exactly the household name that Spider-Gwen is, so I don't think it's very likely that she'll be selling out before pre-orders ship, but I'm going to lock one in anyway–Ms. Marvel is one of my favorite characters introduced in the Marvel comics universe in the last decade, and I'm really looking forward to displaying this piece.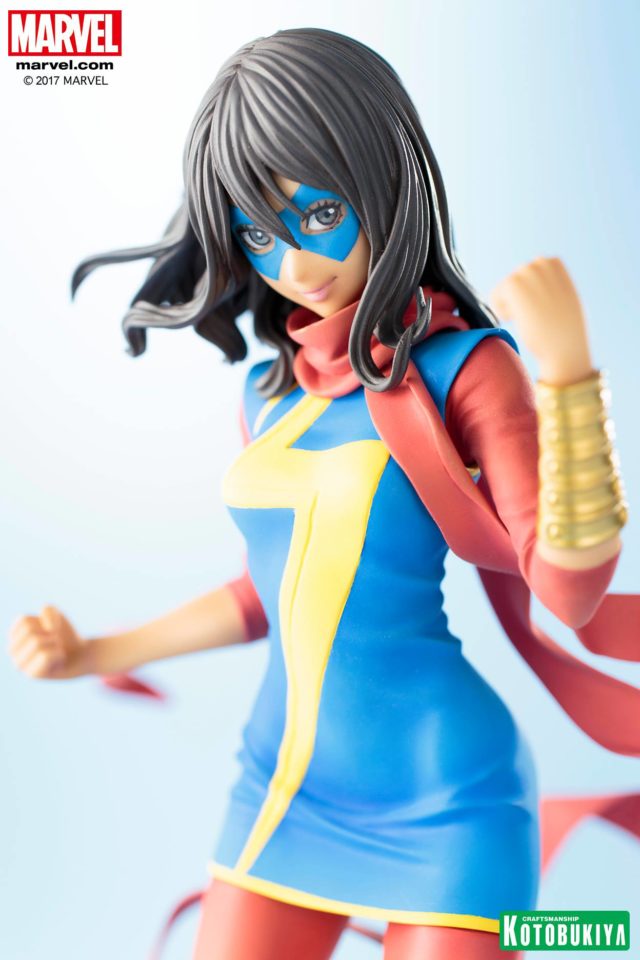 The Ms. Marvel Kotobukiya Bishoujo statue is now up for order, and is scheduled to be released in October 2017. You can pre-order her now to get $5 off and free shipping, which ultimately will save you about 15 bucks.
What do you think of the finalized Ms. Marvel Kamala Khan Bishoujo statue by Kotobukiya? Is anyone besides me looking forward to adding this to their collection in fall 2017, or is Carol Danvers' successor just not for you?