Way back in July at San Diego Comic-Con 2016, Hasbro gave us an early first look at the comic-based figures that would make up half of the 6″ Marvel Legends 2017 Guardians of the Galaxy Wave 1 series: Major Victory, Darkhawk, Angela, Nova and the Titus Build-A-Figure. We've been wondering ever since what Guardians of the Galaxy Vol. 2 movie characters would be completing the lineup, and now we know: 2017 Marvel Legends Yondu, Drax and Star-Lord have now been revealed!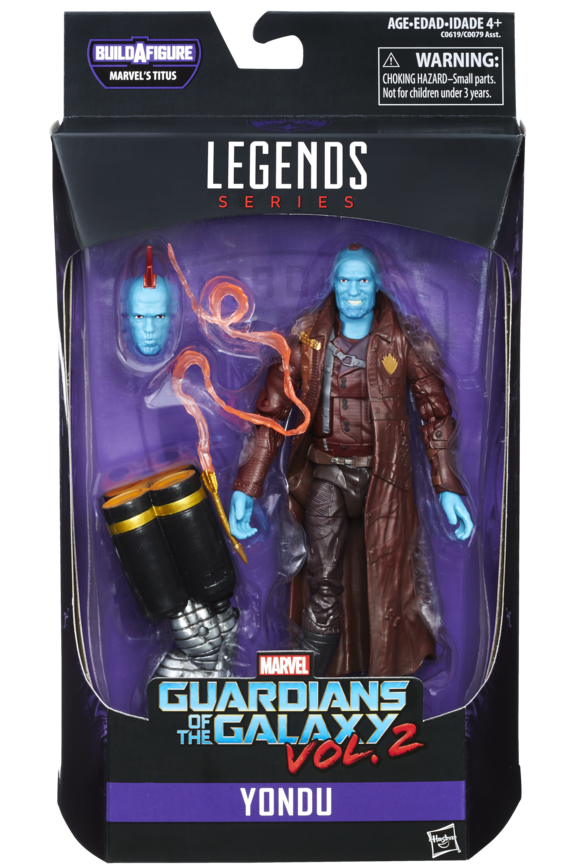 I was rather disappointed that Hasbro didn't bring along any of next year's Guardians of the Galaxy Vol. 2 Marvel Legends 6″ figures when they traveled to New York City for New York Comic-Con 2016 in October, but the waiting and anticipation is at an end–the entire first series of GOTG 2 action figures has now been revealed, and it's definitely a good one!
The Michael Rooker fans out there (including me!) are going to be really pleased with the new movie Yondu figure–the first 6″ Yondu action figure ever–as not only is he a great sculpt, but he comes with some of the best accessories ever! Alternate whistling head? Effects piece arrow?! Yes, please!!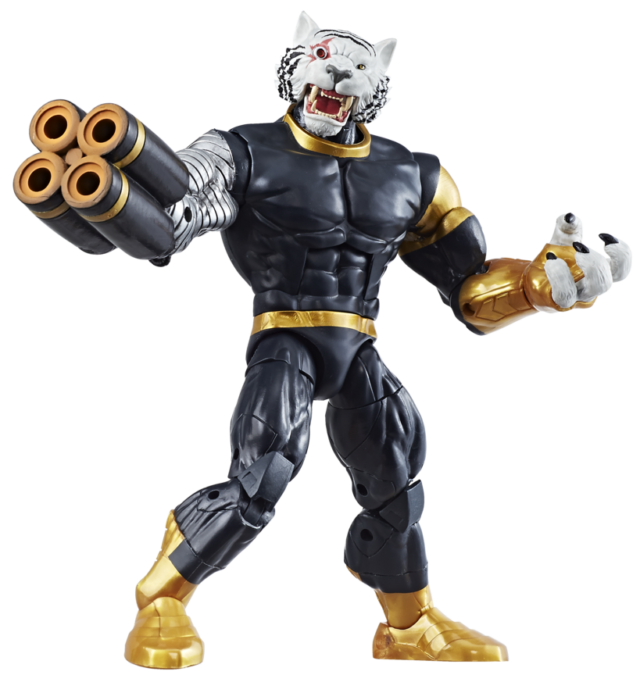 I don't get to say this very often, but I think that the Build-A-Figure in this wave–Titus the Anthropomorphic White Tiger–is going to far and away be the least desirable figure in the entire series. I have a hunch that this figure is going to be one of the least expensive BAFs ever on the aftermarket unless he makes a surprise appearance in the movie (and maybe even if he does).
Sadly, I think this is an instance where the Build-A-Figure was chosen because of the tooling being available to make him cheaply, rather than because of any fan demand for the character (at all).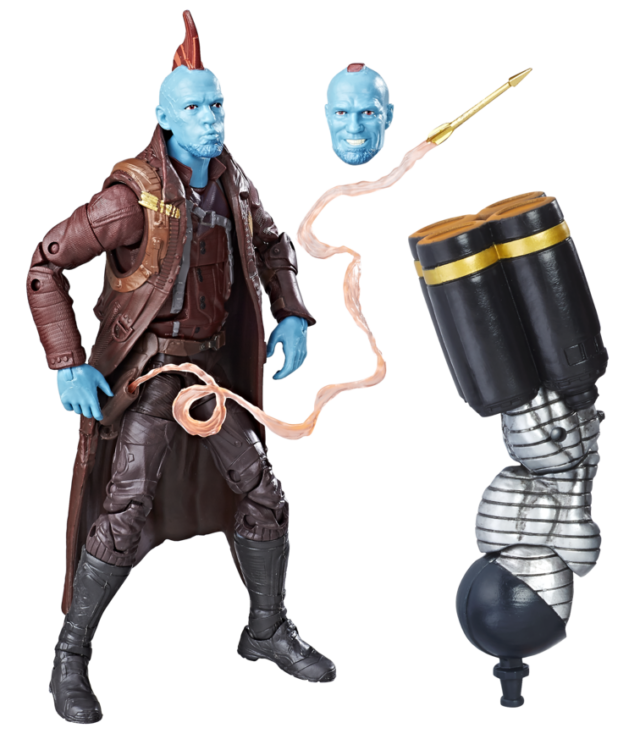 The full lineup for Marvel Legends Guardians of the Galaxy Vol. 2 Wave 1 is as follows:
Star-Lord (Movie) [No Build-A-Figure Piece]
Drax (Movie) with Titus Arm
Yondu (Movie) with Titus Arm
Sam Alexander Nova (Comics) with Titus Body
Darkhawk (Comics) with Titus Head
Major Victory Vance Astro (Comics) with Titus Leg
Angela (Comics) with Titus Leg
Titus Build-A-Figure (Comics)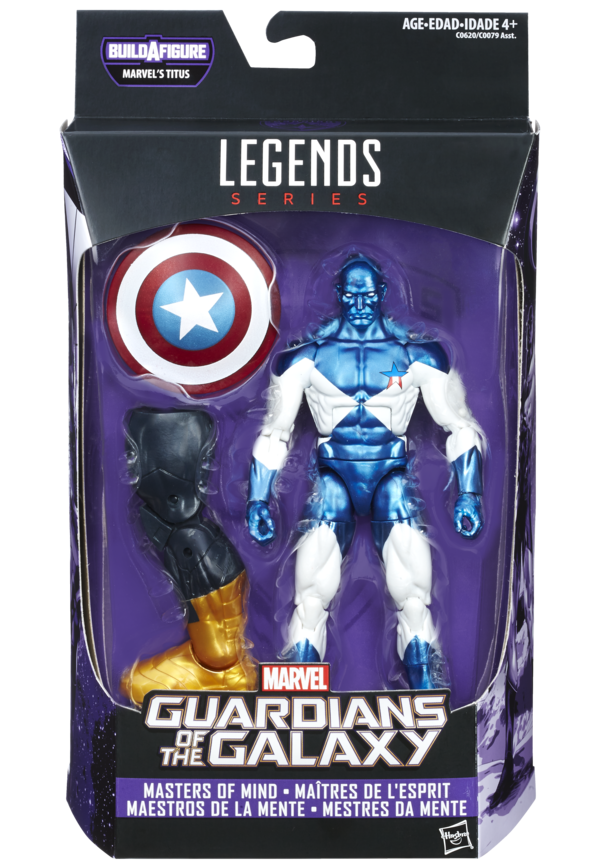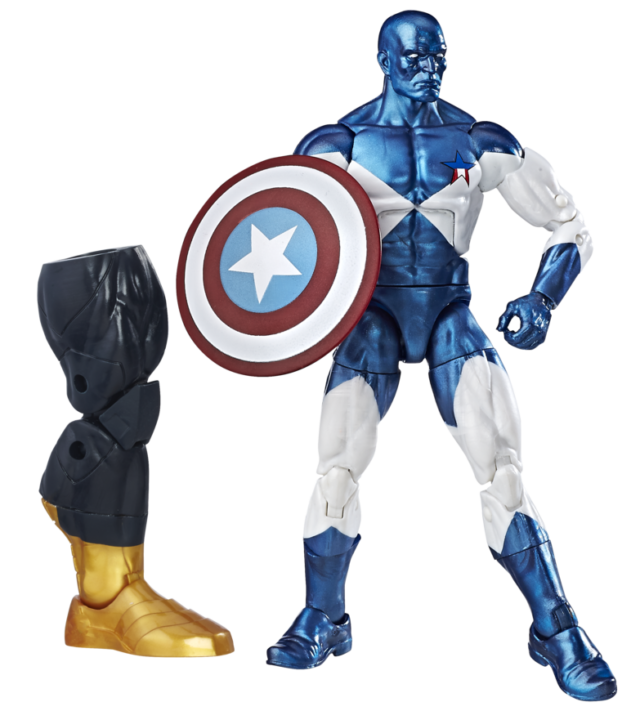 For classic fans of the GOTG, this Marvel Legends Vance Astro figure is going to be a real treat. Here's a character that would never be getting made into a figure if not for this movie line, that's for sure! The metallic blue paint deco on Vance looks terrific, though I'm genuinely concerned that this figure may end up bombing sales-wise.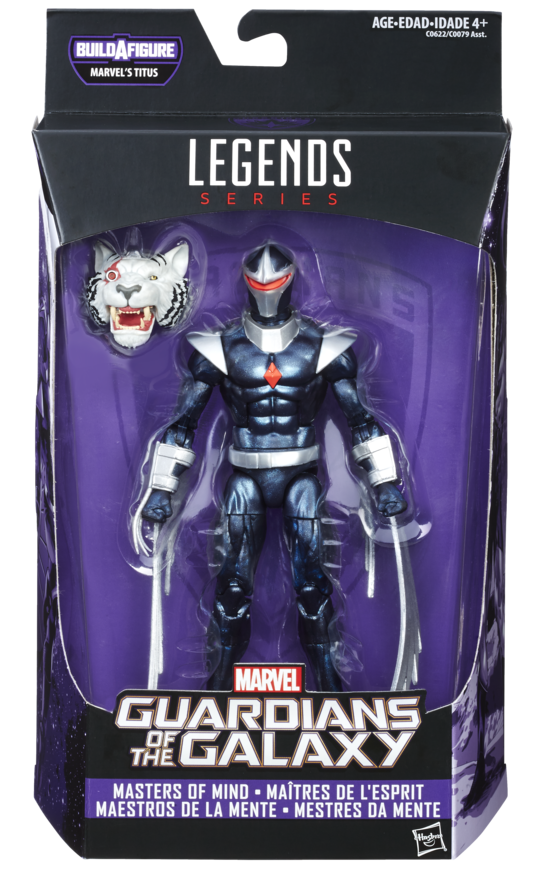 While I can't even begin to guess why they've tagged Darkhawk with the moniker of "Masters of Mind" alongside Major Victory (at least Vance Astro actually has some psychic powers), but as Darkhawk has been a hotly-requested character for well over a decade now, I'm certain that his figure is going to be one of the most popular of this wave.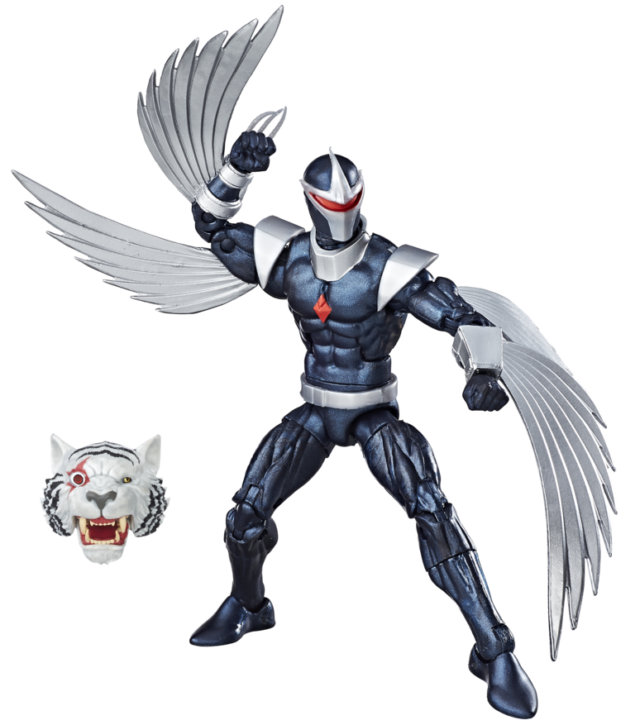 Also, I just wanna say: those Darkhawk wings? Those are a thing of beauty.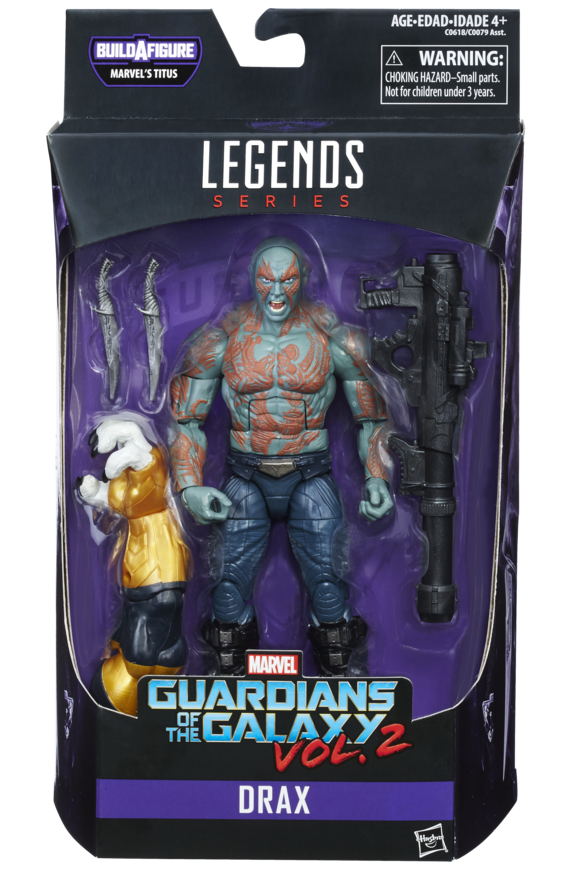 Who may not be quite as popular, however, is the new Marvel Legends Drax movie figure. I'm sure Hasbro will catch a little flack here for reusing the old tooling from the 2014 Guardians of the Galaxy Drax figure, but I've really got no problem with it.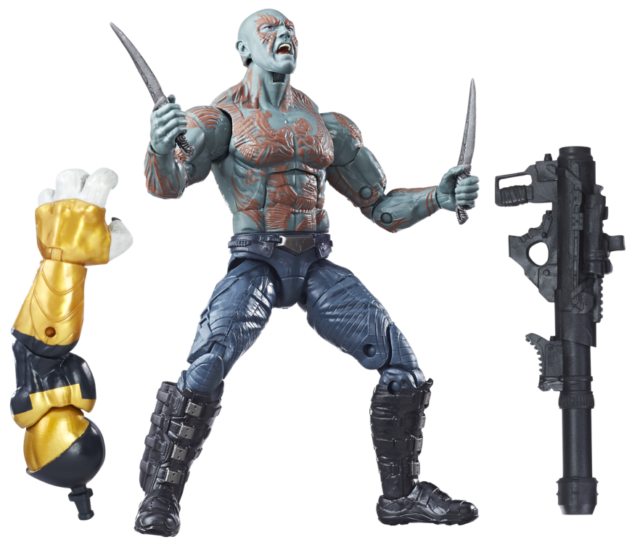 Drax's body hasn't changed between movies, and the pants are in a much more appealing dark blue color than the ugly red "Cherry Bomb" pants from the first movie. And hey, that screaming head is pretty cool!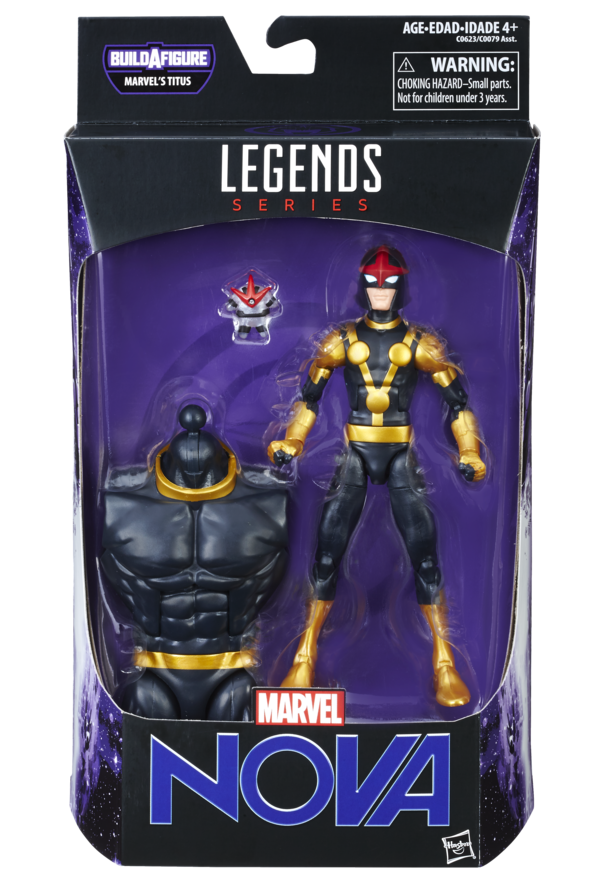 Sam Alexander Nova is the first new figure to make use of the teenage boy mold that was created for the Miles Morales/Ultimate Peter Parker Spider-Man figures created this summer, and I have to say–it looks pretty grand on him, don't you think?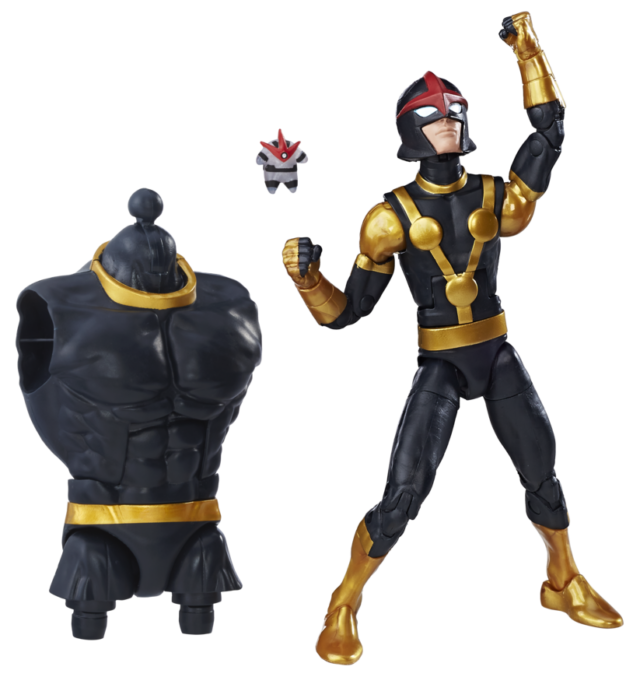 I'm honestly not sure what the weird accessory that comes with Kid Nova is, though. It's been a long time since I read the first issues of his comic book series, but it looks to be some sort of plushie or something…? (Bail me out, readers!)
A new Marvel Legends Star-Lord figure is of course included as part of this first wave. He's got an open, shorter jacket this time out and will hopefully prove to sell better than his predecessor.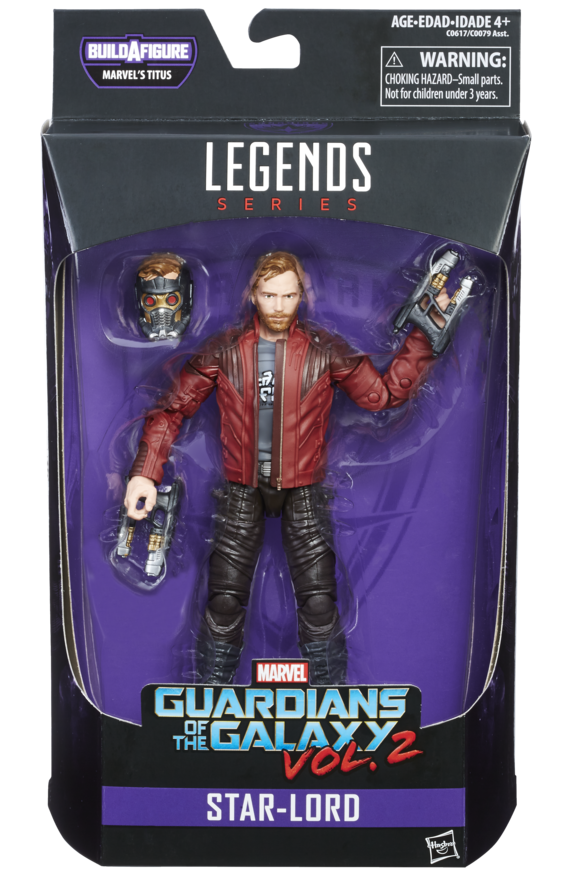 We likely won't know the official case ratios for this series for a little while yet (I suspect retailers will begin being able to take pre-orders on January 1st 2017), but I think it's pretty obvious that the one figure that's going to get double-packed in this seven character case of 8 figures is the new Marvel Legends Star-Lord.
Now, while this may not be the best likeness ever, Chris Pratt Star-Lord may be my absolute favorite character in the whole MCU, so that's A-OK with me (even if the new Star-Lord doesn't come with a Titus Build-A-Figure piece at all).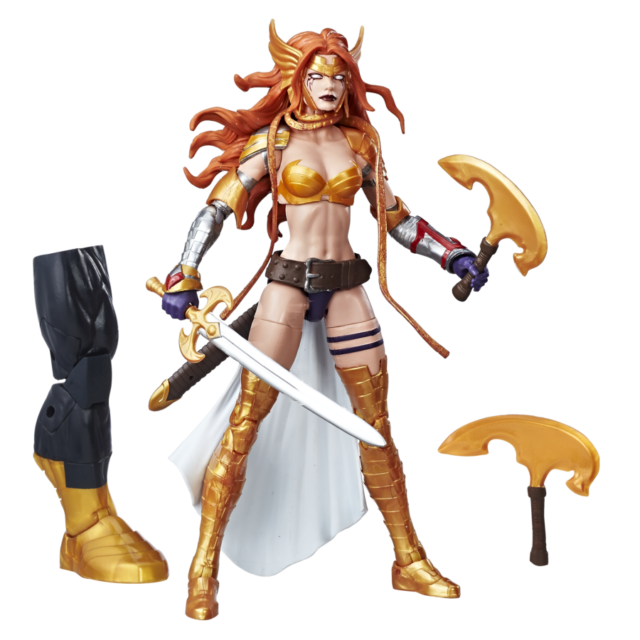 Guardians of the Galaxy Marvel Legends 2017 Wave 1 should be available for pre-order in early 2017, with an anticipated arrival date of Spring 2017. I'll post updates here and to the Marvel Toy News Facebook and Twitter Pages once this series goes up for order, so be sure to watch the site and our social media if you want to be alerted as soon as these figures are available. Other than maybe Drax, Vance Astro and Star-Lord, this wave is gonna be hot.
What do you think of the first Marvel Legends Guardians of the Galaxy 2 series of 6″ figures, Marvel collectors? Which are your favorite figures from this assortment? Are you aiming for the movie figures from the series, the comics-based figures, a mix of both… or even none?