I kicked off my Marvel Legends 2017 reviews by discussing one of the most classic of classic Spider-Man villains–the Jackal! So for my second review, let's switch things up and go to the other end of the spectrum entirely with the newest version of a Spidey that's not even Peter Parker. He's been getting restocked and selling out online a couple times a day every day for a week now, and with good reason–it's the all-awesome, All-New Spider-Man 2099 Marvel Legends figure!
The Right:
Confession time: I fell off the wagon this year and stopped reading the ongoing Spider-Man 2099 comic book series Marvel has been publishing (sorry, Peter David!).
But luckily, I did read just long enough to see Miguel O' Hara get his first new costume in many years–the All-New Spider-Man 2099 white, red and black costume! And as iconic and recognizable as the original 2099 Spider-Man costume is, I gotta say–this modern costume is pretty rockin'!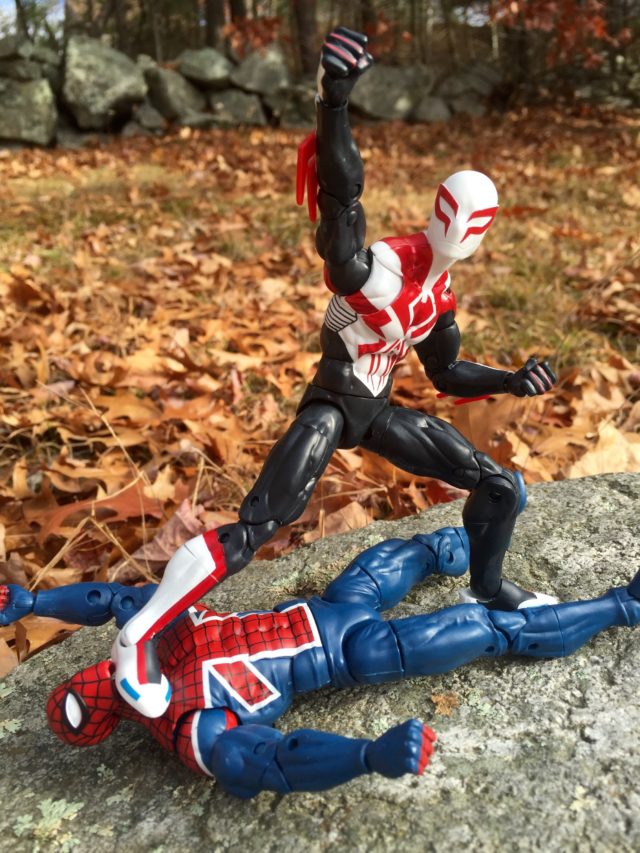 Hasbro chose a shiny metallic red paint to complement the matte black and white of the figure and it looks absolutely phenomenal. The bright blue markings on the feet and shoulders are also a welcome surprise and nice way to break things up.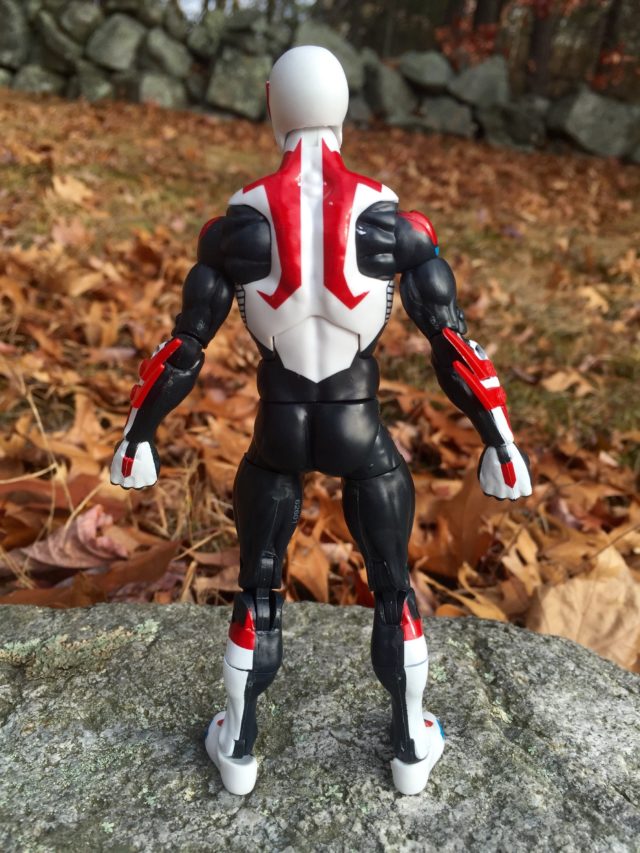 I feel like the colors on this figure might pop more than any other Hasbro Marvel figure this year–I love the aesthetic that much.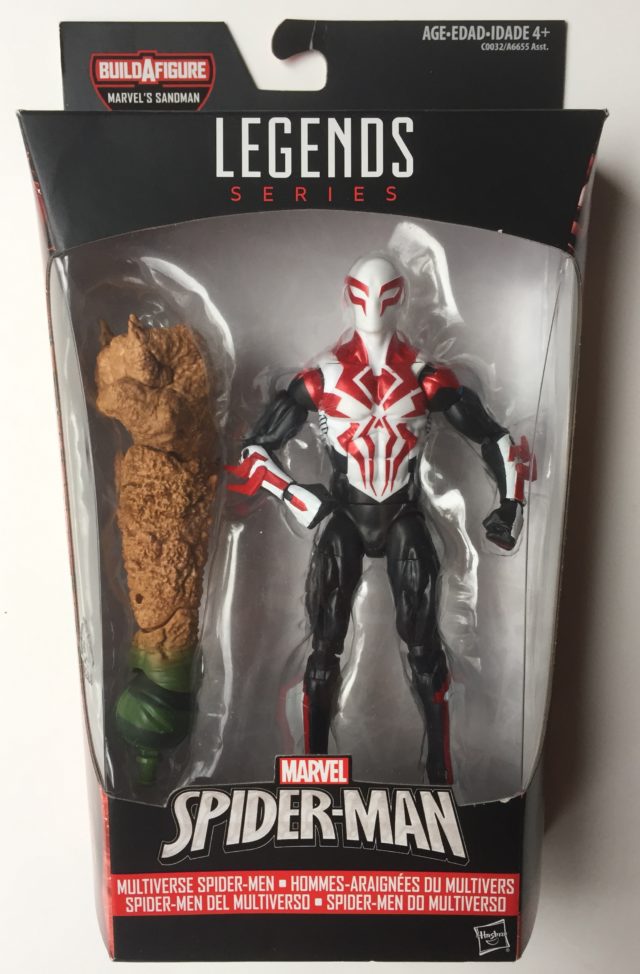 It's not just the colors than differentiate the new Marvel Legends Spider-Man 2099 figure from the 2015 figures–this action figure is basically totally different.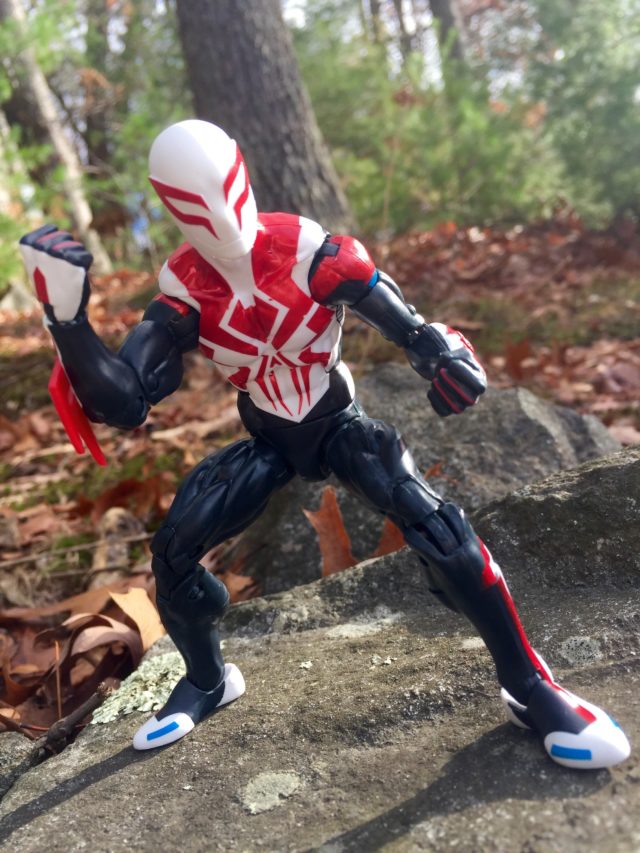 The new head on this figure is honestly a bit creepy with its pointed red eyes and sculpted on "smile" running under the nose–but at the same time, it's so "different" that I can't look away. I really, really like this head.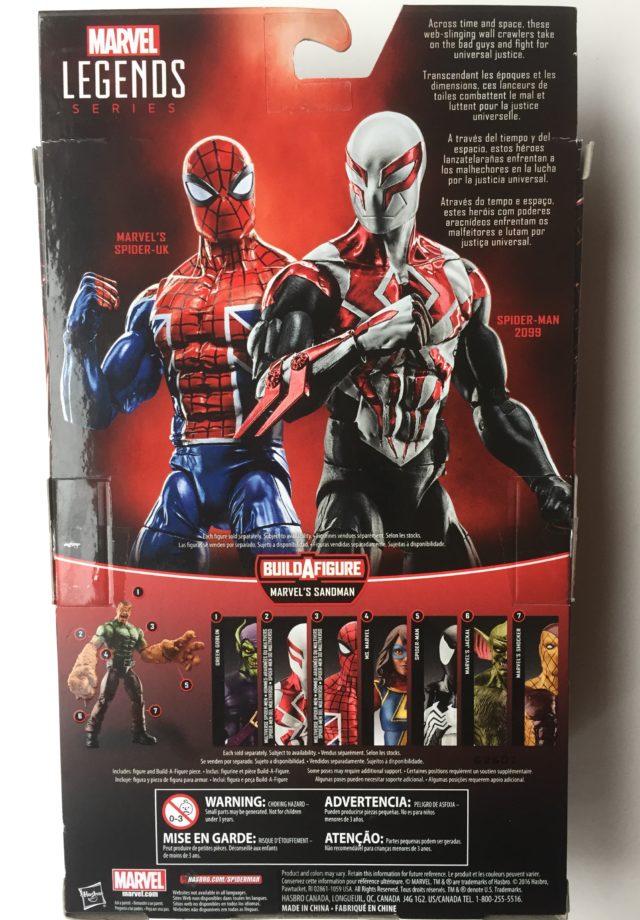 In addition, the spikes on Miguel's forearms look a whole lot snazzier and deadlier this time around. As iconic as the original 2099 costume is, I think I genuinely like this one just as much after spending some time with this toy.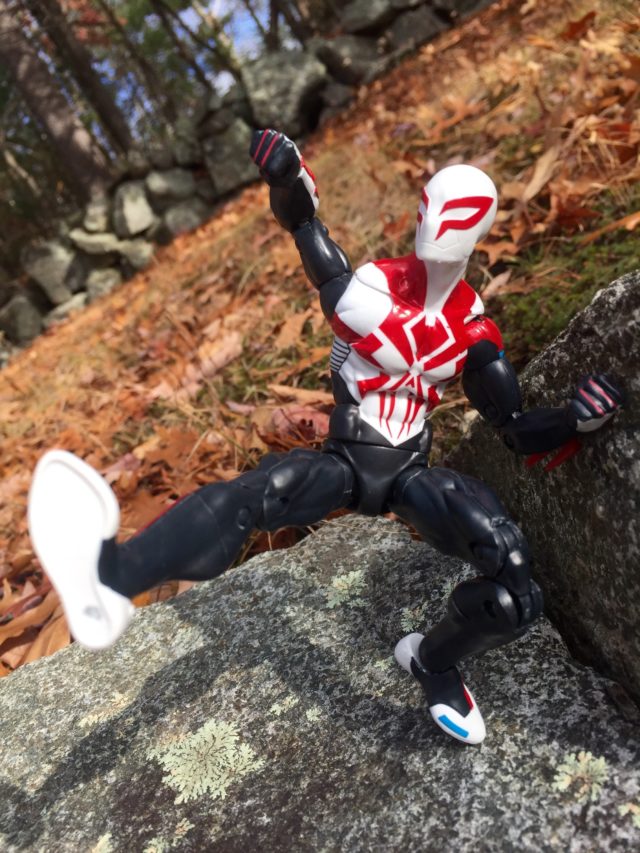 On the articulation front, this Spider-Man 2099 6″ figure shines just as much. The popular butterfly shouldee swivels are present, as are all of the other most vital points of articulation: ankle rockers; double-jointed knees and elbows; swivel waist/biceps/calves/thighs; ab crunch, ball-jointed hips and ball-hinge neck/shoulders/wrists.
If you can't get fun poses with all this articulation, you're not trying.
The Wrong:
I complained about the lack of accessories with the Jackal figure, and I'm going to complain about it again here. When you're paying 20 bucks for an action figure that's made almost entirely of existing tooling, there should be more in the box than a (super-awesome) Build-A-Figure arm.
How cool would it have been to get the first-ever unmasked Miguel O' Hara head with this figure? Or at the very least, some alt hands so Spidey 2099 can do more than punch out villains?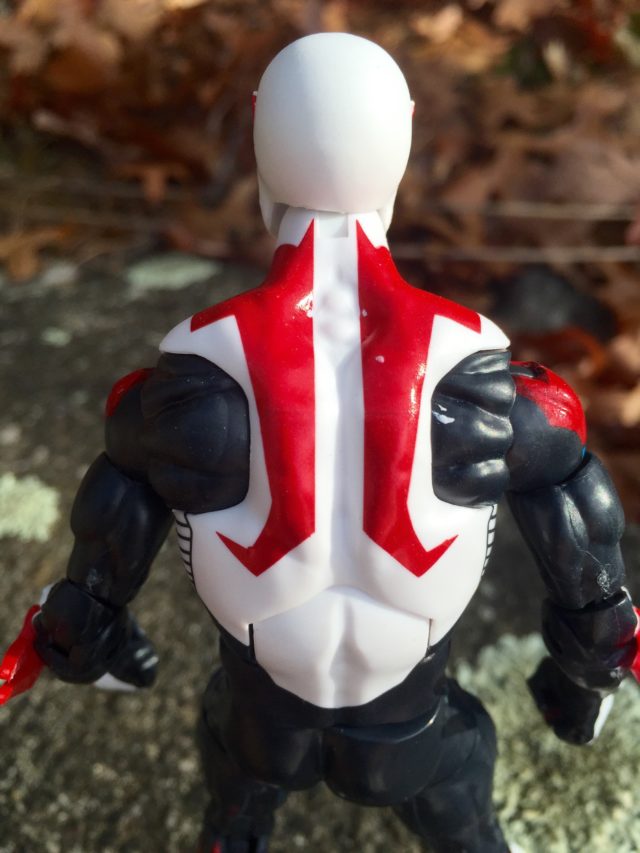 I have one additional–and more unfortunate–issue with this figure, and it's unfortunately the sub-par quality control on the paint deco of the figure I received.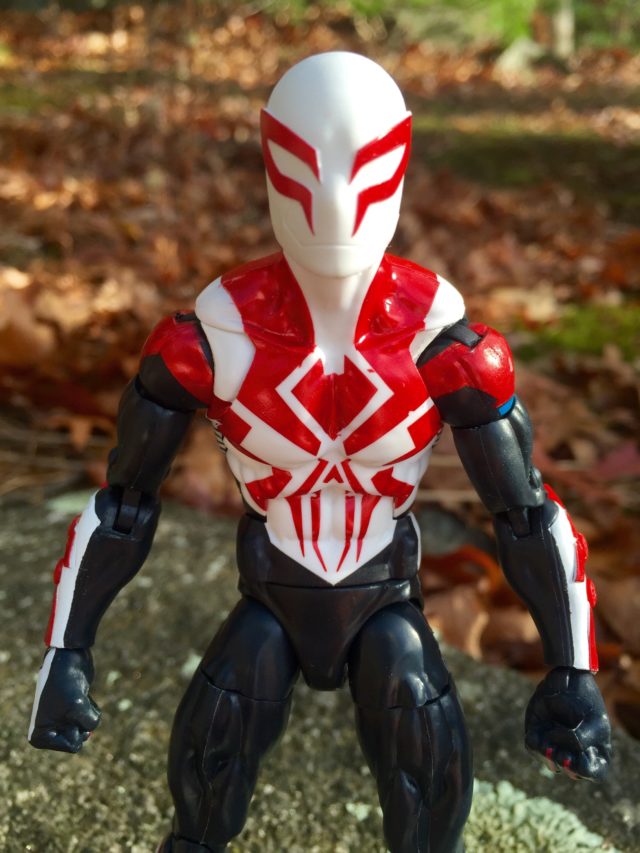 There are areas where the red paint bleeds into the white, where the red hasn't actually been painted on at all, where there's a big white splotch on the black shoulder, and another big white splotch on the red shoulder. I don't know if poor QC is a widespread issue on this figure, but on mine it is particularly disappointing.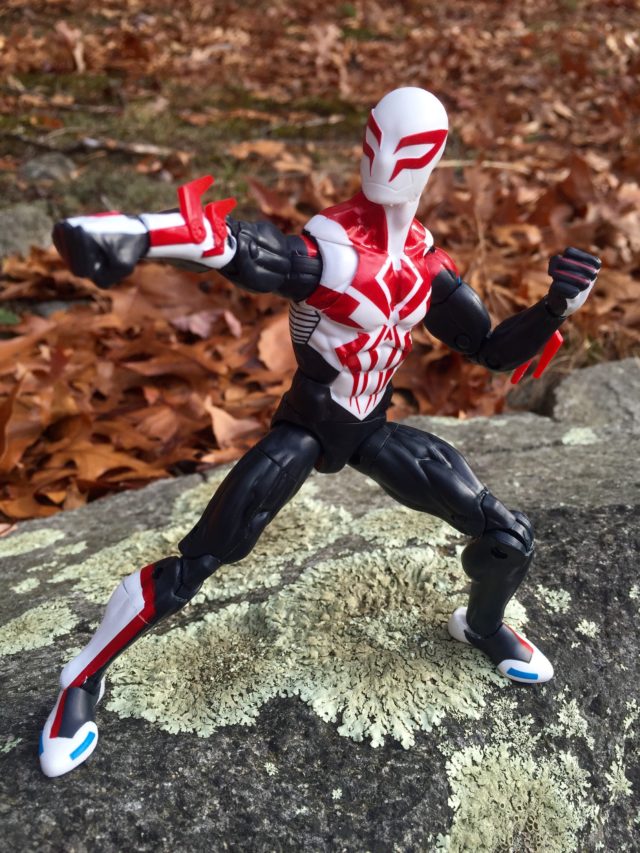 Overall: While changing a costume as beloved as the original Spider-Man 2099 costume was met by a lot of resistance from fans, I don't think this action figure will be. Visually, this Marvel Legends 2017 Spider-Man 2099 figure is stunning. And articulation-wise and sculpt-wise, he's just as impressive. I begrudge the lack of accessories and sub-par paint on the one I purchased, but this is a fun and great figure despite its shortcomings. Recommended.
GRADE: B+