After hitting a grand slam with their phenomenal Black Panther statue that they released earlier this year, Kotobukiya followed up at SDCC 2016 by teasing their next Fine Arts statue: The Vision. Koto Vision made his grand debut in painted form at New York Comic Con 2016 back in October, and now the wait to pre-order the next high-end Avengers statue is over: the Kotobukiya Vision Fine Arts Statue is now up for order! Does he meet the high bar set by Black Panther…?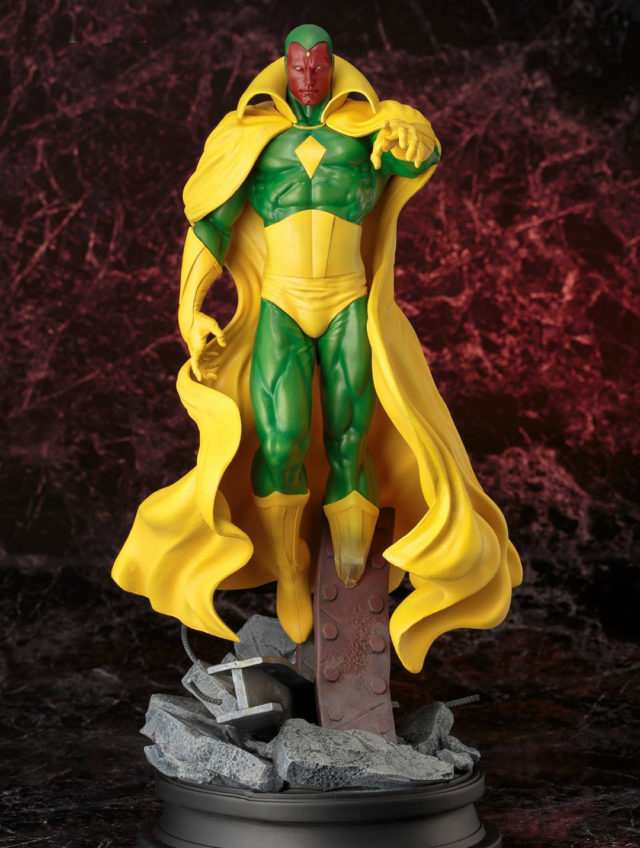 Vision may not have had a huge role in this summer's "Captain America: Civil War" movie, and his ongoing comic book series may have been cancelled–but hey, the Vision was in a blockbuster movie and had his own comic book series. For Vision, it's been a pretty dang good year.
And now, Kotobukiya has officially solicited the very first new high-end statue of the Vision in years, coming next summer to the Fine Arts line!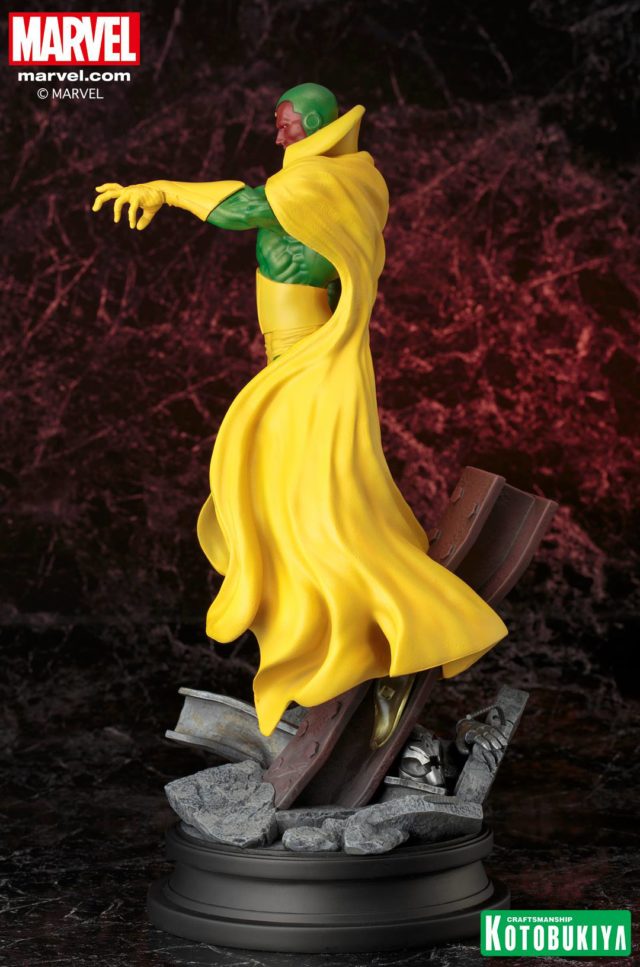 For those not familiar to the Kotobukiya Marvel Fine Arts statue line, it's a line of highly-detailed resin statues in the sixth scale. The quality and heft are greater than what you'll find in Koto's PVC statue lines, but it comes at the cost of, well… a higher cost.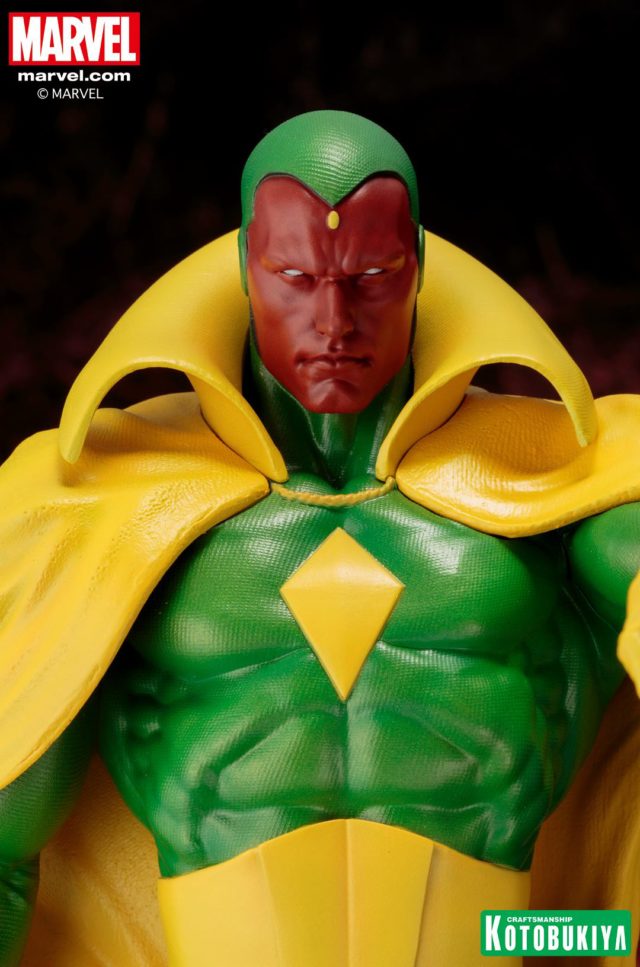 While we got off cheap with the $239.99 MSRP on this year's exceptional Koto Black Panther statue, Vision is going to be costing a bit more–50 bucks more, to be exact. But in exchange for that increased price, the Fine Arts Vision statue will be taller, heavier and more complex than T'Challa.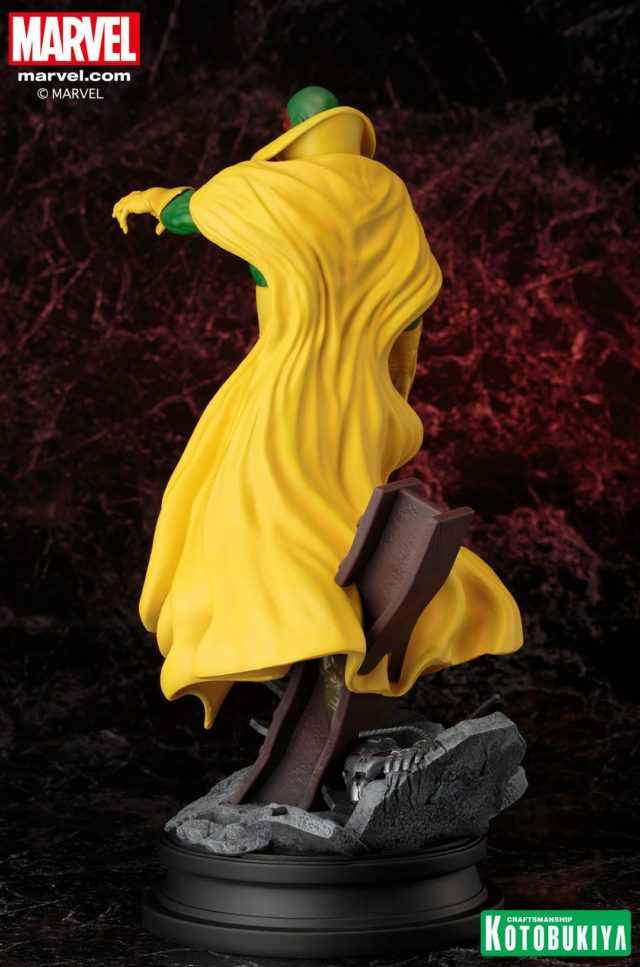 The main gimmick of this statue is that The Vision is "phasing" through the debris of a destroyed building, with his left leg and cape still in the process of going through the rubble.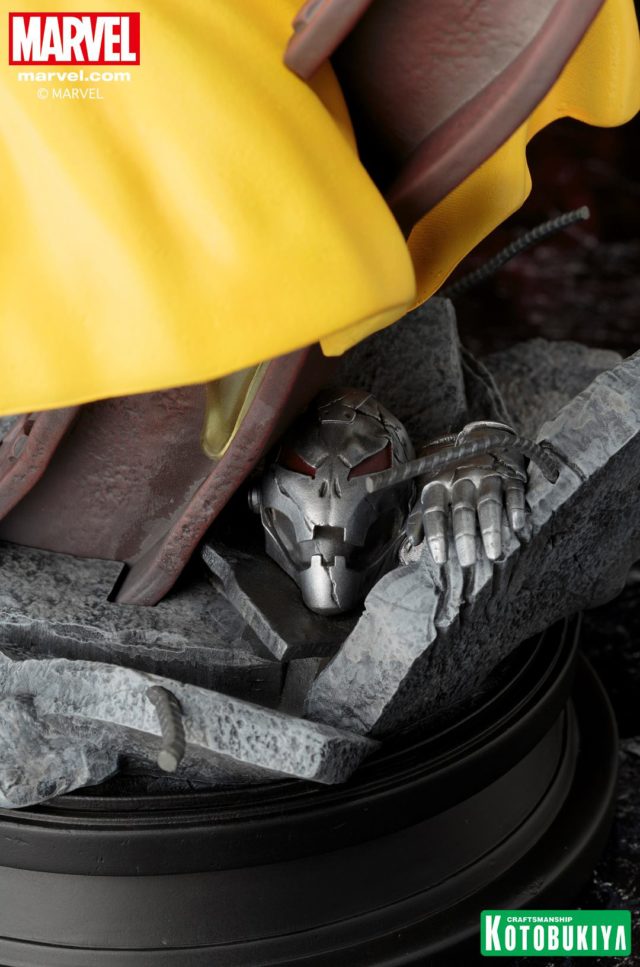 I wouldn't call it an "Easter Egg" (since Koto is showing us hi-res zoomed-in photos of it and all), but there's a mutilated Ultron head among the debris on the base–a nice nod to the Vision's "father".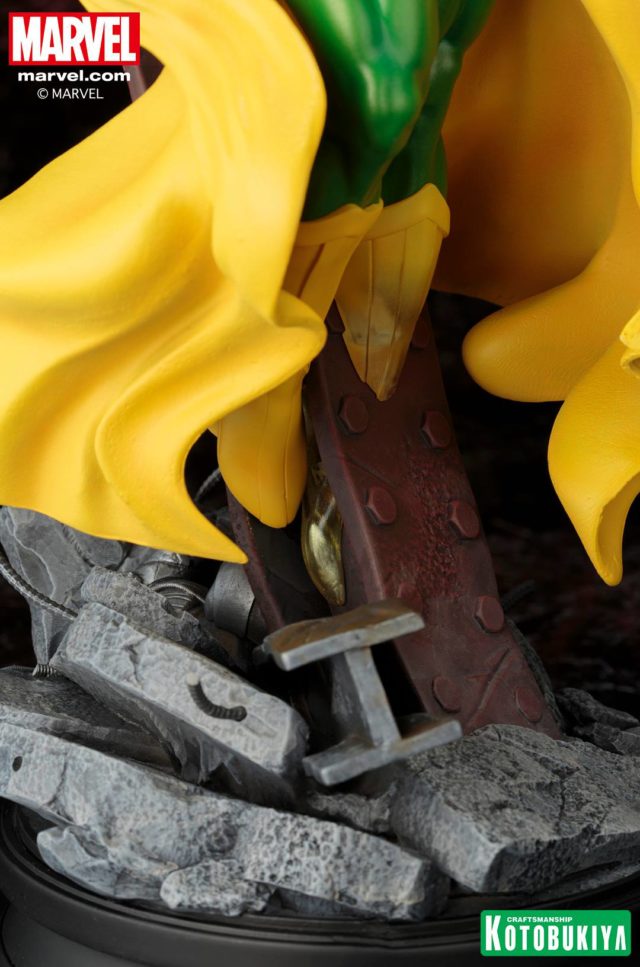 The bright colors, flowing cape and intricate textures on this statue really bring it to life–I think collectors who get this on display alongside other statues are going to be really impressed with how much it pops and stands out in the crowd.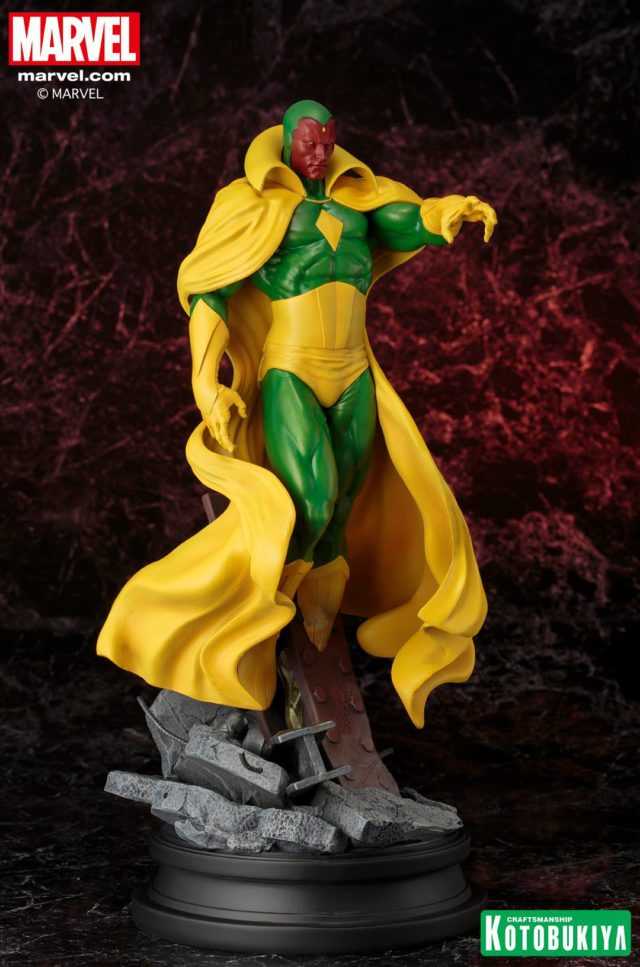 I think the one real shortcoming of this statue is how little of Vision's body is actually translucent/phasing–just the bottom part of his left leg. I'm sure that this is logistically because of the way the statue will be assembled, but I'd definitely prefer for more clear bits to be showing, since that's the primary demonstration of Vision's abilities in this piece.
Even so, the steel beam going "through" Vision's cape still looks super-cool and is definitely compelling visually. I just wish we could see more of this fun detail from the front of the statue.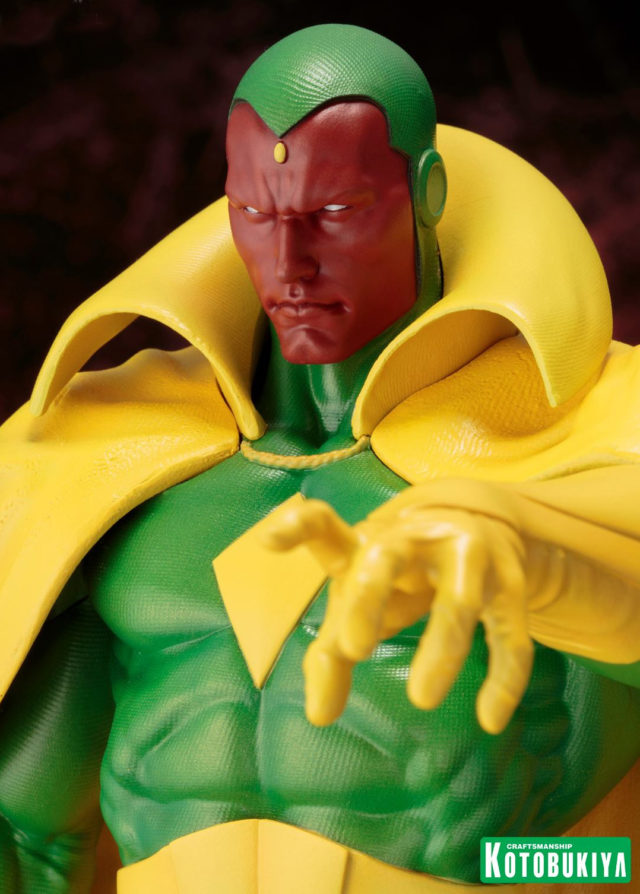 The Vision Kotobukiya Fine Arts Statue is now available for pre-order, and is scheduled to be released in July 2017. BBTS has pre-orders open right now with $15 off the MSRP, whereas EE's pre-orders are set at the MSRP but come with free shipping. Depending on where you live and how expensive your shipping rates tend to be, it's a toss-up between who has the best pre-order price for Vision.
Now that you've seen the final specs and official photos for the piece, what do you think of Koto's Vision statue, Marvel collectors? Will you be placing an early reservation for this statue, waiting to see if it drops in price once released, or seeing if even an android can cry by skipping this Fine Arts Statue altogether?