Bandai Japan announced that they had acquired the Guardians of the Galaxy Vol. 2 license a few months back, but I started getting a little fidgety wondering if they were actually going to use it when April arrived and we hadn't seen a single prototype. But while there's still no word on what characters will be in the S.H. Figuarts GOTG Vol. 2 lineup, we at least know one figure that is on the way: the 6″ SH Figuarts Star-Lord figure has now been revealed!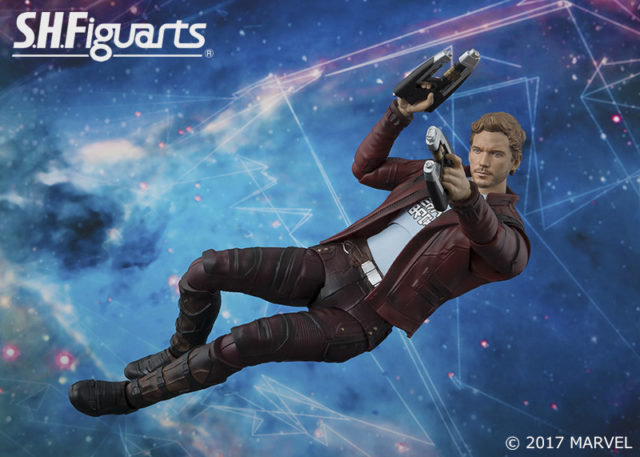 With less than a month until Guardians of the Galaxy Vol. 2 hits theaters, pretty much every GOTG Vol. 2 licensee out there has at
least
started taking pre-orders for
one
of their collectibles from the movie. The exception to that rule is Bandai Japan, who hadn't even showed a single prototype of a figure… until today.
With the Bandai Figuarts line famous for scrapping shown prototypes and not completing lineups, I think a complete Figuarts Guardians of the Galaxy team is a 50/50 chance at best, but we now know the team leader is at least on the way: the Star-Lord Figuarts!
Whereas I thought that the Hasbro Marvel Legends Star-Lord 6″ figure that came out this winter was close to perfect except for the head-on facial likeness and pegs on his hips, Bandai's 6″ Star-Lord figure doesn't look to have either of these problems.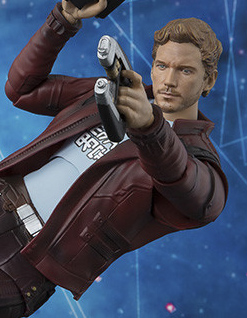 The Chris Pratt likeness is the best that I've seen in a 4″-7″ action figure, which is a huge selling point of the figure for me. I've heard a couple folks saying already that they prefer the portrait on the Guardians of the Galaxy Legends Hasbro figure, so your opinion may vary, but I just don't see any contest personally–this Chris Pratt head looks far better to my eyes.
As Bandai has only released this singular image of the S.H. Figuarts Star-Lord figure so far, we don't have any idea on the accessories that will be included outside of the two Element Guns (sorry, "Quad Blasters") shown in the image. Even so, I think we can be reasonably confident we'll get an interchangeable masked head as well, since if Bandai Japan is going to skimp on a head, it's almost always the unmasked version they ignore.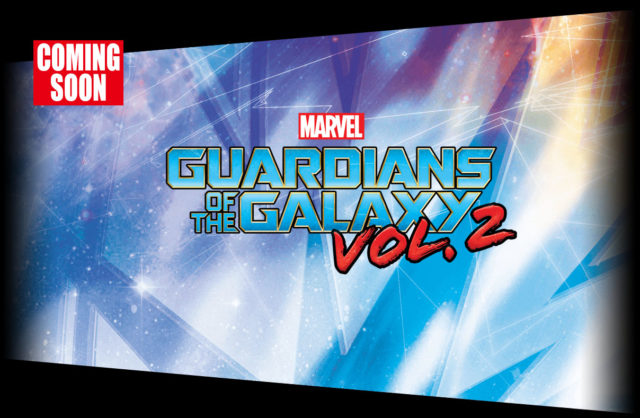 There's no word yet on whether or not Bluefin Distribution will bring this figure over to the United States–and no obvious diorama effects part they could pair with it to get it over the required $80 price-point–but after a whole new wall was created just to sell SH Figuarts Spider-Man in North America, I'd be surprised if we
didn't
get Star-Lord here as well.
I'll update the Marvel Toy News Facebook and Twitter Pages when we know more about this figure's release details, including what accessories will be included and what regions it will be available in.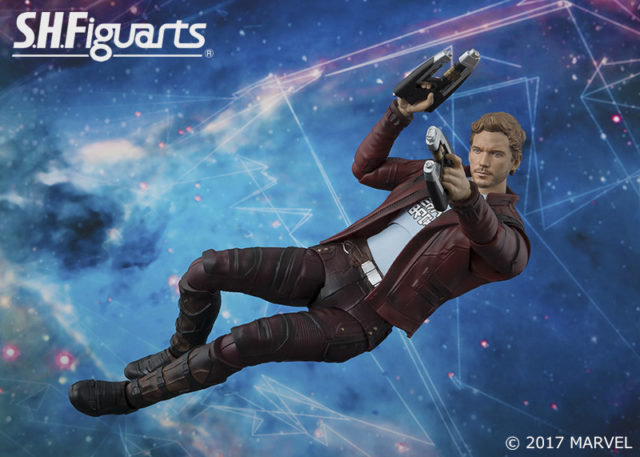 The Guardians of the Galaxy SH Figuarts Star-Lord figure will go up for order on May 12th 2017 (yes, after the movie opens), and is scheduled for release in September 2017. As there's over a month between now and the pre-order window for Star Lord opening, we should see plenty more images of the action figure and its accessories over the course of the next month.
Alright, Marvel collectors: Let's hear it! Based off what we've seen so far from Bandai, which of the three 6″-7″ Star-Lord Guardians of the Galaxy movie figures is going to be the de facto version in your collection: SH Figuarts, Marvel Legends or Marvel Select?