When Bluefin Distribution created an entirely new giant wall earlier this month to pair with the Bandai Tamashii Nations SH Figuarts Spider-Man Honecoming figure–just so that it could be released in the United States–it really hit home to me that Marvel Figuarts are here to stay in North America. So it's not a big surprise that as pre-orders for the leader of the Figuarts Guardians of the Galaxy open up overseas, we're getting them domestically too: SH Figuarts Star-Lord (with purple explosions effects!) is now up for order in the U.S.!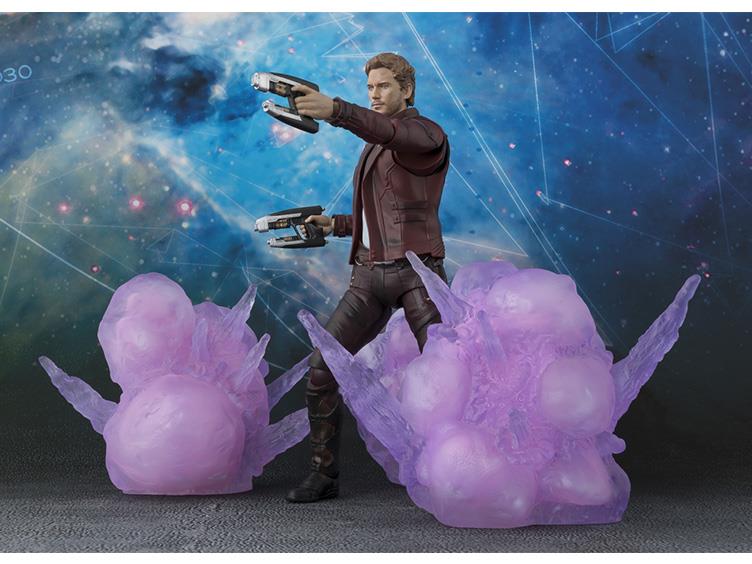 For the most part, I think that all of the Marvel Legends Guardians of the Galaxy Vol. 2 movie figures that Hasbro has developed (including the as-yet unreleased Wave 2) are pretty stellar. The one exception is a rather major one, though: I just don't like the likeness (or hip pegs) on the Marvel Legends 2017 Star-Lord figure.
So if there's one character from GOTG Vol. 2 that I was hoping Bandai Japan would take a crack at, it's Peter Quill. And thankfully–they are! The first prototype photos of the S.H. Figuarts Star-Lord appeared earlier this month, and now Bandai is finally ready to take orders for what I consider to be the finest Chris Pratt 6″ figure in the land.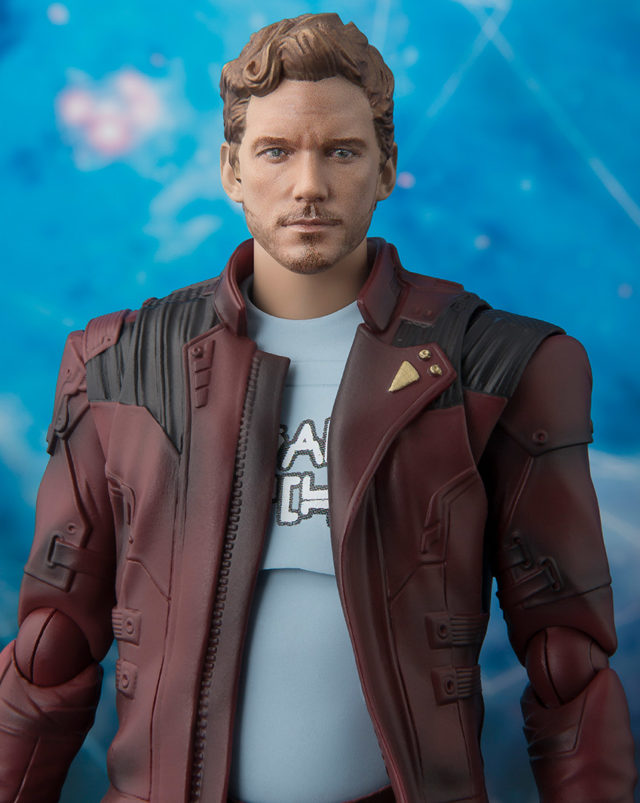 While the new Marvel Legends Star-Lord figure is pretty great for the most part, I just can't get past the fact that I don't like the Chris Pratt likeness–which is a crucial aspect of the figure to me. But Bandai Tamashii Nations has absolutely nailed that Chris Pratt Star-Lord likeness in six inch form. Even with a price-tag far loftier than Hasbro's, this figure is a must for me personally.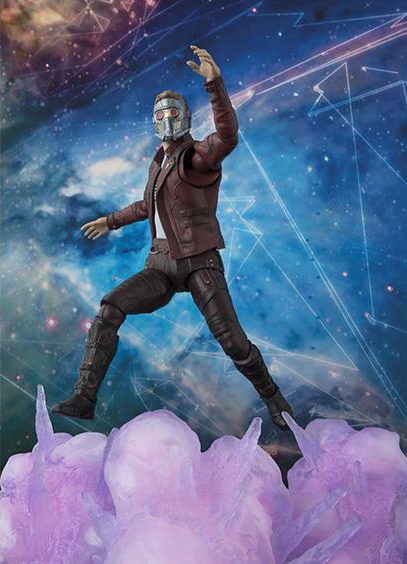 In order for Bluefin Distribution to release this Star-Lord SH Figuarts figure domestically, their license requires that the action figure be paired with a large enough diorama piece that it can get over the threshold of $80. In this case, Bluefin is pairing the figure with an exclusive recolored set of Bandai Explosion Effect pieces–this time in translucent purple!
The yellow and gray versions of these effects usually sell for around $30 alone, so I don't feel personally like it's a rip-off that Star-Lord and these effects are bundled for an $84.99 MSRP. Your cosmic mileage may, of course, vary.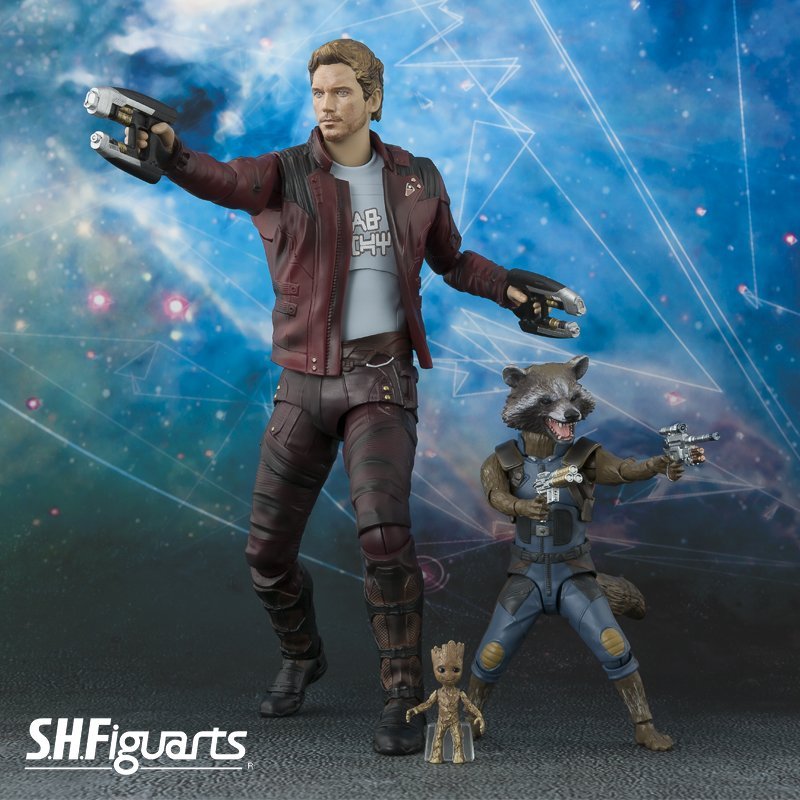 In addition to Star-Lord, Bandai also has a two-pack release of SH Figuarts Rocket Raccoon & Groot planned to go up for order shortly. Baby Groot is pretty small and mundane (and apparently even needs a little clear support base just to stand up), but that Rocket Raccoon Figuarts figure is looking mighty fine (and ferocious).
Since Bluefin has been bringing over all of the recent Figuarts Marvel action figures, it stands to reason that we'd get Rocket and Groot as well, although I have no idea what kind of ginormous accessory they'd have to be packed with in order to get over the requisite $80 hump to be sold in the United States.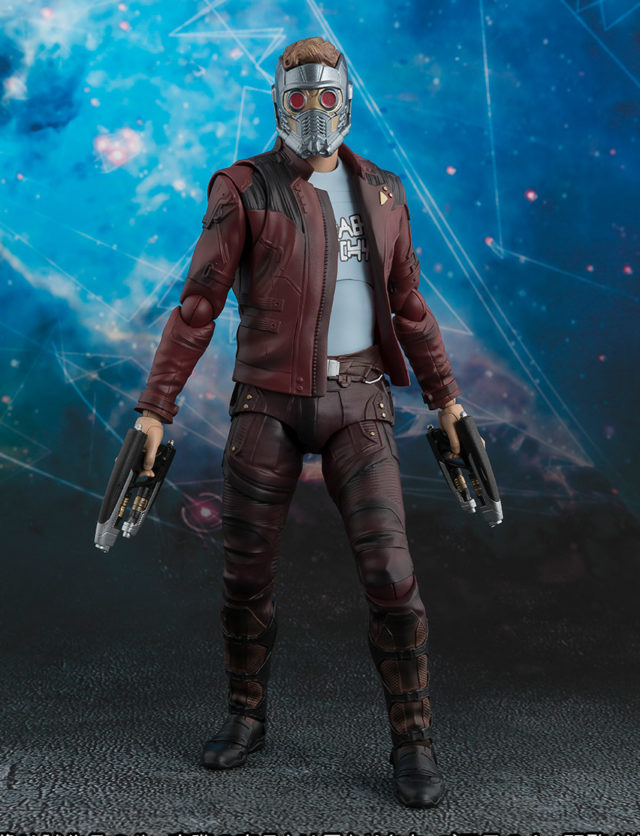 The Bandai Star-Lord S.H. Figuarts Guardians of the Galaxy figure is already up for order in the United States, and is scheduled to be released in September 2017. None of the Bluefin Distribution North America Figuarts Marvel figures have sold out yet, so unless Star-Lord proves to be wildly more popular than his predecessors, you may have some time to make up your mind about whether or not you want to invest in this one.
What do you think of the North America version of the Star-Lord Figuarts figure, Marvel collectors? Do the added translucent purple effects pieces justify the $85 MSRP on this release, or are you aiming for the slightly less expensive import Chris Pratt without effects pieces (or perhaps no Star-Lord at all)?