I wasn't certain that this day would ever come, but to the surprise of many, the first-ever Marvel 2099 Universe high-end collectible is set to be released this summer! Miguel O' Hara has had several low-end figures in the Spider-Man Legends, Minimates, and Marvel Universe lines, but now it's time to hit the big time: the Bowen Designs Spider-Man 2099 Statue is set for release in July 2013!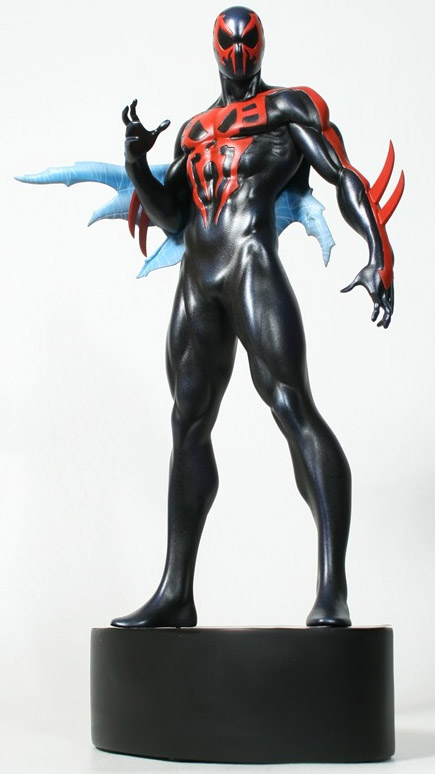 The Marvel 2099 universe was a bit of a mixed bag commercially. The line of comics did well initially, but puttered out and died entirely after just a few years. However, the biggest star of that 2099 universe was unquestionably that time period's Spider-Man, Miguel O' Hara. Beloved comic book writer Peter David created Spider-Man 2099 and defined him as a very different character from Peter Parker, though he has many of the same abilities.
Though he hasn't appeared in his own series in well over a decade, Spider-Man 2099's popularity has grown over the years due to his amazingly-cool costume and multiple video game appearances. This is also a great year for Bowen Designs to finally release a Spider-Man 2099 full-size statue, as "Superior Spider-Man" writer Dan Slott has promised that the Miguel O' Hara Spider-Man 2099 character will be appearing in the modern Marvel Universe later this year!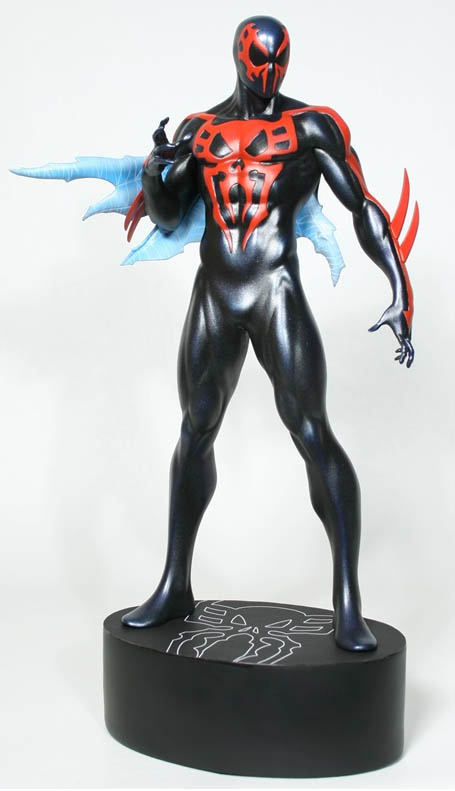 In order to avoid breakage issues, Spider-Man 2099's fingers will be more normal-shaped than the super-sharp retractable "spider-talons" that the character was often depicted with in the comics. The base for the Spider-Man 2099 Bowen statue will be a raised oval like the other recent Bowen Designs Spider-Man statues, although this one will exclusively feature the Spider-Man 2099 logo (obviously). Though it isn't present in the prototype, the final production version of the Spider-Man 2099 statue will feature a transparent web cape.
The Spider-Man 2099 full-size statue has been sculpted by The Kuckarek Brothers, two of my favorite sculptors (who, by the way, also sculpted the unbelievable Bowen Designs Hulkbuster Iron Man statue a few years back). The Spider-Man 2099 Statue is currently available for pre-order, and you can choose a payment plan if you don't want to pay for this big guy all at once. The Bowen Spider-Man 2099 Statue is set to be released in July 2013, with a retail price of $230.