We've got just over a month until New York Toy Fair 2018, but already, it looks like perhaps the (literal) biggest Marvel Legends surprise for the show has been spoiled by a most unlikely source: Toys R Us! In an online video posted on Twitter on the most recent Fan Vault Friday, Toys R Us revealed a never-before-seen Marvel Legends box set which may or may not end up being an exclusive: the 2018 Marvel Legends Sentinel & Days of Future Past Wolverine figures set!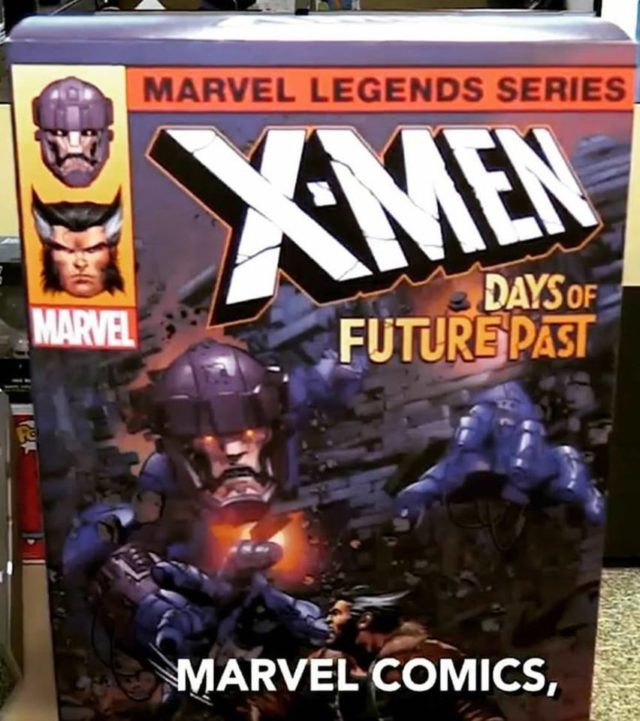 I'm never a big fan of posting news when only the barest specks of information are available, but this weekend's major news is an instance where it's just too large (again, literally) to ignore: unless Toys R Us is now making stuff up, a new Hasbro Sentinel Marvel Legends figure is on the way—and he's not coming alone.
Revealed out of literally nowhere with no warning to collectors (and potentially with no warning to Hasbro either?), a Toys R Us internet video on their Twitter revealed the box packaging for a previously-unannounced Marvel Legends Sentinel figure last Friday. This doesn't come totally out of left field, as Hasbro was a bit coy answering a question about if there would be another Sentinel during the Q&A at HasCon in the fall.
And based on what we can see from the box art (including the faces in the little corner box), the Sentinel isn't coming alone: a new Marvel Legends Days of Future Past Wolverine appears to be packed in as part of the set as well.
So what else do we know about this set? Well… nothing. Price? Release date? Scale? Unknown. I would assume this will be about the size of the previously-released 3.75" scaled Sentinel (if not a straight-up repaint or retool), but without seeing the actual toy or getting any more details on it, it's impossible to know for sure.
Exclusivity? Likewise, unknown. I'm hearing some people call it a Toys R Us exclusive, and while that might turn out to be so, there's clearly no embossed silver "Toys R Us Exclusive" sticker on that box, something we typically see on all TRU exclusives. Until I hear otherwise, I'm going to assume that this is meant as a mass release item. Sentinels are kind of a big deal (no pun intended), so it's not a stretch to think that a new release would sell well at mass-retail.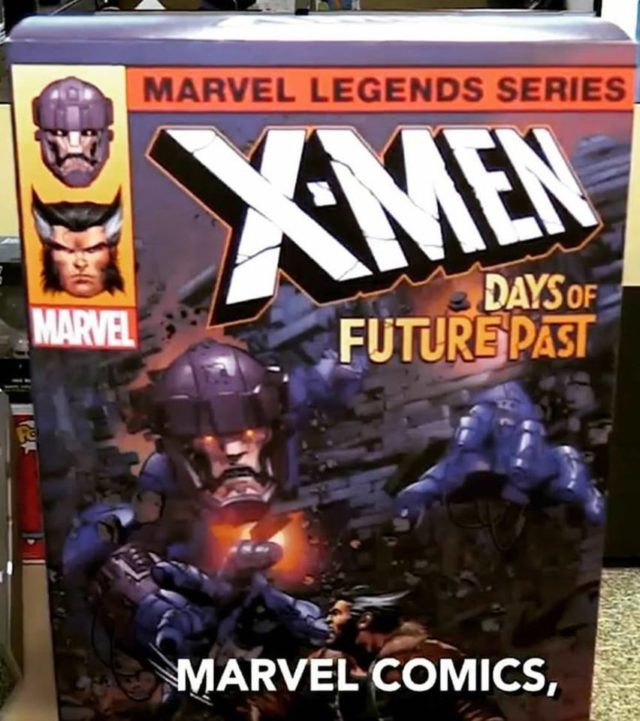 It's not impossible that the Days of Future Past Wolverine Marvel Legends figure included with this set will be a 6" figure, but my gut tells me it'll be 3.75". Keep in mind that the Marvel Universe line was rebranded to Marvel Legends as well a few years back, and a smaller (and cheaper to produce) Logan figure included will make the Sentinel's size look more impressive.
That's literally all the information available on the Marvel Legends 2018 Sentinel figure right now, but I'll post more details about the item as they're revealed (presumably at the 2018 Toy Fair next month). And don't forget that you can follow the Marvel Toy News Facebook and Twitter pages to have the latest news, photos and updates beamed direct to your favorite social media.
Alright, speculate away, Marvel collectors! What are your hopes and dreams for the first new Marvel Legends Sentinel set in years, and what are you expecting from the piece? Price, size, exclusivity, features—let's hear it!