I felt pretty bad kicking off the week by having to strike down the Marvel Select Drax movie figure (which I genuinely did want to love), so I thought today I'd move another DST figure to the top of the review queue—this time, one I had a much better feeling about! We've gotten plenty of Spider-Man Homecoming Tech Suit Spidey figures from various companies—but are any as good as the under $25 Marvel Select Homecoming Spider-Man figure?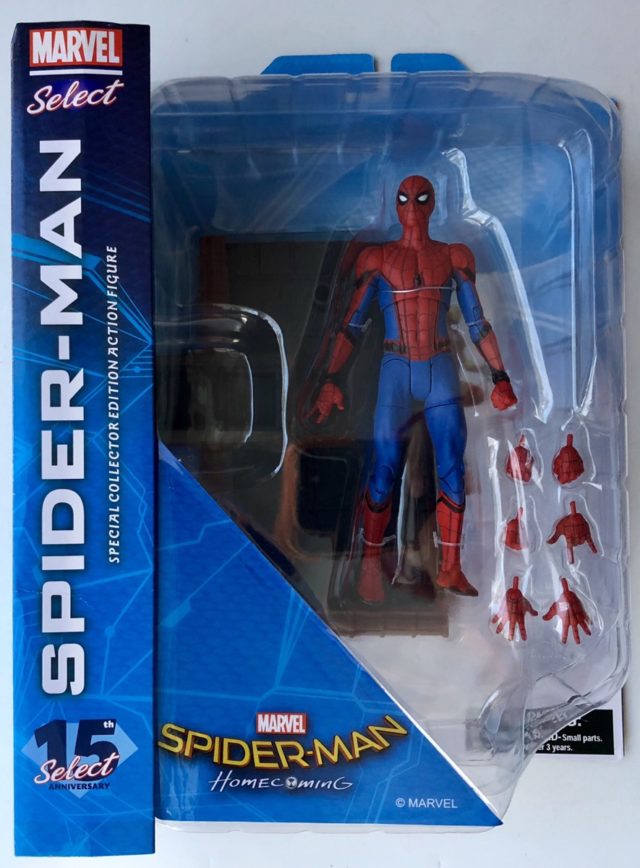 Of the four never-before-seen Marvel Select figures that Diamond Select Toys premiered at New York Toy Fair 2017 (we're only one month away from the 2018 Toy Fair—
Yessssss!
), the one that I easily liked the most was the Spider-Man Homecoming Select figure. In fact. I liked it so much that I accidentally brushed my sleeve on it while photographing and exploded the prototype and accessories off the display shelf and onto the floor (sorry, Zach!!).
Even so, I never get like the figure looked quite as good in online photos as it did in person. Now that I've got the final figure in front of me, does it hold up to my expectations?
In short: "Yeah—I love this figure."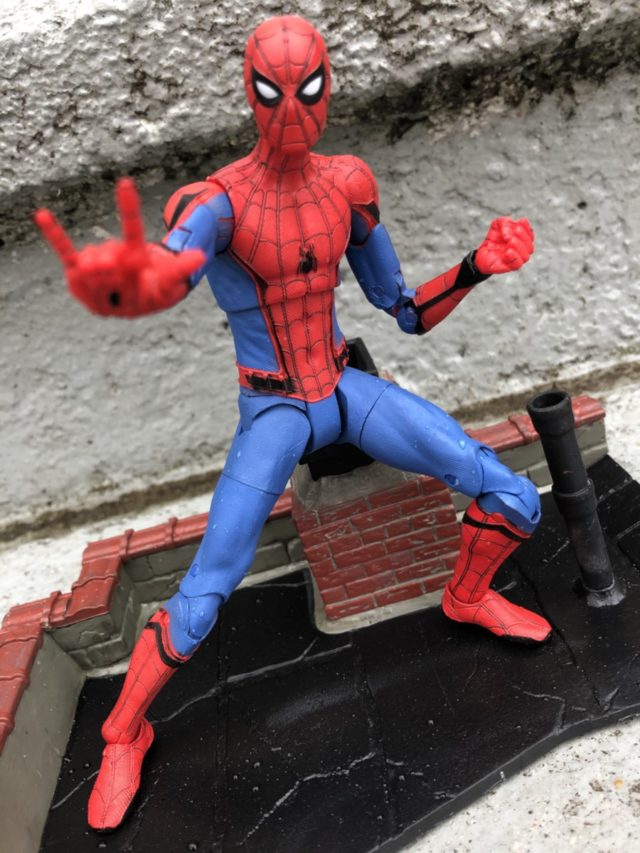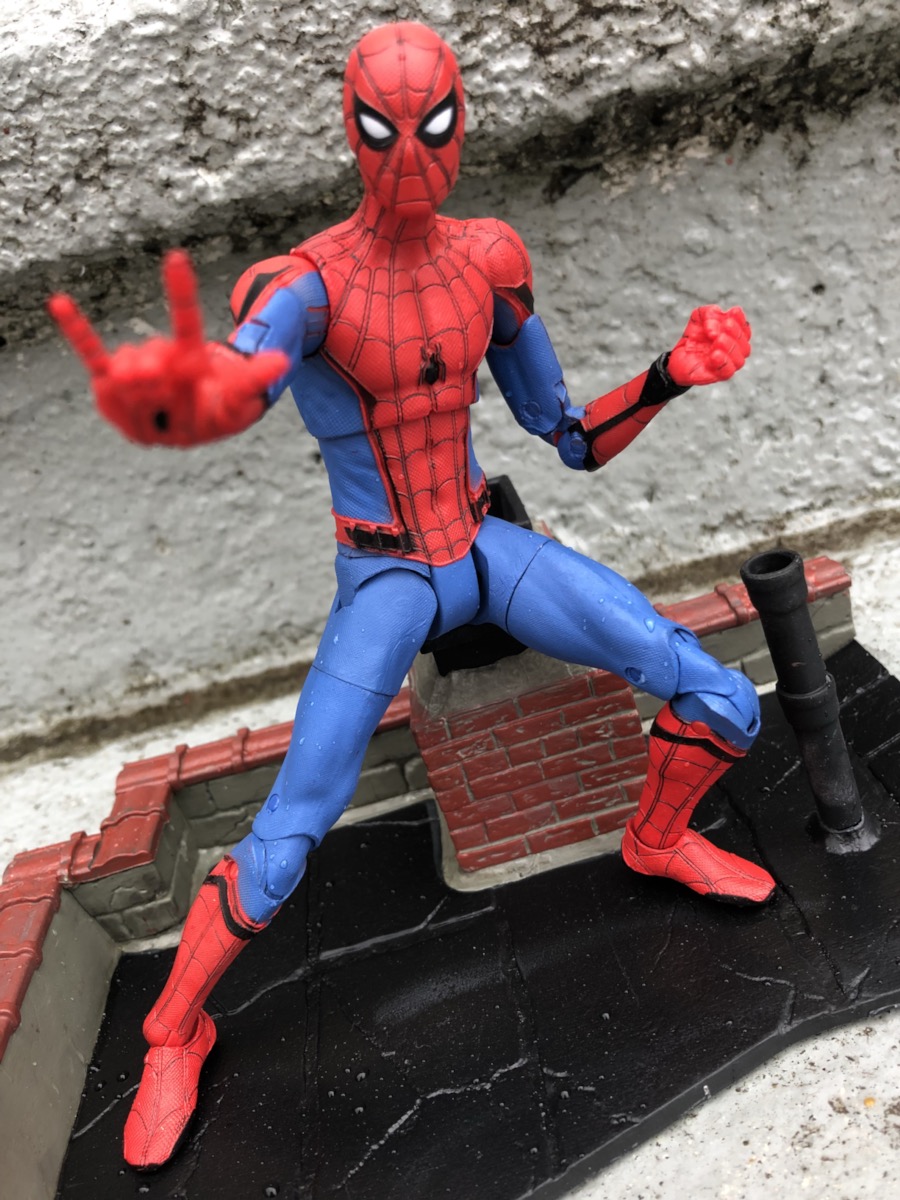 The biggest thing that this figure has going for it is that it plain looks amazing. The proportions and sculpting on this figure are just beautiful—I really like looking at this figure (whereas the Marvel Legends Web Wings Spider-Man is tons of fun to pose, but not so much a looker). The intricate, rubber-like texture on the costume looks phenomenal.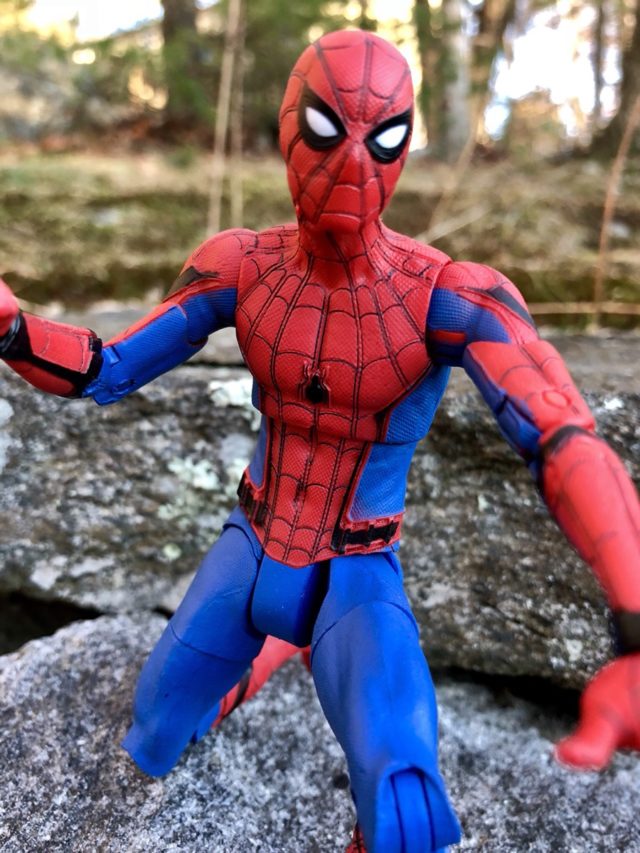 Diamond Select Toys has absolutely nailed the eyes from the movie, as well as the logo and web lines on the costume. I think that the look of this figure matches up well against even the very expensive import figures such as the Mafex And SH Figuarts Spideys. This figure practically looks like a little statue, it's so good.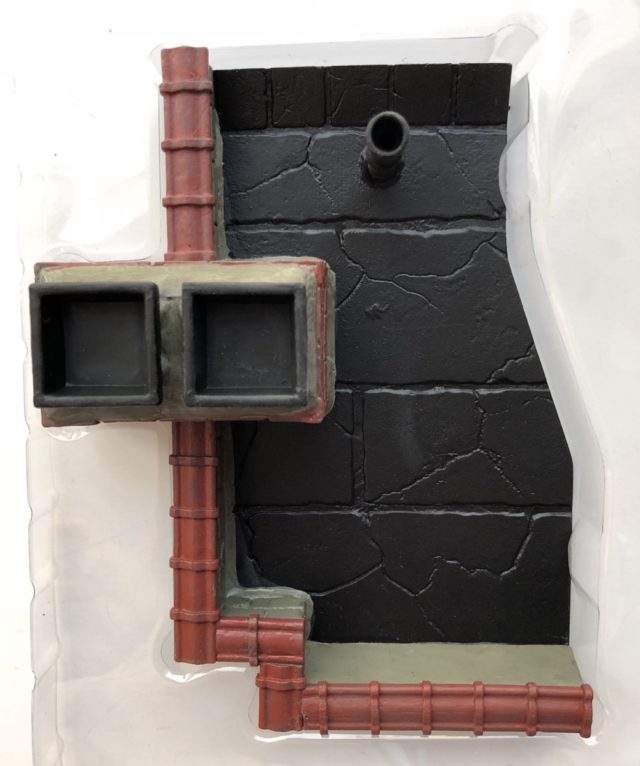 And what statue would be complete without a base, right? Spidey comes with a decent-sized rooftop base that I think adds a lot to the overall display for the toy.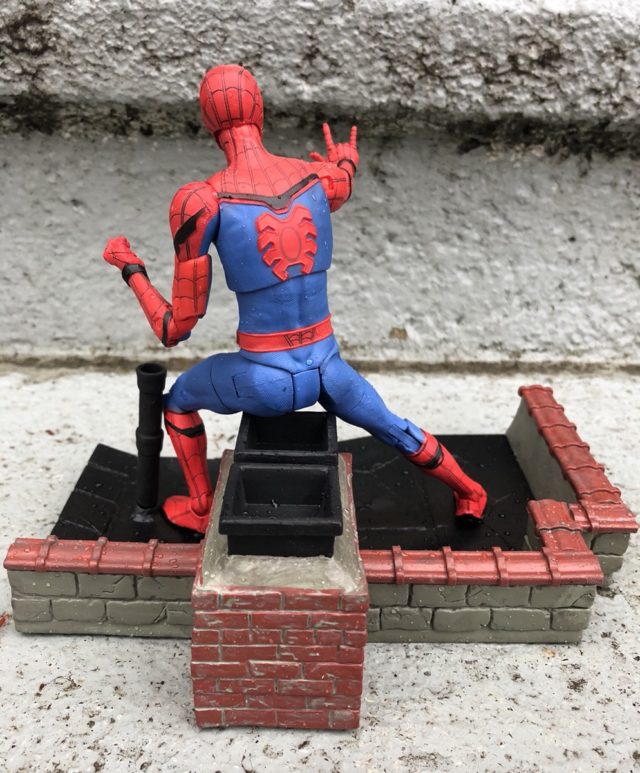 The bricks and tiles on the roof look good, and I like the cracks and chimneys that are present. This is pretty basic stuff as far as DST diorama bases go, but I definitely think it's worthwhile and adds to the overall presentation of the piece.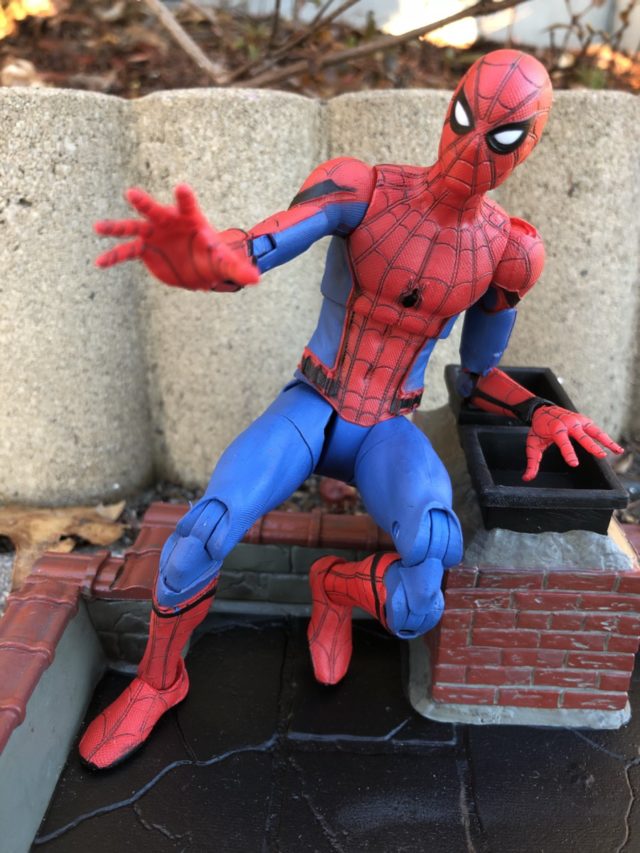 Now for the radioactive Spider-Elephant in the room: articulation. Anyone expecting an SH Figuarts, MAFEX or Marvel Legends level of articulation in this figure is barking up the wrong tree.
Diamond Select Toys is limited to 16-ish points of articulation on these Marvel Select figures, and I'm giving the articulation scheme a thumbs-up because I think DST really gets the most out of what they're able to implement here.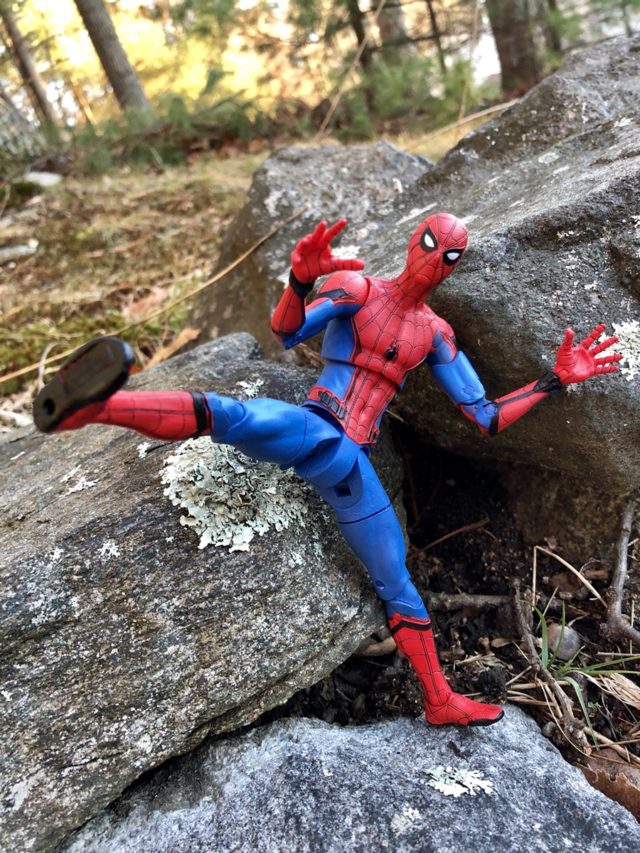 The DST Spider-Man Homecoming Select articulation is as follows: ball-hinge neck; ball-jointed upper torso; double-hinged knees; double-hinged elbows; swivel-hinge hips and wrists; swivel thighs and biceps; ball-hinge shoulders and hinged ankles with rockers.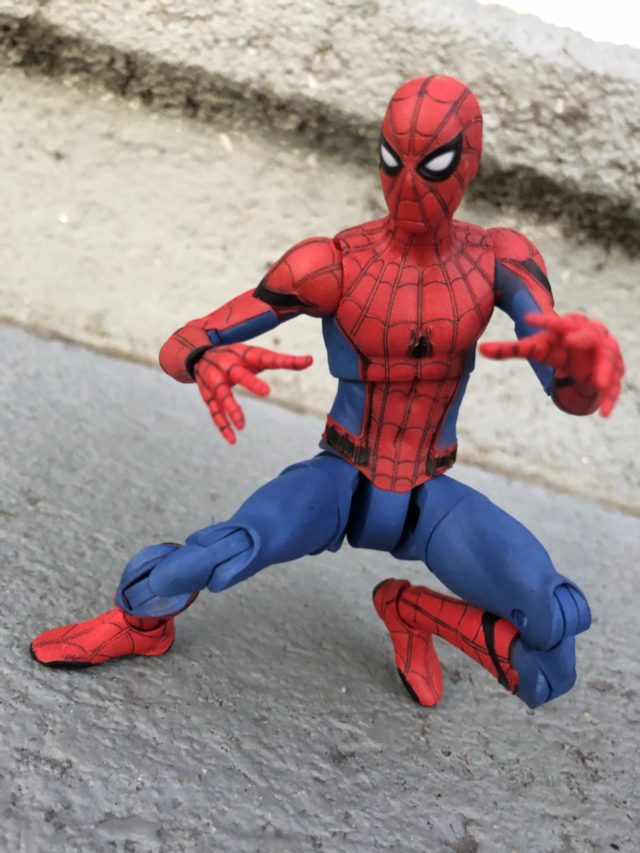 I know some folks hate this Mattel DCUC (DC Universe Classics) style of hips, but I liked it on those figures and I still do now. I think it looks fine and allows Spidey to achieve very deep crouching poses while remaining stable.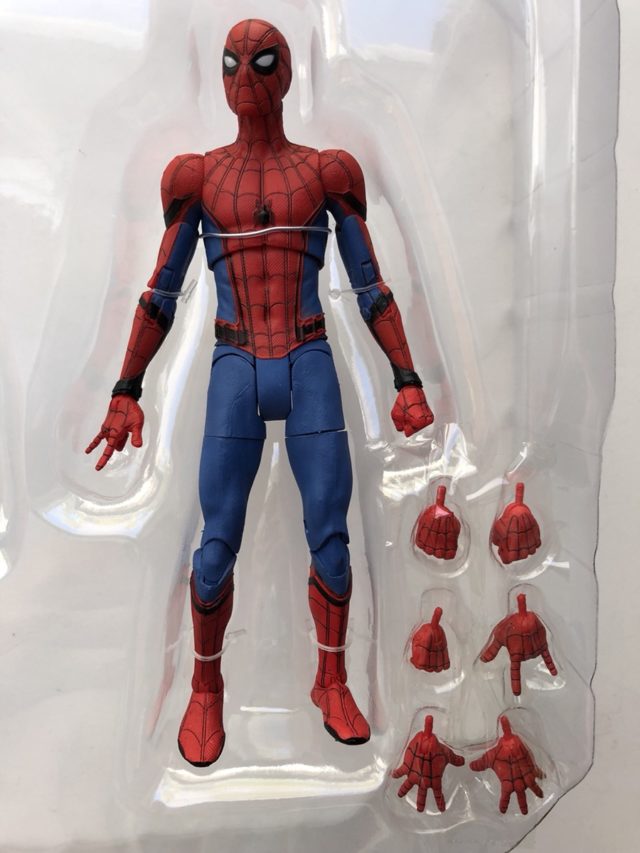 Along with the sizable base, we also get eight interchangeable hands with this figure: crawling hands; punching hands; grasping hands and web-shooting hands. Having all these options hugely increases the number of achievable poses for the figure.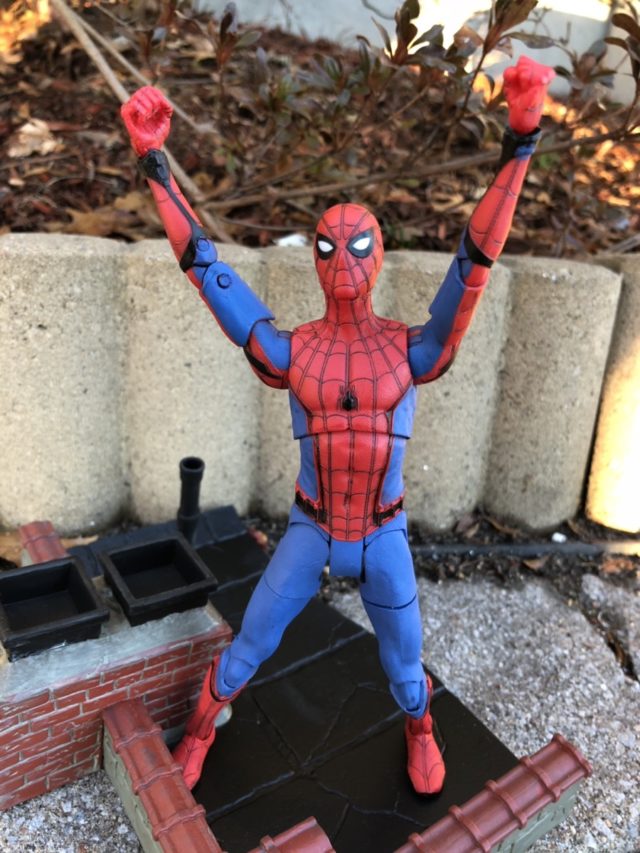 While some collectors may balk about no weblines coming with this figure, I think the large base and eight hands are more than worth the price of admission—especially considering how frequently these days we get Hasbro Marvel Legends figures that come with nothing but a Build-A-Figure piece for just a couple bucks less.
The Wrong:
As many collectors noticed the moment this figure was first revealed, the costume on this Marvel Select Homecoming Spider-Man figure isn't
quite
accurate to what we see in the movie. While there are thin black lines running down the blue of Spidey's legs in the movie, the legs are plain old blue on this action figure.
I'm not head-over-heels in love with the lining on the costume, but it's a shame that the lines were never added to the figure to make it fully accurate. I know several collectors who are going to try to paint/draw on the lines themselves, but I'm just going to live without myself.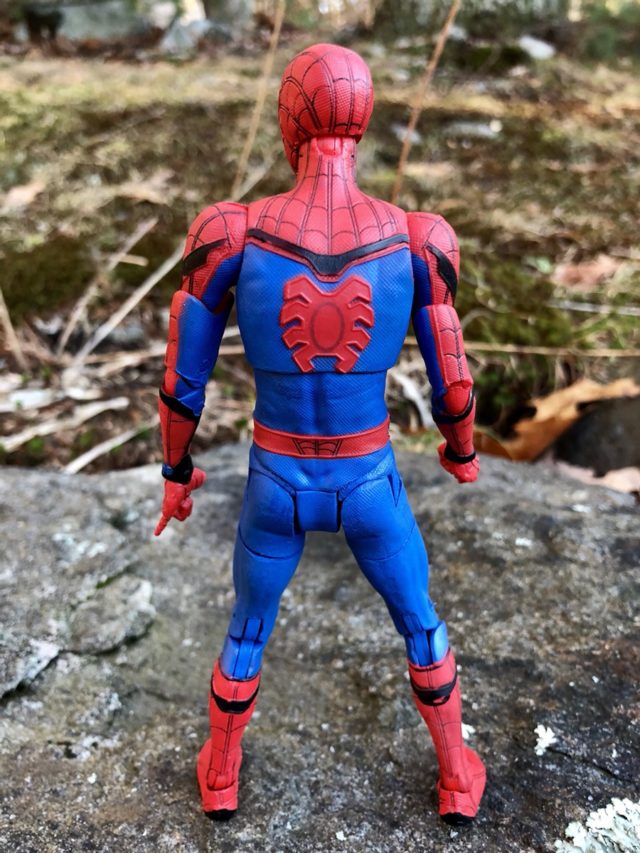 No Tom Holland unmasked head is included, nor has any been announced for release by DST. Unless the Disney Store suddenly pops up a variant with the unmasked Peter Parker head, I don't think we're getting one this time out. That's unfortunate, but for $20-$25 figure, I think the accessories that we get are more than enough.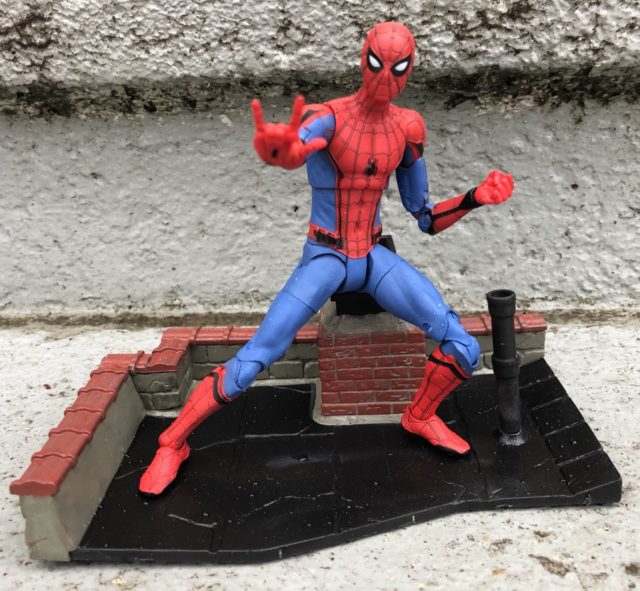 Overall: While Marvel Select Drax is one of the worst figures in the line in many years, Homecoming Spidey is going to be high on my list of recent DST favorites. The look of this figure is just tremendous, and I think it can easily compete visually with the vastly more expensive import figures. The articulation is a little limited because of licensing restrictions and the costume isn't quite accurate, but for a figure you can get online for 21 bucks shipped, this is a big winner. Love it.
GRADE: A-