Way back in October 2017, Kotobukiya launched their new comic-based Defenders ARTFX+ statue line with two flavors of Daredevil. We've been waiting ever since for the next addition to roll out, and with surprisingly little fanfare, the time has come! The Kotobukiya Luke Cage ARTFX+ Statue is now up for order… but is it up to snuff in value and aesthetic compared to past Marvel ARTFX+?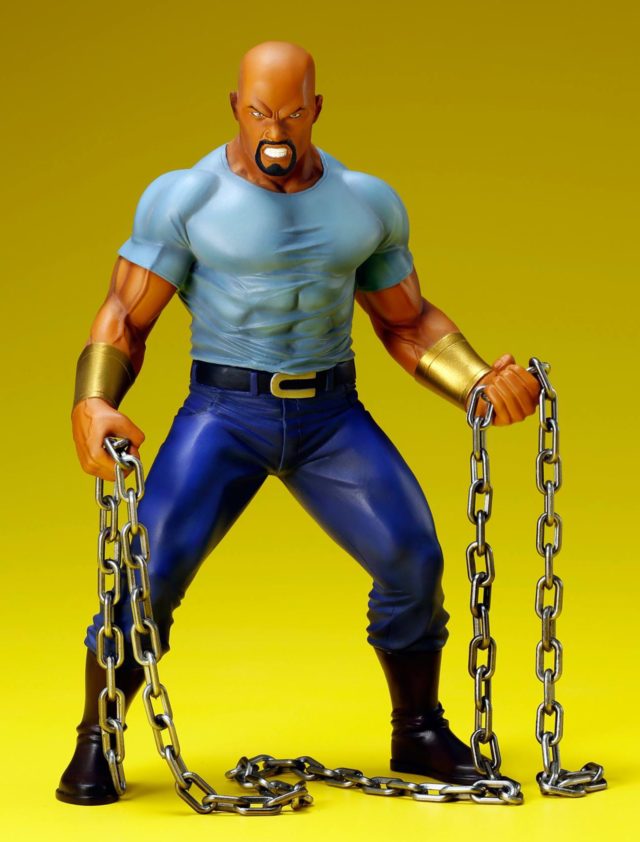 I've been a pretty big fan of the whole Kotobukiya ARTFX+ Marvel 1/10th scale series of figures ever since it began a few years back, and in that time, I can't remember there ever being a release in the line that I really disliked.
But there may be a first time for everything, as Koto's latest Marvel piece just isn't striking the right chords with me at all: the ARTFX+ Luke Cage Statue that's the second release (third if you count Shadowland Daredevil) in the Defenders series.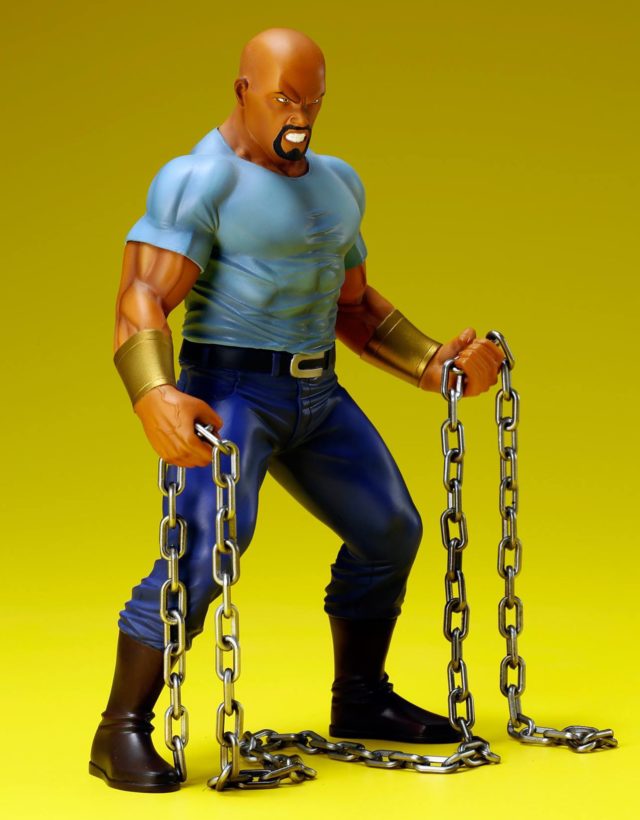 The most obvious misstep here that is probably the most surprising is that Koto seemingly went against all common sense and put Luke Cage into a light blue shirt. Um, what?
The iconic shirt color for comic book Luke Cage is yellow beyond a doubt, but I probably could have dealt with a black or even white shirt for Luke. The light blue selected just looks incredibly jarring to me, however.
From certain angles, the sculpt here also looks kind of, well… dumpy. In certain images the proportions look okay, but in others he looks a bit short and stout.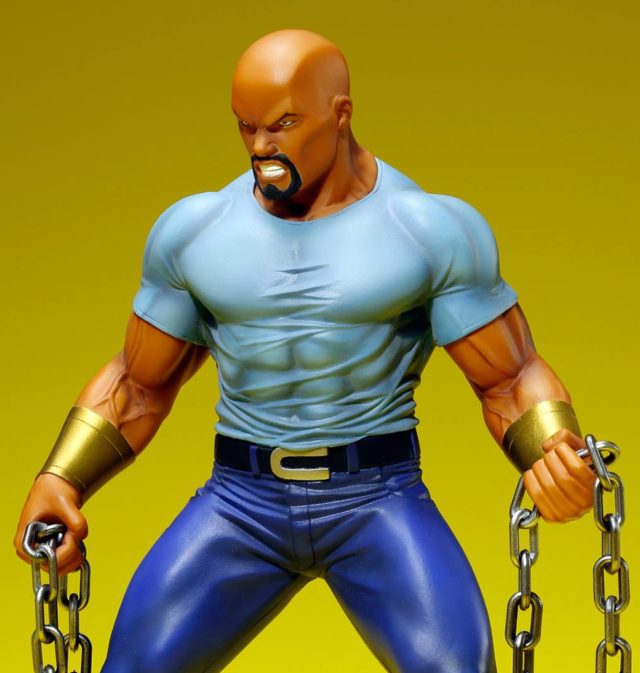 I think the growling, teeth-bared expression that Kotobukiya has given Luke Cage is on-the-money. He looks plenty ticked off and ready to bust some miscreant heads in.
Including the chain to spice up what's otherwise a bald dude in jeans and a shirt is definitely a good choice on Kotobukiya's fault, although they've given Luke quite a bit more chain than I'm used to seeing him with. The chain links look good in his hands, but there's a bit much dragging on the ground.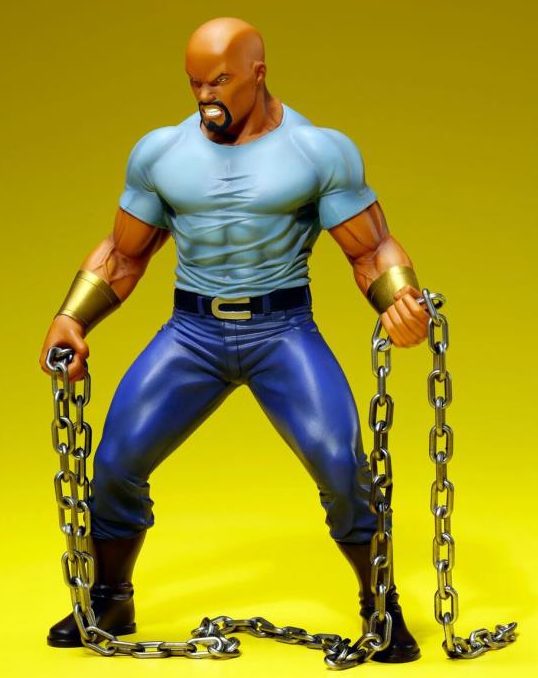 I would usually probably look past my misgivings about this Luke Cage Statue, given that I'm planning to get the other three characters in the ARTFX+ Defenders series, if it weren't for one factor: the price.
While 1:10 scale Koto ARTFX+ PVC statues started out as a fairly cheap ~$50 alternative to higher-priced statues, their prices have quickly escalated to a point that's really giving me pause. A $79.99 MSRP on a rather basic 7.5" PVC statue is pretty shocking, and it's left me really wondering about my commitment to this line.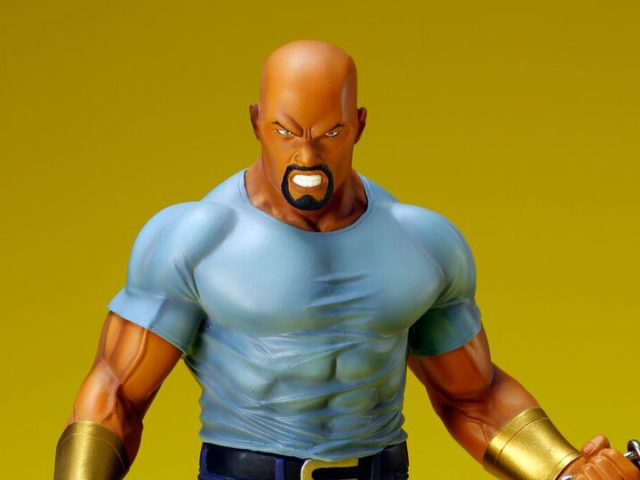 The Defenders Luke Cage ARTFX+ Kotobukiya Statue is now up for order, and is scheduled to be released in July 2018. EE and BBTS both have him marked down a few bucks for pre-orders, though I'm still not excited about paying $70 or more for this figure. I'm expecting to see Jessica Jones and Iron Fist debut at the 2018 Toy Fair next month, and hopefully I'll be a lot more impressed with Luke when I see him there in person as well. Stay tuned.
What are your thoughts on the pricing and design of this new Luke Cage Statue, Marvel collectors? Am I being too hard on Koto, or have they missed the bullseye somewhat with their latest effort?