At New York Comic Con 2017, Kotobukiya confirmed what most fans had already guessed: that the first entry in the ARTFX+ Defenders statues lineup would be a comics-based figure of the icon of the Netflix Marvel franchise, Daredevil. The reveal of a black costume variant right off the bat was a switch (Koto has never done variants immediately in a Marvel ARTFX+ series before), and now collectors can have their choice: both versions of the ARTFX+ Daredevil statues are now up for order!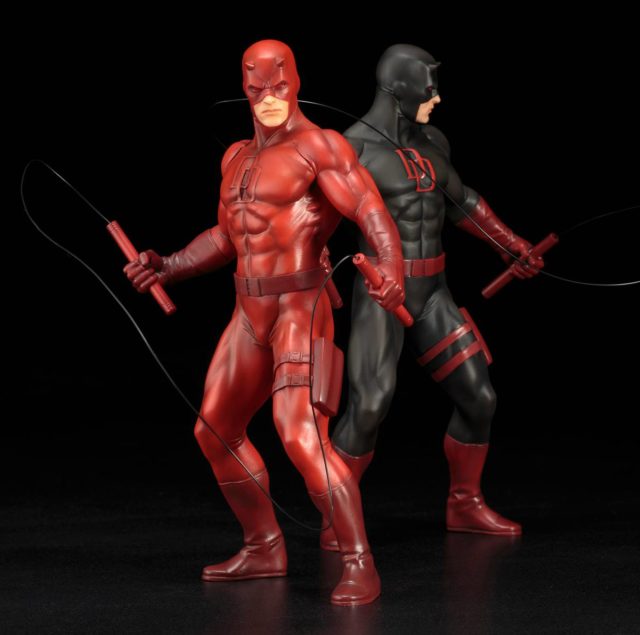 With the mega-popularity of the Netflix Marvel shows that aren't named "Iron Fist", many fans figured it was only a matter of time until Koto decided to tackle the comic-based version of the team in 1:10 scale ARTFX+ form. And as we heard at SDCC 2017 and saw at NYCC 2017, that time is now!
The series will consist of four different characters, with at least one major paint variant scheduled for release:
Daredevil (Red Costume)
Daredevil (Black Costume)
Jessica Jones
Luke Cage
Iron Fist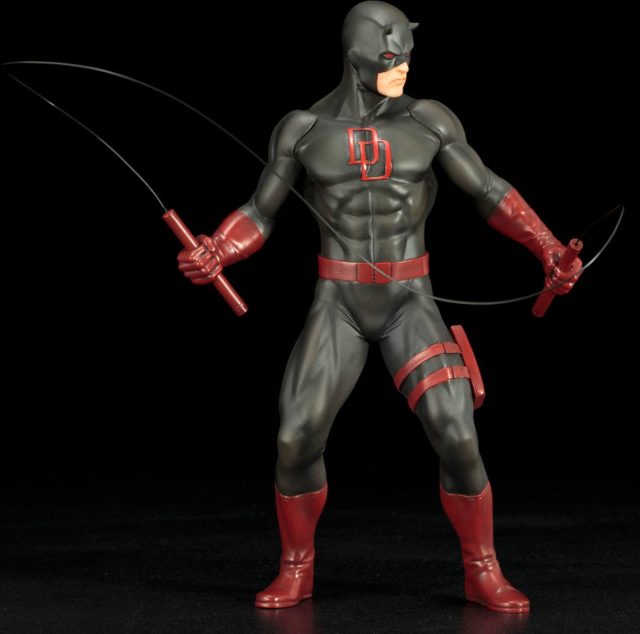 In a weird twist, the first figure released in the Defenders ARTFX+ series is going to be the paint variant: Black Costume Daredevil!
I've become a huge fan of the Shadowland-like Black Costume for Daredevil over the past few years, and the Mezco ONE:12 Collective version of that design is my favorite figure they've released in that whole line, so I'm super jazzed that Koto has decided to grant us a black Daredevil statue. (I'd love it if Sideshow gave us this variant someday too!)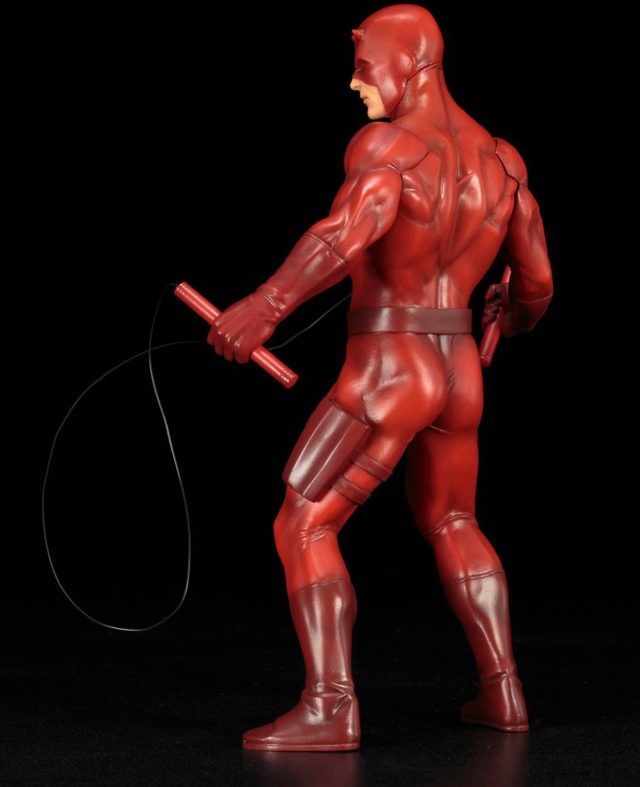 Two months after that Daredevil variant is released, we'll get the classic red Daredevil ARTFX+ Statue (AKA the version that 95% of collectors are going to prefer). Smart move on Koto's part releasing the less popular version of DD first!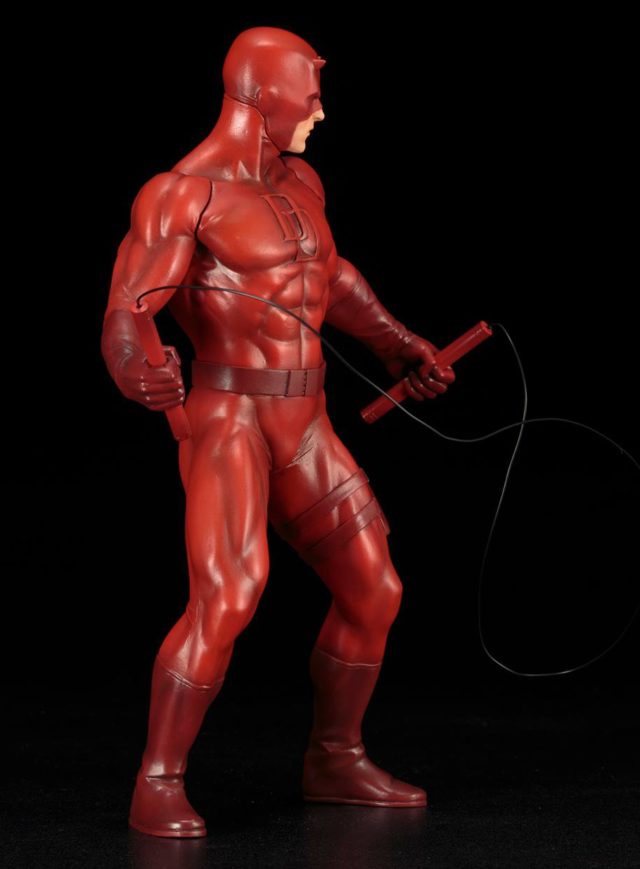 Both Daredevil Kotobukiya figures will stand 7.5" tall and attach to a magnetic base (although Koto hasn't confirmed what designs will be on the bases for this series just yet).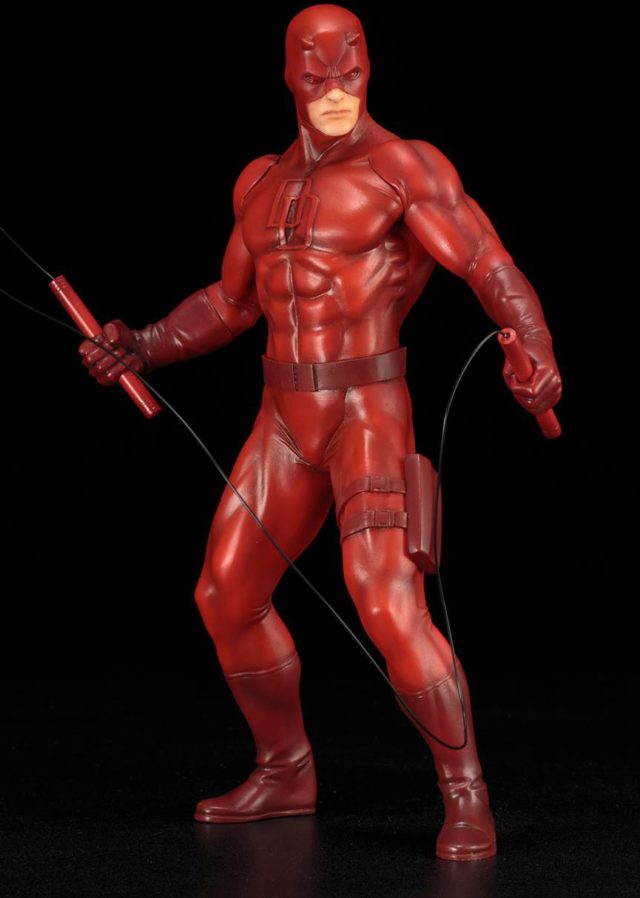 The battle-ready stance picked for this sculpt is perfect, in my opinion. Hornhead looks focused and right to fight, and the cord connecting the two billy clubs looks natural and authentic.
Other than the $69.99 price-tag on these figures (which I think is far too high for 1/10 scale plastic statues), I've got no real complaints about what Koto's put together for us. Hopefully the seam lines on the arms and head won't be too apparent on the finished product. The Defenders Statue series is off to a terrific start in my eyes!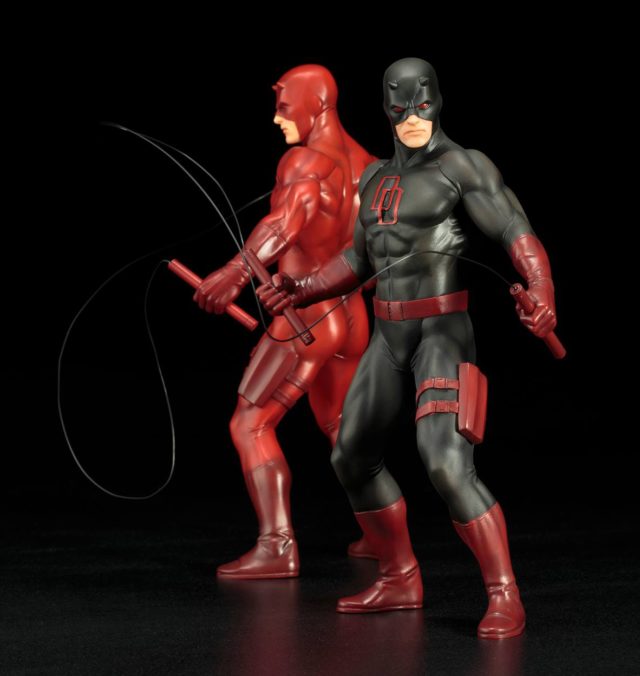 The red and black Daredevil ARTFX+ figures are now available for order, and are scheduled to be released in March-May 2018. It's going to be a long six month wait between ARTFX+ statues with Venom already released, but at least collectors will have plenty of time to save up for the Defenders!
Now that the Kotobukiya Daredevil statues have been fully revealed, what do you think, Marvel collectors? Are you in for the Kotobukiya ARTFX+ Defenders series of statues, waiting to see how the rest of the team looks in physical form, or planning to pass on this line altogether?