Well, here's a surprise worth waking up to! From the United States to Canada and now to the United Kingdom, the Hasbro Marvel Legends reveals world tour rolls on this week at MCM London Comic-Con! At NYCC 2017, Hasbro said that we'd be seeing the Marvel Legends Black Panther movie figures revealed soon, and by that, it turns out they meant at London Comic-Con, where Killmonger, the Dora Milaje and more were revealed!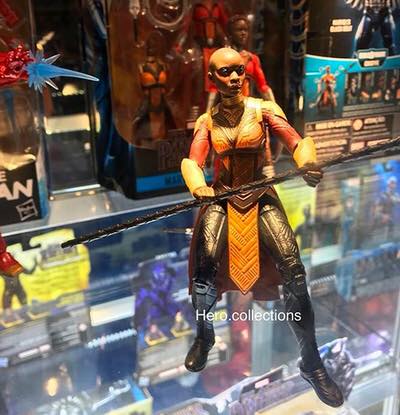 The biggest news coming out of London Comic-Con is that the Black Panther Series Build-A-Figure has been revealed to be none other than… a Marvel Legends Okoye Build-A-Figure. *crickets* I know you guys were expecting a Man-Ape, but it looks like he'll be waiting for his day in the 6″ action figure sun for a little bit longer.
If you don't know the name "Okoye", that's okay! You will soon, as Okoye is the leader of the Dora Milaje in the Black Panther movie. The Dora Milaje are the fan-favorite female bodyguards of the Black Panther in the comics, and almost certain to become favorites of moviegoers when the Black Panther movie hits in the winter.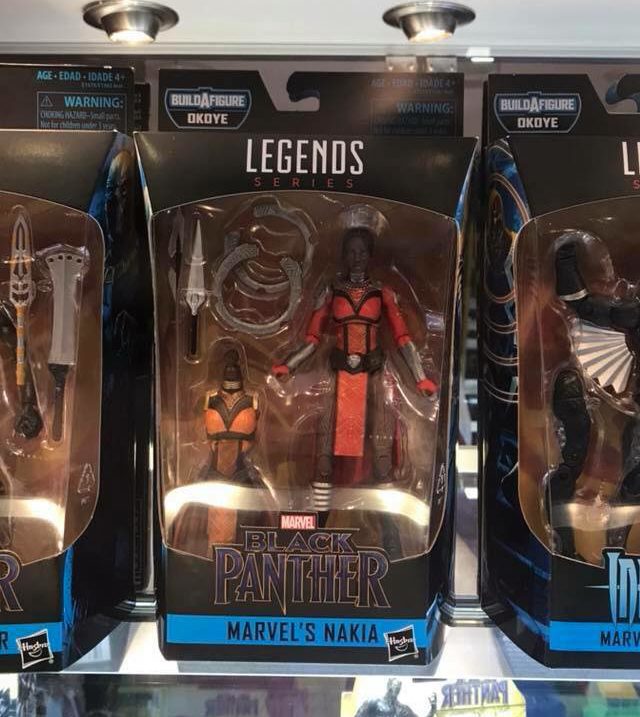 The torso for the Okoye BAF will be packed with the Marvel Legends Nakia figure, another movie Dora Milaje member. Nakia comes with a pair of bladed hula hoop weapons, reminding me a lot of Tira from Soul Calibur III!
I don't think anybody would have been satisfied with having just one unique Dora Milaje bodyguard to protect King T'Challa, so I applaud Hasbro for taking a risk and giving us two virtually unknown female characters in one wave.
The third Black Panther Marvel Legends movie figure in the series is Erik Killmonger, who's basically costumed as an evil Black Panther in the film. I like the gold accents to the Golden Jaguar costume Killmonger is outfitted in, even if it is a bit dull having him look so similar to T'Challa.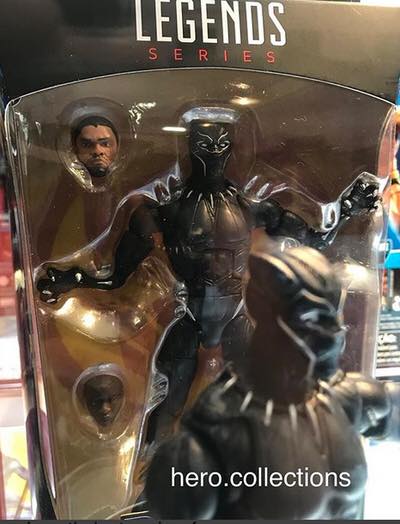 And speaking of T'Challa—! The fourth and final movie figure (and seventh and final figure overall) in the Marvel Legends 2018 Black Panther wave is a new movie version of Black Panther himself. The biggest improvement here is the Chadwick Boseman head, which is drastically better than the Civil War version.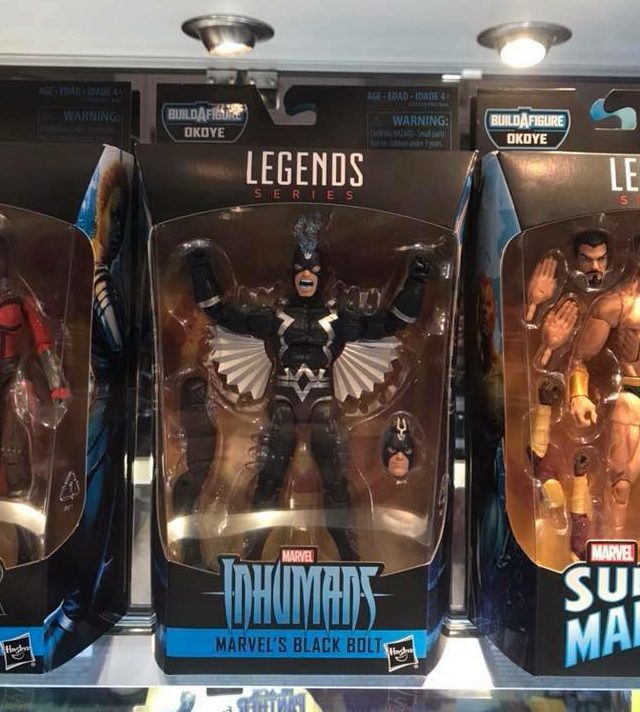 The other three six inch figures in this series are the ones revealed at San Diego Comic-Con 2017 and HasCon 2017: Marvel Legends Black Bolt, Namor the Sub-Mariner and Invincible Iron Man.
Despite the Inhumans TV series not exactly being a mega-blockbuster, I think the first mass-released 6" Black Bolt ML figure to hit stores in many years is going to be a hit and one of the fastest-selling figures in this series.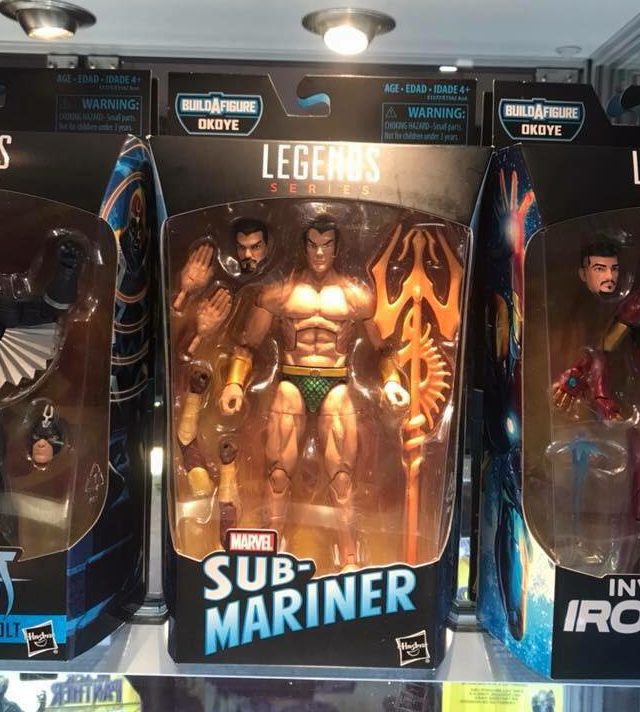 The new Marvel Legends Namor figure will definitely appeal to classic fans, although I've heard more collectors than I expected to say that they're sticking with their Walgreens Exclusive Black Costume Namor (which looks less like a dude wearing swim trunks).
Finally, the Marvel Legends Invincible Iron Man figure that was first revealed at HasCon last month rounds out the wave. I would be astonished if we don't see tooling from this figure reused for a Doctor Doom Infamous Iron Man figure in the near-future, although I'm not sure that the sculpt is proportioned appropriately for us to get an Ironheart out of it.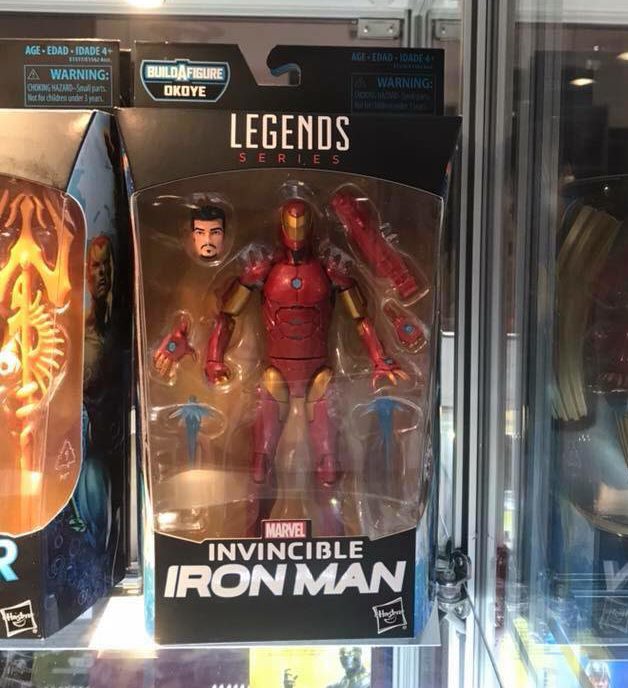 The Marvel Legends Black Panther movie series should be up for order this winter, although Hasbro hasn't announced an official street date yet for the wave (beyond that it would be in 2018). I'll send out updates via the Marvel Toy News Facebook and Twitter pages once hi-res images of the wave are revealed and again when pre-orders go live.
And thanks to InDemandToys and Hero.Collections Facebook Pages for sharing these photos from MCM London Comic-Con 2017!
Now that we've seen the Black Panther Movie Marvel Legends Series in its entirety, what do you think of the first Marvel Legends 2018 wave of figures? Are you going for the whole wave to build Okoye, just sticking with the movie or comic figures, or passing on this series altogether?