Ordinarily I'm super-depressed when it's a slow Marvel toy news week and there's nothing to talk about, but since I'm dealing with major flood damage at home this week, I'm mostly okay with it. Sideshow Collectibles has their eye on all our dollars during their Spooktacular event this week, however, and following up their lightning-fast sell-out Phoenix from Monday, the Sideshow Exclusive Wasp Statue is now up for order!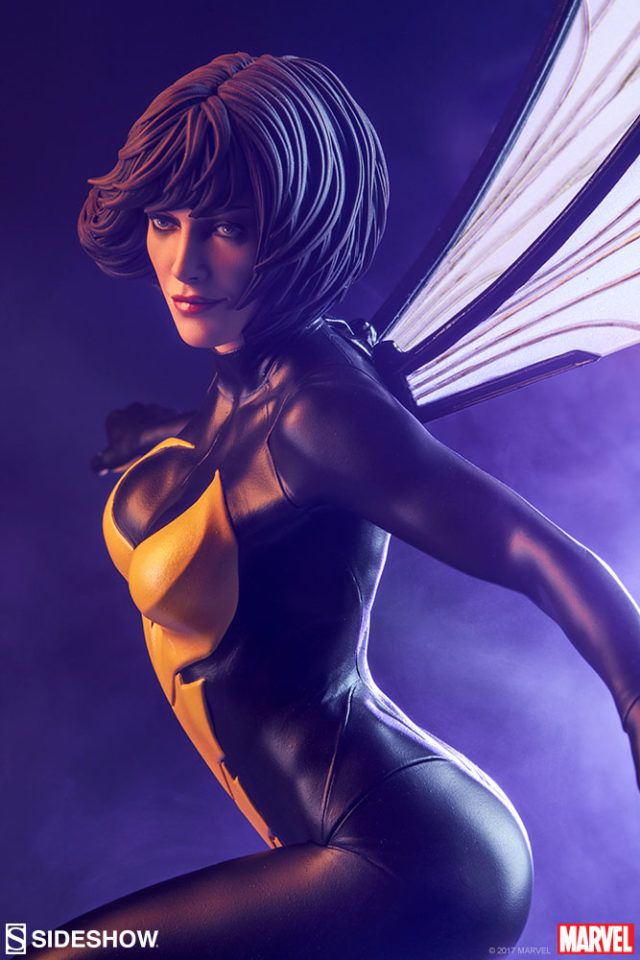 Although she's the singular founding female of the original Avengers lineup, Janet Van Dyne has not gotten a lot of love from Statue companies over the years. Bowen Designs did a variety of Wasp statues and busts, Kotobukiya made a Wasp Bishoujo… and that's pretty much it.
But even though Sideshow Collectibles has never released or even teased a Wasp Premium Format Figure, they're finally giving Janet her due with this new Avengers Assemble Wasp Statue!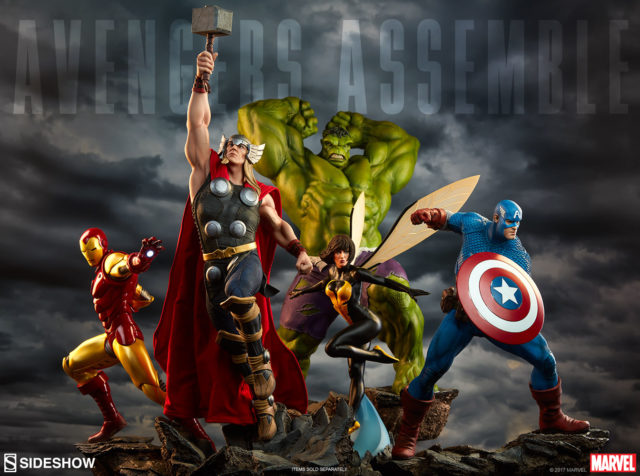 I had minimal confidence that Sideshow was going to continue their space-saving 1/5 Avengers Assemble statues line after "The Big Four" of Iron Man, Captain America, Thor and Hulk, but I am pleasantly surprised to see the line continuing—and with a character who so rarely gets collectibles, no less!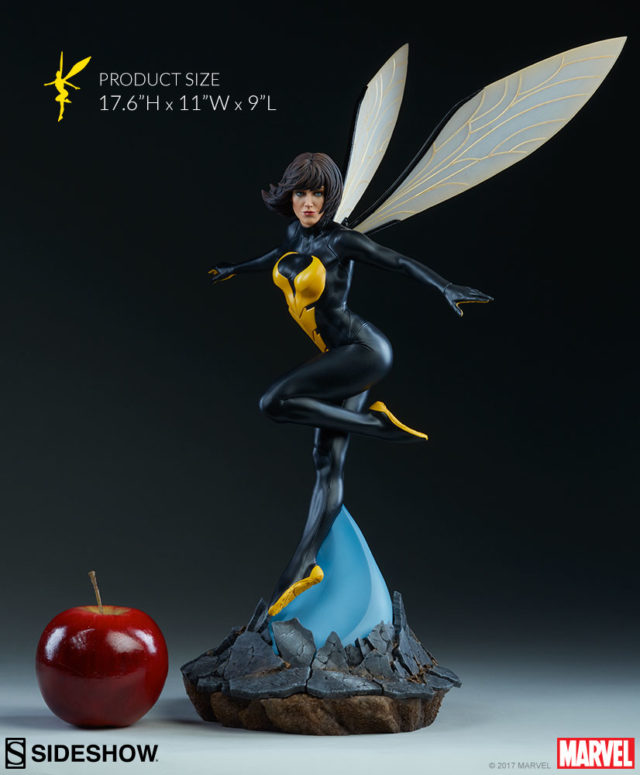 At 18" tall, the Avengers Assemble Wasp Statue will be the biggest Wasp figure that's ever been produced by any company.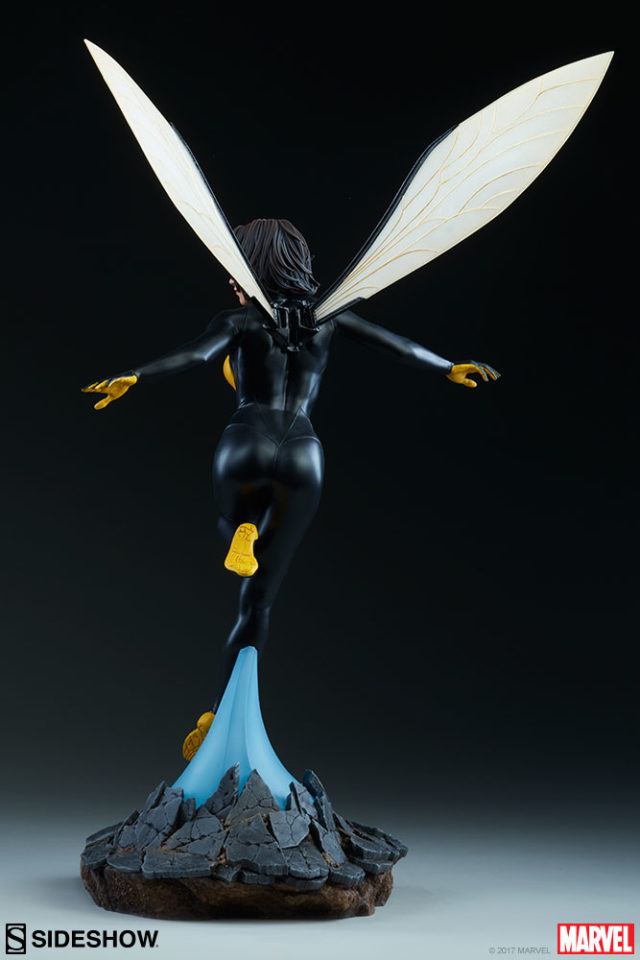 Sideshow chose the most recognizable look from Wasp's two-million different comic book costumes over the years, the black costume with yellow decorations. This is the look I would have picked, too, so no complaints here.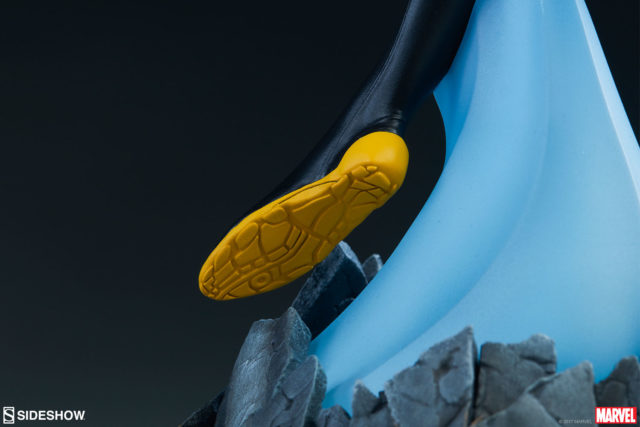 The detailing on the wings looks terrific, but my favorite details (oddly enough) are the treads on the bottom of her "boots". (I loved the treads on the recent Spider-Gwen Sideshow Collectibles put up for sale, and I love them again here–I guess I'm a "treads man". Heh.)
There's two things about the statue that I find questionable: the opaque "swoosh" flying effects piece on the base, and Janet's face. I would have expected the flying effect to be translucent ordinarily, so the opaqueness of it is a little jarring.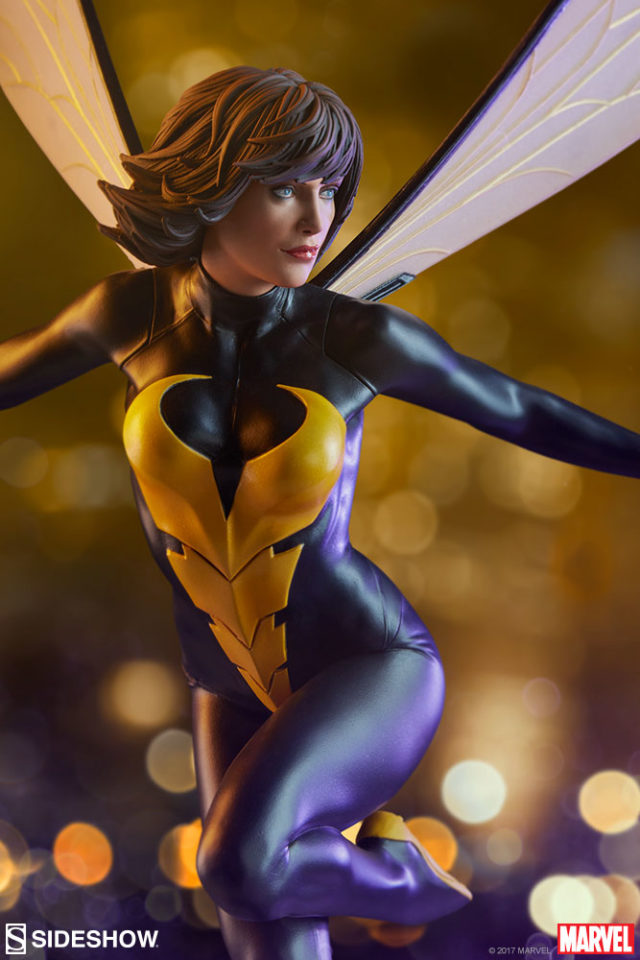 From some angles the Wasp's face looks outstanding, and from other perspectives it looks… less outstanding! We so rarely get Wasp statues that I'm willing to find just the right angle to display her at, though, personally.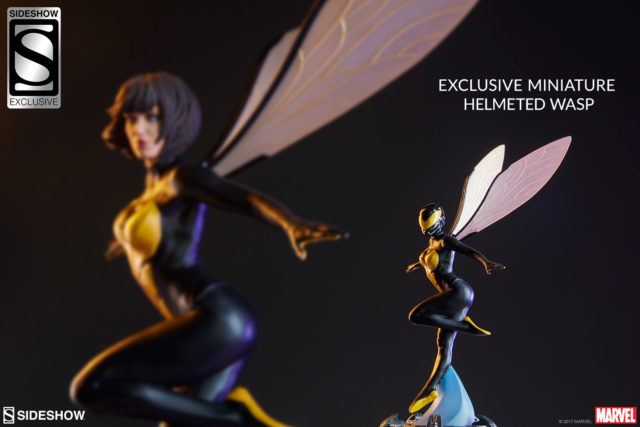 As (almost) always, there's a Sideshow Exclusive Wasp Edition available, and this time, the bonus accessory is almost a must: a whole other Mini Wasp Statue!
To go along with the 18" Wasp, Sideshow has included a 4" Wasp Statue as well—something a lot of collectors are likely going to want for changing up their displays and adding a feeling of scale to the lineup. As an exclusive, Mini Wasp is an excellent selection.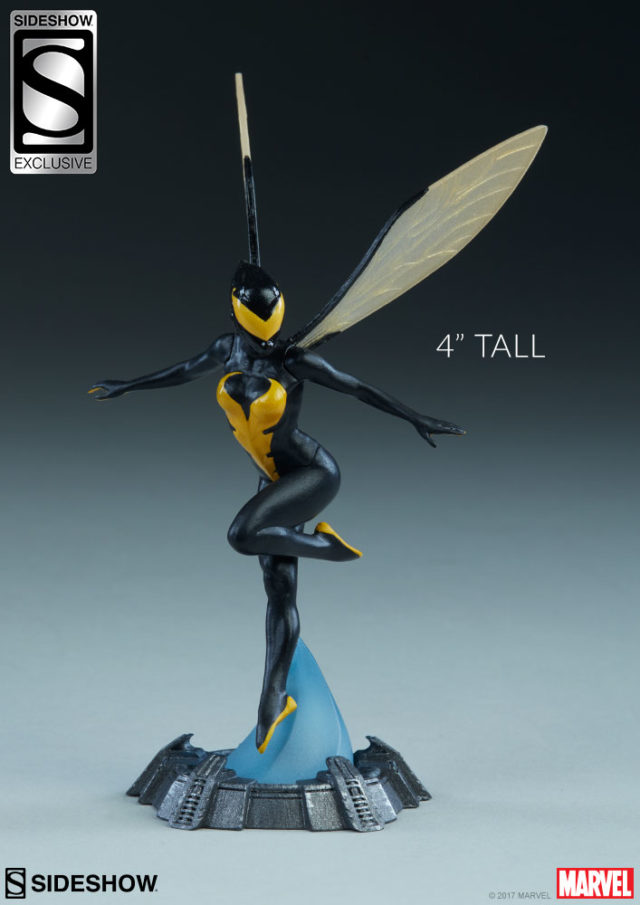 I'm a little bit less enamored with the choice to make the Mini Wasp a helmeted version, which I suspect is because Sideshow doesn't have much confidence in being able to make her face nice in such a tiny scale (especially considering that the face on the full-size Wasp isn't exactly supermodel material).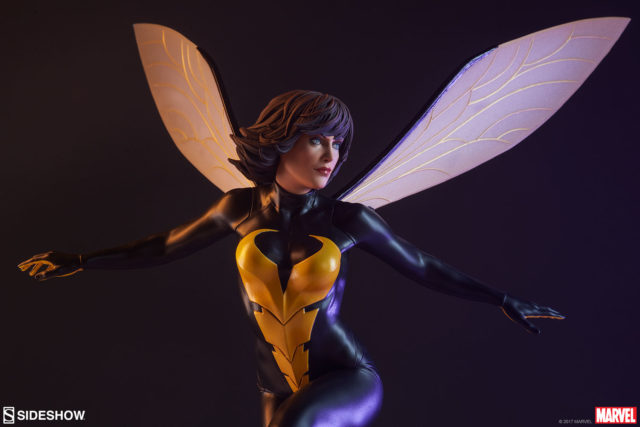 With the projected release date for the Wasp Avengers Assemble statue being late 2018, it's pretty clear SSC is hoping to capitalize on Wasp's MCU movie appearances next year to boost sales.
Honestly, I probably would have opted for the near-guaranteed sales of Black Widow, Carol Danvers Ms. Marvel or Scarlet Witch instead if I were Sideshow, but I applaud their taking a risk with a rare high-end Wasp Statue!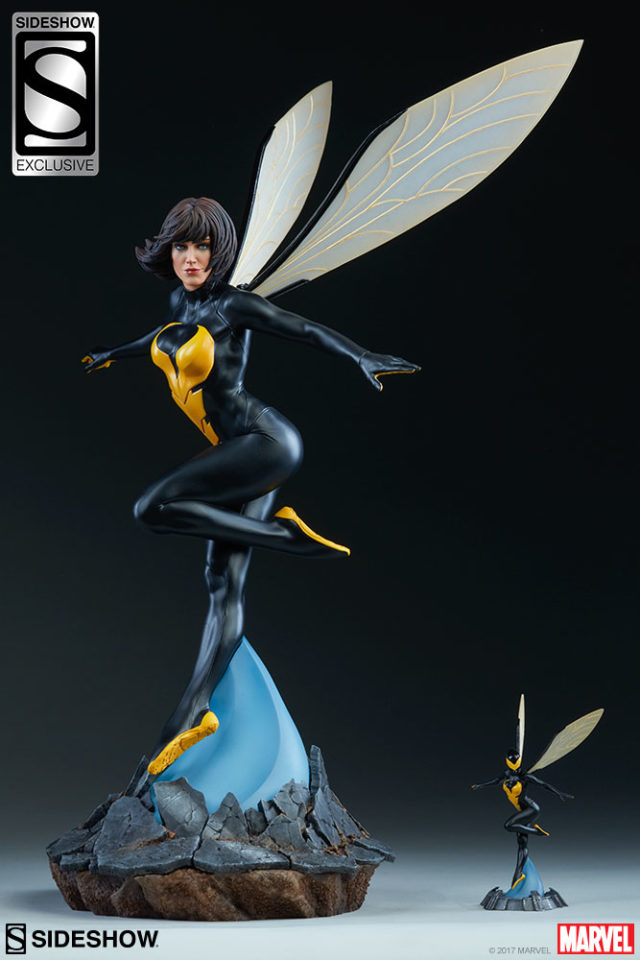 The Sideshow Exclusive Wasp Avengers Assemble Statue is now up for order, and is scheduled to be released in Q4 2018. She's priced at $390 for the exclusive version and $380 for the "Collectors" (*cough* Regular *cough*) Edition. That's pretty reasonable for an 18" Statue these days, so praise be to SSC for keeping the price under 4 Benjamins.
Now that the first high-end Wasp Statue in many years is flying in, what's the buzz, Marvel collectors? What do you like (and dislike) about this statue, and are you thinking of getting one of your own?