We may be barely a month away from the release of the Guardians of the Galaxy Vol. 2 movie in theaters, but as far as retailers are concerned, it's just about time to start focusing on Spider-Man Homecoming! And so, after staring at dark silhouettes for months and seeing some of th figures at Toy Fair, Diamond Select Toys officially revealed photos of the Spider-Man Homecoming Minimates Series that's been up for order for months! If you've been waiting for movie figures of Shocker, Tinkerer and Aunt May, this is the wave for you!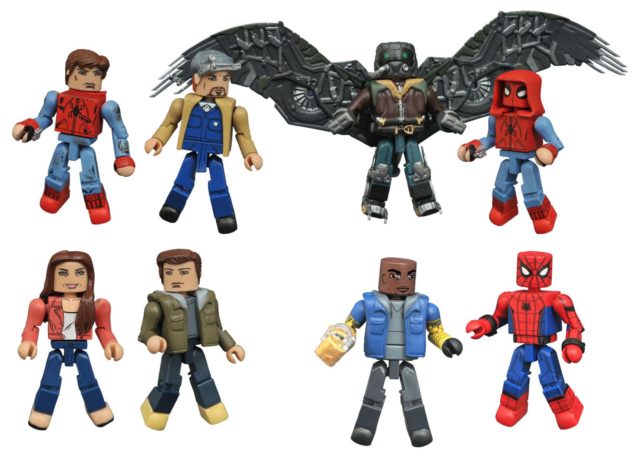 Ever since we heard that the Tinkerer and the Shocker would be making appearances in this year's Spider-Man Homecoming movie, I've been reasonably certain that if those characters would be getting any merch whatsoever, it would be from the Diamond Select Toys Marvel Minimates line.
And lo and behold, now that images of the series have finally been officially revealed, here they are! And they've brought some pretty neat friends with them…
The Marvel Minimates Spider-Man Homecoming series coming to comic book stores and online retailers will contain the following packs:
The Vulture and Homemade Suit Spider-Man
Spider-Man and The Shocker
The Tinkerer and Battle-Damaged Spider-Man
Peter Parker and Aunt May
The latter two two-packs will be exclusive to comic and specialty stores and will not get a mass release at Toys R Us. So if have your heart set on owning the first Marisa Tomei Aunt May toy–and the first merch of any kind that I think has ever been released for any iteration of the Tinkerer ever–you may want to reserve that set now.
Meanwhile, Toys R Us will be getting the Vulture/Spidey and Shocker/Spidey two-packs, as well as a really good exclusive release of their own…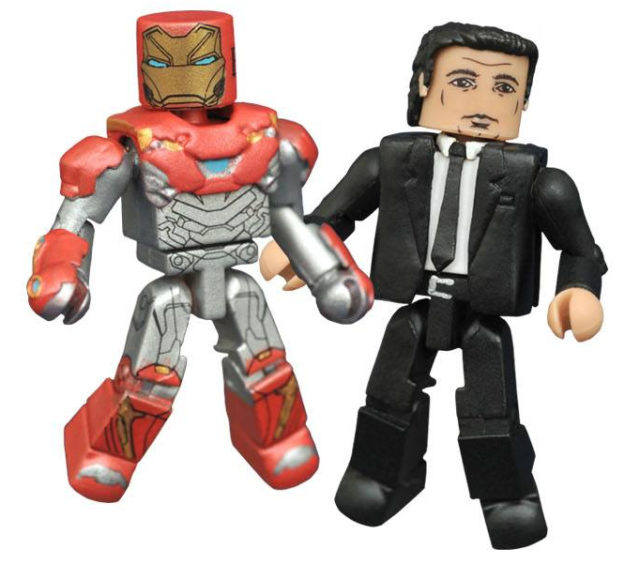 I'm
really
surprised to see that the Minimates Spider-Man Homecoming Iron Man figure is a Toys R Us exclusive. Iron Man looks like he's going to be a significant part of this movie and is always a top seller and headliner, so Tony being a Toys R Us store exclusive is an unexpected twist.
Plus, the Toys R Us exclusive two-pack with Homecoming Iron Man also comes with a Happy Hogan Minimate! Those needing a tiny Jon Favreau figure in your lives, rejoice (and hope that Toys R Us orders enough stock)!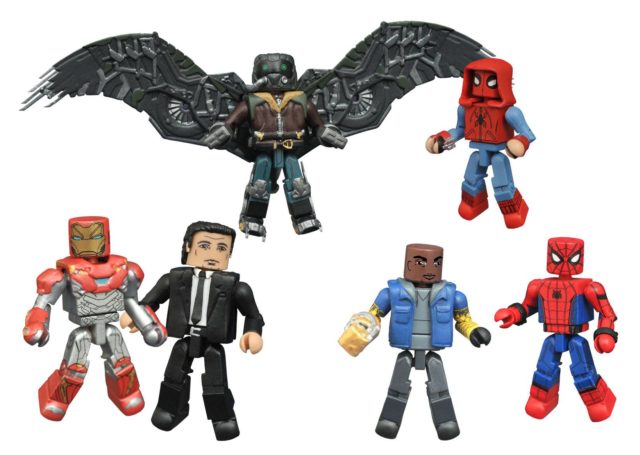 The Spider-Man Homecoming Minimates Series is now up for order online, and is expected to be released in May/June 2017. No word yet on when the Toys R Us version of the wave will hit stores, but theoretically it should be right around the same time frame as the comic and specialty store mix of the wave. DST Movie Minimates figures sometimes arrive in stores fashionably late, but this time it looks like they're going to be fashionably early!
What do you think of the most expansive line of Spider-Man Homecoming toys from any company, Marvel collectors? Will you be webbing up any of the characters in this wave, or is the Minimates figure style just not for you (Tinkerer or no Tinkerer)?