At SDCC 2016, Hasbro challenged the boundaries of what many collectors believed it was possible for a toy company to release at mass  retail with one action figure announcement: Disco Dazzler. While most people thought that if we ever got a Dazzler figure, it would be some sort of exclusive, that perception was shattered when she was placed in the mass market X-Men Warlock Series. The Marvel Legends Dazzler figure is currently selling for a couple bucks over retail–is she worth the extra dollars?
The Right:
Disco freakin' Dazzler.
Wow
. If there was any question of whether or not Hasbro was willing to dig into C-List characters for their ultra-popular Marvel Legends X-Men series, I think that question has been answered.
Hey, don't get me wrong: I love Alison Blaire. I grew up reading her solo comic in the 80s. But she's never exactly seemed like the most marketable character for a mass market toy line, so bravo to Hasbro for doing her for us.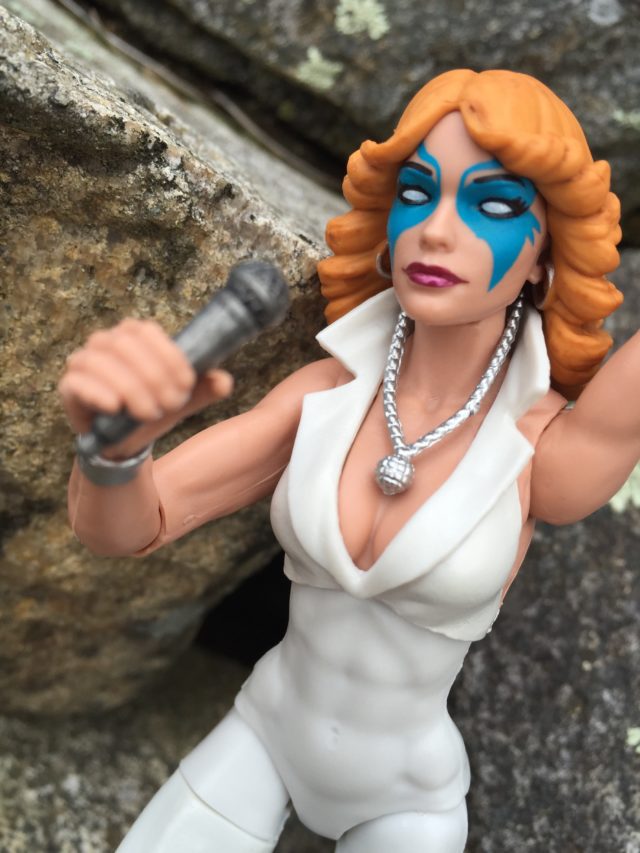 And not only did Hasbro actually make a Dazzler action figure–they made her well. The head especially won me over–the sculpt of the hair, the neutral expression and the pupil-less eyes and face paint are all just perfect. Aesthetically, it's one of my favorite action figure heads so far this year.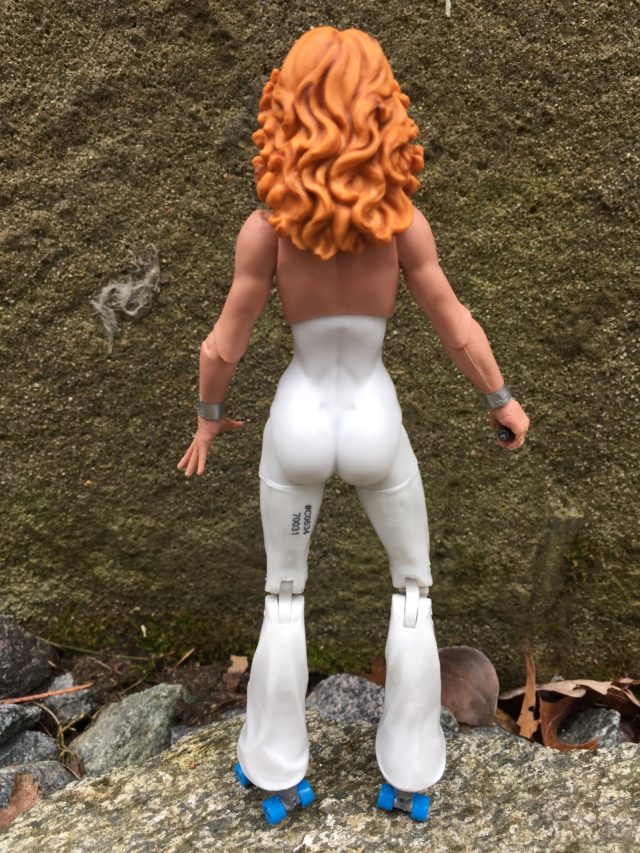 If you had any concerns Hasbro might "censor" Alison, have no fear: her trademark open-backed costume is intact, with a decent amount of cleavage showing, despite being for a mass market toy line.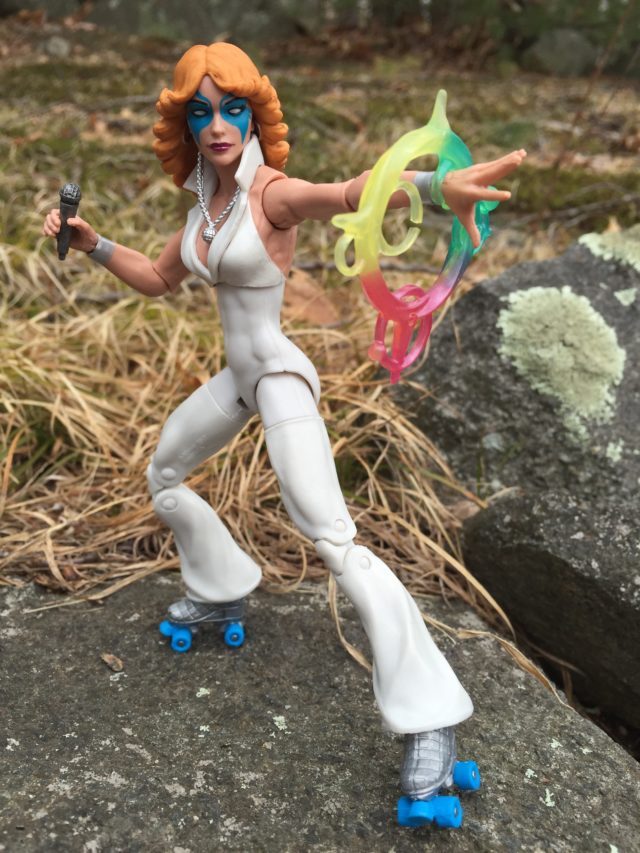 From her amazing disco-style 70's shoes (with roller skates!?) to her silver wrist bands and disco ball necklace, Hasbro went all-out to make this one of the most spot-on and unique female figures we have ever (or will ever) see in Marvel Legends.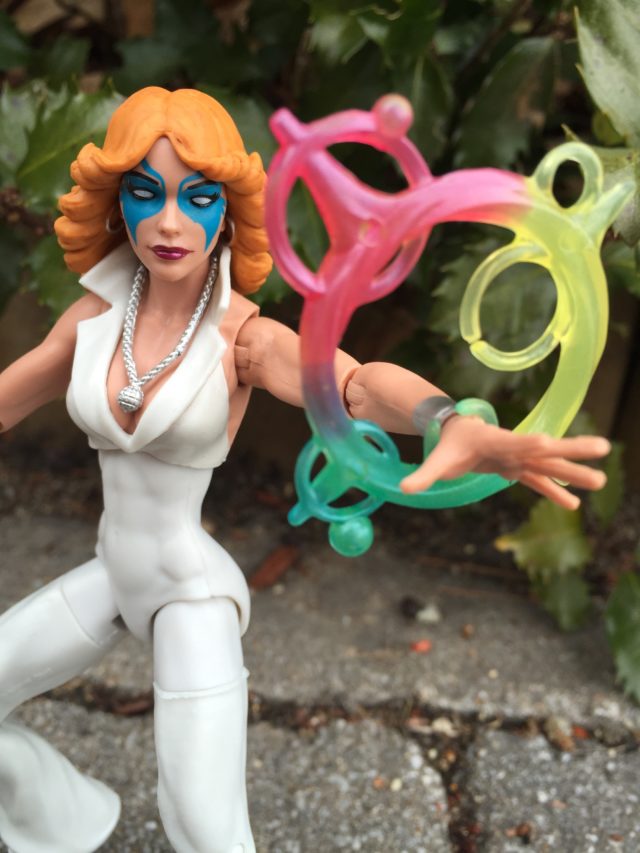 Besides her Warlock Build-A-Figure arm, Dazzler has two accessories: a microphone (she is a singer after all) and one rainbow-colored effects piece. While I'm get a little bit of "magical effects fatigue", this is my favorite colored version of this effect ever–the wacky bright colors look so right with Dazzler.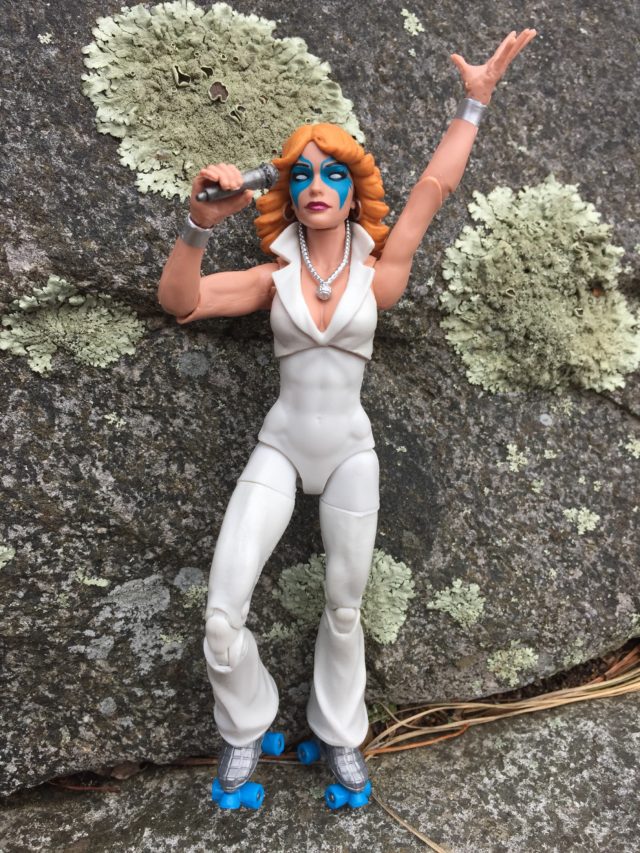 Articulation-wise, Dazzler is solid, although as usual, not as articulated as the male Marvel Legends (which is strange, as I've known some women a lot more flexible than most men I know). Marvel Legends X-Men Dazzler has ball-hinge head/shoulders/elbows/wrists, a ball-jointed upper torso and hips, swivel thighs, double-jointed knees and hinged ankles with a limited rocker.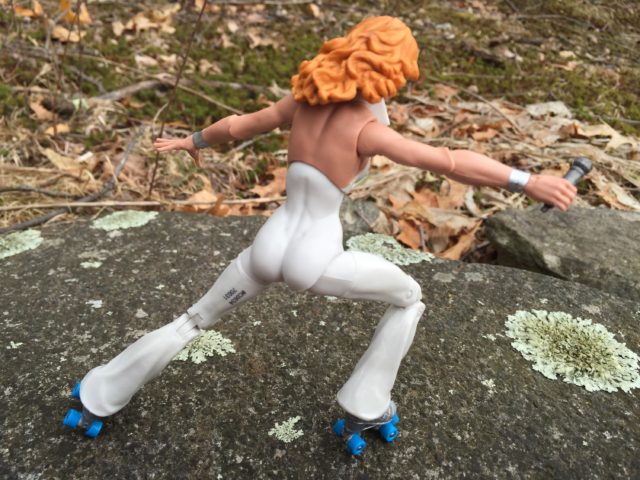 I could get Dazzler into a lot of fun poses with the articulation scheme, but some singing/dancing poses I wanted just weren't possible with the missing double-jointed elbows and swivel biceps/waist.
The Wrong:
The one thing about this figure that really drives me nuts is that Hasbro tooled up new feet for her–with the roller skates permanently attached to them! I think the roller skates are neat and all (and they are certainly a unique twist to this Dazzler Marvel Legends figure), but Alison Blaire did not roll around fighting evil on roller skates for her entire X-Men career.
The roller skate feet can make it a bit difficult to get ML Dazzler standing stably in a display (although the reals don't actually roll–thank god), and I'd honestly rather have had her with just her awesome textured shoes if making the roller skates removable wasn't possible.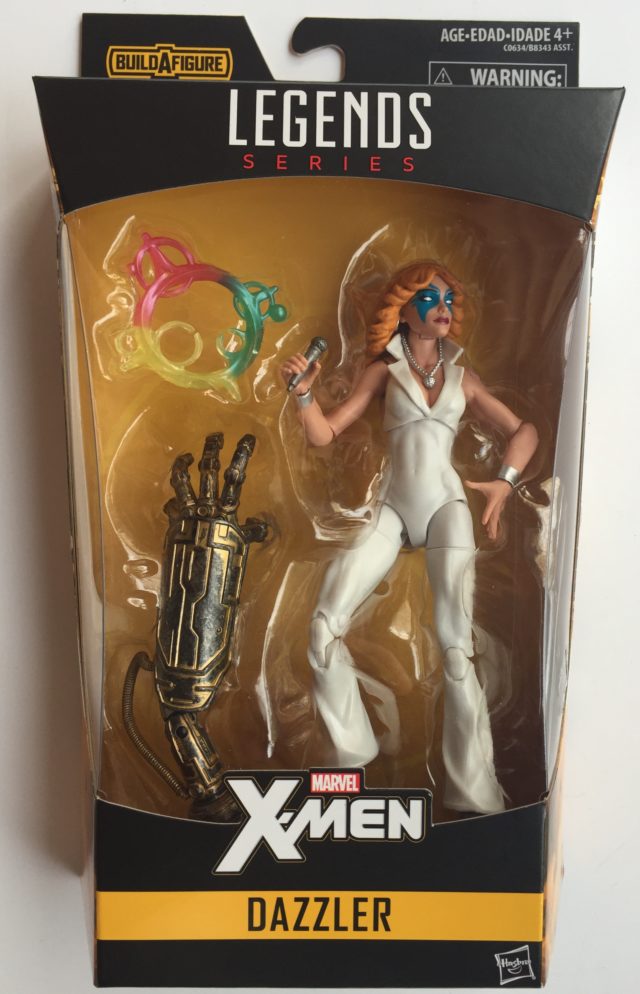 Other small gripes: the usual lack of double-jointed elbows and swivel waist/biceps for female figures is once again annoying here, and I think Hasbro should have selected either silver or a more pearlescent white for Dazzler's costume instead of just flat white paint.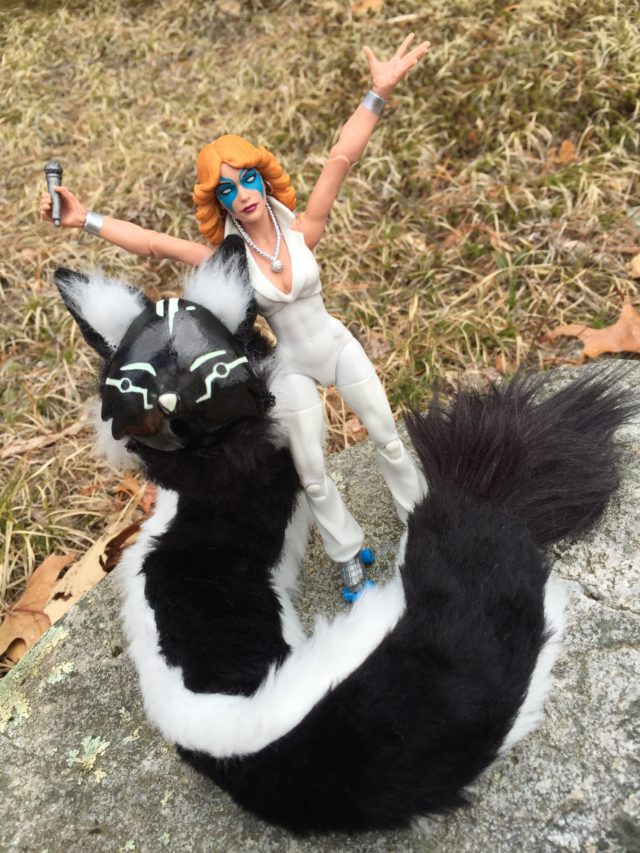 Overall: Hasbro gets an 'A++' for character selection diversity here, but a 'B+' for Dazzler overall. The permanent roller skate feet bother me, the non double-jointed female arms are a continuing bane of my existence, and I'm not sure the primary white paint selected for Dazzer's costume was the right choice.
Conversely, the disco ball necklace is fantastic, the multicolored effects piece is my favorite use of that mold ever, and Hasbro absolutely nailed the costume on this Dazzler 6″ figure. Marvel Legends Dazzler isn't quite perfect, but this is a great representation of the character and almost certainly the best Dazzler action figure that will ever be made.
GRADE: B+