If you're a high-end Marvel statue collector, there's no way you haven't seen the immense number of teasers photos and videos of the Sideshow Collectibles Thanos maquette statue that have been popping up all winter long. Sideshow has been pushing this piece hard, and the countdown to get yours is about to end: the Sideshow Exclusive Thanos statue is now up for order! UPDATE: SOLD OUT in 8 Minutes! Get on the Wait List NOW if you want him!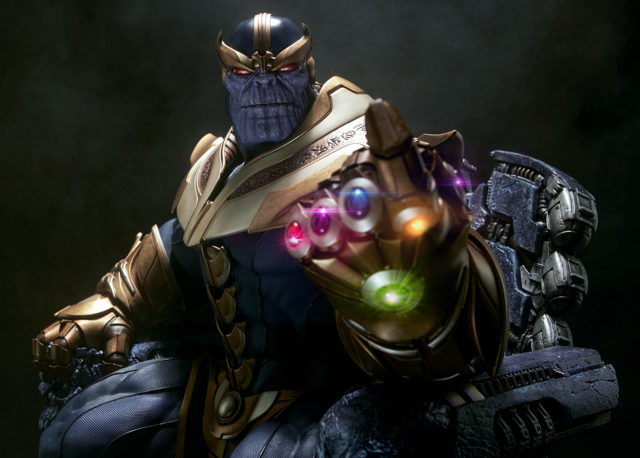 Quarter-scale Marvel villains on thrones statues are a big deal. The Sideshow Doctor Doom on Throne Premium Format Figure and XM Studios Magneto Statue are both two of the biggest grails out there for statue collectors–and Sideshow Collectibles is looking to create a new "instant grail" with their latest Marvel maquette!
It's the biggest quarter-scale Marvel statue that Sideshow has solicited in quite some time, and it coincidentally has one of the biggest price tags we've ever seen for a 1:4 Marvel statue: the Sideshow Thanos on Throne Maquette!
I don't think I've seen as much buzz for a Marvel Sideshow statue ever as there's been surrounding this 1/4 Thanos, but the hype officially concludes this week with the long-awaited pre-order launching for this maquette!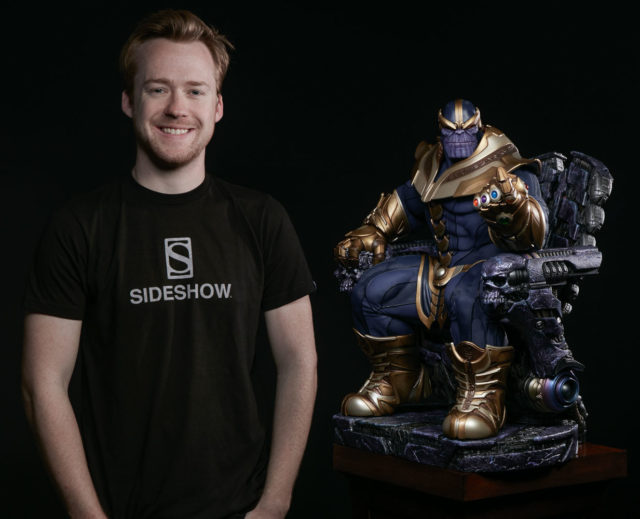 Make no mistake, this is a gorgeous–and humongous–statue of the Mad Titan. The maquette is over 20″ tall and 18″ wide, so it will take up some serious real estate in your collecting room.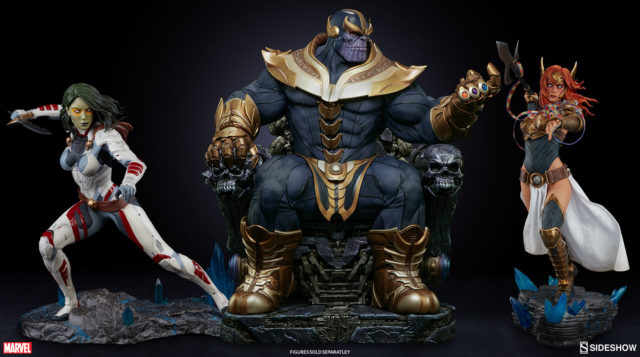 For anyone who's been collecting the Guardians of the Galaxy Premium Format Figures, you can see how this behemoth Thanos is appropriately scaled to fit in with those already-huge quarter scale GOTG statues seamlessly.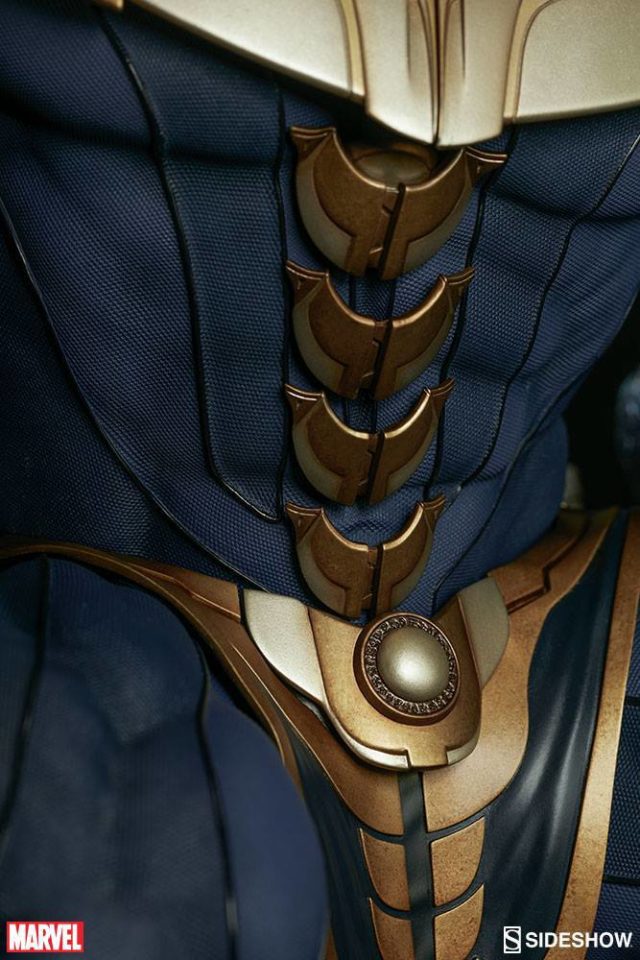 The sculpting detail on the texture of Thanos' costume is some of Sideshow's best work ever, in my opinion. This is absolutely beautifully done.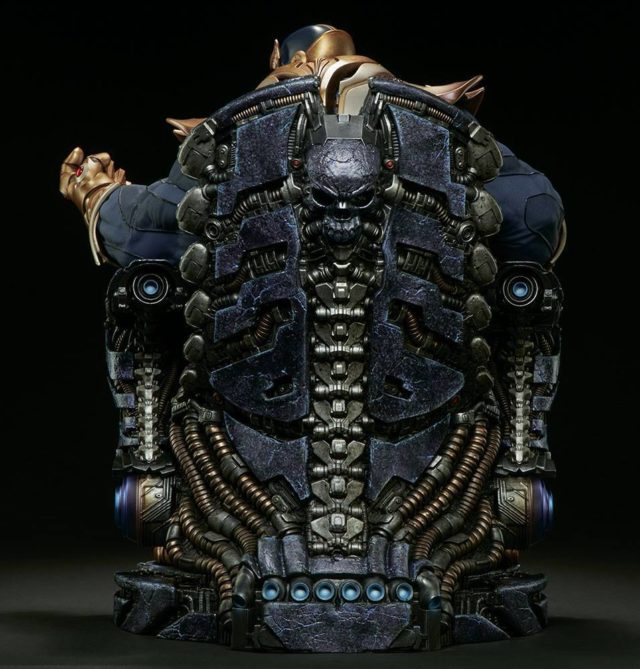 I'm not one for thrones (except for Game of Thrones), but Thanos's throne is basically the single coolest chair I've ever seen in my life. Ordinarily I couldn't care less about what a character is sitting in, but this is a masterpiece. All of the artists at Sideshow deserve some kind of award (and a really good cookie) for their work on this.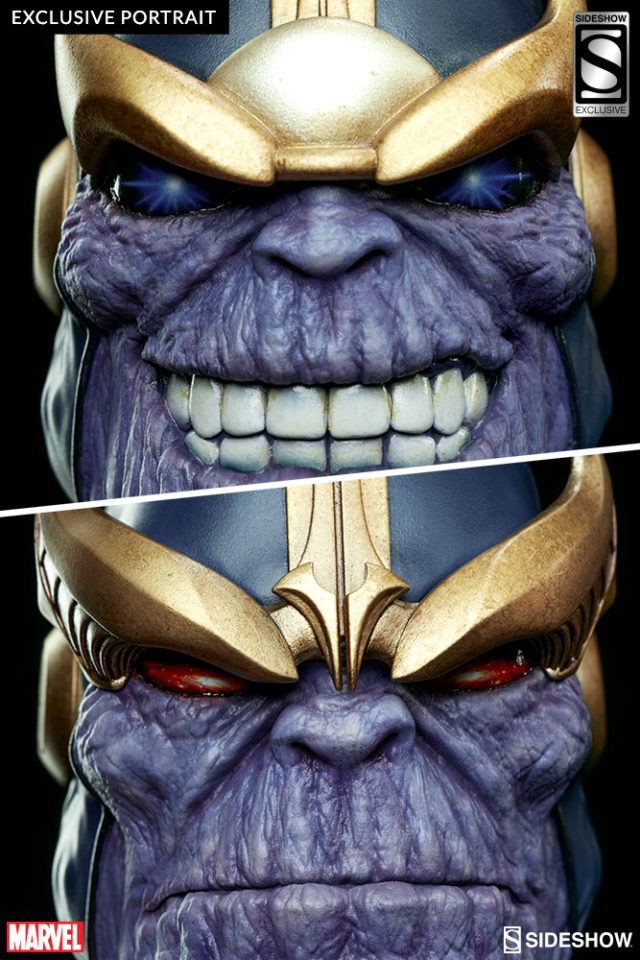 As we've come to expect, there's an exclusive edition for the Sideshow Collectibles website, and it's (of course) a good one: an interchangeable classic comic-based Thanos head (with the galaxy reflected in his eyes)! If you're planning on getting this piece, this is the version to get to preserve the statue's "value", make no mistake. But unlike usual, you may have to make decision relatively quickly…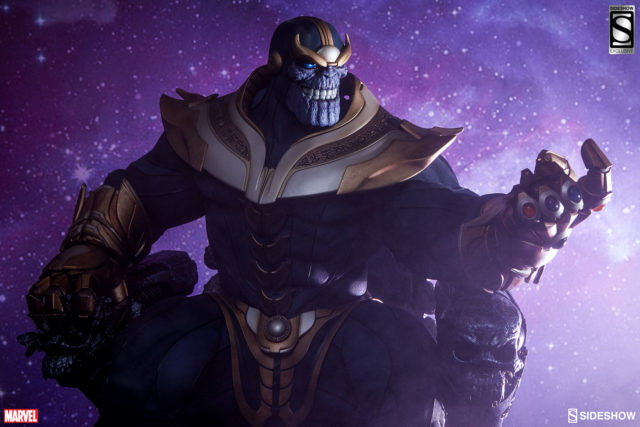 Lately Sideshow has been waiting a couple months before announcing the edition sizes for their statues, but that's not the case with Thanos! The Sideshow Thanos EX has a preset limited edition size of 750 pieces.
Certainly not the smallest LE number we've seen, but also just a small fraction of the 2,500 EX Spider-Man and Dark Phoenix statues out there. Sideshow certainly thinks this piece is going to be a fast sell-out, so we'll have to wait and see.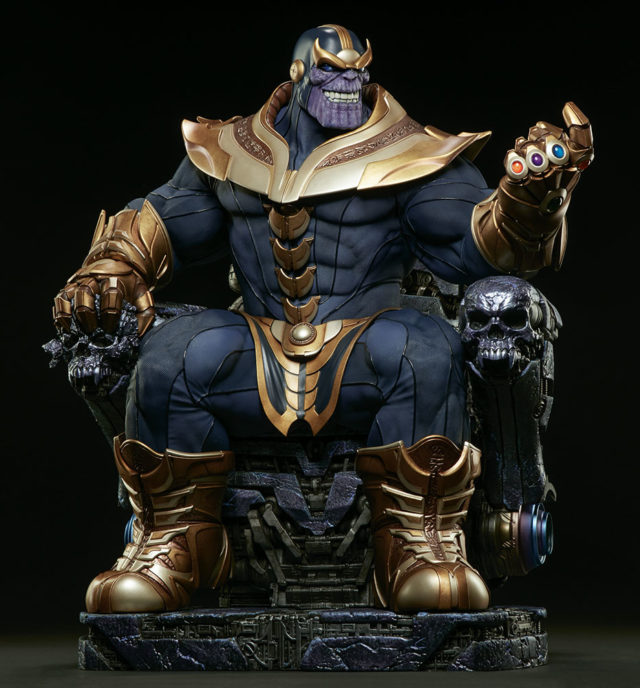 But now, let's address the Mad Titan-sized elephant in the room: $1200. No, seriously, I didn't add an extra zero the end by mistake–this Thanos statue costs
twelve hundred dollars
. When I saw that price confirmed today by Sideshow Collectibles, my jaw would have literally hit the floor if such a thing were physically possible.
That is a huge price-tag, hundreds of dollars higher than even the prices for the killer Prime 1 Studio Anti-Venom and Venom statues that went up for order this winter. I think this Sideshow Thanos maquette is a terrific-looking piece, but at $1200 plus shipping, count me out.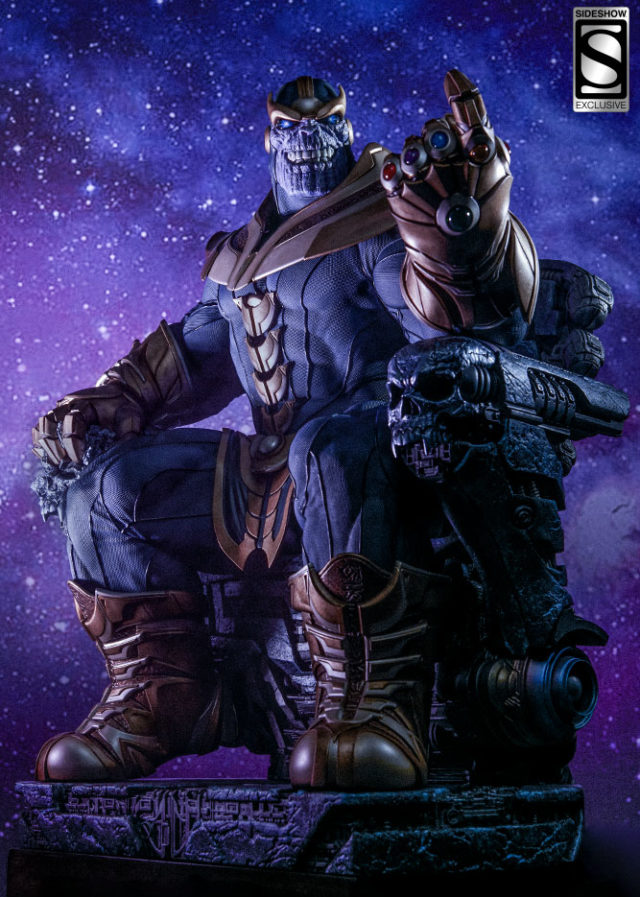 The Sideshow EXCLUSIVE Thanos Maquette statue is now up for order, and is limited to 750 pieces produced. FLEXPay options will (thank God) be available for those who wants to pay off this statue over time in a bunch of "small" $135 chunks.
Now that you've seen the Mad Titan–and his mad price tag–revealed, is anyone out there planning on going after this Thanos Sideshow statue? Do you think this piece is worth it's 1.2K MSRP, or are you waiting to see if you can potentially land this down the road at a reduced price-point?