Oh yeah–I knew I was forgetting someone when I said that I figured we'd seen all of the major Avengers Age of Ultron toys that would be available at the movie's launch. And that someone happens to be one of the hottest companies in the collectibles world: Funko! But have no fear, Funko is back to sieze your wallets: an all-new series of Avengers Age of Ultron POP Vinyls is now up for pre-order–including the first-ever Funko Hawkeye, Vision and Ultron figures!
UPDATE 1/21/2015: Hi-Res photos of the Funko Avengers 2 POP Vinyls have now been posted!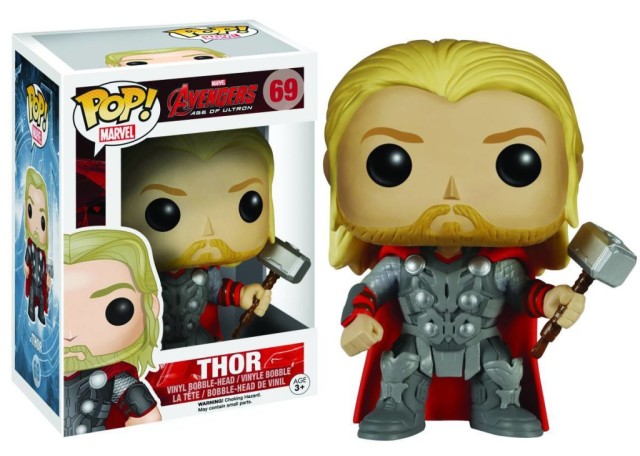 Even though 99.99% of Funko collectors haven't found the Walgreens exclusive Funko POP Vinyls Venom wave of figures as of writing, that won't stop the merchandising juggernaut that is Funko from charging ahead and revealing their next big thing in Funko POP! Vinyls–which just so happens to be
the
big thing of summer 2015: Avengers Age of Ultron!
Though a leaked list of figures comprising this series popped up before the holidays, there were no images available to confirm the identities of the figures making up the series–at least, not until now. For the moment, only miniscule photos of this movie series of Funko Marvel POP Vinyls have turned up, but let's have a look anyway…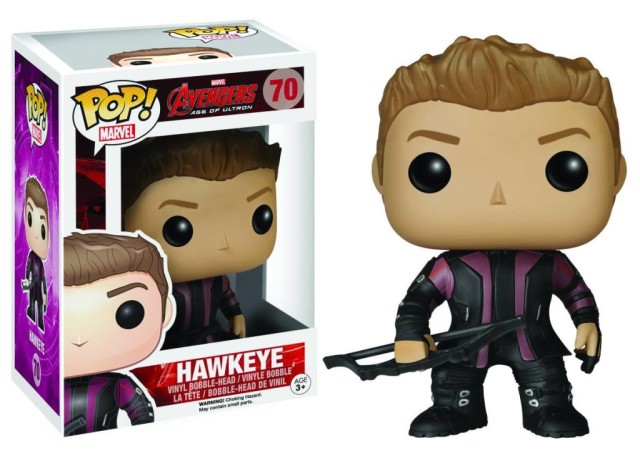 Avengers Age of Ultron Funko Hawkeye POP Vinyls Figure: To many Marvel Funko collectors, the first-ever Funko Hawkeye would have to be considered the headliner of this Age of Ultron wave. We got Funko Black Widow last year, and now her old SHIELD buddy Hawkeye arrives in Funko form to complete the core Funko Avengers team at last!
I would have preferred Hawkeye's costume from the original Avengers movie to his Avengers Age of Ultron jacket look, but when it comes to finally getting Hawkeye, I'll take what I can get.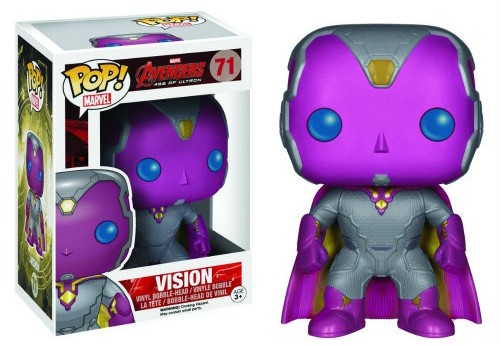 Avengers Age of Ultron Funko Vision POP Vinyls Figure: The fact that the Vision is in the Avengers Age of Ultron film shouldn't surprise anybody at this point, as we've known for eons that the popular android would make his Marvel movie debut in Avengers 2. But what I was not at all expecting was this crazy hot pink and grey color scheme seen on the Funko POP Vinyls Vision figure!
I sure hope that Vision's primary colors in the actual movie will be more in line with yellow/green/red and not this weird pink and grey combination. Ick.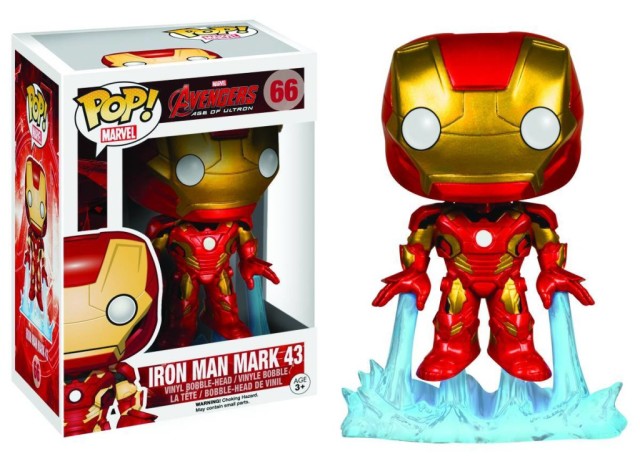 Funko Avengers Age of Ultron POP Vinyls Iron Man Figure: Surprise, surprise–Iron Man is back with a 100% new mold as part of the Avengers AOU Funko lineup! I love that Iron Man is at least getting totally new tooling for this figure, and I appreciate the attempt at a dynamic pose (Even if it does look like Tony is blasting water from Iron Man's palms.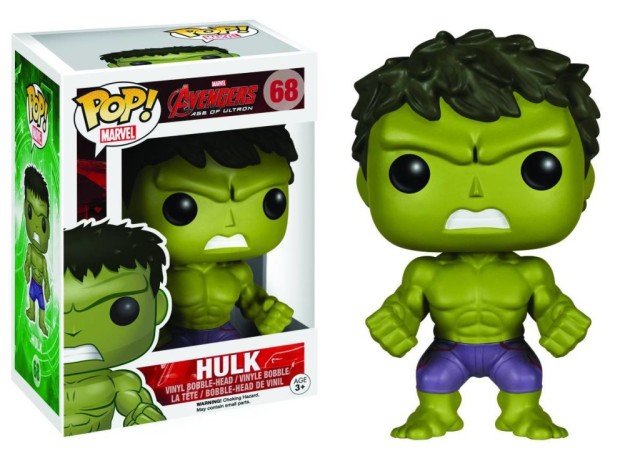 Funko POP! Vinyls Hulk Avengers Age of Ultron Figure: Funko has repainted the original Hulk POP Vinyl figure in black-and-white, metallic, and red–but now it's time for Hulk to smash his original mold and emerge with an overdue all-new figure! I don't know if this new Hulk POP Vinyls figure is quite as cute as the original version, but it definitely is more suitable for filling in as a movie Hulk figure.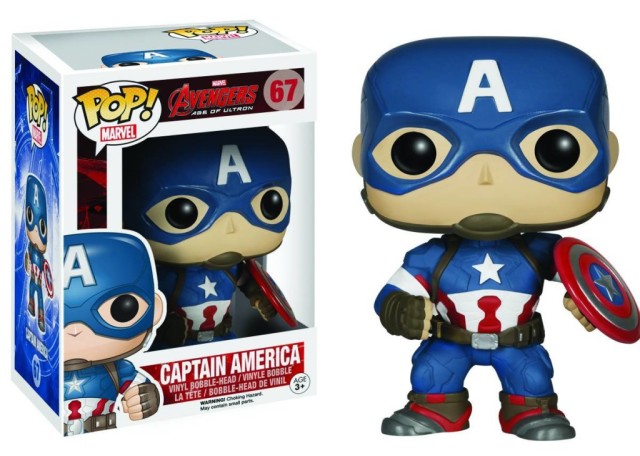 Avengers Age of Ultron Captain America Funko & Thor POP! Vinyl Figures: The least exciting figures in the Funko Avengers 2 lineup are Captain America and Thor, who have had plenty of vinyl figures of their own released in the past two years to coincide with their most recent movies. I like the increased amount of red on Cap's outfit this time, but the new Funko Thor is a bit "ehn" for me.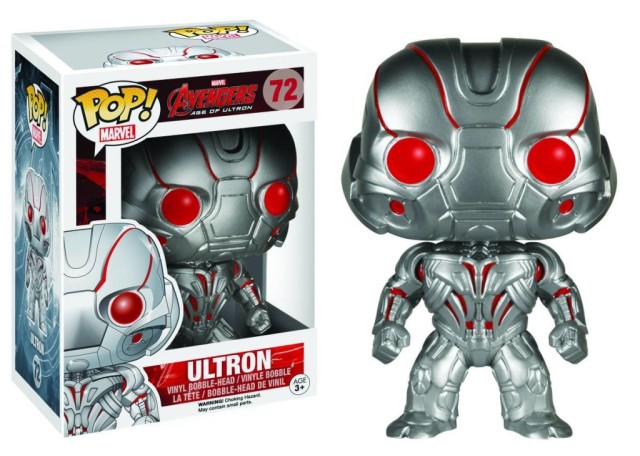 Funko Avengers Age of Ultron POP Vinyls Ultron Figure:
And finally, we've got the third new character in this series of seven Avengers POP Vinyls–Ultron himself. Considering that very few toy companies have announced major toys of Ultron himself to date, I'm glad to see that he at least made the cut over at Funko (though surprisingly, Scarlet Witch and Quicksilver did not).
From the small image available, poor Ultron really reminds me a lot more of Ultron from Michael Bay's "Transformers" movies than he does any classic version of Ultron. This figure does look like it may be pretty cute up-close, though (for a killer robot and all), so I'll keep my fingers crossed.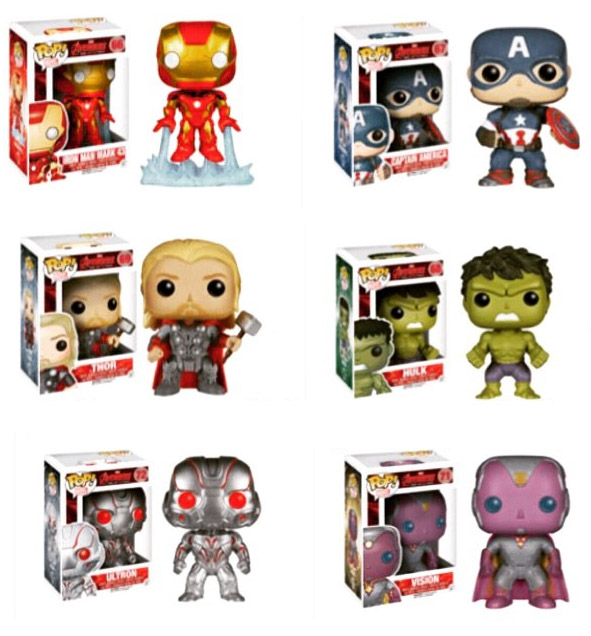 The Funko POP! Vinyls Avengers Age of Ultron figures are now available for order online, and have a scheduled release date of 3/1/2015 according to Gamestop. I wouldn't be at all surprised to see that release date moved forward, however, as the street date for most Avengers Age of Ultron merchandise is in February 2015.
What do you think of our first glance at the Funko Avengers 2 POP Vinyls, Marvel collectors? Are you interested in just the new characters (Ultron, Hawkeye and Vision), the new versions of the core Avengers, or none of these new super-stylized Funko Marvel POP Vinyls at all?