Anybody besides me who's read every Big Hero 6 comic book every published–when they were published–raise your hands. Anybody? Anybody…? I didn't think so. And if you're among the masses that haven't read those original Big Hero Six comic books, be grateful for that, as you may not be quite as dubious about the massive departure Disney is taking from the source material for the upcoming Big Hero 6 movie as I am. But not everyone is as jaded about the Big Hero Six movie as me–Funko has their confidence up high and has just put up for order a jam-packed series of seven Big Hero Six POP! Vinyls figures!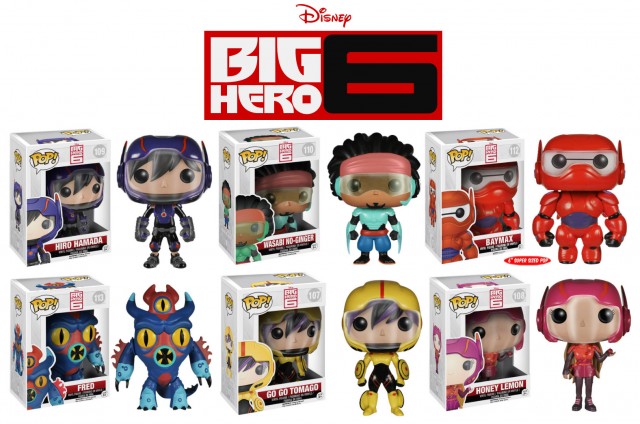 I'm just going to say this straight-up to begin with and then the lynch mobs can come and drag me away: I don't like Frozen and I outright hated Wreck-It Ralph. Sorry. I'm not an animated film hater (in fact, I love classic Disney), but I just didn't like the latest efforts by Disney studios. Forgive me.
So when the Big Hero Six trailer played with "From the creators of Frozen and Wreck It-Ralph" slapped on there, it elicited a huge groan from me instead of the "oooooo!" that was intended.
But while the tone and overall direction of the Disney Big Hero 6 movie are obviously monumentally different from the Big Hero 6 comic books, I have to give Disney credit for including six real members of the Big Hero Six from the comic books. I would have preferred having Sunfire and Silver Samurai on the cast, but with Fox owning the rights to the X-Men films, that just wasn't going to happen.
Instead, we get six characters that were all originally created for the Big Hero Six team in the comic books, and Funko has done an outstanding job of bringing this colorful cast to life in POP! Vinyls form.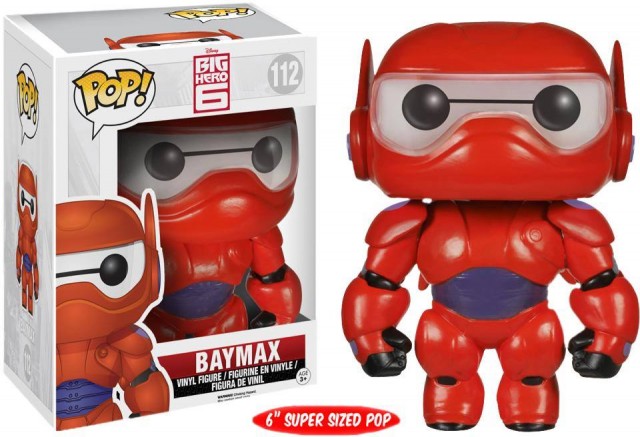 Everybody I know adores the drunk-acting inflatable Baymax seen in the Big Hero Six trailer. I hate him–he's just way too much of a switch from the comic book portrayal of Baymax. But what I do love is the super-sized 6″ Funko POP! Vinyls figures, and I'm excited to see that Baymax will be getting the 6″ treatment! I'm also pleased that–at least for this figure–we're getting the armored Baymax version and not the full-on balloon version.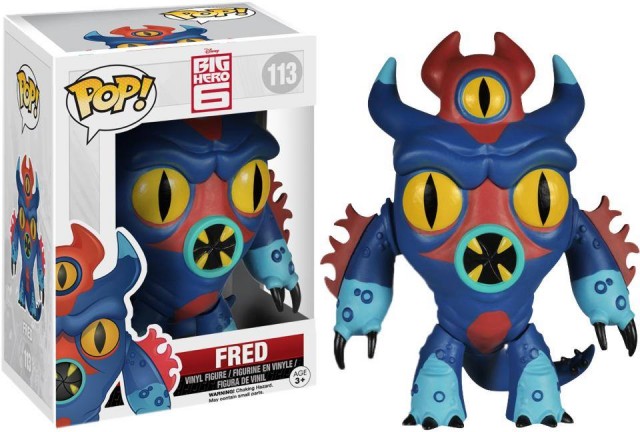 My absolute favorite figure Funko is giving us for the movie is definitely Fred, though (or as he's sometimes known–Fredzilla!). Fred is famous for wearing an awesome Devil Dinosaur T-Shirt in the comic books and being able to project a Godzilla-like kaiju.
The Funko Big Hero 6 Fred POP! Vinyl looks totally crazy and unlike any other Marvel character we've seen, and it really grabs my eye with its unique colors and design. I think this Funko Fred Zilla figure is going to be very popular once these POP Vinyls hit stores in October.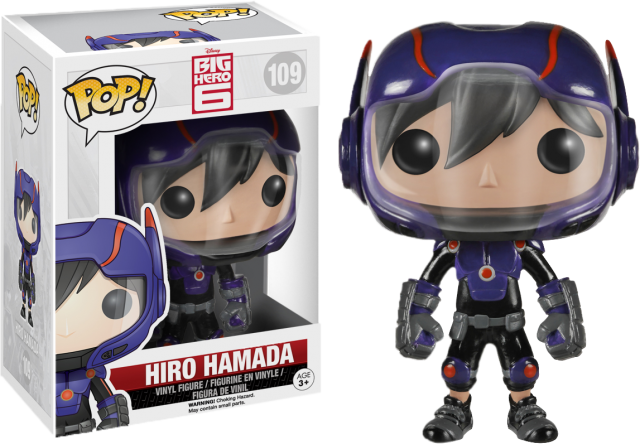 For some reason Disney felt the need to rename boy genius Hiro Takachiho to "Hiro Hamada" for the Big Hero Six film. I would have really preferred it if this POP! Vinyl was just a plain Hiro in his everyday attire, but I can see why Funko opted for the consistent team outfits for these Big Hero 6 POP Vinyls.
I wish that Hiro and Go Go Tamago (and to a lesser extent Honey Lemon and Wasabi no Ginger) didn't look like their designs were ripped straight out of Tron, but I'm hoping I'll like the costumes more once I've seen them in full in the Big Hero Six movie this fall.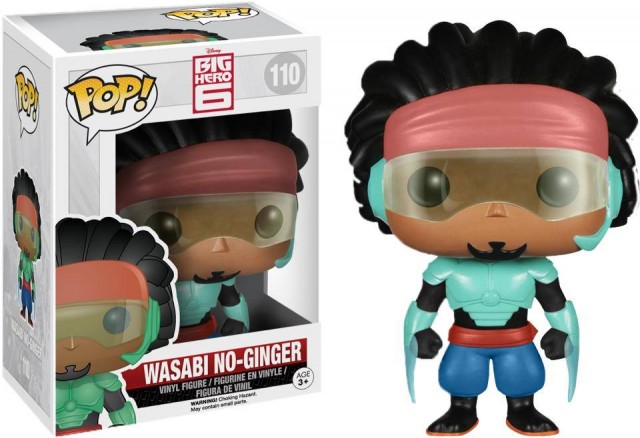 The Funko Wabasi no-Ginger POP! Vinyl figure spotlights the new look character redesign for Wasabi no Ginger, and I have to admit–he's looking a lot more handsome than he ever did in the comic books.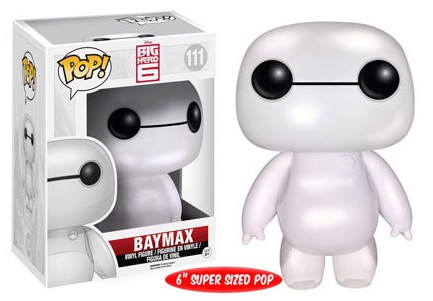 The seventh (and eighth!) figure in the series is the Funko Big Hero Six Nurse Baymax POP Vinyl. There will be both a pearlescent version of the 6″ POP! Vinyl that gets mass-released, as well as an Amazon Exclusive Funko Nurse Baymax Glow-in-the-Dark POP! Vinyls figure which is now up for order.
If you think you're going to want the glow-in-the-dark Baymax Funko POP Vinyl, it's probably best to lock in an order now and cancel later if you decide you don't want it.The Amazon Exclusive Unmasked Star-Lord is selling for triple now what he was this summer before he sold out, so the GITD Nurse Baymax vinyl may very well end up exploding in price as well.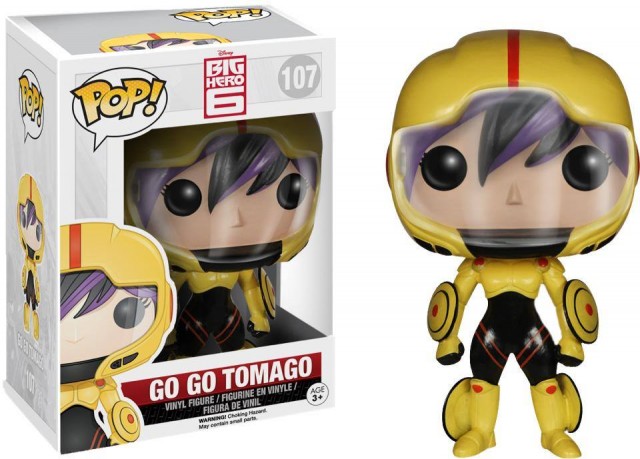 The Funko Big Hero 6 POP! Vinyls figures (including the super-sized 6″ Baymax) are now up for pre-order, and are scheduled to be released in October 2014.
What are your thoughts on the Big Hero Six Funko POP! Vinyls figures (and the Big Hero 6 movie in general), Marvel collectors? Are you looking forward to the film and its tie-in toys and collectibles this fall, or does Big Hero 6 look like a big fat zero to you?