2014 has been the unofficial Year of Rocket Raccoon, with more Rocket Raccoon figures and toys being released in this year than every other year of Rocket's 38 years of existent combined. Everything is perfect so long as you want movie-style Rocket Raccoon collectibles–but comic-based Rocket Raccoon toys have been non-existent in 2014. Luckily, Hasbro is stepping up to give us a Marvel Legends Rocket Raccoon exclusive repaint–but he won't come cheap…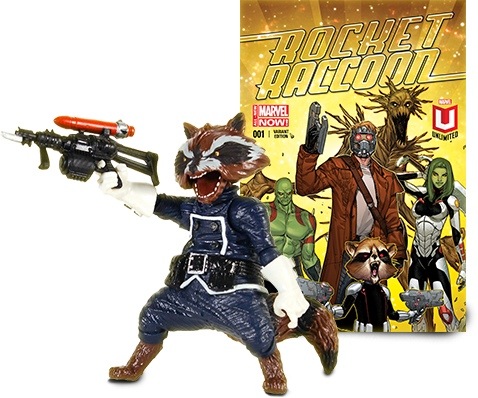 Hasbro let it slip at San Diego Comic-Con 2014 that the exclusive Marvel Unlimited Plus Marvel Legends figure for the second year of the program was going to be a Rocket Raccon Marvel Legends repaint. And sure enough–here he is!
This is, of course, merely a repaint of the 2013 Marvel Legends Rocket Raccoon Build-A-Figure, but that was far from an easy wave of Marvel Legends action figures to find in stores. I ordered my set online (and the reviews are all in the Review Index), but I only saw the whole wave in stores a grand total of once. Today, that Marvel Legends Rocket Raccoon Build-A-Figure is pretty in-demand and sells for $40-$60. Clearly, not everyone who wants that Rocket Raccoon toy can afford it.
Unfortunately, this new Rocket Raccoon repaint for Marvel Unlimited Plus won't necessarily help matters–as instead of paying $40-$60 for the Rocket Raccoon BAF, this Marvel Legends Rocket Raccoon variant will set you back $99 (the cost of one year of the Marvel Unlimited Plus program).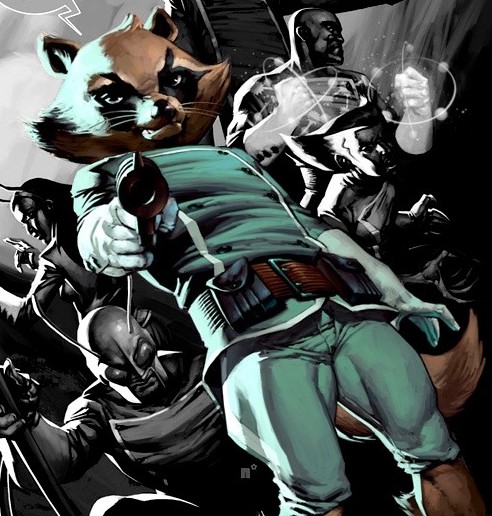 Along with the repainted Rocket Raccoon action figure (in his Guardians of the Galaxy blue outfit with white gloves from a few years ago), subscribers will get an exclusive Rocket Raccoon #1 variant cover by Sara Pichelli (featuring the whole GOTG team). The cover isn't that great (and doesn't make a ton of sense to me, as the Guardians of the Galaxy besides Rocket and Groot appear only in a "phone call" in that comic), but I have all the other versions of Rocket Raccoon #1, so I might as well get this one too.
In addition Marvel Unlimited Plus members get 15% off digital comics (useless to me), 10% off at the Marvel Store website, admittance to members-only panels at cons and access to a library of 15,000+ digital comics. It's not a bad deal to get all that for $99 (if you're not a Scrooge like me who only likes paper comic books).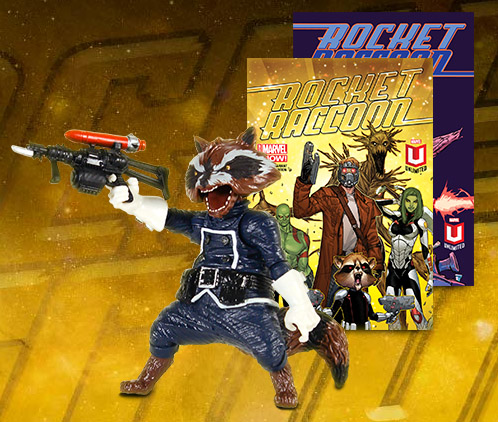 The exclusive Rocket Raccoon Marvel Legends Build-A-Figure promotion has now begun, and should last until August 2015. I hate digital comic books with a passion, but a Rocket Raccoon collector's gotta do what a Rocket Raccoon collect it's gotta do. I've ordered my Marvel Unlimited Plus subscription and will review the white gloves Rocket Raccoon figure when he arrives (supposedly in about eight weeks).
Marvel Legends collectors–Has this year's exclusive Marvel Legends Rocket Raccoon figure repaint convinced you to enroll in Marvel Unlimited Plus? Or are you willing to skip this repaint and save yourself $99 this year?