It's a brand new year, and that means it's time for the annual Funko doomsayers to come out, likening POP Vinyls to Beanie Babies and prophesying their demise. But despite the haters, Funko keeps on trucking along, and today was the official release date for the first new Marvel POP Vinyls of 2016 to show up on shelves–including this new Funko Nemesis Punisher POP Vinyl figure that I picked up for review at Target! Punisher will never be a favorite character of mine, but I love me this new Punisher variant figure…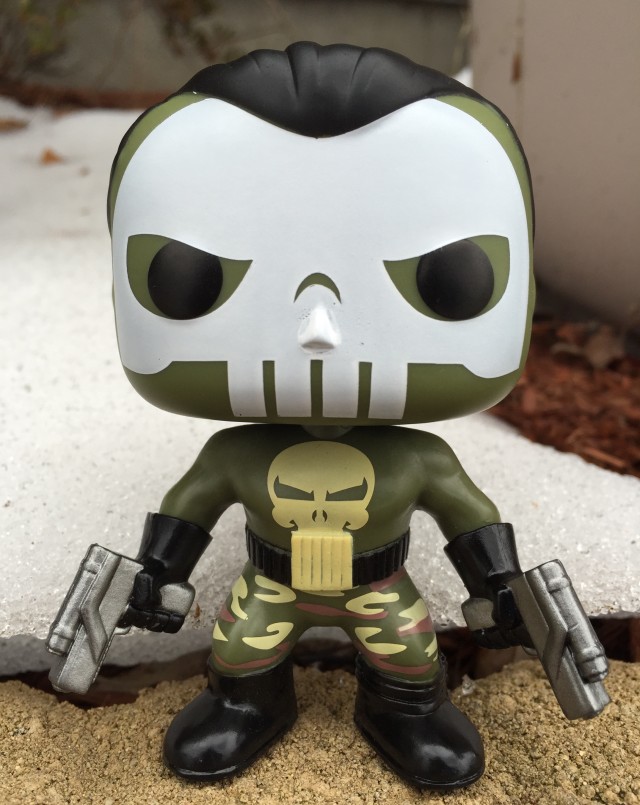 I've been big into collecting all manner of collectible vinyl figures for almost a decade now, so I get a mite defensive about the constant Funko decrying and assertions that POP Vinyls are the new Beanie Babies that have been going on for years now.
Rather than going into a long-winded diatribe about the health of the brand, however, I'm going to rein myself in and focus on a more positive subject today with a review of one of this year's first Marvel Funko POP! Vinyls: Punisher (Nemesis).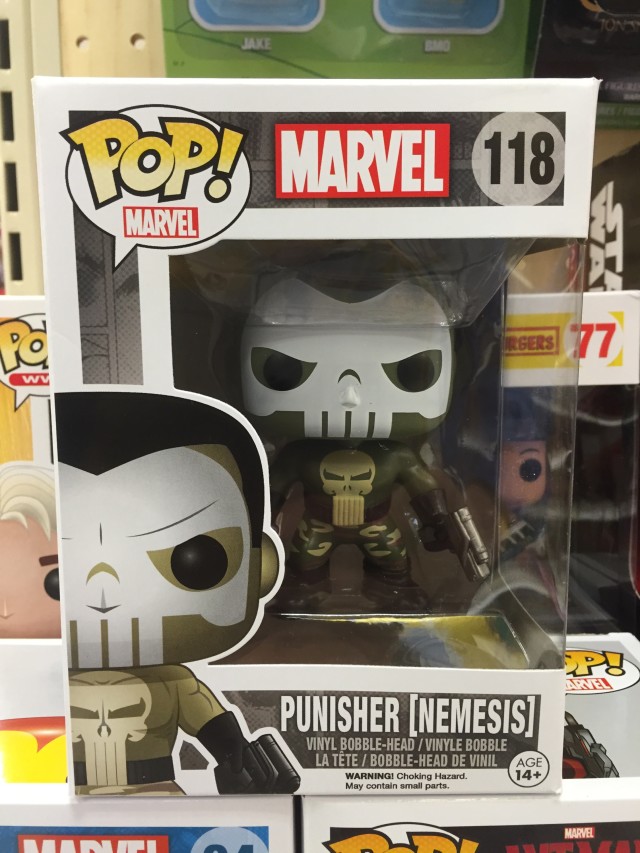 Funko is really getting niche with this third Punisher release, as I'm ashamed to say that I'm not familiar with the comics storyline that goes along with the camouflaged, face-painted Punisher (despite the fact that I own a Marvel Legends Punisher in this attire).
But while this Nemesis Punisher costume may not be his iconic attire, there's no question that it's a drastically different look for the Punisher–far moreso than the variant Thunderbolts Punisher Funko previously released (which just swaps a red skull for the usual white one).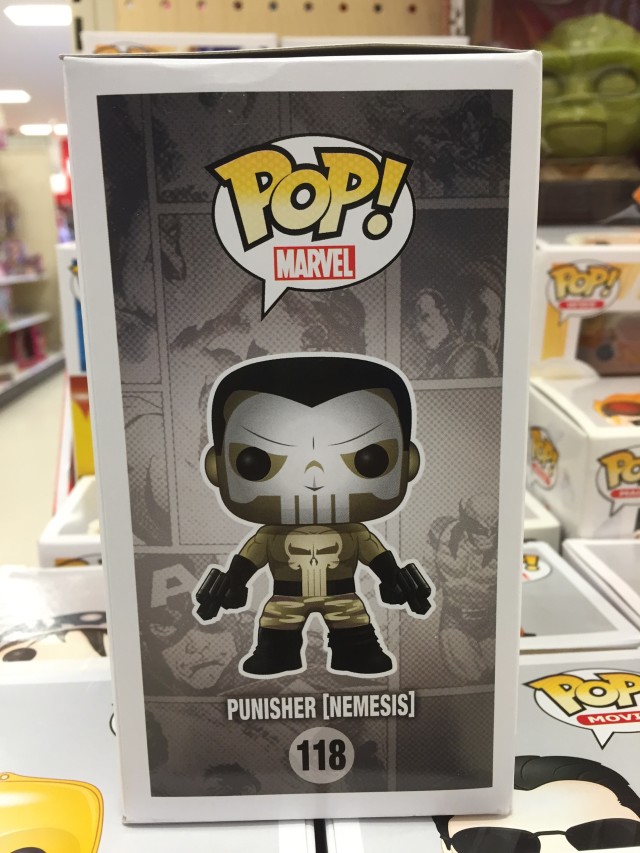 In fact, this figure is so different from the regular Punisher that this time Funko has given it its own unique numbering designation in the Marvel sequence: #118! As such, this Punisher Nemesis POP! Vinyl feels special enough that I needed it for my collection.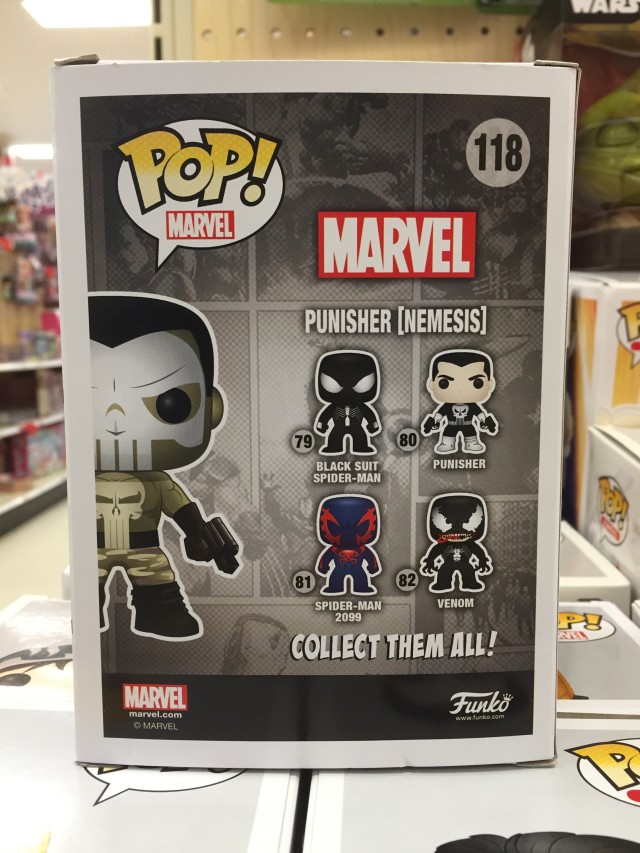 I'm not sure why Funko opted to use the same vinyls for the box back (#79-#82) as they did for the original version–seeing as how this is a totally new number–but that's a minor grip that ultimately doesn't matter to folks who aren't crazy (like me). It does seem a little odd that this version of Frank Castle isn't even in the "checklist" on the back of his own packaging, though.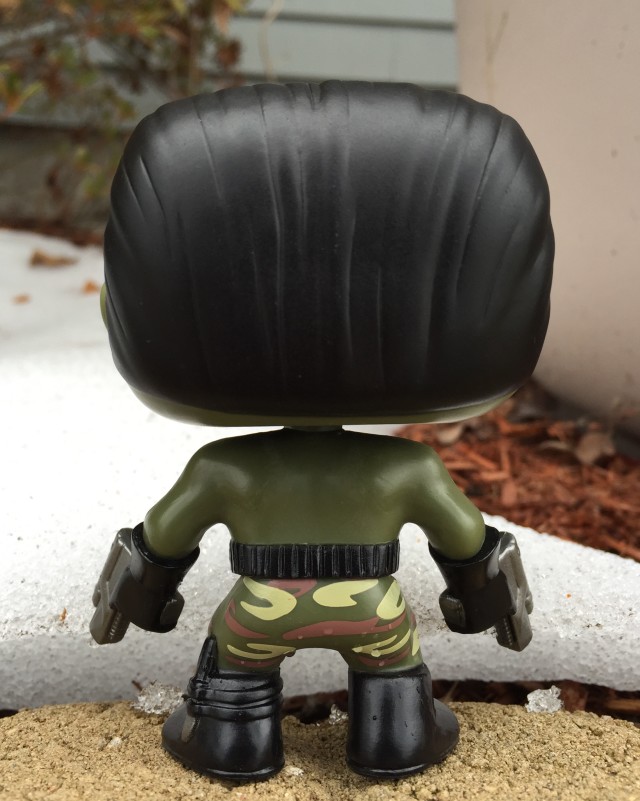 This is the same mold as we've seen used for The Punisher previously, but the totally new paint deco makes the figure look awesome. The skull facepaint really makes this Funko POP Vinyls Nemesis Punisher "pop" (no pun intended–seriously) on the shelf.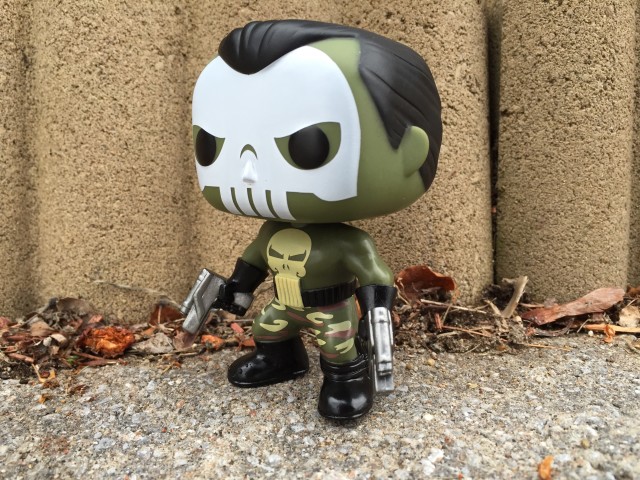 Furthermore, the paint applications are neat and clean all over on the figure–even the camouflaged areas have been painted perfectly. I've had issues in the past, but it looks like the Funko factories may be upping their quality-control game once again this year, if Nemesis Punisher is any indication!
The Punisher (Nemesis) POP! Vinyls figure was officially released as part of the new display (with Daredevil and Deadpool) at Target stores today and is packed at three-per-case. Target is charging a very fair $8.99 for this figure, though Nemesis Punisher is not an exclusive and will be available at other retailers a bit later in 2016.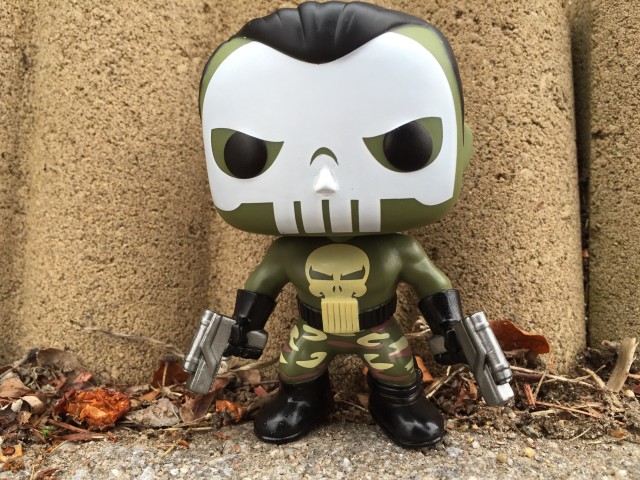 I'm not a big fan of Frank Castle (at all), but I'm exceedingly pleased with the design and quality of this new Nemesis Punisher, and he's now one of my surprise favorite POP Vinyls. Even for those who aren't completists of the line (which is most people), I think this is one of the more striking entries and will look super-cool added to any collection. Highly recommended.
What are your thoughts on this new variant figure–and the state of the Funko Marvel brands as a whole, Marvel collectors? Do you see 2016 as another banner year for Funko, or are you buying into the allegations of their doom?