It was a bit quiet on the Marvel toy news front this week because of a little event called "Force Friday II" that some of you might have heard of, but Funko had one new Marvel POP up their sleeve for this week–and it's a set that collectors have been asking for for literally years! Almost unquestionably the most requested Marvel POP Rides ever, the exclusive Funko Ghost Rider on Motorcycle POP Vinyl is now available for order–in both regular and glow-in-the-dark editions!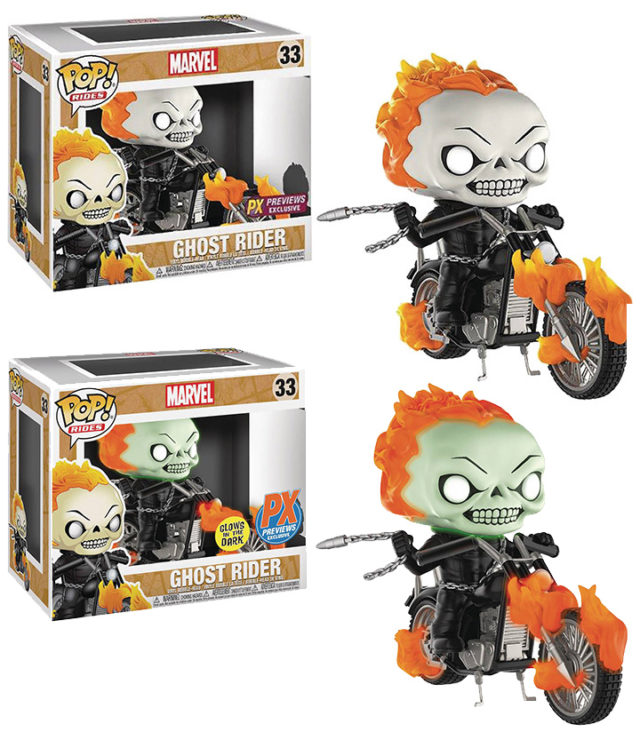 As soon as Funko created the POP Vinyls sub-line of vehicles called POP Rides, fans starting crying out for a POP Rides Ghost Rider Motorcycle set. After all, not only has the Ghost Rider POP been retired for a few years and getting
expensive
on the aftermarket, but really, what's more iconic than Ghost Rider's motorcycle as far as Marvel vehicles go?
Oddly enough, Deadpool has gotten his own fleet of three Taco Trucks, Wolverine got his own motorcycle, Agent Coulson's flying car Lola has flown in, and even Ant-Man's Ant-Thony got released first.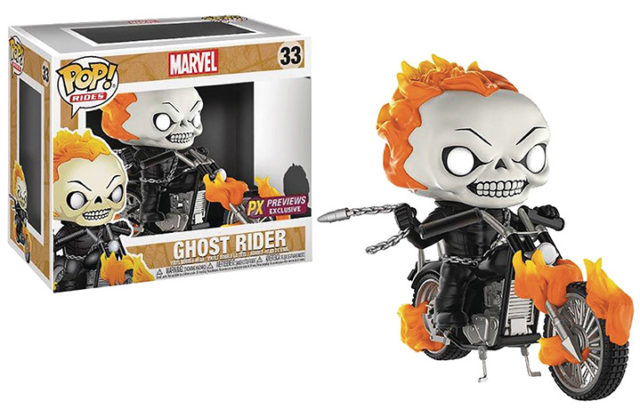 But finally, it's the Spirit of Vengeance's turn in the sun! And Funko is going big for the release of Ghost Rider, as there's both a regular Ghost Riders POP Rides set and a POP Glow in the Dark Ghost Rider on Motorcycle coming our way this fall!
While a POP Rides Ghost Rider & Motorcycle set seems like an instant mega-hit at mass retail to me, Funko seems to think otherwise. Both versions of the box set are a Previews Exclusive (PX), meaning they'll only be available from specialty and comic book stores. This particular choice seems like the most "sure-thing" POP Rides since the first Batmobile, so I hope Funko isn't shooting themselves in the foot by limiting this one.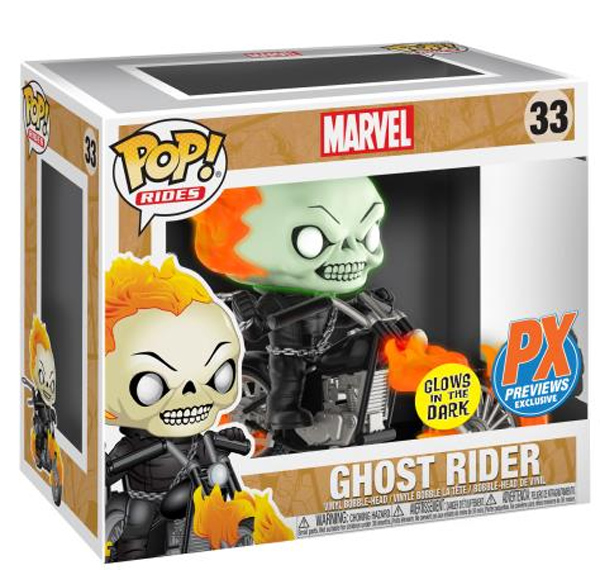 Ordinarily I'm a huge GITD Funko fan, but in this instance, I wasn't too sure if I wanted the regular version or the Glow in the Dark one. While I think the fact that both the Johnny Blaze figure himself and the flames on the motorcycle glow in the dark is super-cool, I'm not sure whether I can cope with the slightly greenish tint to the skull caused by the GITD paint.
But, unwilling to risk missing out on  the best version of a POP! Vinyl I've been waiting literally years for, I just went ahead and ordered both. They're exclusives, so if I don't want one of these Ghost Rider sets, I have no doubt someone else will as soon as they're sold out.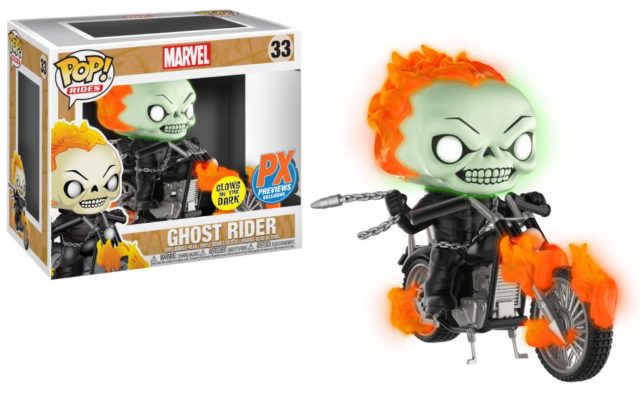 The Funko POP Vinyls Ghost Rider & Motorcycle set is now up for order online in both normal and Glow in the Dark Editions. There's no word on if either version is more limited than the other, but I'd assume less of the GITD are being made. The expected release date is November 2017 (just in time for the holidays–nothing says "Christmas" like the Spirit of Vengeance!).
How do you like the long-awaited Ghost Rider Motorcycle POP Vinyl set, Marvel collectors? Was this design worth the wait, and if you're getting it, which version (if not both) are you opting for?