We're just one week out from the inaugural HasCon event in Providence, Rhode Island (which I am super-psyched for, for some reason), but before Hasbro makes their HasCon reveals, they had one more figure that they wanted to show off first at FanExpo Canada in Toronto this week. Hasbro said they didn't want to show the 2018 Marvel Legends Deadpool Series Build-A-Figure at SDCC 2017, and now we know why: it's because he's Canadian and wanted to make his grand debut in Toronto! The Marvel Legends Sasquatch Build-A-Figure has now been revealed!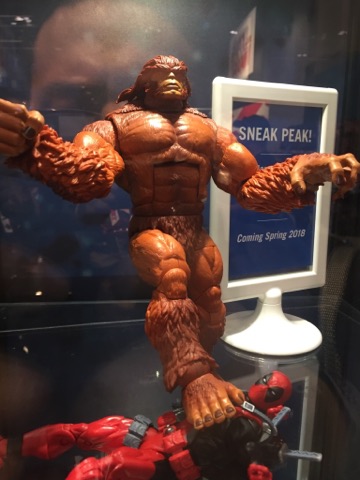 Once upon a time–over a decade ago–Toybiz released a Marvel Legends Sasquatch figure (and an awesome white Snowbird Sasquatch variant!) in their Marvel Legends toy line. That figure is still pretty well-regarded today, and I haven't heard a lot of call over the years for Hasbro to redo it.
But evidently, Hasbro has their sights set on topping a Toybiz favorite once again (and reusing some of their own new tooling), because they dropped the curtain on the Marvel Legends Sasquatch Build-A-Figure that many were predicting at the Canada FanExpo that opened today!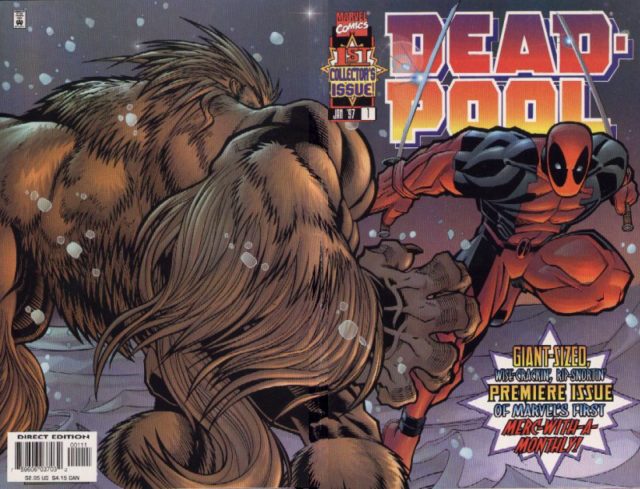 For those scratching their heads and wondering what the heck Wade Wilson and Sasquatch of Alpha Flight have in common, it's that they're both Canadian–and more importantly, that Sasquatch appeared in the very first issue of the first-ever ongoing Deadpool comic book series by Joe Kelly. I read that issue as a little tyke (okay, I was like 15, but whatever), but had plum forgotten about it myself until several readers reminded me!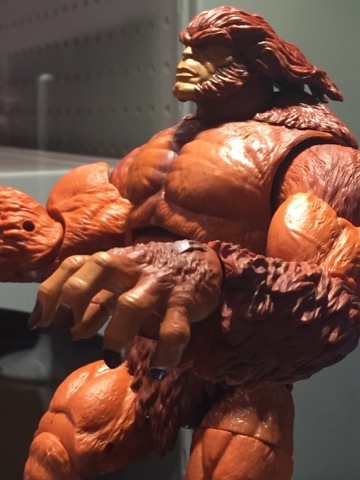 Troy Zaffino was on-hand at the event, and sent over photos of the new Sasquatch Marvel Legends figure, which he said looked good and he was impressed with. Thanks a ton, Troy!!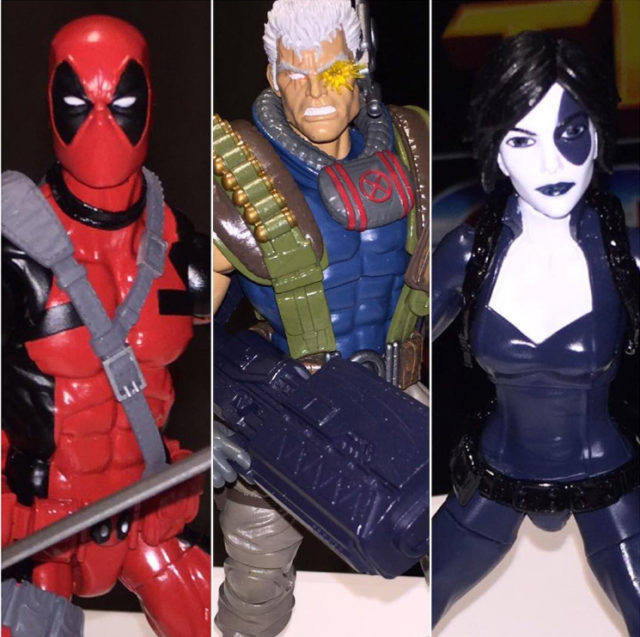 For those who don't remember (SDCC 2017 was over a month ago, after all!), the rest of the revealed Deadpool wave figures thus far are:
Classic Deadpool
Cable
Domino
X-Force X-23
Deathlok
Back in Black Deadpool (Symbiote Deadpool) — Gamestop Exclusive
I think it's very likely that we'll be seeing more from the wave–if not all of the remaining figures from the wave–at HasCon 2017 next week. Look forward to it!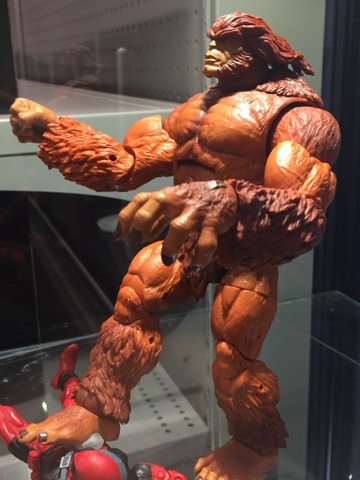 But anyway–back to Sassy Q. As many collectors guessed as soon as we saw the Man-Thing Build-A-Figure revealed, the Sasquatch BAF is in fact built upon the preexisting tooling from Man-Thing.
Here's what Troy, who saw Sasquatch firsthand in Toronto, had to say about it: "It's literally man thing but it's good. It's funny because the man thing had holes at the top near his shoulders and it makes sense. There's an added piece/fur."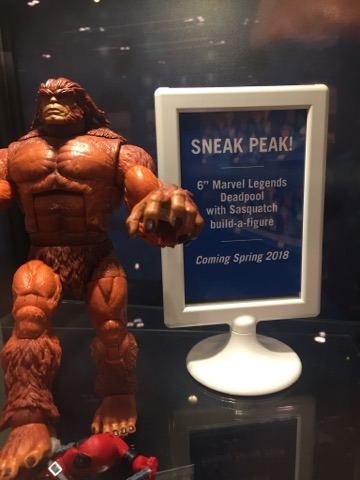 The Marvel Legends Deadpool Series is scheduled to be released in Spring 2018. As the Deadpool 2 movie is estimated to be released around June, I'd guess we'll see this wave start to hit stores around March/April 2018. I'll post links to pre-order the Deadpool Marvel Legends series as soon as Hasbro gives stores the go-ahead to open orders, so be sure to check the site and our social media if you want to get your Deadpool Series figures as soon as they hit stores.
Now that he's made his grandiose debut in his homeland, how do you like Hasbro's interpretation of Sasquatch, Marvel collectors? Is this a true upgrade to the Toybiz Marvel Legends version, or are you sticking with your original (or white!) Sasquatch?