Oftentimes when Bandai Japan shows off a figure and then goes silent on that figure for many months, it means that figure has been silently cancelled. I genuinely expected that to be the case with the bizarre Manga Realization Captain America that they first showed off last October, which debuted and then disappeared. But surprises abound–almost a year after first being shown, the Bandai Samurai Captain America figure is now up for order!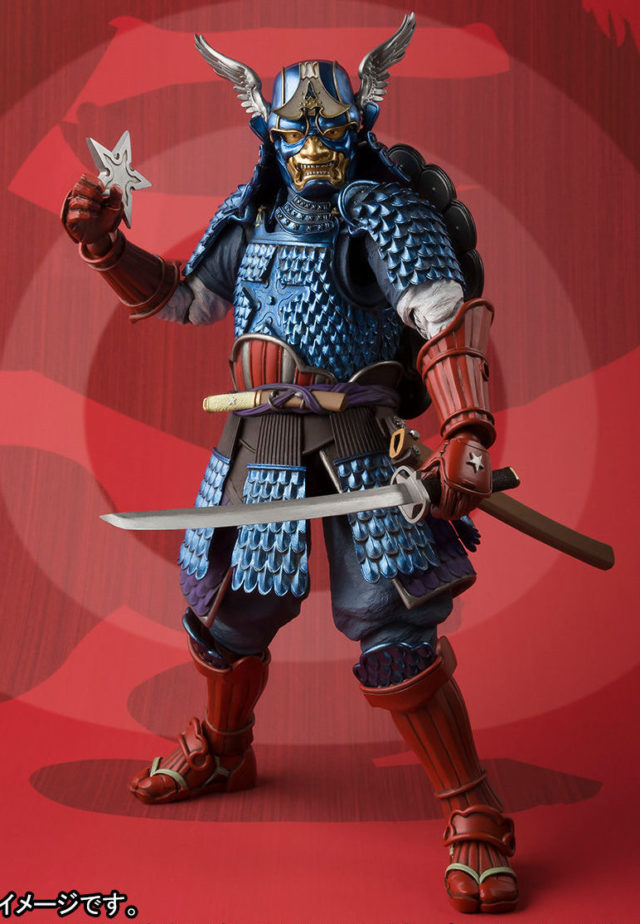 While the now long-running Star Wars Movie Realization line of feudal-themed Star Wars action figures has turned out to be a bigger hit than most anticipated, Bandai Tamashii's attempt at a line of feudal Marvel figures has been… less successful.
With the Bandai Manga Realization Spider-Man and Iron Man figures sitting in clearance bins for the past year, it seemed unlikely that we'd see the line continue with the third figure we'd seen announced for the line.
But it seems Bandai isn't ready to let go of this series just yet, because their Samurai Captain America Manga Realization figure is now officially on the way!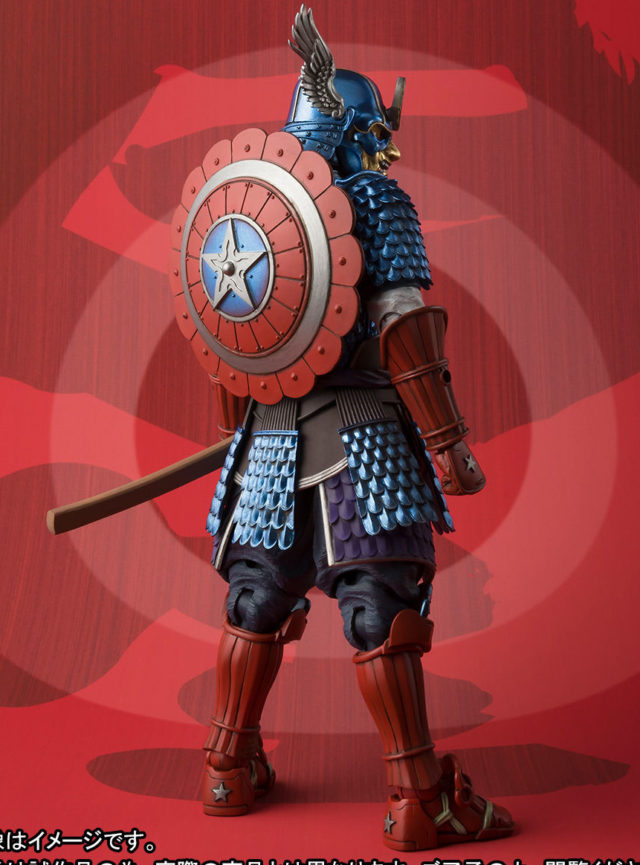 It's been so long since this Captain America figure premiered that I think many outlets are forgetting we'd seen it before, but it was actually 11 months when Bandai Tamashii debuted Samurai Cap. In fact, I had to go back and read my own past preview to remember what I said about the prototype for this. Yikes!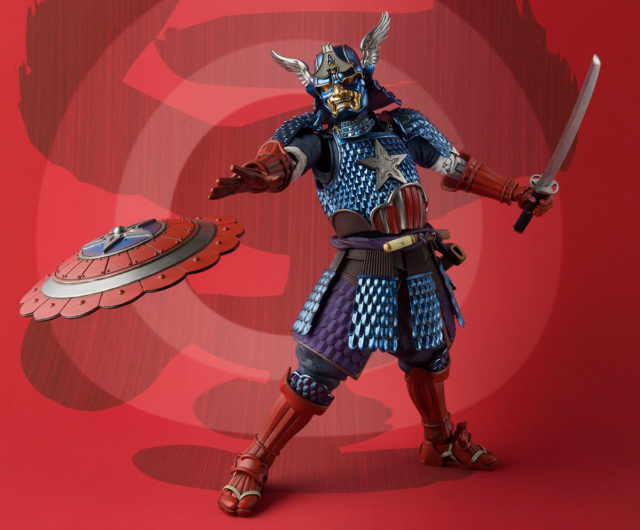 Just like I did last fall, I still think that this Captain America Samurai action figure is "pretty fun". While it's unlikely bordering on impossible that I'll spend 90 bucks on it myself, I'm sure a lot of collectors are really going to dig this and snap it up (though likely not as many as Bandai would prefer).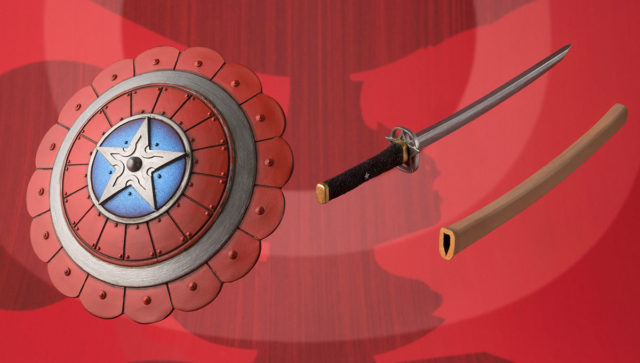 Captain America comes with an assortment over interchangeable hands and three other accessories (besides a "hidden" one I'll talk about in a second): his shield (which can be attached to Cap's back and looks amazing in this feudal-era style), a sword and a sheath. The shield would be my favorite aspect of this whole figure if it wasn't for…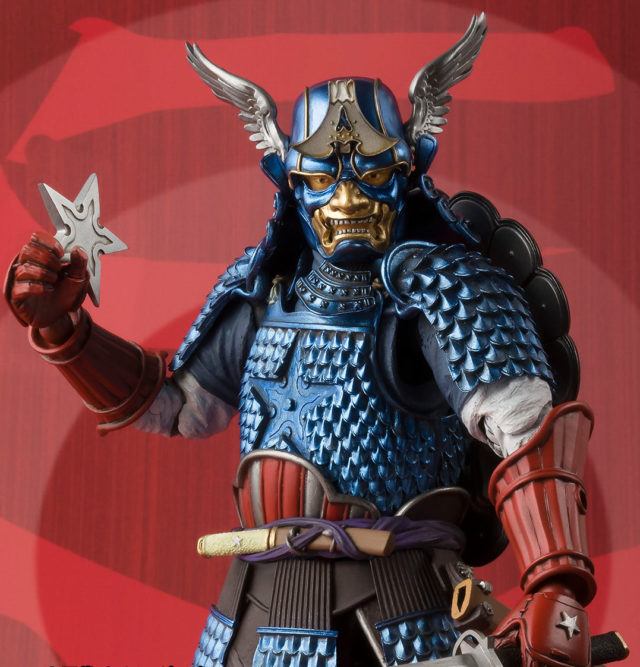 The most fun (in a crazy way) feature of this figure is one that we actually didn't know about when the prototype debuted last year: Manga Realization Captain America can actually pull the white star on his chest off of his costume and use it a shuriken (throwing star). No, really.
This might just be the most creative thing that Bandai has done with the whole Marvel Realization series so far, and it definitely made me smile. Again, I dunno that it makes me smile enough to spend 90 dollars, but good effort, Bandai Tamashii.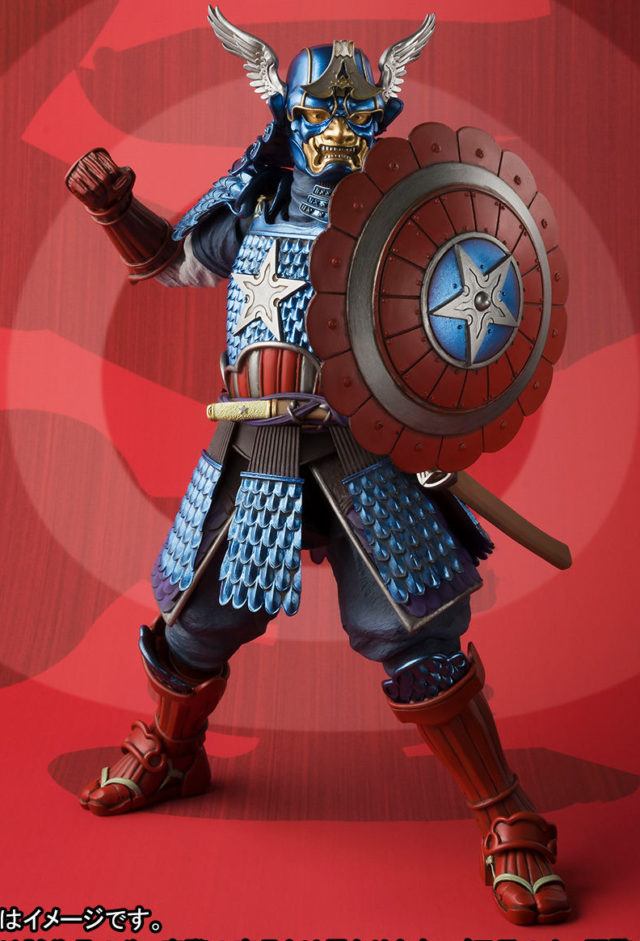 The Bandai Tamashii Marvel Manga Realization Captain America figure is now up for order, and is scheduled to be released in February 2018. The Samurai Iron Man and Spider-Man figures from this same line have long been discounted, and I can't help but wonder if we won't see Bluefin Distribution/Bandai Tamashii Nations severely cut down on the production of this Samurai Cap figure as a result.
Feedback time, Marvel collectors! Has anyone out there picked up the previous two figures in the Marvel Manga Realization line, and if so, what do you think of them? And about this feudal Captain America Samurai action figure: anyone buying? Would you like to see this series continue, and if so, with who?