I was a Guardians of the Galaxy fan before the Guardians of the Galaxy were cool. Well, actually, I'm not sure that the Guardians of the Galaxy are even "cool" now, but they're at least poised to become recognizable mainstream superheroes due to this year's upcoming Guardians of the Galaxy movie. Anyway, the point is that I'm a huge Guardians of the Galaxy fanboy. So it is with a ton of excitement and pleasure that I get to show off the first production photos of the actual 6″ Hasbro Marvel Legends Guardians of the Galaxy figures, beginning with Drax the Destroyer!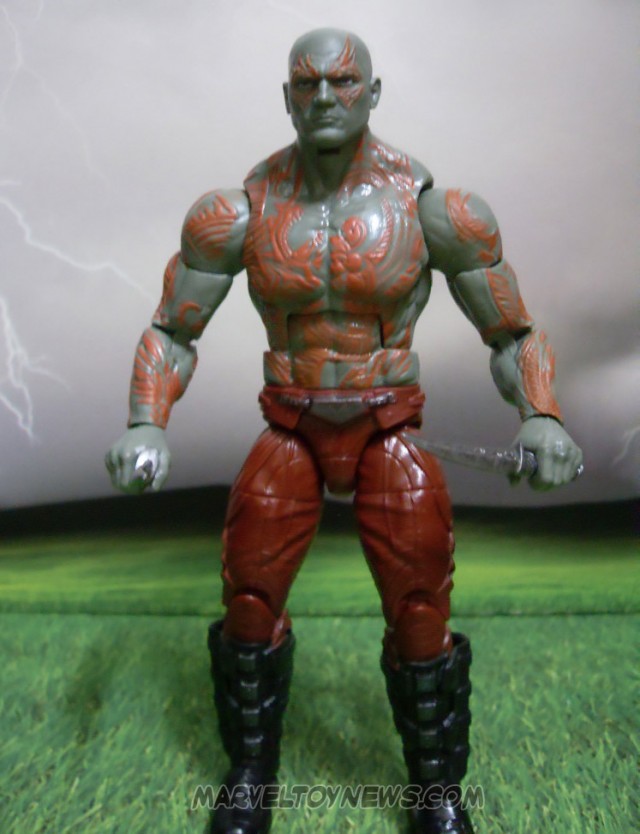 Drax the Destroyer is not exactly a household name, so Marvel decided they needed to get a real star to play Drax in the Guardians of the Galaxy movie: former WWE World Heavyweight Champion, Batista! As such, I find myself in the unique position of owning a bunch of figures already of a guy who's never even been in a movie before. Even so, this green-skinned Drax-tista figure is definitely a new twist that's completely different from every other Batista figure I've ever owned.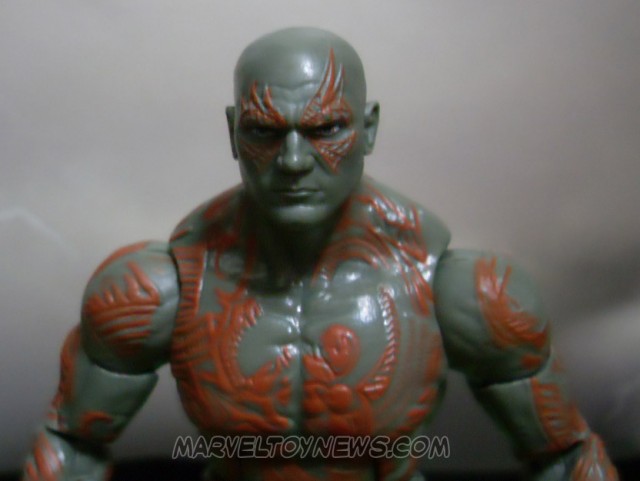 Hasbro's actor likenesses tend to be pretty hit or miss, but this Drax Batista head is a definite home run. Look at that head sculpt! Us WWE fans can tell that that sculpt is, without question, Dave Batista (Bautista) himself!
The Guardians of the Galaxy movie Drax the Destroyer skin-tone is more of a greyish-green color as opposed to the deep forest green of comic book Drax. This is a good thing, as Drax will come off as a lot more realistic on-screen in this more subdued color than he would looking like a more human Teenage Mutant Ninja Turtle.
I thought there was the slightest possibility that Hasbro might phone it in and cheap out on the elaborate tattoos on the back of the Marvel Legends Guardians of the Galaxy Drax figure, but they've actually done a shocking amount of detail on Drax's back. This just might be the single most-detailed back we've ever seen on a Marvel Legends action figure.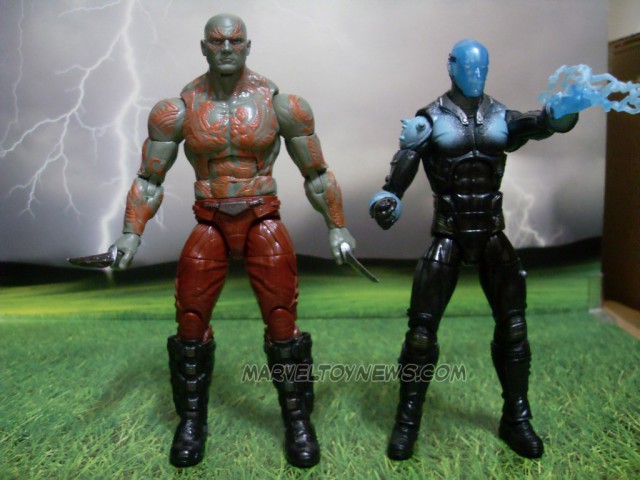 As the Guardians of the Galaxy's resident powerhouse and strong guy (no, not X-Factor's Strong Guy), Drax ought to be noticeably larger than your everyday Marvel Legends action figures. And thankfully, he is. As you can see from the comparison photo with Amazing Spider-Man 2 Marvel Legends Electro, while Drax is still in the 6″ scale, he's obviously a bit larger and bulkier than your typical 6″ Marvel Legends figure.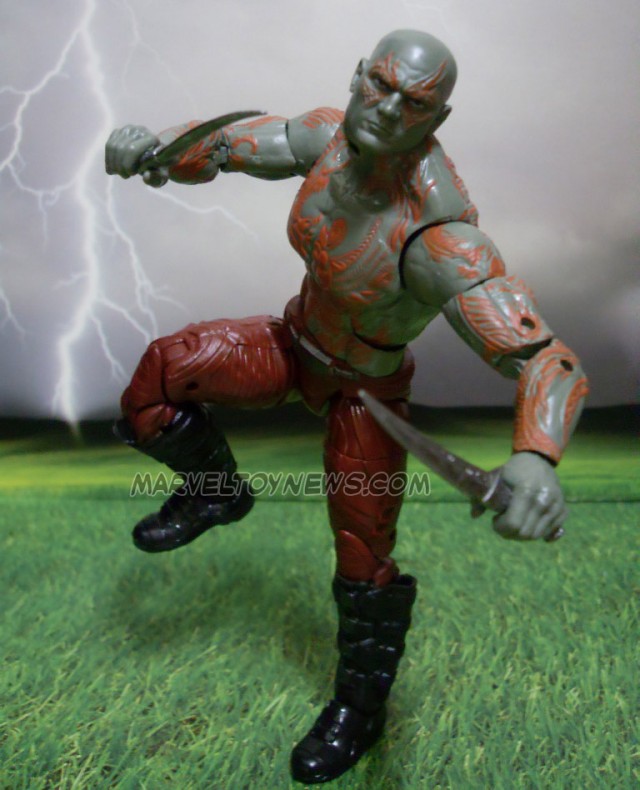 I'm also very much impressed with the sculpting detail that Hasbro has put into Drax's knives this time around. And hallelujah–it looks as though they're made out of a plastic this time that isn't going to warp and droop embarrassingly the way that the 2012 Marvel Legends Series 2 Drax figure's knives did.
And yes, as a Hasbro Marvel Legends figure, Drax has all of the copious amounts of articulation that we've come to expend (and demand) from our ~$20 six inch action figures.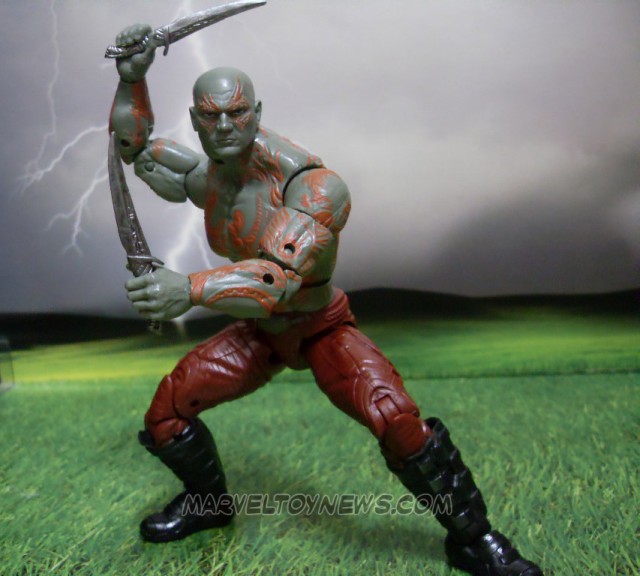 Quite simply put, this Marvel Legends Drax movie figure blows the previous ML Drax figure clear out of the water.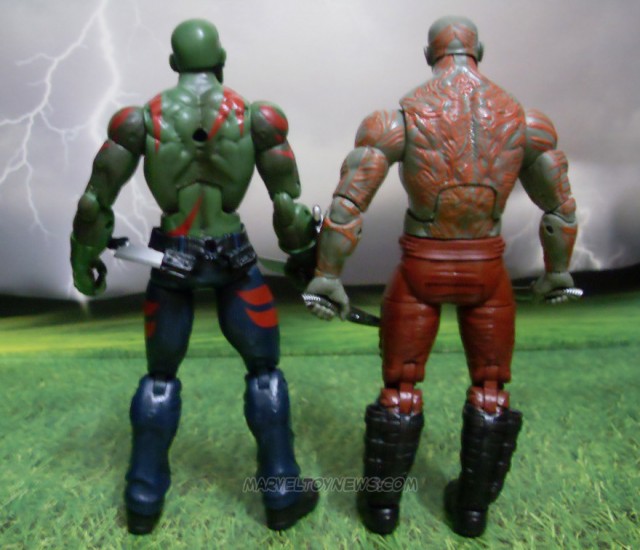 Drax's back tattoos are completely sculpted into his unique back mold this time, but you'll have to be wary of getting a GOTG Marvel Legends Drax figure with the paint deco misapplied.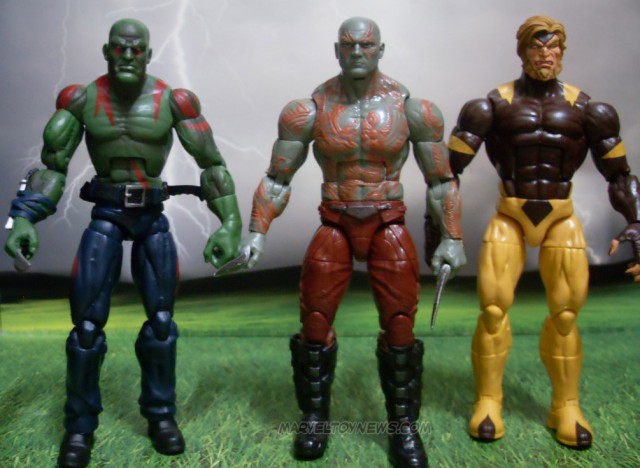 While Drax is a pretty big guy, the Drax figure isn't quite as tall and powerful-looking as last year's Wolverine Legends Sabertooth figure.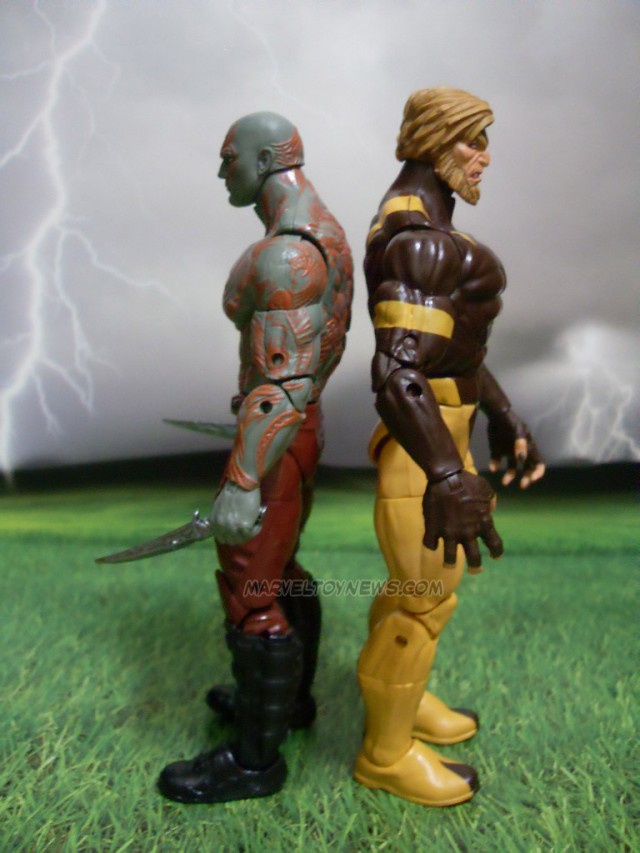 A huge thanks to BMANHK for sending these early-release figure photos over to me to post exclusively here on Marvel Toy News.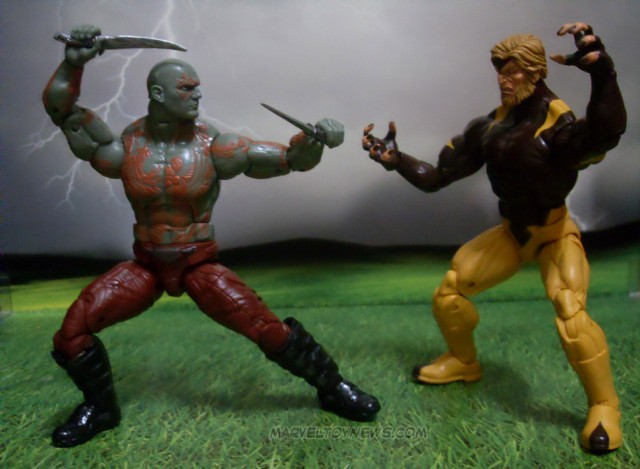 I'll be posting more photos of the rest of the Guardians of the Galaxy Marvel Legends figures as the week goes on, and you can 'Like' Marvel Toy News on Facebook to have news and photos sent right to your Facebook Newsfeed!
Are you impressed with the work that Hasbro has done on this 6″ Drax Marvel Legends figure, Marvel fans?