The first three figures I've talked about in the Marvel Legends Guardians of the Galaxy Infinite Series have been mostly a mixed bag, and today's figure will be more of the same. Though she's been a staple of the Marvel cosmic universe for decades and a key member of teams like the Infinity Watch and the Guardians of the Galaxy, Gamora has never had a major figure release before (Minimates doesn't count, sorry). But that's all about to change, and Gamora is (hopefully) about to enter the upper-echelon of recognizable Marvel females! The Marvel Legends Gamora figure is the most high-end Gamora (for now)–unfortunately, it's rather mediocre…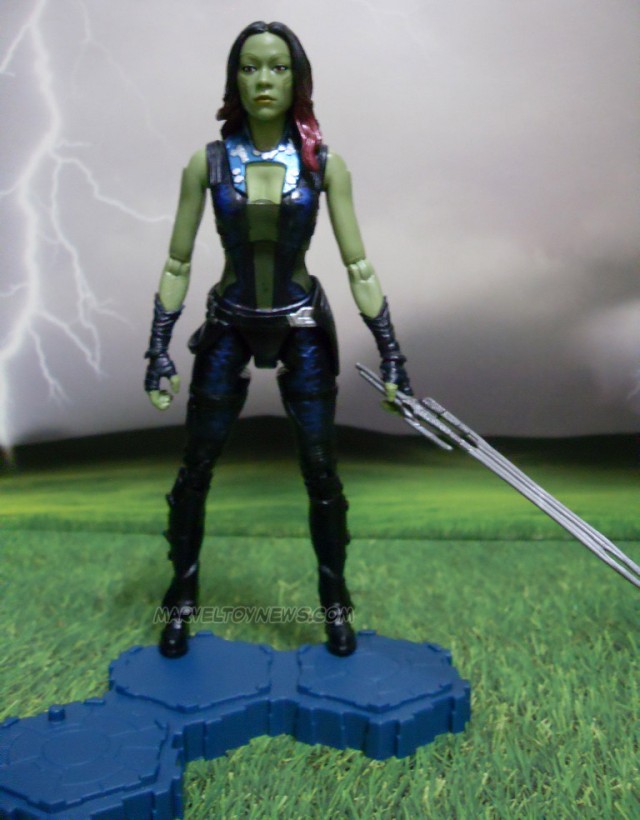 Not-surprising fact: Gamora is the only one of the core Guardians of the Galaxy team members that Hasbro has never released a figure of until 2014. Drax and Rocket Raccoon have had both Marvel Legends and Marvel Universe releases, Star Lord had a Marvel Universe figure and an as-yet-umproduced Marvel Legends concept render, and there was even a little Marvel Universe Groot PVC released as a potted plant.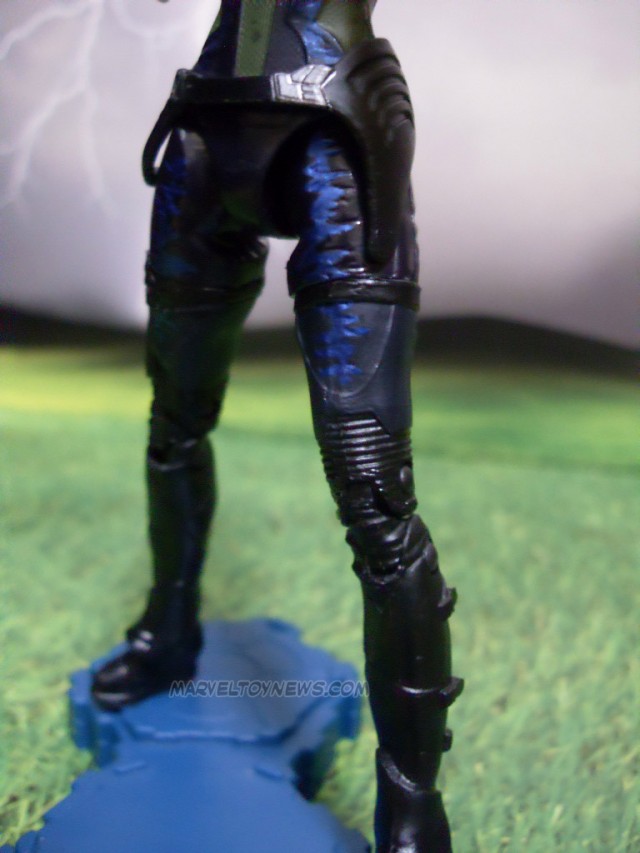 …But Gamora? Nada. So Gamora's inclusion in the GOTG Marvel Legends figures wave is a pretty big deal for Gamora fans.
That said, the Gamora figure just isn't all that great. The blue paint detailing on her pants is pretty slick looking, and I appreciate that she comes with a sword to indicate what a formidable warrior she is, but there's really not a whole lot else to say about this figure that's all that positive. She's basically just your standard Marvel Legends-style woman figure without any new bells or whistles.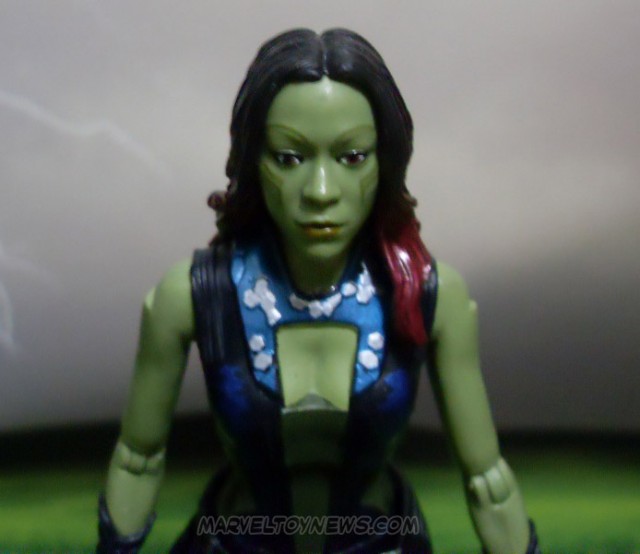 Gamora is one of the most fierce, deadly, vicious fighters in the entire Marvel Universe, but the facial expression Hasbro has given Gamora is, well… Bored. Gamora looks completely disinterested and lackadaisical, which doesn't exactly inspire me to put her into a cool, combat-ready pose. Facial sculpts are always critically important, so it's a real downer that Hasbro gave Gamora an expression that's so "blah".
I can definitely see the facial likeness to the actress who plays Gamora in the sculpt, but the lack of any kind of energy or personality in the expression hurts a lot.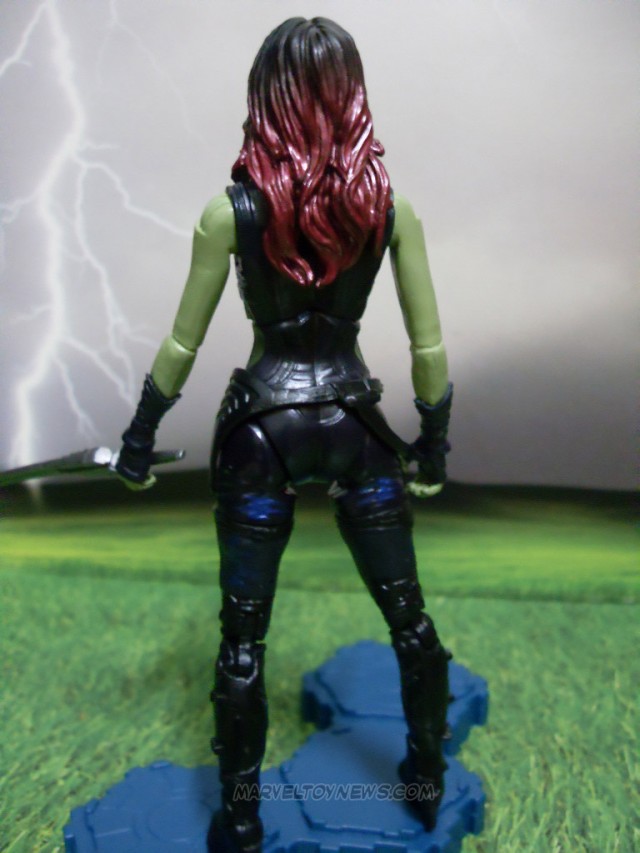 As has been the problem with a lot of Hasbro Marvel Legends female figures, the Gamora Marvel Legends figure can't stand up without a figure stand–at all. In fact, that's why she's on a stand in every single one of these photos, as bman simply wasn't able to get her to stand up stably without utilizing a figure stand.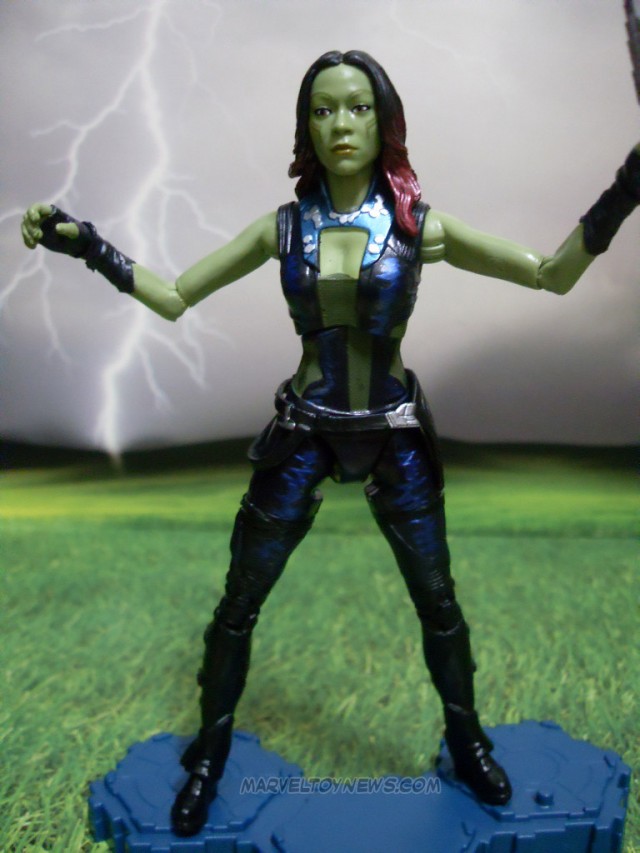 Balance issues have been a problem with female Marvel Legends figures for years, but with a price increase to $20 per figure in 2014, I would have liked to think Hasbro's design team could find a way to engineer female figures that can actually stand up. Worse, the Marvel Legends Guardians of the Galaxy Gamora 6″ figure doesn't even come with a figure stand of her own–you'll have to scavenge one from another figure to keep Gamora upright.
And really, what good is building a ton of articulation into figures that can't even stand up without additional support?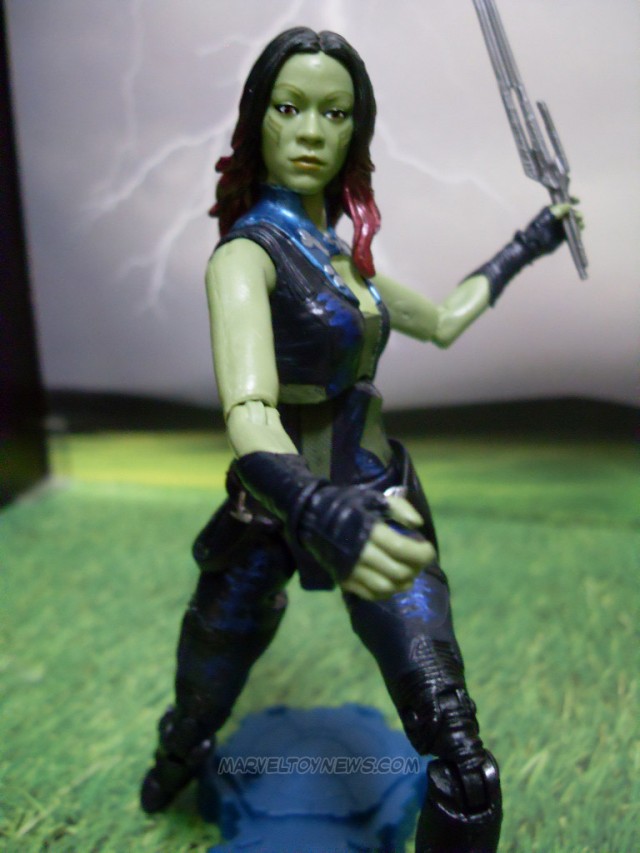 Overall, I'd say that the final production version 6″ Gamora Marvel Legends figure is merely "okay". Having to use a stand to keep her standing is going to really tick me off, and I hate her apathetic facial expression. Even so, I want a complete Marvel Legends Guardians of the Galaxy movie team of figures, and Gamora comes with a necessary Groot part as well, so I don't regret ordering her at all.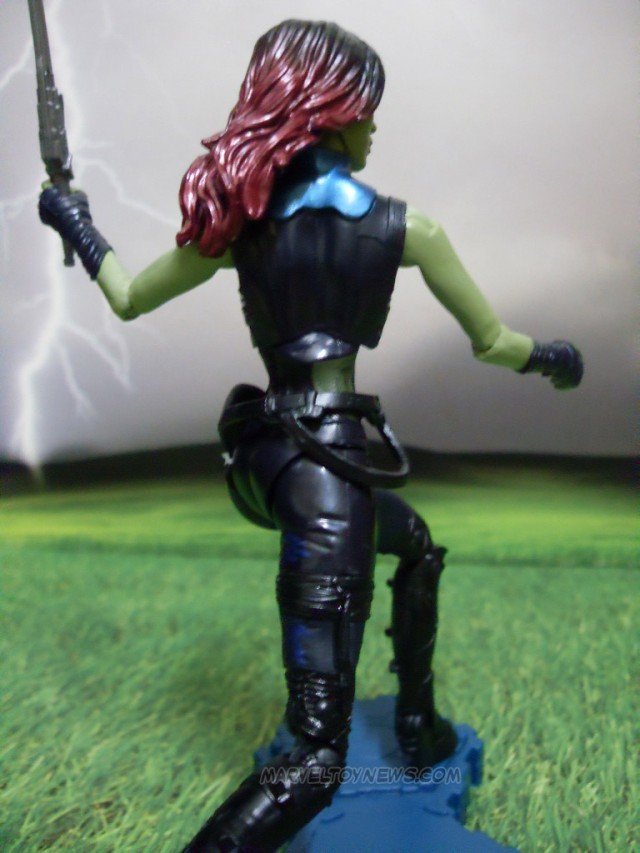 I'll be discussing the final few members of the Guardians of the Galaxy Marvel Legends Infinite Series over the next few days, so keep checking the site and the Marvel Toy News Facebook page for more news, photos and updates. And big thanks to bmanhk for giving us the early goods on this Marvel Legends Gamora action figure!
How do you like Hasbro's very first-ever attempt at a Gamora figure, Marvel fans? Do you want Gamora for herself, for her Groot builda-a-figure piece, or not at all?