I have not exactly been gushing with praise in my reviews of the Guardians of the Galaxy Marvel Legends figures thus far, but lest anyone think that I'm totally unhappy with the series, it's time to talk about one of the figures in the series that's good. Really good. And it's lucky that he's really good, because we're going to be seeing a lot of him, as he's heavy-packed at two-per-case. Peter Quill, the Prince of Spartax, has arrived–it's the first-ever 6″ Hasbro Marvel Legends Starlord figure!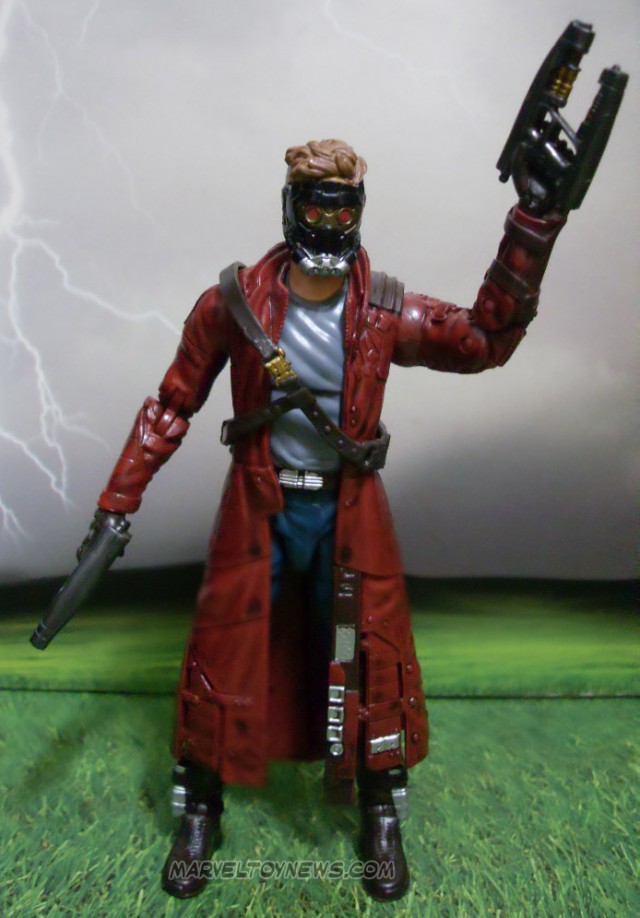 Peter Quill is an unusual character in that, up until he featured heavily in the Marvel Annihilation comics about a decade ago, I truly had no idea who he was. Rocket Raccoon, Drax the Destroyer, Nova, Gamora and even Groot were all familiar names to me. But "Star Lord"? Who…?
Now that I'm familiar with Starlord, I know and love him–and I'm certain the masses are going to love him too once they see Chris Pratt's performance as Starlord in theaters in a couple of months.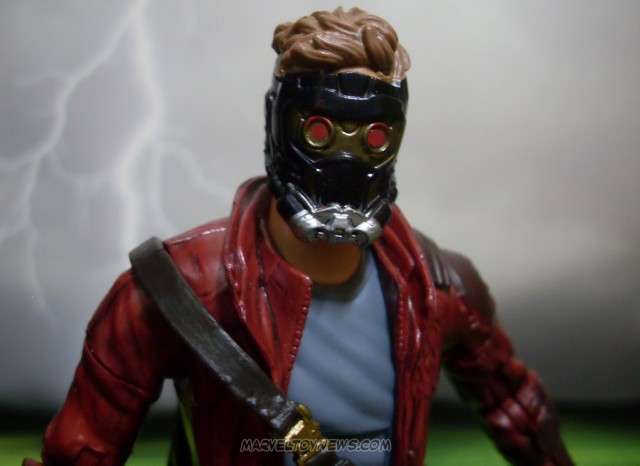 As the leader of the Guardians of the Galaxy, Hasbro obviously had to create their inaugural Star Lord Marvel Legends figure for this movie. And while the movie Marvel Legends Starlord figure doesn't resemble his comic book costume (at all), it's still a fairly great figure that definitely captures the look and feel of the Chris Pratt Star-Lord from the Guardians of the Galaxy movie.
You might think that an action figure of what's basically a guy in a T-Shirt and jeans wearing a red trenchcoat wouldn't be all that fun, but in plastic form Star Lord looks terrific. I love all of the sculpting detail and paint lining that Hasbro put into Marvel Legends Star-Lord's trench coat, and his shoulder bag looks very cool.
I never like any iteration of Starlord's mask, but it definitely adds something to this action figure, making Peter Quill look more like a warrior and less like "some dude in a trench coat".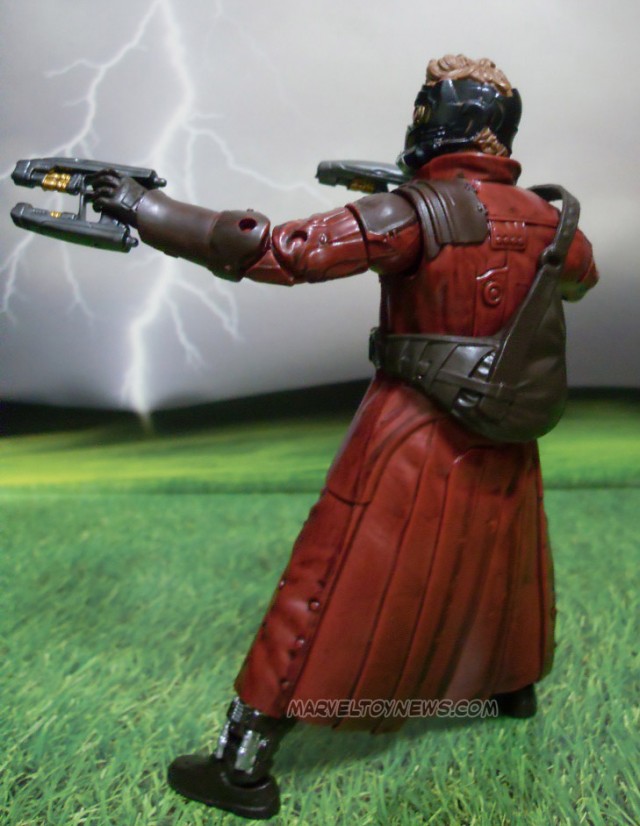 The Marvel Legends Starlord figure's hands are pretty pliable, so you'll be able to get his blasters into his hands without much difficulty. This pliability has a downside, though–his hands don't close tightly enough for him to hold up his headphones tightly.
Even so, being able to hold the blaster guns firmly is far more important to me, and I appreciate that Hasbro went the extra mile and added paint deco to Starlord's guns so that they wouldn't just be pure, unpainted black plastic.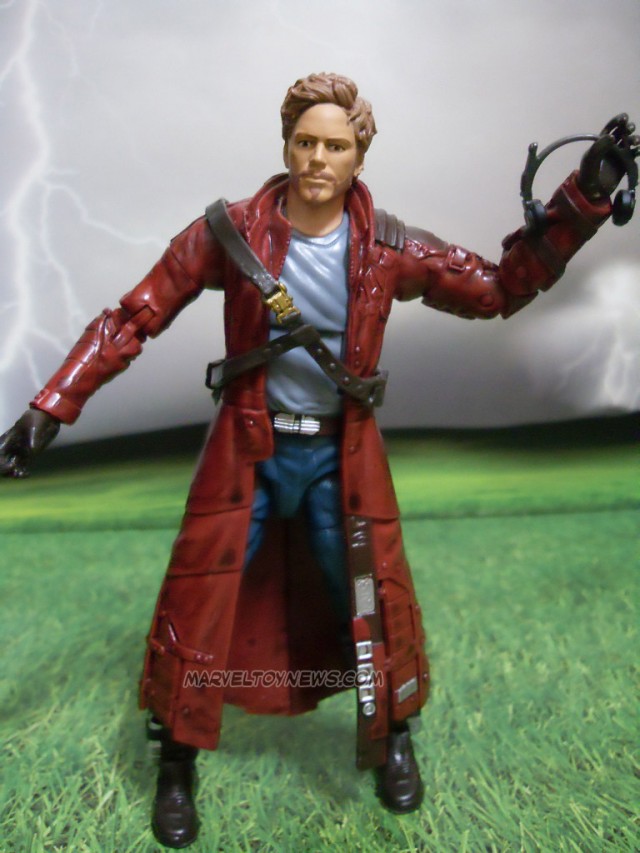 Of course, the best accessory that comes with the Marvel Legends Star Lord figure isn't a weapon at all–it's an extra, unmasked Star Lord Peter Quill head! While I doubt anyone not in the know would see this head sculpt on your shelf and screech "That's Chris Pratt!", the resemblance is good enough to be passable.
And there was a day, not that long ago, when we would have had to buy both a masked Star-Lord figure and an unmasked Starlord chase variant in order to have both looks for the leader of the Guardians of the Galaxy. So getting both masked and unmasked Starlord in one package at once for one (not-quite) low price? Thanks, Hasbro.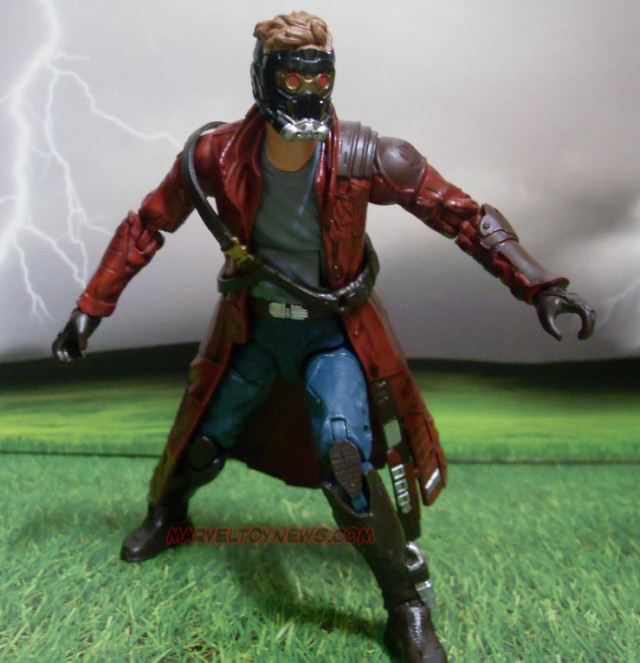 Overall, the Marvel Legends Star Lord is a very solid figure and easily in the top half of the best figures in the Guardians of the Galaxy Marvel Legends Infinite Series. Thanks to bman for giving us the early goods on these Marvel Legends Guardians of the Galaxy figures, and be sure to 'Like' Marvel Toy News on Facebook to have more Marvel news, photos, and updates sent right to your Facebook Newsfeed!
Based off the photos and impressions of the finished product, are you looking forward to the chance to own your own Star-Lord Marvel Legends action figure, Marvel fans?