This was a particularly crummy week for me, rife with personal illness and a death in my family. Some people console themselves with whiskey and such under similar circumstances. I do it with blind-boxed vinyl figures. And two of the blind boxes that I picked up this week (of many) were my first two KidRobot Marvel Labbit Minis Series 2 "bloxes". I was aiming for Carnage and Anti-Venom, but this just wasn't my week (if any regard). I drew the two most common KidRobot Marvel Labbits Series 2 figures: Spider-Man and Iron Man. Were they worth my 20 bucks? Read on for my review…

The Right:
I love blind boxes, and I love the blind box revolution that is going on right now in American collecting. The sales haven't always been exceptional (depending on the line), but I am so, so excited to see a huge variety of Marvel blind-boxed figures being released this year from a variety of companies (including Disney Vinylmation, Funko Marvel Mystery Minis, KidRobot Marvel Munnys and more).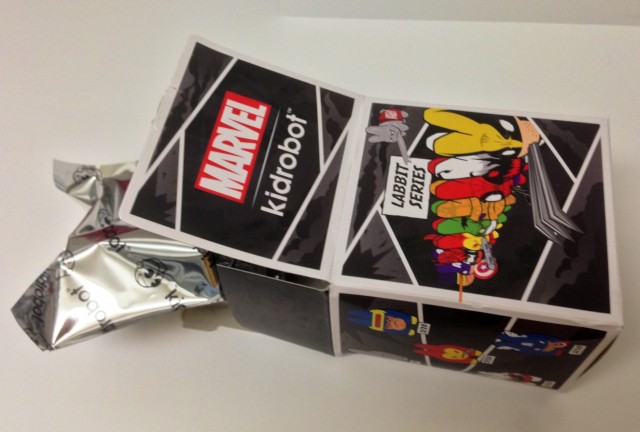 One of the weirdest Marvel vinyl figure lines out there is definitely the Kid Robot Marvel Labbit Minis, for which Series 2 just hit stores this month. Basically, these are little non-articulated figures that are shaped like a stylized rabbit and painted up as Marvel heroes or villains. I sounds crazy–and it is–but each of the figures have a lot of charming aspects to them that make Marvel Labbits Series 2 enticing to collect.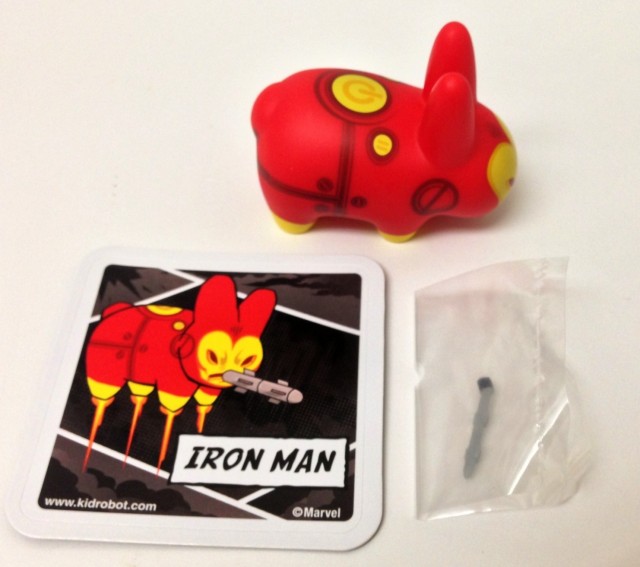 Each of the figures in this KidRobot Marvel Labbit Minis Series 2 includes a collector's card and a unique accessory that fits into the character's "mouth". This accessory is the main difference between most Marvel Labbits Series 2 minis, as most of them share the exact same sculpt with no other alterations.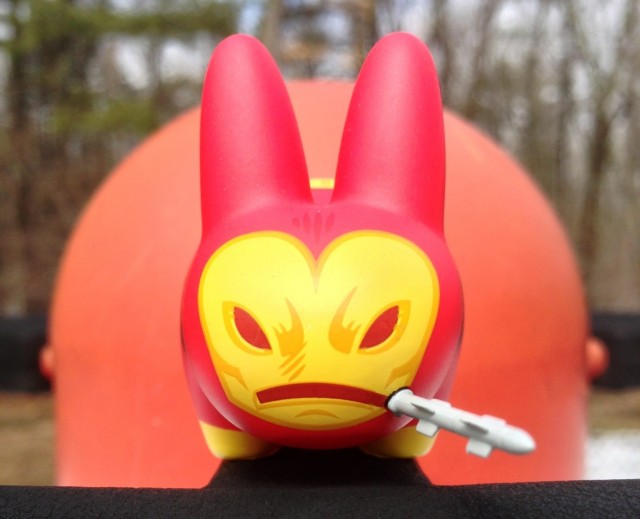 Iron Man comes with a little grey missile that he can chew on. It's a fun accessory and all, but seeing as how this is a Tony Stark figure, I feel like a bottle of Jack Daniels to stick in his mouth would have been funnier and more appropriate (though the chances Disney would have ever approved that are absolutely zero).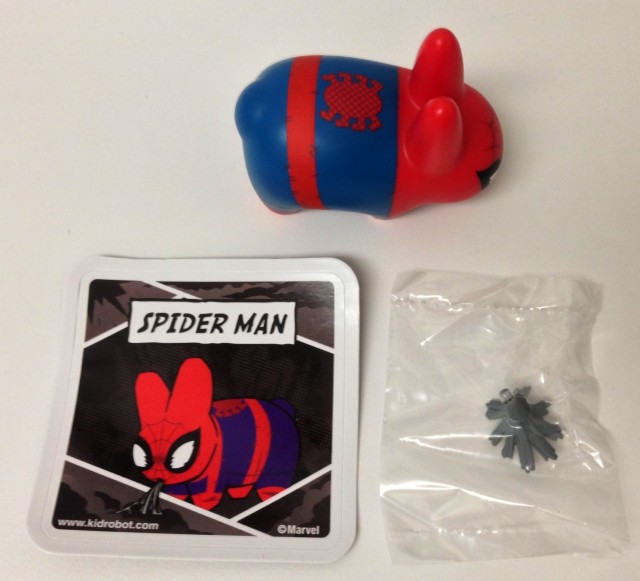 The Labbit Spider-Man KidRobot figure's accessory is a wad of extended webbing. You can stick it into the Labbits Spider-Man figure's mouth and simulate him spewing webbing onto the ground or shooting it at a surface he wants to swing to. It sounds gross, but in execution it's pure silly fun.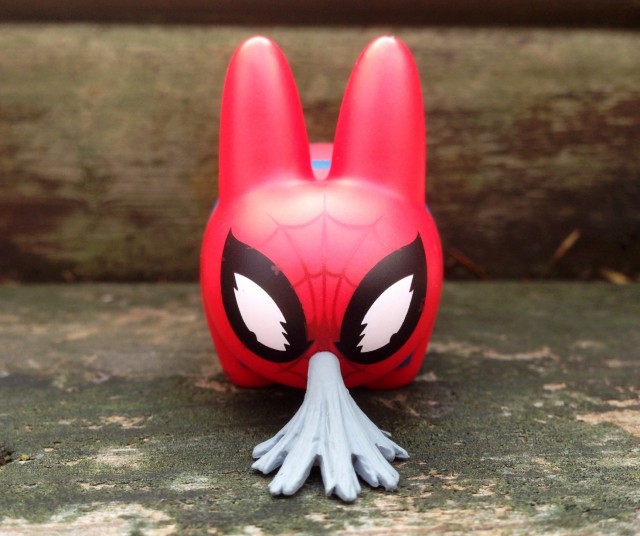 I thought that the paintwork on my Spider-Man Labbit's face was really shoddy at first glance, but then I looked closely and saw that there are tiny stitches painted onto his mask. It's an impressive detail at this size, and very masterfully applied.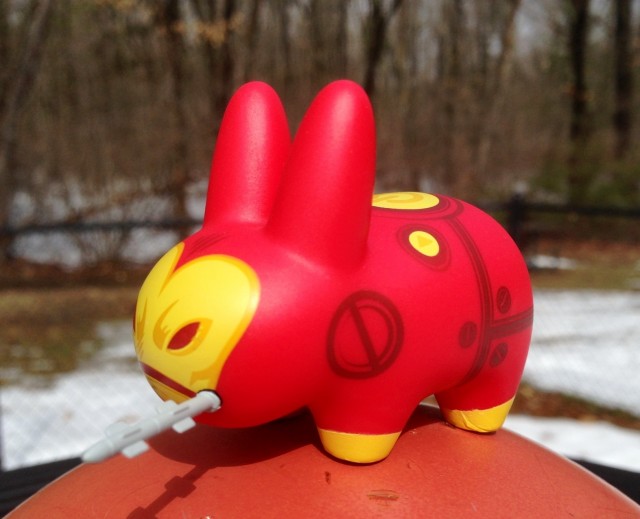 The Labbit Iron Man figure is similarly well-painted, with all clean and straight applications everywhere. This is a far better quality of paint deco than I'm used to seeing from the Funko Marvel or Disney Vinylmation lines.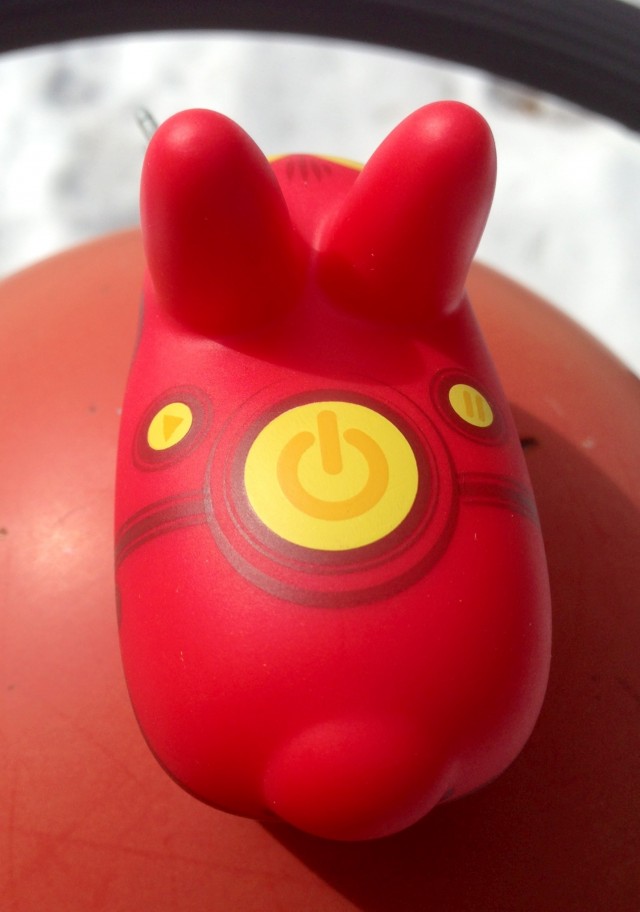 The KidRobot Marvel Labbit Series 2 Iron Man has a really fun "electronic device" theme to him, and has lots of corresponding details painted on such as a power button on his back and "play" and "pause" buttons on his sides. Labbits Iron Man also has little nuts and bolts indentations painted on to illustrate that this vinyl rabbit is a suit of armor and definitely not an organic creature.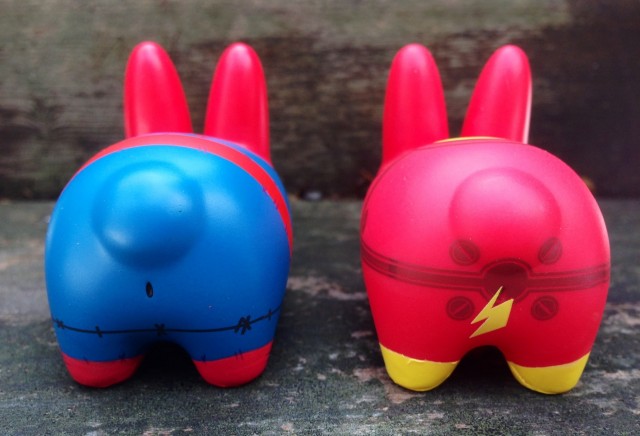 I never imagined I'd be discussing Spider-Man's anus in any context–ever–but that's actually applicable in this case, believe it or not. All Marvel Labbit vinyl figures have a little butthole because, well… they do.
The Spider-Man Labbit Mini's butt hole is actually pretty mundane (I can't believe I just said that), though the Iron Man Labbit's anus is meant to be a little power charger slot (hence the lightning bolt next to it). It's a cute (albeit bizarre) little detail.
The Wrong:
The biggest thing going against these Kid Robot Marvel Labbits figures is the same issue that bugs a lot of people about designer vinyl figures: they're expensive. The Labbits Minis are only about 2.5″ long and all share the same plastic mold. They're made of a light, cheap plastic, and they feel chintzy in your hands (though they look terrific).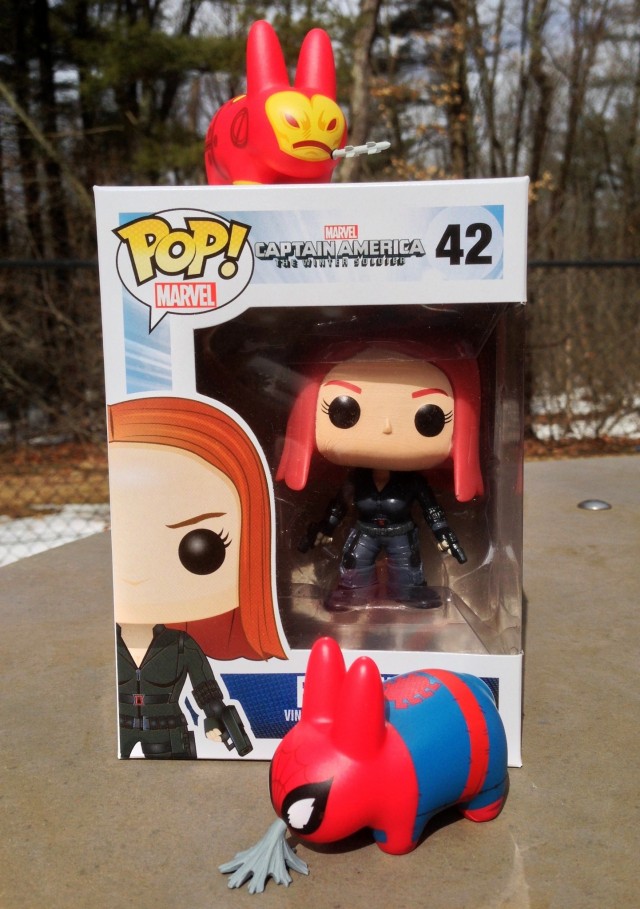 Displayed next to a Marvel Funko POP! Vinyls figure that costs the same price as one KidRobot Marvel Labbits blind box (and less from many places), the unique sculpted and much larger Funko POP Vinyl figure seems like a much better value.
"Where Can I Buy It?!"
You can find Marvel Labbit Series 2 blind boxes at comic book stores and specialty stores such as Urban Outfitters and Hot Topic. However, at about $10 per blind box, unless you want the "chase" 1/20 Anti-Venom or Silver Surfer Labbits, you may find you're much better off just buying the specific figures you want on the aftermarket.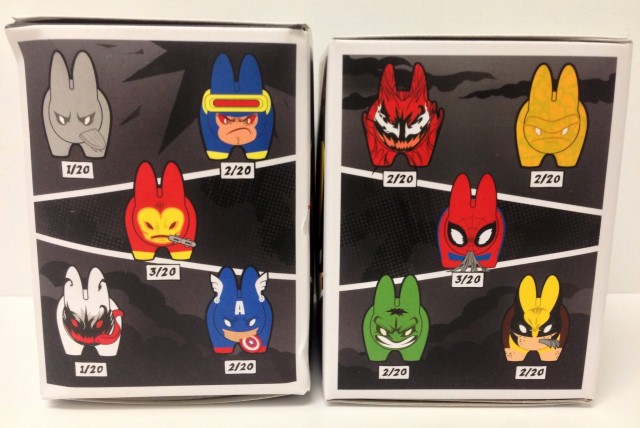 The most common figures like Labbit Mini Spider-Man and Iron Man tend to sell for below cost on the aftermarket, with slightly more desirable figures like Labbit Carnage selling for a couple dollars more. As I don't want to risk pulling more "undesirable" figures, I'll be ordering the rest of my Marvel Labbits Series 2 figures online.
Overall: While the Kid Robot Marvel Labbits Iron Man and Spider-Man figures were very low on my priority list for this second series, I'm actually glad I ended up with both of them. I would love these Marvel KidRobot Labbit Minis a lot more if they were $6 per blind box instead of $10 each, but the theming and paintwork on these figures is fun and top-notch. Other than being of a questionable value and feeling a little "light" for $10@ toys, I'm really impressed with these Marvel Labbits figures and look forward to collecting the rest of Series 2.
GRADE: B