And then there were two! Last week Bowen Designs began shipping out the fourth-last Bowen Designs Marvel Phase V statue, and this week they've followed up with the third-last. This time it's a character that pretty much anyone in the world will recognize instantly–perhaps even more so than Spider-Man! Making his debut for the first time ever in statue form, the Marvel Monsters Bowen Designs Frankenstein statue is now available for order… and Frankenstein is limited to just 300 pieces produced!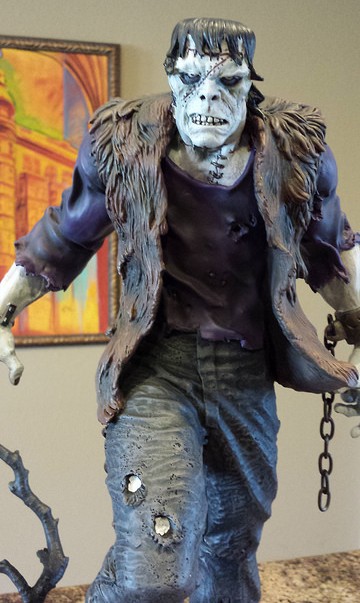 For years, the cult following of Marvel Monsters fans begged the great Randy Bowen to immortalize the Marvel renditions of many popular horror monsters in statue form. In April 2013, those wishes began to materialize in the form of the Bowen Dracula statue (officially "Marvel's Dracula"), limited to 500 pieces produced. It took close to a year, but one of Dracula's horror monster buddies has now arrived to join the world's most famous vampire: Marvel Comics' Frankenstein!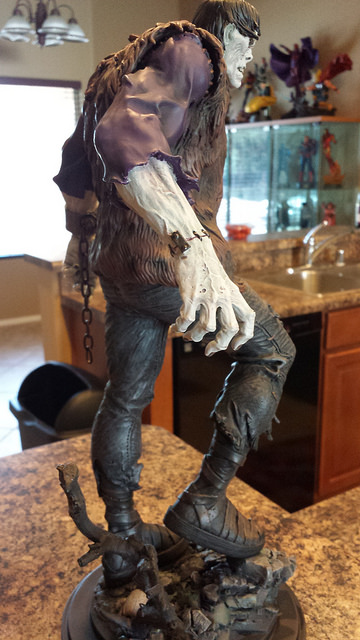 The Bowen Frankenstein full-size statue stands over 16″ tall, which means that Frankenstein will rightfully tower over most of the other Bowen Designs Marvel heroes and villains statues that have been released. His tattered pants, torn shirt and layered boots are all incredibly well-executed, and even his base of debris and a tree branch looks killer.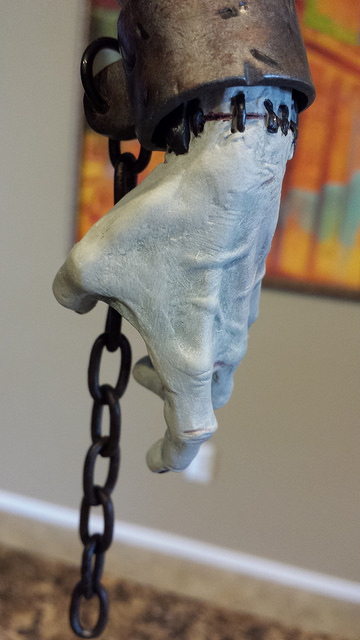 The detail on the Frankenstein Bowen Designs statue is pretty amazing. From the sculpted veins and textured skin on Frankenstein's Monster's hand to the realistic chain hanging from his wrist, this statue is easily the most intricately-sculpted model of any Marvel Monsters character ever released.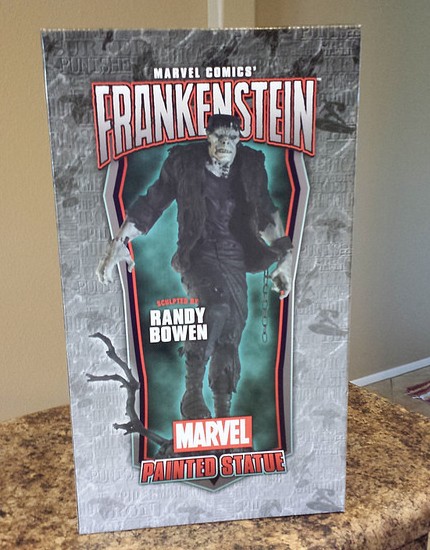 While the previously-released Bowen Dracula statue had a reasonable limited edition size of 500, Frankenstein is going to be far more limited–only 300 Bowen Frankenstein statues have been released! That makes Frankenstein the lowest-run Bowen Designs statue of 2014, as well as one of the smallest runs
ever
of a non-variant Bowen statue.
Let's hope that Bowen Designs is able to sign a new contract to product Marvel statues in 2014 and beyond, so that we can get Bowen Werewolf by Night and Living Mummy statues to round out the Marvel Monsters theme! If Bowen Designs is able to release that whole quartet, a display of those statues will truly be a sight to behold.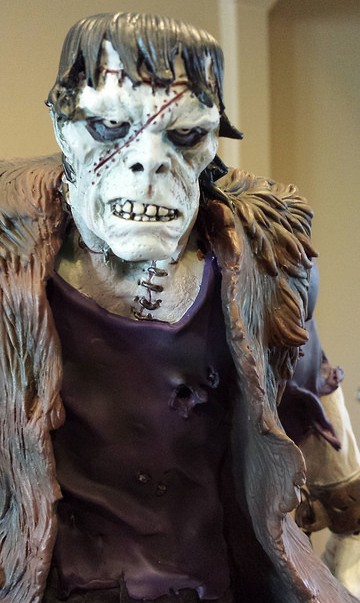 The Bowen Designs Frankenstein Statue is now available for order, although many retailers (including the Bowen Designs website itself) have already sold out due to the crazy-low LE 300 edition size on this piece.
What do you think of the Bowen Designs interpretation of Marvel Monsters Frankenstein, Marvel collectors? Is this statue something you'd consider for your collection, or are horror monsters not "Marvel" enough for you? And thanks to khufutaron for giving me permission to run his slick-looking photos of Frankenstein here on Marvel Toy News!