Some people think I'm joking when I talk about Funko being bent on world domination of the collectibles market, but I am dead serious. The sheer number of figures that Funko releases each year for various licensees is nothing short of awe-inspiring. And in summer 2014, Funko is launching another new branch of collectible figures: Funko Fabrikations! I was a bit dubious of these fabric-covered figures, but I ordered the Funko Marvel Fabrikations Deadpool for $17 shipped online anyway. I'm so very glad I did–the Funko Deadpool Fabrikations figure is one of my favorite Marvel toys of 2014…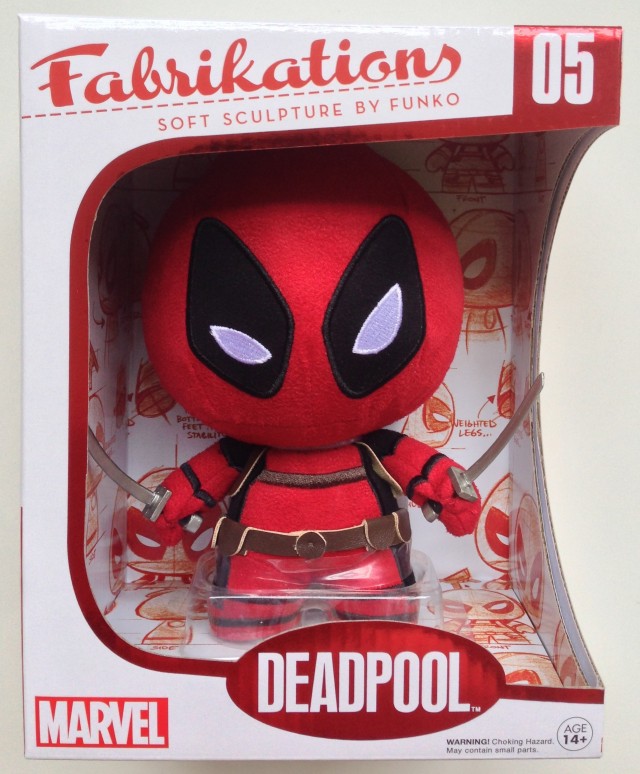 The Right:
I liked Deadpool before Deadpool was cool. I'm talking in the days of the classic Joe Kelly Deadpool comic book, before Marvel realized that they could make Deadpool into one of their biggest and most market over-saturated cash cows.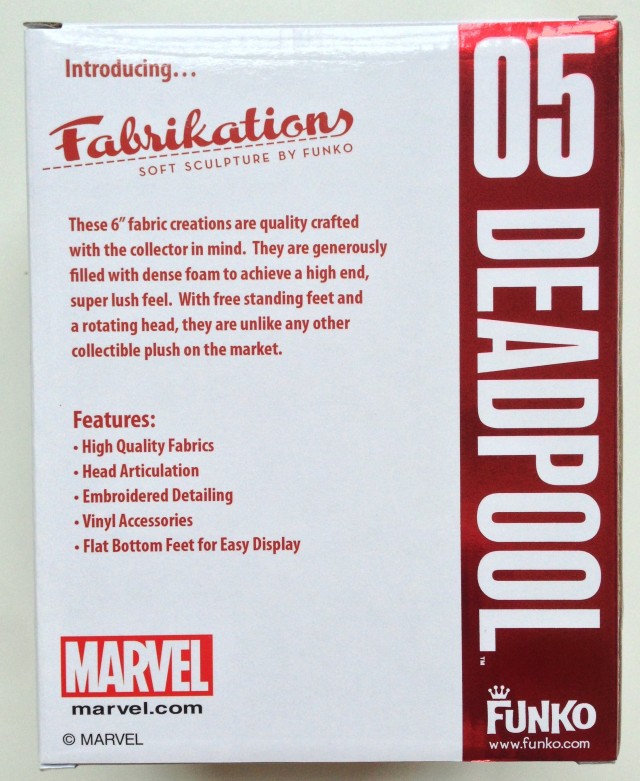 In modern days I don't love Deadpool nearly as much as I did before his overexposure, but I'm still a total sucker for Deadpool figures and toys. So when Funko revealed that their first Marvel Fabrikations figure was going to be Deadpool instead of a heavier hitter like Spider-Man, I was definitely intrigued.
And when I got to see and touch the Deadpool Fabrikations Funko figure for the first time at the New York Toy Fair 2014, most of my skepticism vanished.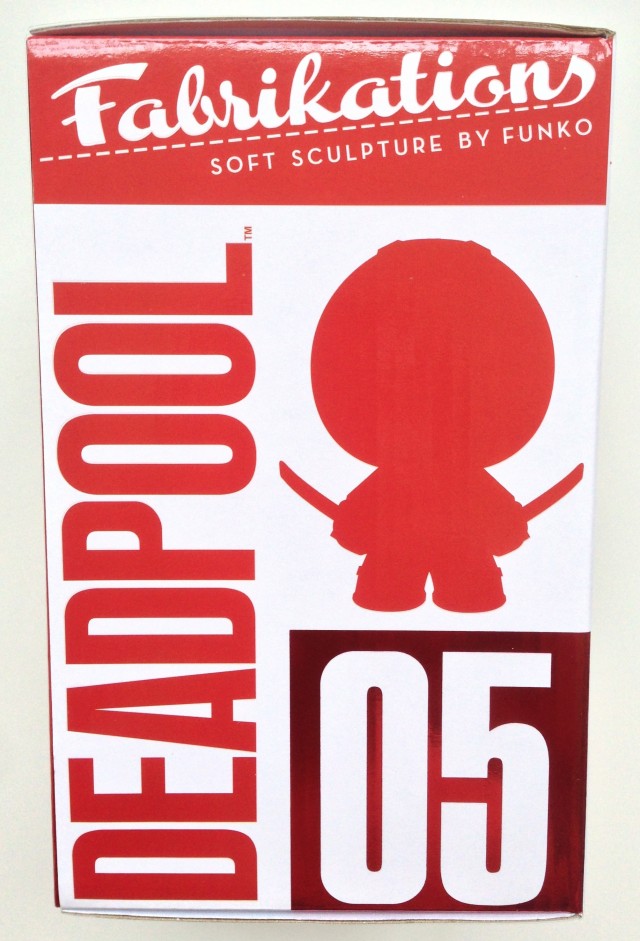 Once I received my Funko Fabrikations Deadpool figure in the mail over the weekend, I was utterly and completely sold on both this Deadpool Fabrikation and the Funko Fabrikations concept itself. Deadpool is numbered as Funko Fabrikations #05, but he's the first (and only, at this time) Marvel Fabriktations figure that Funko has announced.
First up, let me talk about the packaging. I'm not a bit packaging guy–95% of my action figure packaging ends up in the trash. This Funko Deadpool figure's packaging, however, will not be going in the bin. The box and packaging for the Fabrikations Deadpool vinyl figure is simply gorgeous.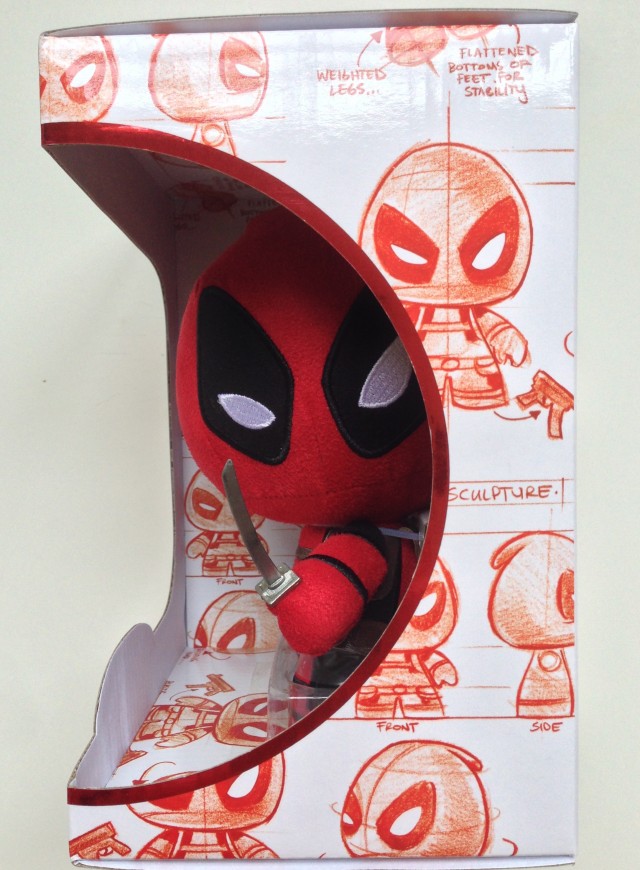 The Marvel Fabrikations Deadpool figure itself comes in a stylish bright white box with metallic-printed red writing and highlights on it, which is eye-grabbing and classy-looking. The back of the box explains the Funko Fabrikations soft sculptures concept, while the sides feature concept art and silhouettes of the Deadpool Fabrikations toy.
There's an open window on the front/side of the box so that you can touch the Deadpool figure to feel its fabric texture and move his head around. I'm glad I got mine online, though, so I don't have to worry about countless peoples' grubby mitts having been all over my fabric-covered Deadpool toy.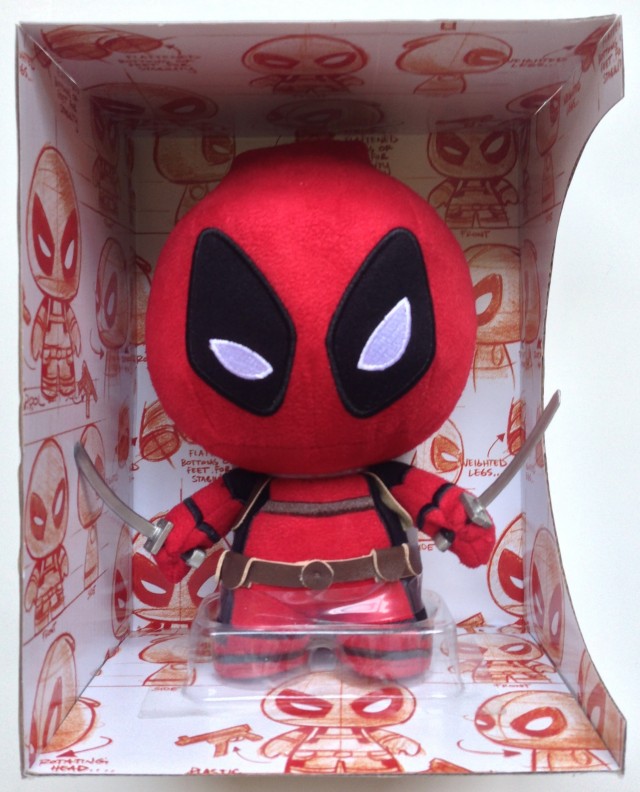 The interior tray that Deadpool is packaged in is also covered in the Deadpool Fabrikation concept art, and it looks super-fun. You can untie the Deadpool figure from the back of the tray and remove him from it without destroying the packaging, which is fantastic–I love this packaging so much that I honestly think I'm going to buy a second one of these Deadpool figures just to keep in the box.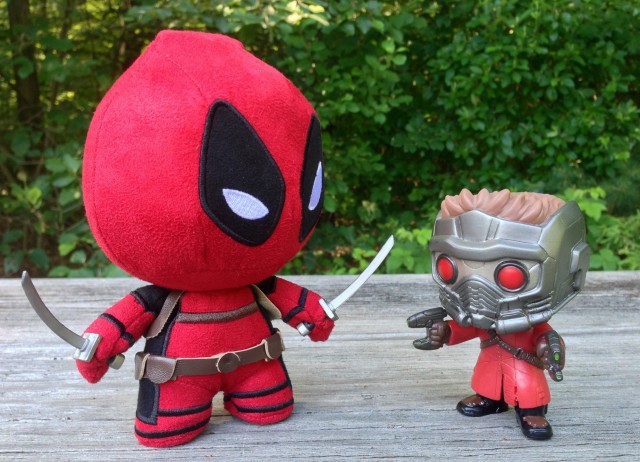 Deadpool and the rest of the Funko Fabrikations line has a suggested retail price of $20, which puts him at roughly double the cost of a Funko POP! Vinyl bobble head figure. You're definitely getting your money's worth with Deadpool, though–not only are the soft goods on him super-soft and high-quality feeling, but he's also huge compared to your standard Funko POP! Vinyls figure.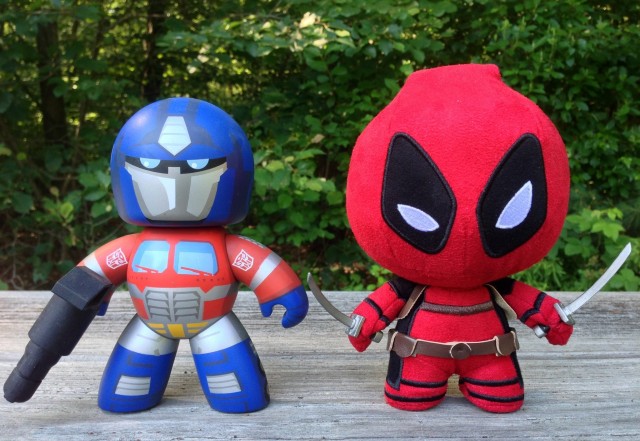 For those who think the Fabrikations figure design looks familiar but can't quite place it, the basic template looks very close to the shape of the much-missed Hasbro Mighty Muggs line (albeit in a noticeably larger scale). I loved Mighty Muggs, but this Funko Deadpool fabric figure is far cooler than any Mighty Mugg I ever owned.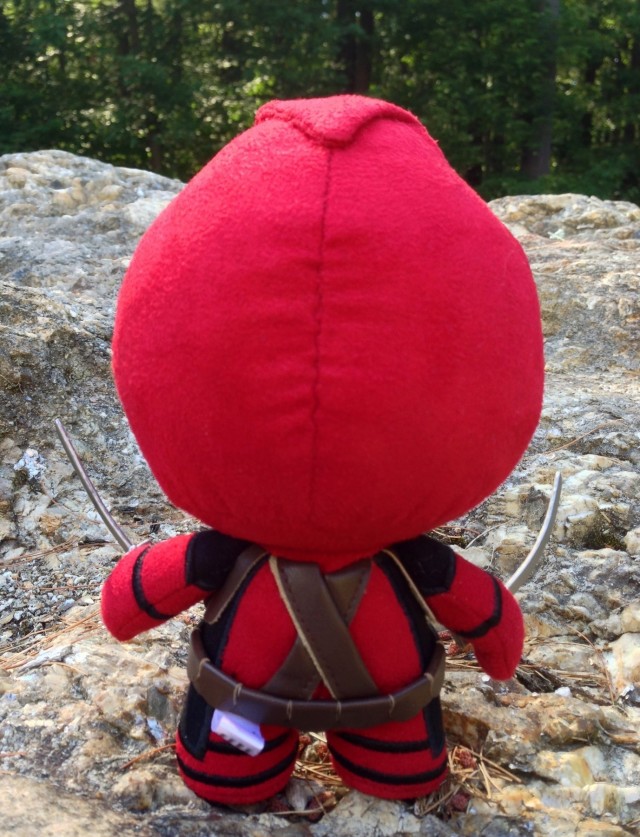 Deadpool's swords are made of a soft material that doesn't seem to be prone to warping, and which look great–I actually thought that they were hard plastic until I had Deadpool attack me with them.
And for those wondering, yes–Hasbro did include soft-goods webbing on Deadpool's back to complete his outfit. There was no cost-cutting involved with this Funko Fabrikation Deadpool figure, and zero quality-control problems. Way to go, Funko!
The Wrong:
If there's one surprise disappointment that I have with the Funko Marvel Fabrikations Deadpool vinyl figure, it's the fact that his
arms are not articulated
. They certainly look articulated and I thought that I had moved them at NY Toy Fair 2014, but the arms are definitely not articulated on the final product regardless.
Non-poseable arms aren't a deal breaker for me–Deadpool looks terrific just standing there with his swords at-ready–it just would have made the figure a little bit more fun if I could move his arms around to truly make him battle.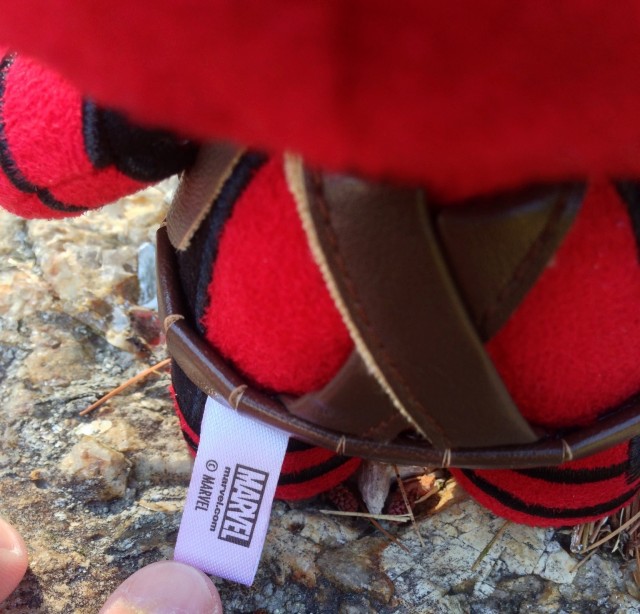 Also, I would have liked it if Deadpool's tush tag (that's what we called them back in the Beanie Baby days) had his name on it instead of just the Marvel logo. That's the smallest of the small gripes, but I do like to see individuality given to toys with tush tags wherever possible.
"Where Can I Buy It?!"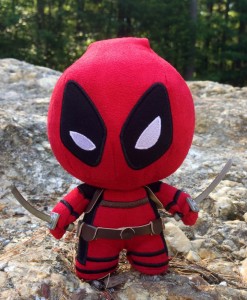 I wanted to see the final finished product before buying, but I couldn't find this figure in a physical store anywhere. Thus, I ended up buying the Marvel Funko Fabrikations Deadpool for $17 shipped from Amazon (about 3 bucks off MSRP). It would've been nice to see him in person first, but Deadpool came out perfect so I don't mind saving money on him at all.
Overall: From incredibly rich packaging to a fresh and fun design, this is easily one of my favorite Marvel toys of 2014 (as bizarre as I feel saying that). The Funko Fabrikations Deadpool is a stellar choice to kick off the Marvel Fabrikations line, and I think Funko is going to have a tough time topping 'Pool. I sure hope that they try, though–I'm already in love with this line! More Fabrikations Marvel figures, please, Funko! Stat!
GRADE: A