If I was a patient man, I'd probably have been content with my online order for the Marvel Legends Red Onslaught series which was scheduled to ship in two weeks. But I am not, and I was not. And so, I drove around like a crazy person for three hours this morning and finally hit the jackpot, completing the entire wave in one morning. My 2016 Captain America Legends reviews begin right now: with the hotly-awaited Marvel Legends Taskmaster figure!
The Right:
When I heard that the ML Red Skull Red Onslaught Build-A-Figure series had been spotted in some stores last night, I sort of shrugged my shoulders laxly, satisfied with the knowledge that I already had the wave pre-ordered online.
Then I woke up bright and early this morning and forsook everything I had planned for the day and spent hours on the road, culminating with finding the new Marvel Legends 2016 Taskmaster figure at a Toys R Us an hour and a half away.
It was worth it.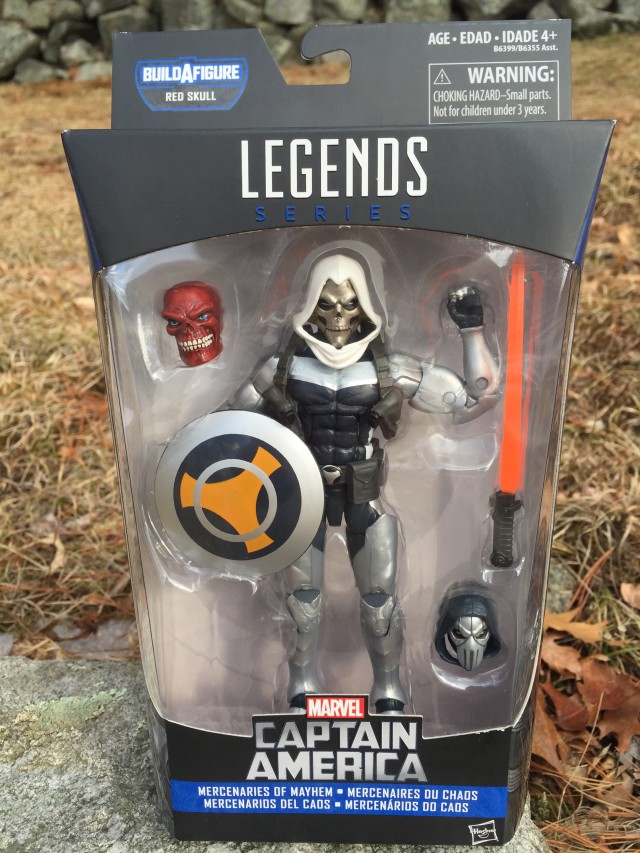 Taskmaster has long been one of my favorite villains in the Marvel Universe, largely because of his photographic reflexes being one of the neatest powers around (and yes, I also loved that ability in Season 2 of "Heroes", and never forgave that show for dropping Monica's character).
Toybiz did a solid classic Taskmaster Legends figure many years ago, and I wasn't sure there was a large enough fan base to make producing his Udon costume worthwhile. But now that I have this Taskmaster to review, I'm exceptionally glad he exists.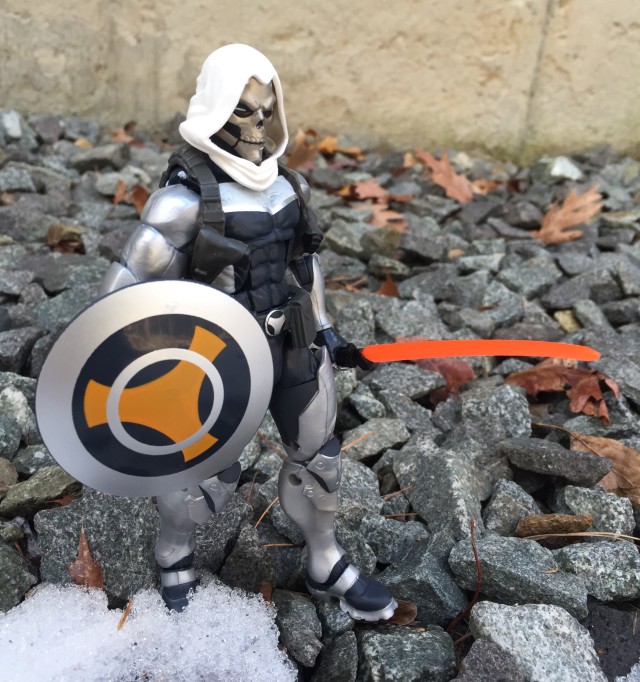 Not only does this look more like a ninja than the standard version of this character, but it's got the articulation to back it up: double-jointed knees and elbows, ankle rockers, swivel thighs and biceps, ball-jointed head, shoulders and hips, upper torso ab crunch, swivel waist… this Taskmaster has almost every point of articulation one could ask for.
Unlike some ML figures, the articulation is well-hidden and doesn't detract from the visual of the character at all. In addition, all of the joints are nice and tight, with no stickiness or quality-control problems to speak of. I'm not usually the type of person to pose and repose my toys, but this is definitely one I can see myself picking up and moving around regularly.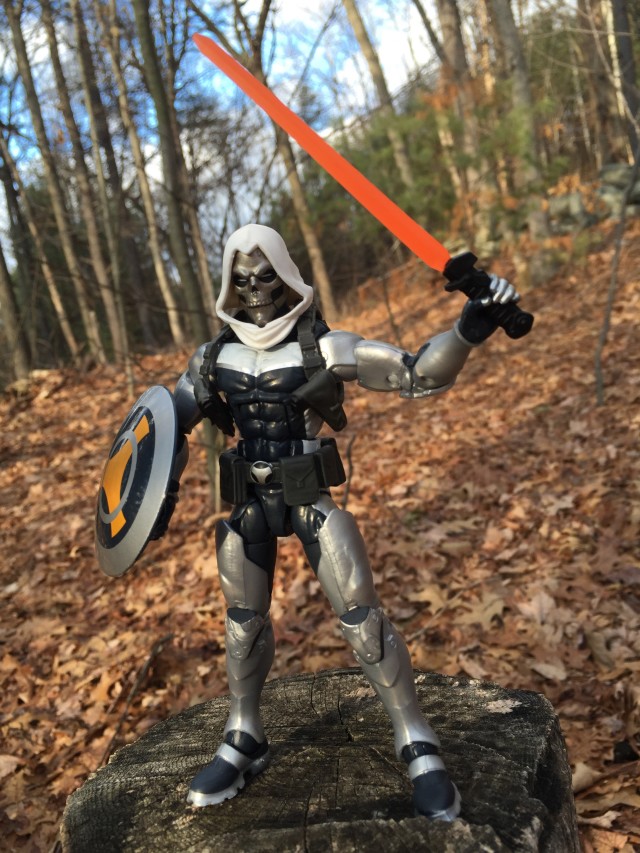 And while the outfit for this Taskmaster Udon suit isn't 100% accurate to the source material (particularly the legs), it's really quite close without Hasbro having to tool new unique molds that wouldn't be useful anywhere else.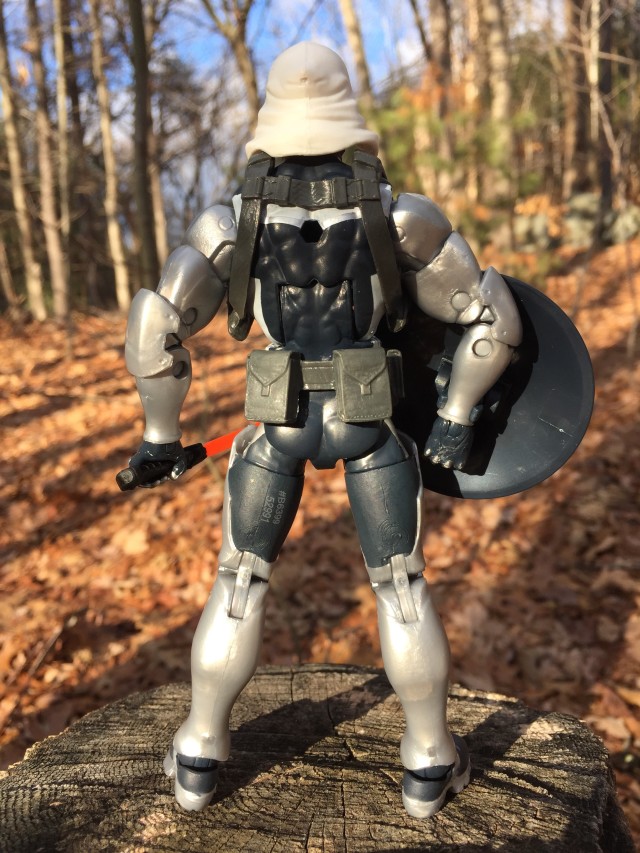 The Marvel Legends Taskmaster figure includes four total accessories: an extra head (with hood), the Red Onslaught BAF Red Skull head, a sword and a shield. That's a pretty beefy load out, and as such, I won't bemoan the lack of removable pistols from his web gear.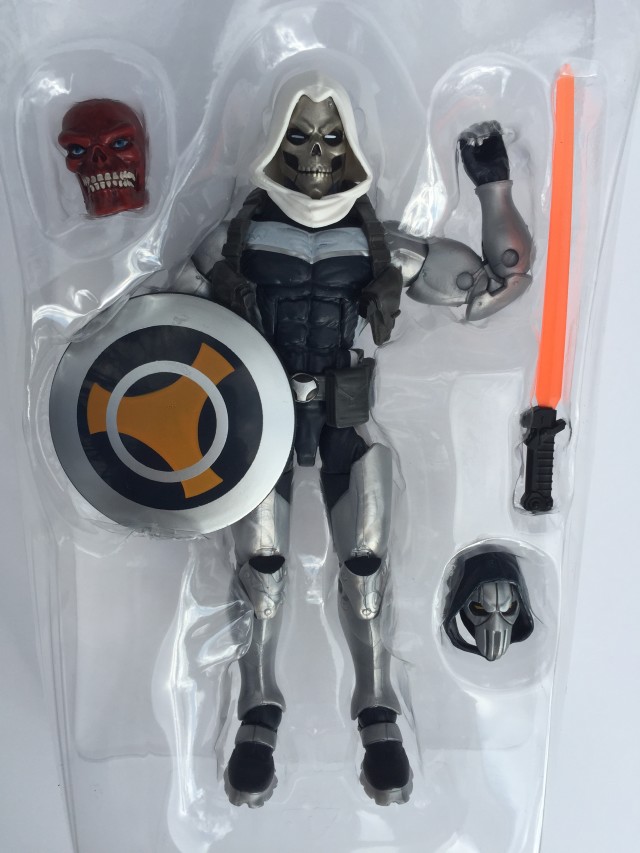 The paintwork on Taskmaster's shield is gorgeous, with all of the lines applies perfectly. Like Captain America's shield (because it is Captain America's repainted shield), the shield can be attached to Taskmaster's back, clipped to his wrist or held on his hand.
Meanwhile, the sword had a black hilt and a translucent red-orange blade. Even in this iteration, Taskmaster wielding as energy sword seems a bit weird to me. Even so, the sword looks awesome and fits tightly into his hand. I may trade this out for a standard sword in my display, but it really is a fun weapon.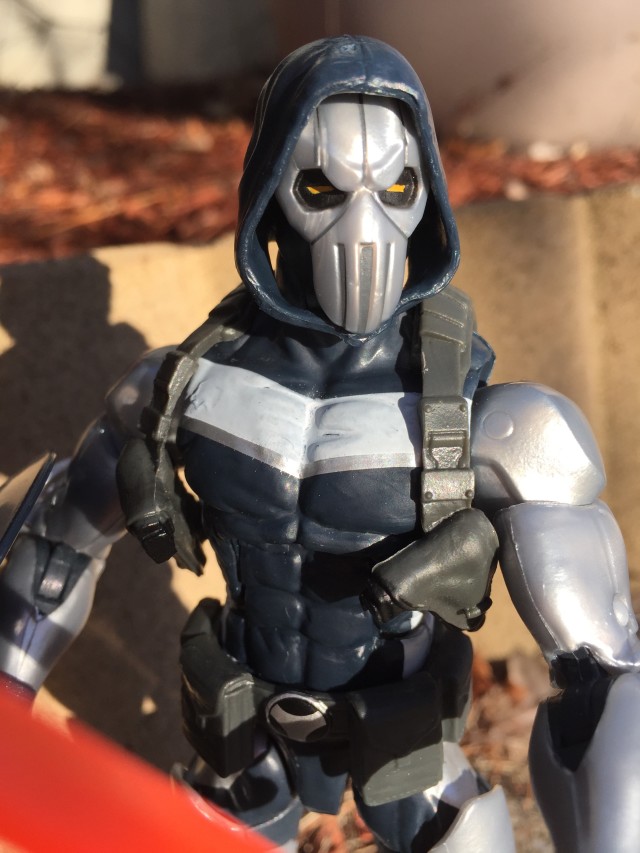 Finally, the Udon head. Though it's the more "correct" head for this figure, the Udon Taskmaster head isn't for me, although I do think it's pretty cool to have the option of transforming Taskmaster into pre-Cyborg General Grievus whenever I want (man, those were the golden days of Hasbro Star Wars figures).
While I imagine the majority of collectors won't be utilizing the Udon head very often (opting for the classic skull head instead), it's nicely-sculpted and a terrific addition that really makes this figure feel complete.
The Wrong:
I could choose to complain about Hasbro not giving us a cape for Taskmaster, just to have something to fill space here–but honestly, this figure doesn't need one (and authentically should not have one).
Nothing springs to mind that really bothers me about this new 6″ Taskmaster Marvel Legends figure, so I'm content to not complain. If you've got a bone to pick with this figure, though, leave a comment on this review and let me know.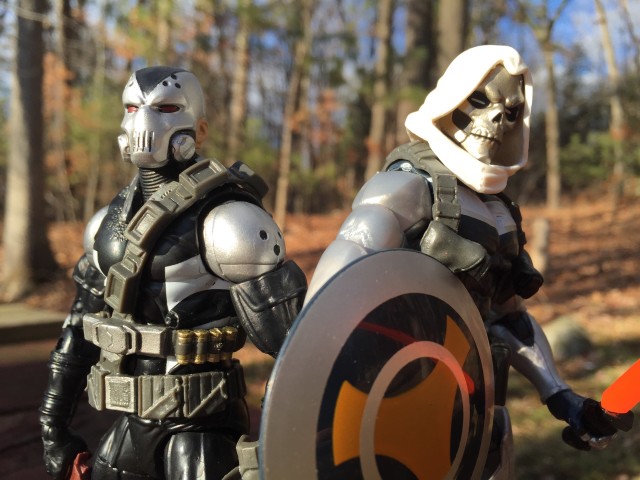 Overall: For whatever reason, I really wasn't enthusiastic about this Captain America Legends Taskmaster figure–right up until I had it in-hand. With two excellent weapons and two stellar head choices, plus a striking design and ample articulation, this is a rare Hasbro figure that I really think could not have been much better than it is. I won't give the Taskmaster an 'A+' because of the non-removable pistols and inaccurate legs, but otherwise, this is the definitive action figure of Taskmaster in this costume, and an outstanding toy overall.
GRADE: A