As the past few days have been exceptionally short on Marvel toy news (the world is in Star Wars mode–and so am I, over on Star Wars Toy News), but I'm back today with a fresh Marvel Legends 6″ figure review! Having covered all the most-requested Doctor Strange Legends figures, it's time to shine the spotlight on the last wave of Captain America Legends! I've yet to see this figure in stores, but you can already snag him online for below MSRP–it's the 2016 Marvel Legends Captain Britain figure!
The Right:
With the number of waves of Marvel Legends figures that have been released since the line's inception now up to several dozen, you would think most headliner Marvel characters who have had their own solo books for many years would have been released in mass retail waves by now.
Even so, there are some big exceptions that are still waiting for their turn, and one of them is Brian Braddock, Captain Britain! Previously only released by Toybiz in a Walmart exclusive wave over a decade ago, Captain Britain has been waiting a long time for a remake! Was it worth the wait?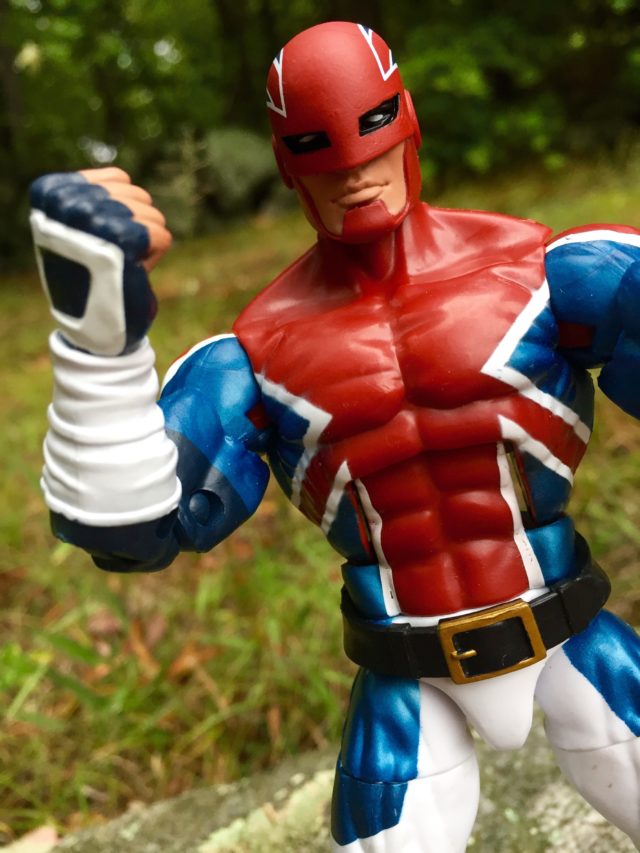 As Hasbro has never made a 6″ Captain Britain figure before, I'd forgive them if they had just updated the classic costume look that Toybiz previously produced. But nope–Hasbro chose to give us something fresh and new instead, with the modern Captain Britain costume from New Excalibur.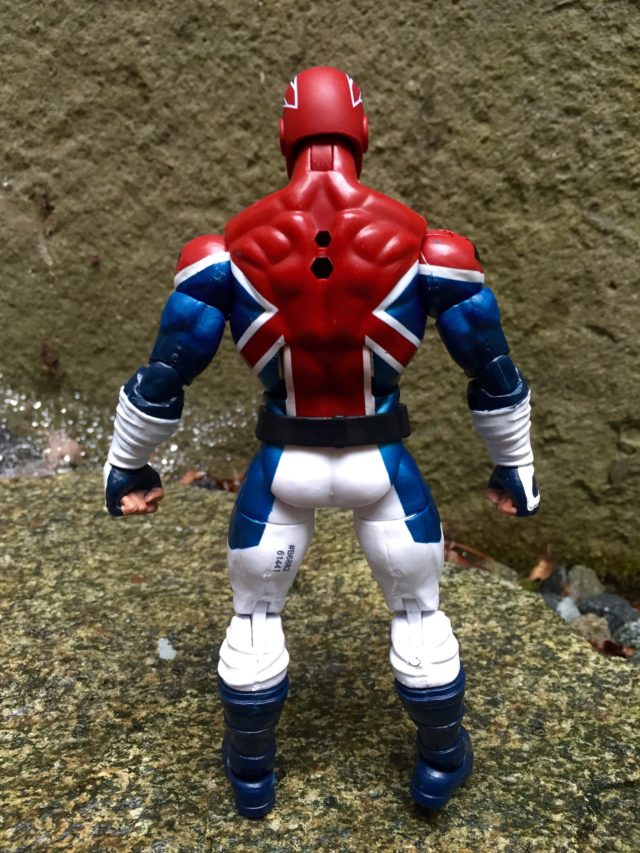 I loved the New Excalibur Captain Britain costume (and that comic book series), so I'm delighted with this choice. Nice work, Hasbro team.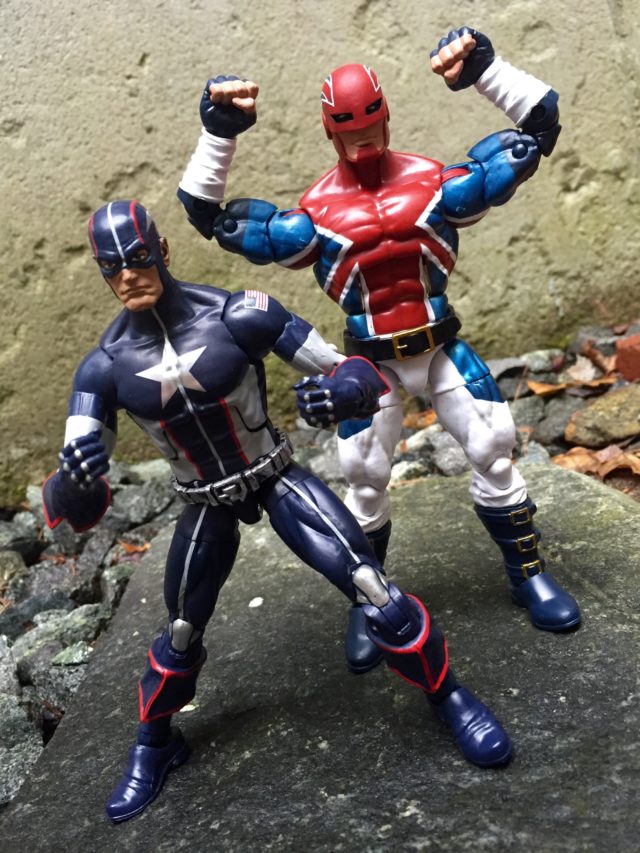 When I first got this Captain Britain Marvel Legends figure out of the package, I was really taken aback by how big and beefy he is. I wasn't expecting Brian Braddock's body size to be huge so large, but I have to say–it really works. This Captain Britain figurine evokes a real feeling of being a powerhouse brawler like Braddock is.
The paint choices on this figure don't let me down either–Hasbro picked shiny blue and bold red paints to complement the white, and the colors comic together wonderfully. This is a really "pretty" figure.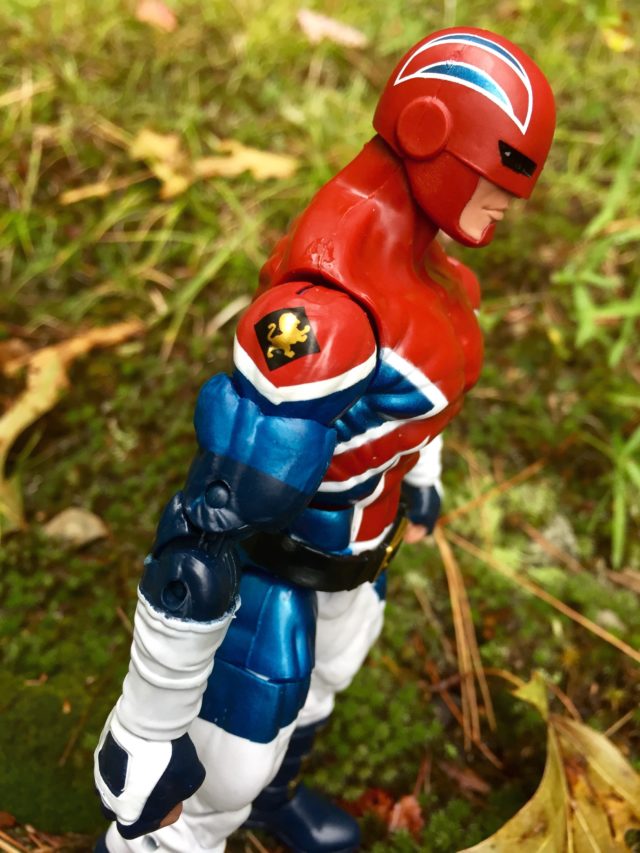 I was particularly impressed that the Lion of Avalon logos on the sides of Captain Britain's shoulders came out so crisp and nice-looking! Seeing all six buckles of Captain Britain's boots painted (in addition to his belt buckle) was also pretty gratifying.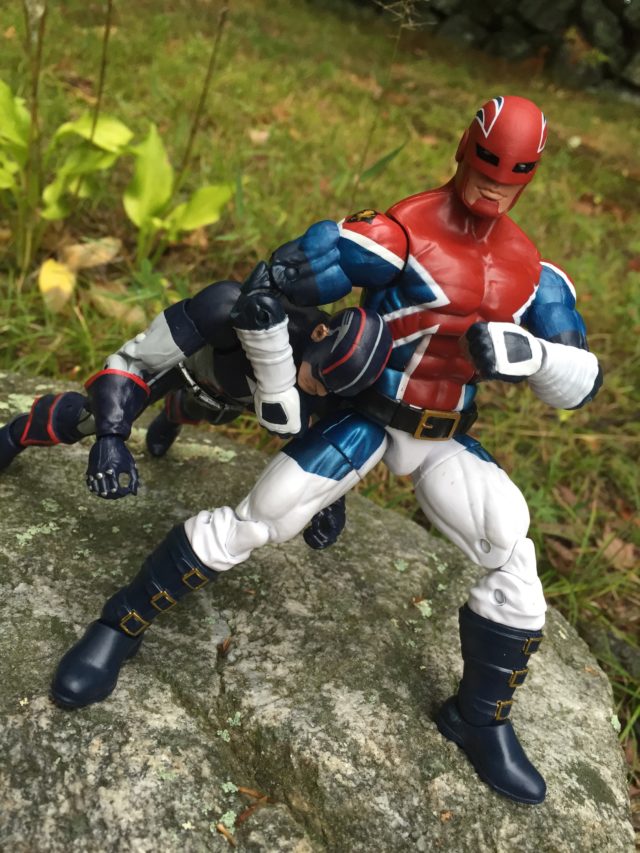 As a guy who's more likely to put his enemies into a headlock and pummel them than bust out ninjutsu, the Captain America Legends Captain Britain figure doesn't necessarily need a ton of articulation. But as with every 6″ ML action figure Hasbro releases, Brian got the super-articulated treatment.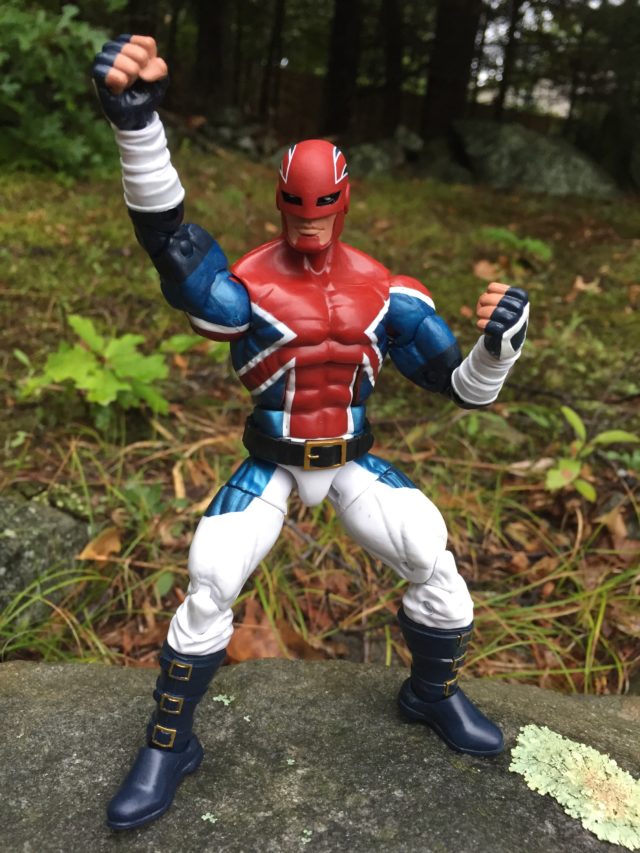 Here's the flexibility breakdown for the Captain Britain Legends figure: hinge ankles with ankle rockers; swivel boots/thighs/biceps; double-jointed knees and elbows; ball-hinge neck/shoulders/wrists; ball-jointed hips; swivel waist and upper torso ab crunch. Every crucial POA is present, and I don't have a single complaint.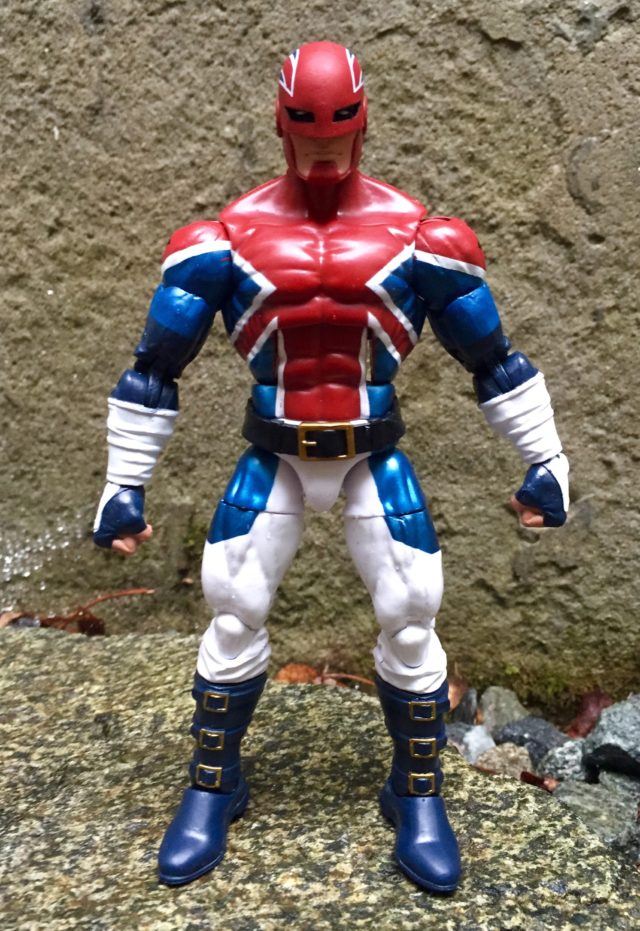 And here's one more compliment that will surprise longtime readers: while I usually loathe add-on piece belts, Hasbro executed Captain Britain's perfectly. It's well-painted, tight, doesn't flop around on the slightest, and really adds to this toy.  I'm rarely this happy with a belt–you did good, Hasbro.
The Wrong:
You may have noticed that I'm feeling pretty positive about this modern Captain Britan six inch figure, but that doesn't mean I don't have some nitpicks I've been saving up as well.
While Captain Britain isn't the easiest character to find accessories for (he's not exactly a weapons wielded), I'd have liked something besides an Abomination Build-A-Figure piece to make this $20 figure feel like a better value.
Some alternate grasping hands and an unmasked Brian Braddock head would have pushed this figure dangerously close to 'A+' territory for me. As it is, I feel like Hasbro could have given us a wee bit more for our money.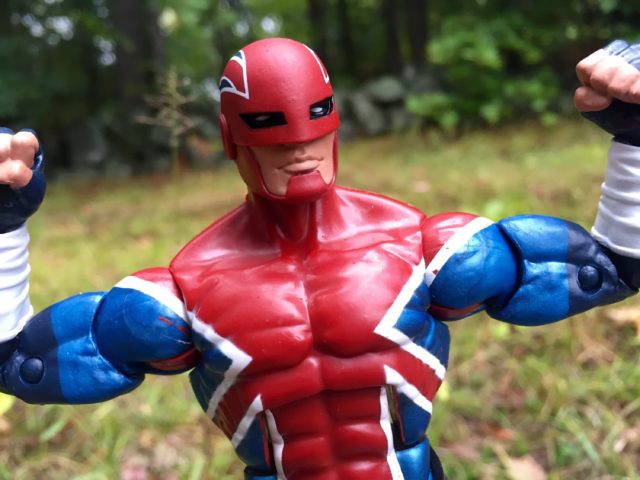 In addition, while the paint colors themselves are outstanding, there are clearly some spots on the figure where the factory's mucked up, with  a few stray lines and random color splotches. The figure still looks superb visually, but I think the factory could have raised the paint quality control ever so slightly.
Finally, the red paint on Captain Britain's helmet is a shade duller and more flat than the glossy, vivid red on the rest of his costume. It's not a big deal, but it shows up pretty clearly in the review photos so I did want to mention it.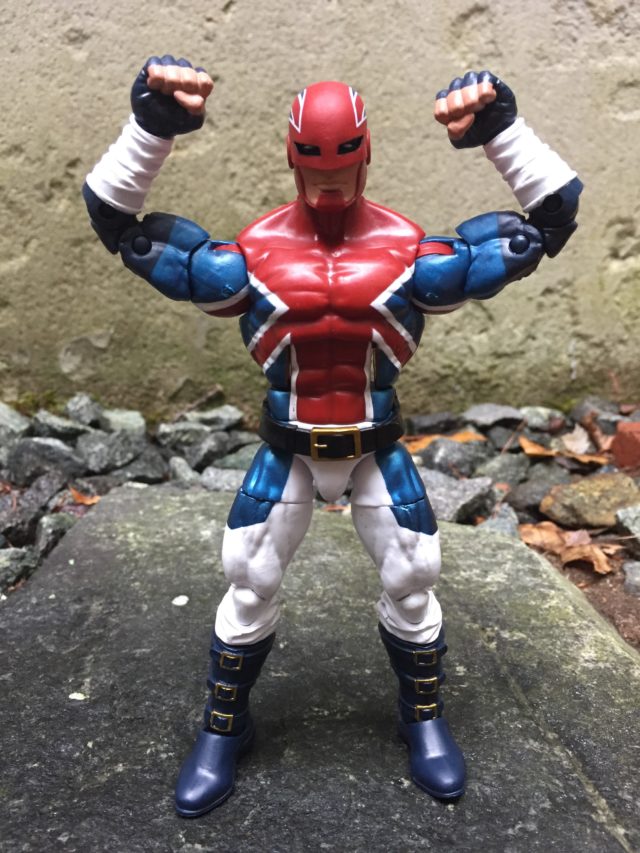 Overall:  We can finally cross Captain Britain off the list of most big-name characters to never have a mass-release figure, and thankfully, the one he has gotten now is a great one. The paintwork is ever-so-slightly imperfect and I'm miffed that a $20 action figure comes with zero accessories or alternate hands, but the Marvel Legends Captain Britain figure itself is terrific. Wonderful design, perfect body mold choice and great paint. A fitting 40th Anniversary gift to Captain Britain. Recommended.
GRADE: A