At New York Toy Fair 2015 in February, I came to the realization that the Hasbro Marvel Legends brand is now nearly as strong as Star Wars was a decade before, now being able to feasibly produce and sell through the most obscure of characters. And the character that made my have that epiphany is the subject of tonight's review: Marvel Legends Misty Knight is now available for below retail cost online–should you add her to your collection?
The Right:
Misty Knight may (or may not) become a household name when she appears in the Netflix Marvel series (starting with Luke Cage), but for now, the very existence of Misty Knight at all seems like arcane knowledge to those who only know Marvel from the MCU.
Even so, Misty has decades of appearances in the Marvel Comics universe as Iron Fist's love and a central character in the various iterations of the Heroes for Hire, so bravo to Hasbro for adding more diversity to the Marvel Legends 6″ line with her.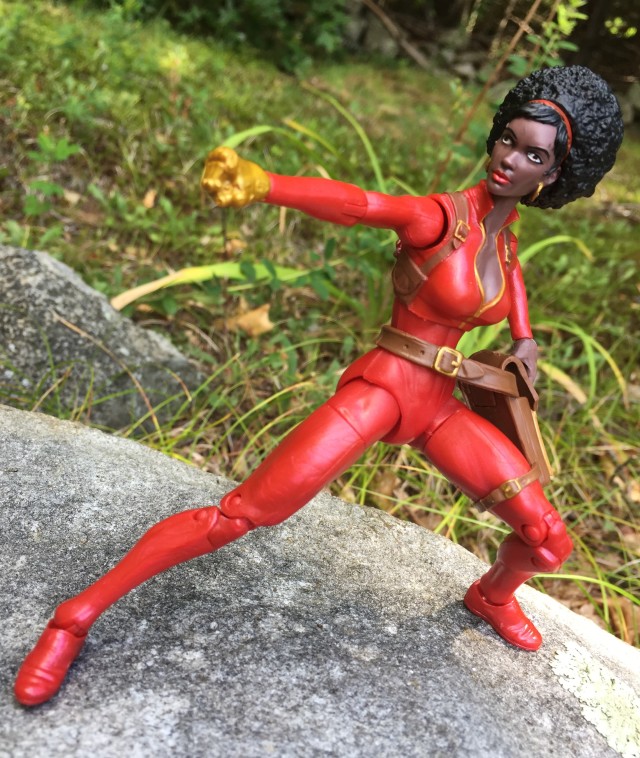 While I'll be discussing a, uh… 'less seductive' aspect of this figure's head a little later on, the sculpting detail on the Misty Knight Marvel Legends head is outstanding. Hasbro's sculptors have captured the texture and aesthetic of Misty's hair excellently. Her trademark headband and earrings are also present on this sculpt, which is one of the more unique heads we've seen in recent Marvel figure history.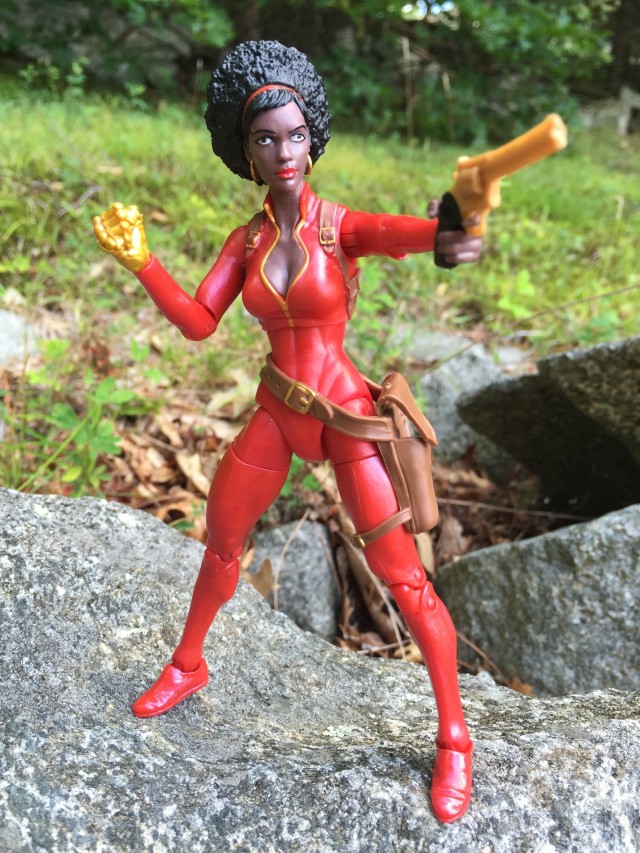 And even though Hasbro has sometimes succumbed to PC pressure to "censor" the clothing of various female figures they've released, Misty Knight's costume has been captured faithfully–exposed cleavage and all. This character is obviously aimed at hardcore collectors and not children, so the authenticity of the costume is definitely appreciated.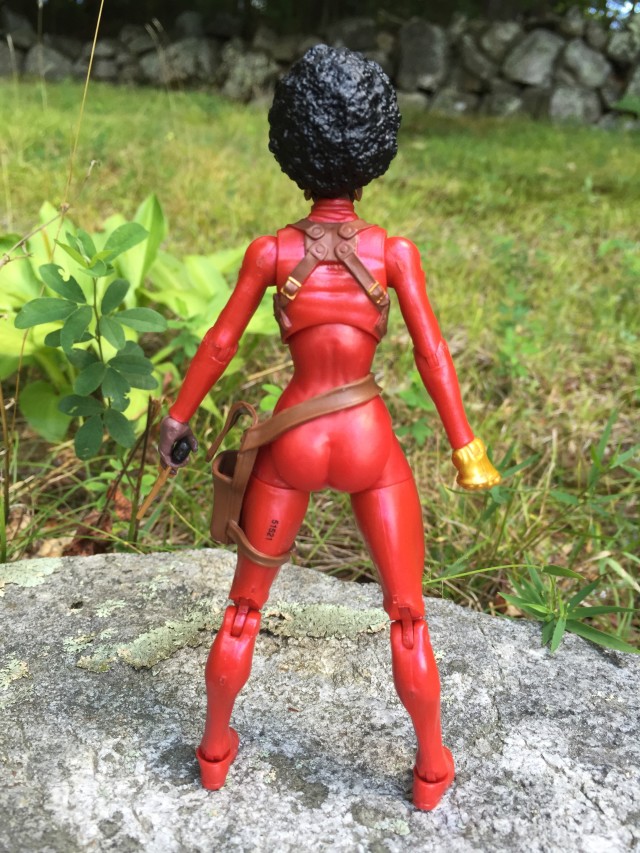 Ordinarily I hate when belts and such are added onto figures and hang loosely as separate pieces instead of being sculpted on, but in this case, the way Misty Knight's belt hangs across her waist looks really nice and natural.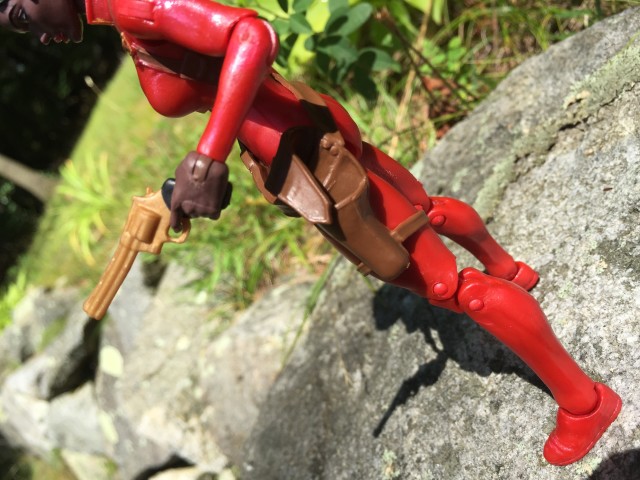 In addition, Misty comes with a removable golden pistol tucked safely in her holster. The gun fits snugly into Misty's hand or back into her holster, and definitely adds an extra air of danger to the figure when wielded.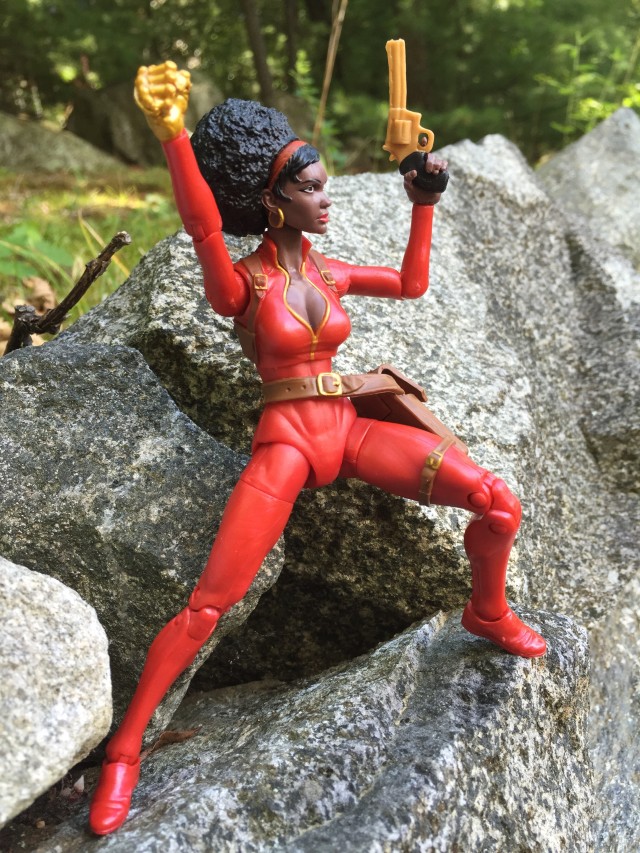 And in case anyone was worried, the standard plethora of points of articulation typical to Marvel Legends figures are present once again: double-jointed knees and elbows, ball-jointed shoulders and hips, ankle rockers and so on. You should be able to achieve most any Misty Knight pose you've ever imagined with this 6″ action figure of her.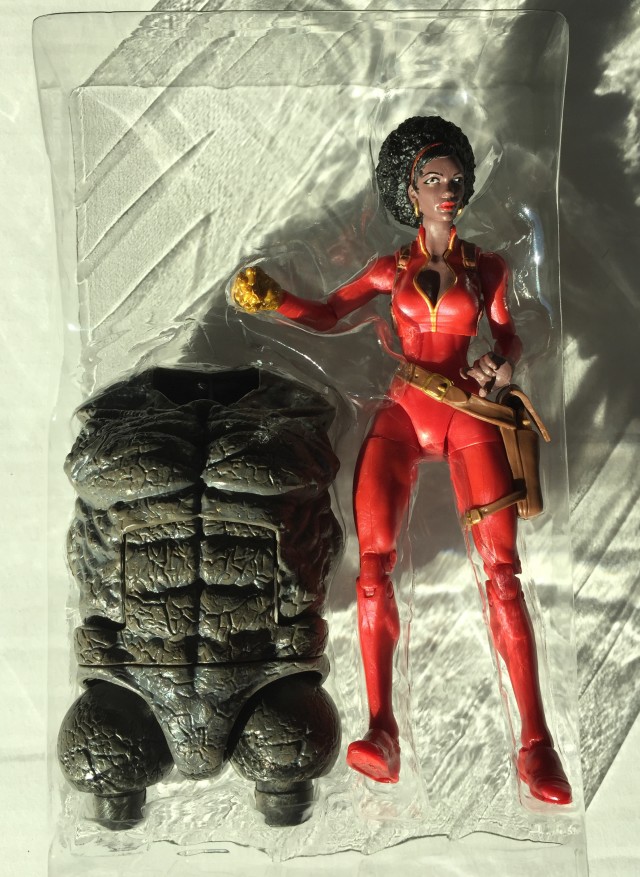 Because Hasbro thinks Ms. Knight may be a bit of a tough sell to buyers (justifiably), they've packed her with the largest piece of the Rhino Build-A-Figure: the torso. This is a pretty logical choice, and I'm glad for any extra that will help this character succeed at retail.
But just in case not everyone wants their own Misty Knight, you get a choice: the torso is also available with the 6″ Marvel Legends White Tiger figure. I bought both women–and am glad I did–but if you absolutely do not care about one of these characters, you have the option of not buying them. Thumbs up!
The Wrong:
There's honestly only one thing that I seriously dislike about this Hasbro Misty Knight action figure. But unfortunately, it goes beyond being "wrong". No, this belongs squarely in…
The Ridiculous:
Hasbro quality control has had its ups and downs in 2015, but the biggest QC fail of the entire year for the Marvel Legends brand is unquestionably the paintwork on poor Misty Knight's eyes. I thought maybe I just got a bad one, but I've heard accounts from dozens upon dozens of other collectors whose figure also has crazed eyes looking in totally different directions.
I don't know who did the final quality check on these action figures, but hopefully they are now out of a job. At an MSRP of $20 per figure, collectors deserve to have figures that at least have both eyes looking in the same direction.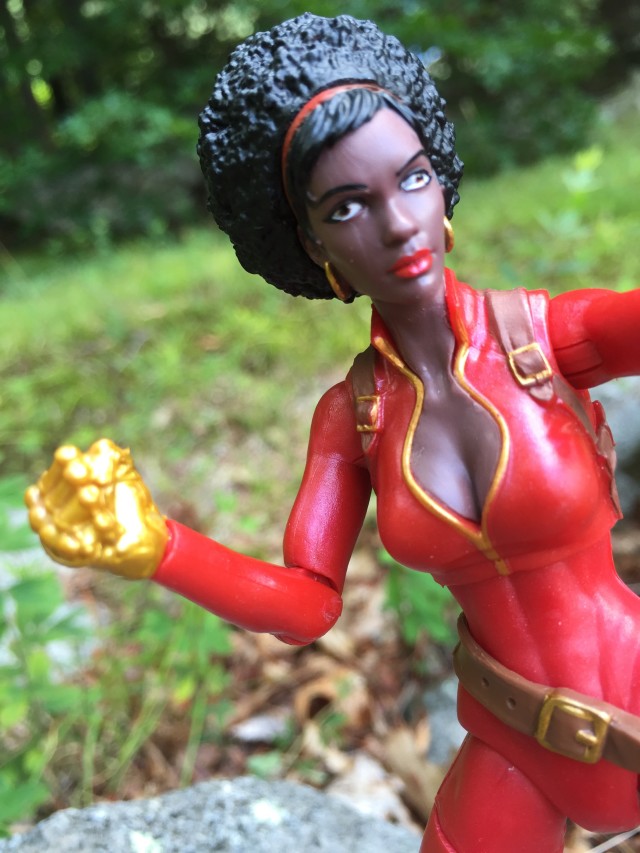 It's a shame that ML Misty Knight has to have crazy derpy eyes, because it mars what is otherwise an exceptional figure.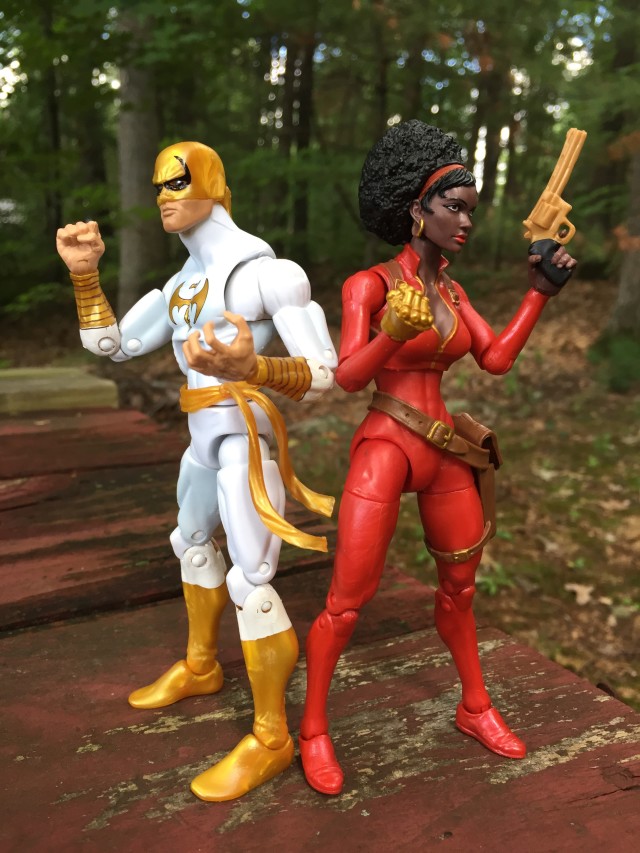 Overall: If it wasn't for the gross incompetence of the paint applications on her eyes, the Misty Knight Marvel Legends figure would be earning an 'A'. With her crazy eyes… no. Just no. Even so, Misty Knight is an amazing choice for an action figure, has a terrific new head sculpt, a fun working holster and solid articulation. You may want to repaint her eyes (I will be), but Misty Knight deserves a spot on your shelf.
GRADE: B+