Earlier this week I talked about the figure in the Marvel Legends Doctor Strange series that was most peoples' favorite in the wave in my Marvel Legends Iron Fist review, but today I'm going to let my inner Goth roar and take a look at my most-anticipated figure in the series. The Marvel Legends Nico Minoru figure is shipping out for online orders next week–does the first-ever action figure of a member of the Runaways team earn my approval? Read on…
The Right:
I never thought I'd live to see the day that one of Brian K. Vaughan's Runaways would get a mass-released action figure, but truly this is a great time to be a Marvel collector and alive.
And not only did Hasbro choose to start off the likely-never-to-be-completed Runaways team roster in this Doctor Strange Series, but they're also giving us our first ever Gothic Lolita Marvel Legends figure. Craziness–and amazing. Thumbs up.
For those who don't know her, Nico Minoru AKA Sister Grimm is usually the character most associated with leading the Runaways, and is also a founding A-Force member.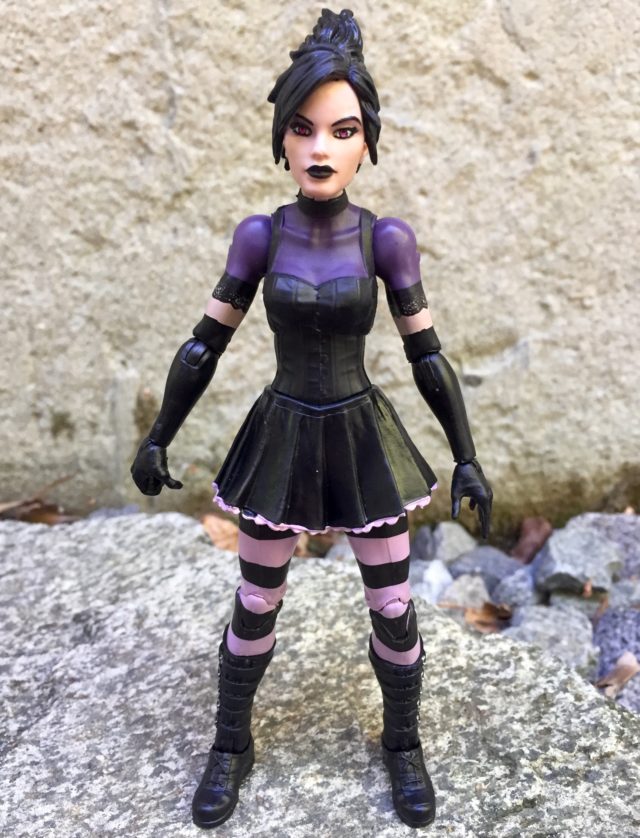 Due to the fact that she's a teenage girl wearing a Gothic Lolita style dress, you'd expect Nico would require quite a bit new tooling. And she does! To my untrained eye, I see a brand new head, boots, alternate arm, skirt and upper torso on this figure. (Am I missing anything, sharp-eyes expert readers?)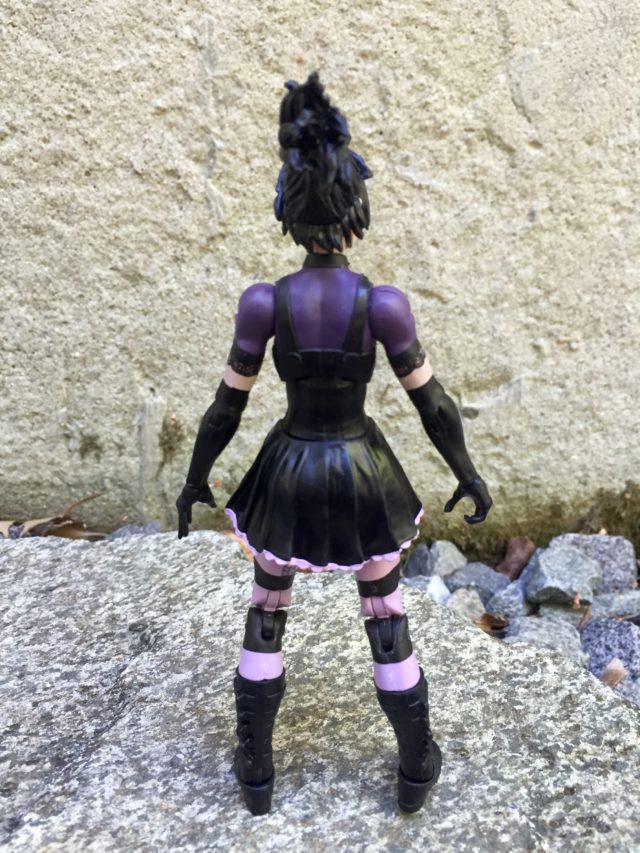 That's a lot of new tooling required for a one-per-case little-known character, so I am highly impressed with Hasbro for going to such efforts to make this Nico Minoru Marvel Legends figure look great!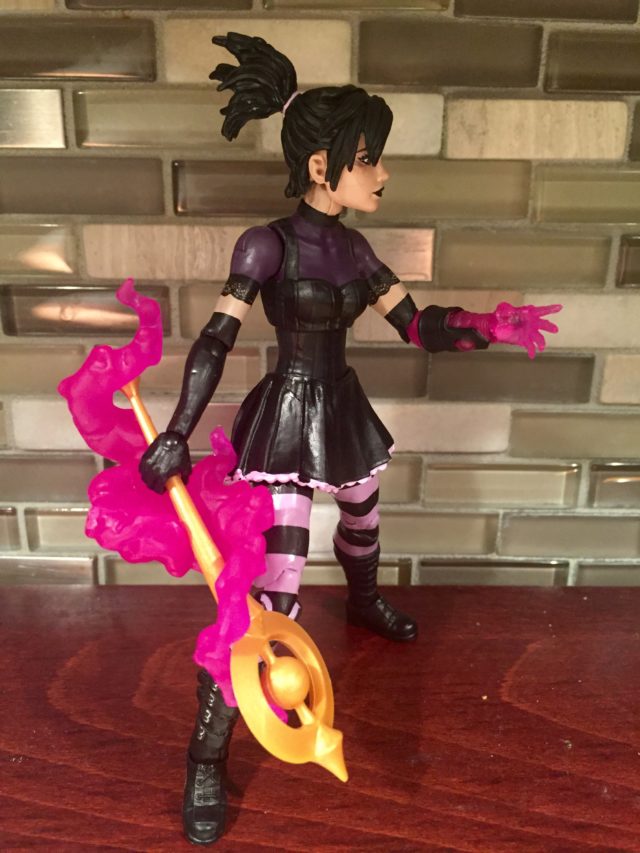 My favorite part of the sculpt is probably Nico's gravity-defying (or is it gel-enabled) stylin' ponytail, which looks amazing authentic to its comic book appearances. Love it!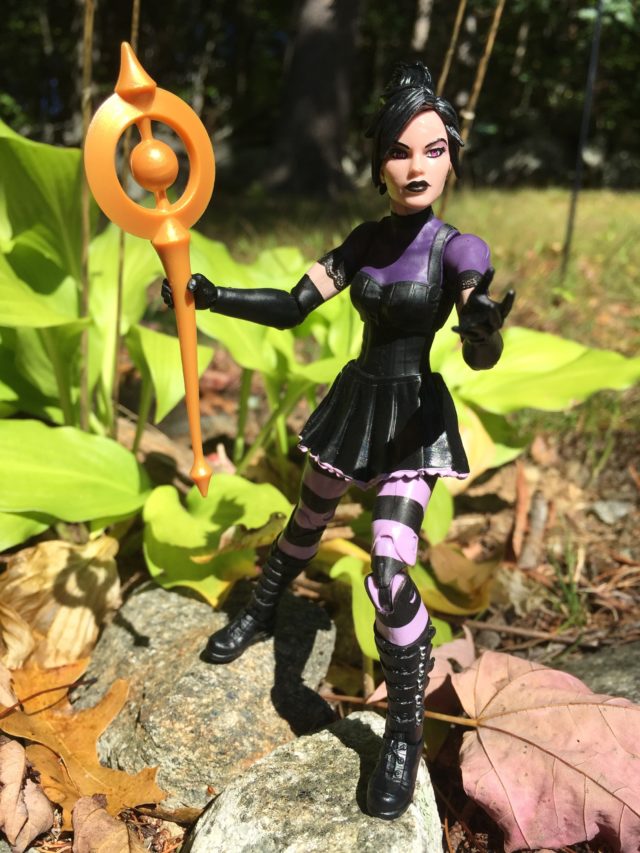 I've heard some folks complain that this Nico figure's face doesn't look Asian enough, but flip of through my big box of Runaways comics, the head sculpt here is looking pretty dang accurate to me. Nico's character design may not like Asian American enough to satisfy some collectors, but this figure certainly looks like Sister Grimm to me.
You might have noticed that Nico has unnaturally pink eyes. While in the comics Nico's eyes fully light up in pink when using the magical abilities granted to her by the Staff of One, I think the pink pupils on this figure are sufficiently eye-grabbing and a captivating touch.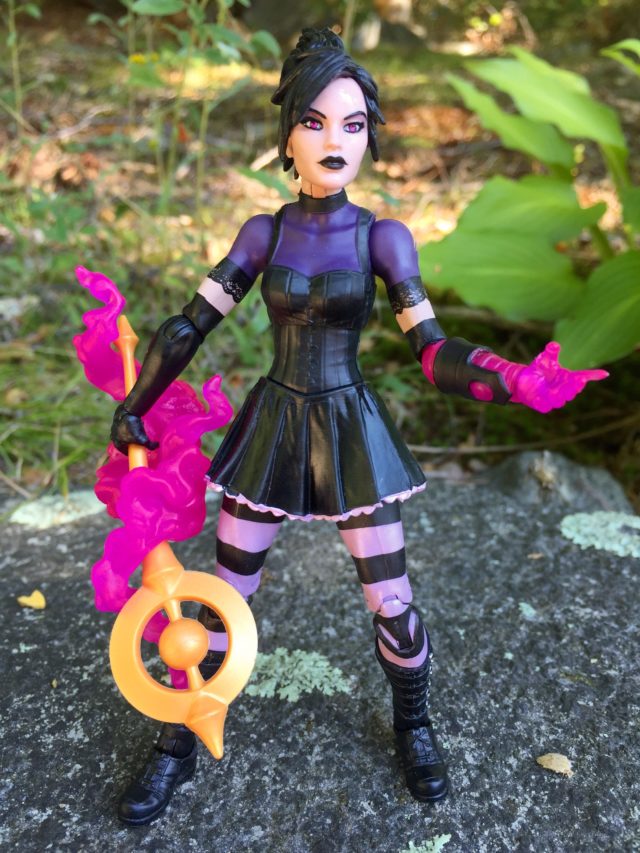 The power-using eyes are complemented by perhaps this action figure's coolest feature–a partially translucent pink alternate arm! Yes, you get the whole arm as an accessory this time, as the forearm has a different sculpt with the forearm protector Nico only has on when using her powers. Phenomenal attention to detail here by Hasbro!
The articulation on this 6″ Marvel Legends Nico figure is strong–not perfect–but strong. Nico isn't Spider-Girl, so she can get by without a swivel biceps, double-jointed elbows and a swivel waist. Every other important point of flexibility–including my beloved ankle rockers–is present and accounted for.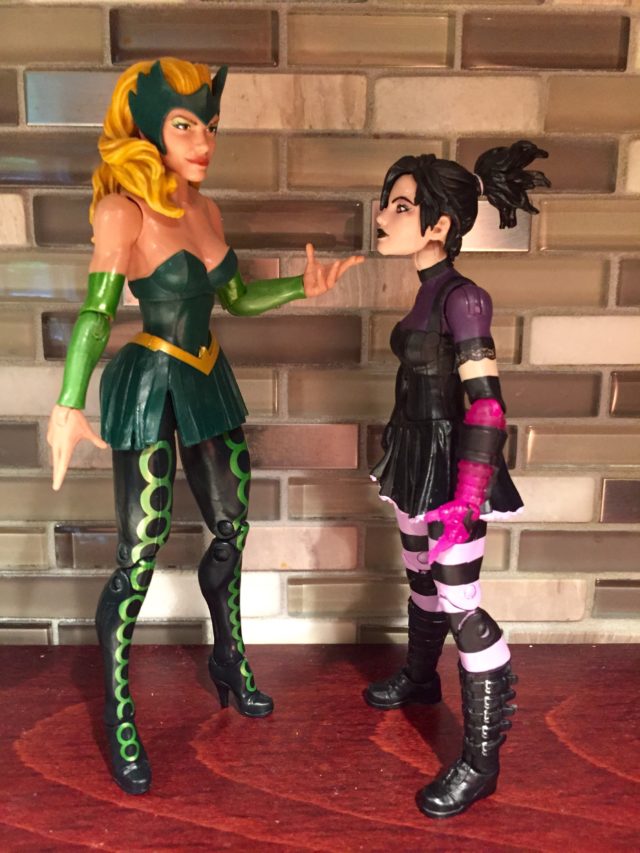 And as Nico is a teenager, the mold is about a head shorter than your typical Marvel Legends figure, as it should be. Fabulous.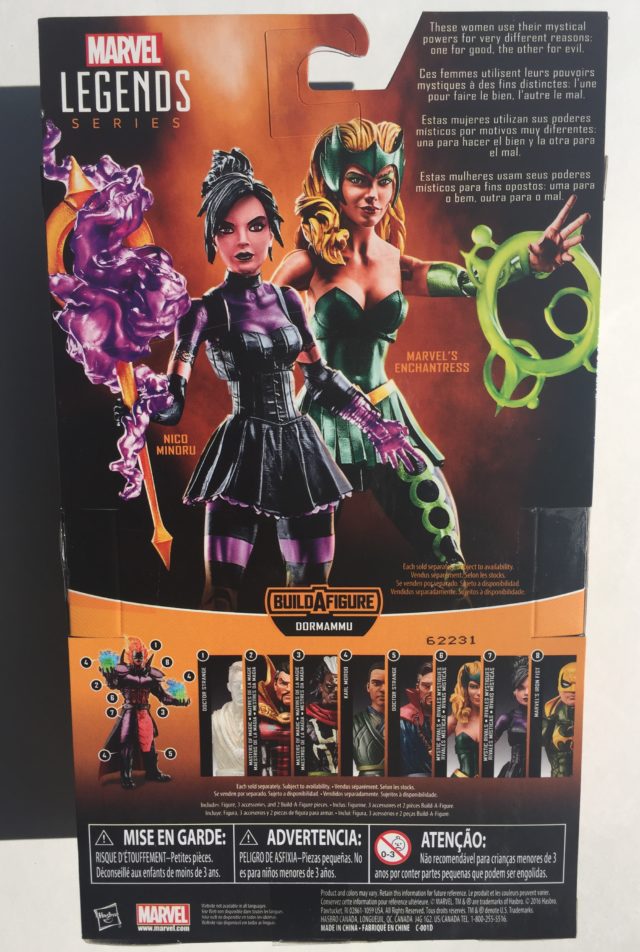 What's also fabulous is the opaque pink effects piece that wraps around Nico's staff, making it look far more deadly and supernatural than it otherwise would. Of course, there's a reason I haven't really talked about the Staff of One yet, and that's because it tragically falls squarely into…
The Wrong:
I'm getting a sense of déjà vu, because
just like in my 6″ Iron Fist figure review yesterday
, my biggest complaint about this figure is once again plastic quality control. But whereas Iron Fist's rubbery legs were his greatest sin, Nico has a slightly different issue: her Staff of One is, well… limpy.
The Staff of One is made of a cheap, rubbery plastic, and mine seems to have been permanently bent into a flaccid state by being packaged with the hard plastic magic effects piece around it.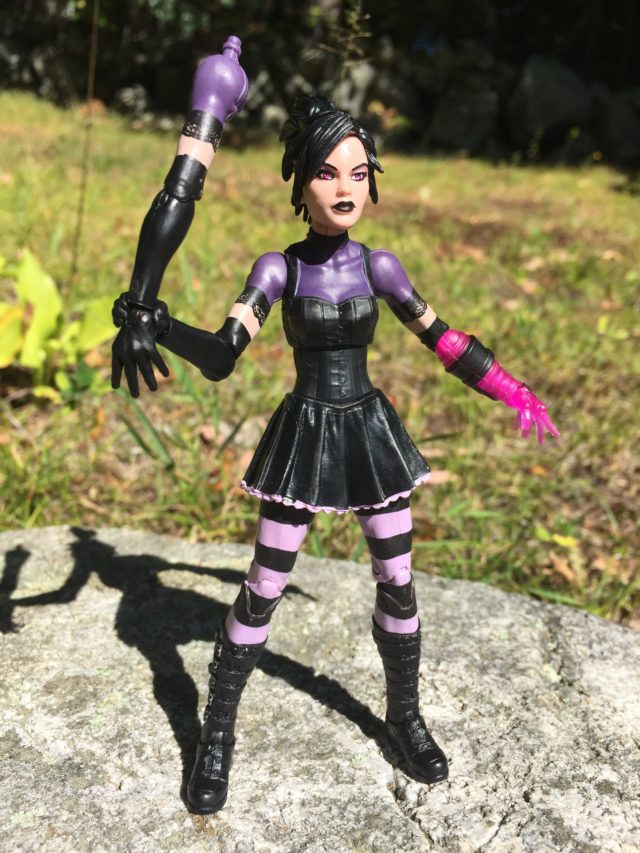 Making matters worse, Nico's wrist is molded out of the super-soft black plastic, and as a result the Staff falls out of her hand incredibly easily–especially with the heavy magic effects on it. As a result, she can hold her own (severed?) extra arm more tightly and stably than she can the Staff of One. Alas.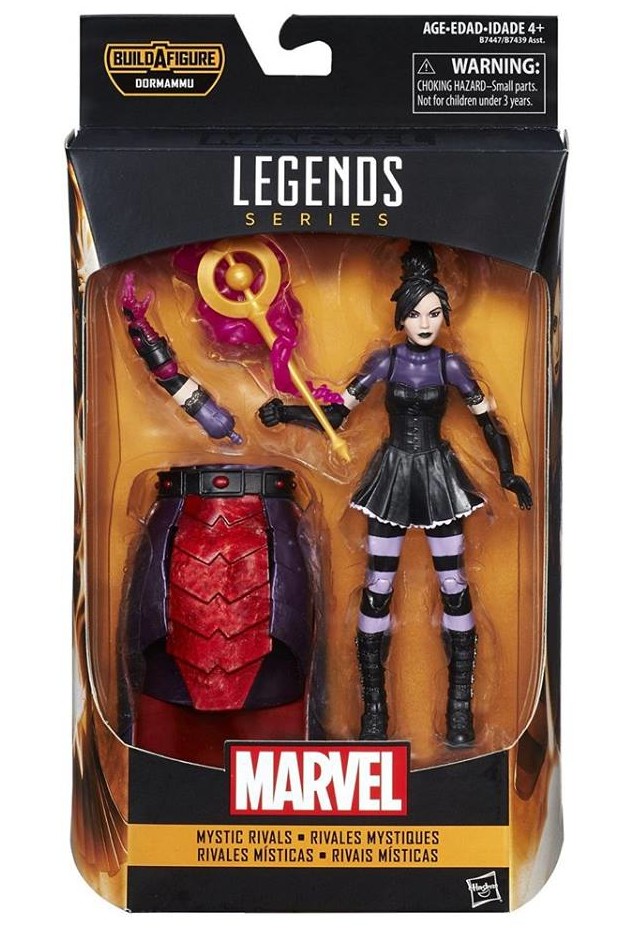 And even if it wasn't riddled with QC issues, Nico's Staff of One is way too short and stubby–it's supposed to be a long staff and not the Wand of One. This looks more like Sailor Moon's Moon Rod in length than a proper Staff of One. The Rod is also totally unpainted, which doesn't help matters at all.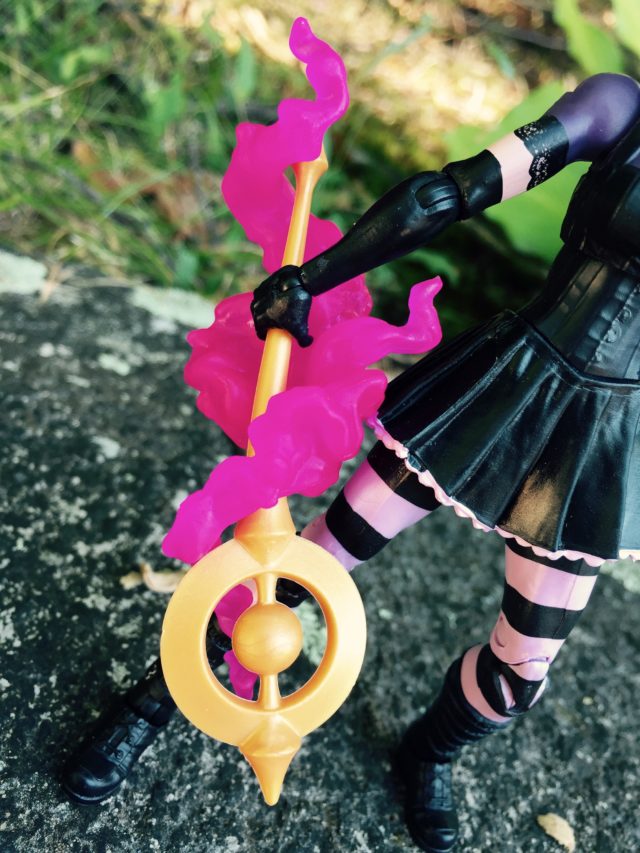 In addition to all the problems with the Staff of One, I'm also disappointed a bit with the paint applications on my Nico Marvel Legends action figure–there are several areas where the pink paint hasn't quite been applied properly or where there's some paint bleeding onto another color. And when you have a figure that's black and pink, that really is a problem.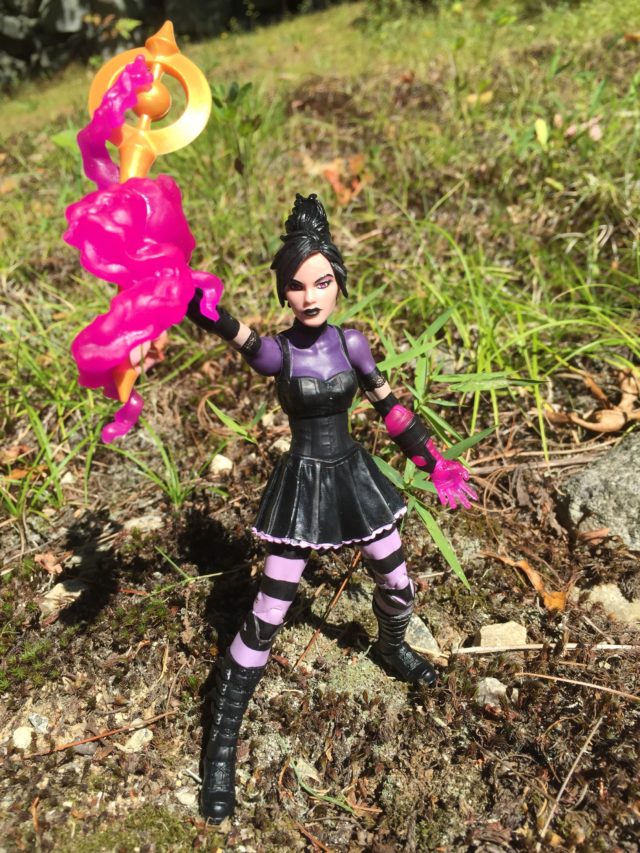 Overall: I feel bad giving the Marvel Legends Nico figure a grade that's honestly lower than I'd like to give it, but while Nico is a fantastic character choice and a mostly well-done figure with lots of new tooling, I'm heartbroken by how bad the Staff of One is sculpting-wise, paint-wise and quality-wise. For such a crucial accessory to come out so poorly is really crippling. I like this figure a lot–and love the effects piece arm–but it's definitely not one of Hasbro's best all-around efforts this year.
GRADE: B+