Remember a couple weeks ago when I warned readers not to pay scalper prices for the Target Exclusive Marvel Legends Three-Pack, because eventually there would be plenty to go around? Yeah–that time is now. I wasn't planning to pick up the set until it hit clearance, but with a dozen sealed boxes in front of me, I couldn't resist picking one up to review, starting with my favorite character in the set–Marvel Legends Radioactive Man…
The Right:
I'm ashamed to say that even though he's been around since 1963, I really didn't care about Radioactive Man until he joined the Thunderbolts in the modern age. But while I'm a newcomer to the Chen Lu party, Radioactive Man won me over with his proud and honorable personality in no time flat once he was featured regularly as part of the Thunderbolts squad.
So when I saw that the first-ever mass release Radioactive Man action figure ever was coming as part of the Marvel Legends 2013 lineup at San Diego Comic Con 2013, I was overjoyed. Of course, that series never came to fruition, and fans assumed Marvel Legends Radioactive Man would probably never see release.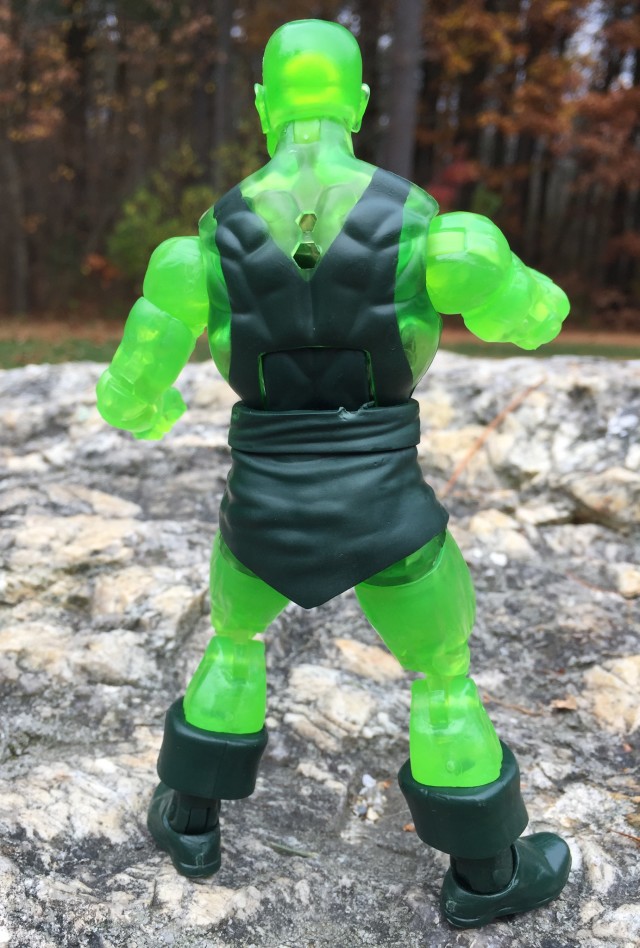 Thankfully, the Radioactive Man Marvel Legends figure would not share the fate of his comrades, Marvel Legends Blizzard and Tigershark! Instead, Target stepped in to offer the Radioactive Man figure as part of their exclusive Marvel Legends Three-Pack with Captain America and Ms. Marvel. And at a $50 price-point, you get each figure for about $17–$3 less than we'd pay trying to track them down individually at retail. Thanks, Target! You're the best!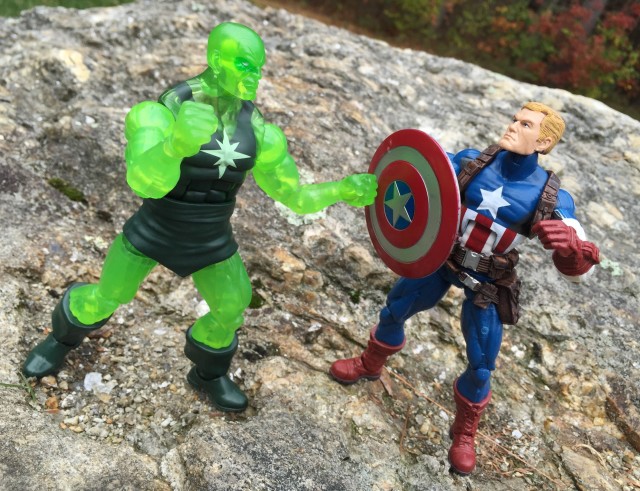 The most obviously notable feature of the Radioactive Man 6″ figure is the fact that the figure's uncovered skin is molded in translucent green plastic. This looks absolutely awesome, and really makes Chen Lu pop out at you from any Hasbro Marvel Legends shelf. Fantastic deign choice.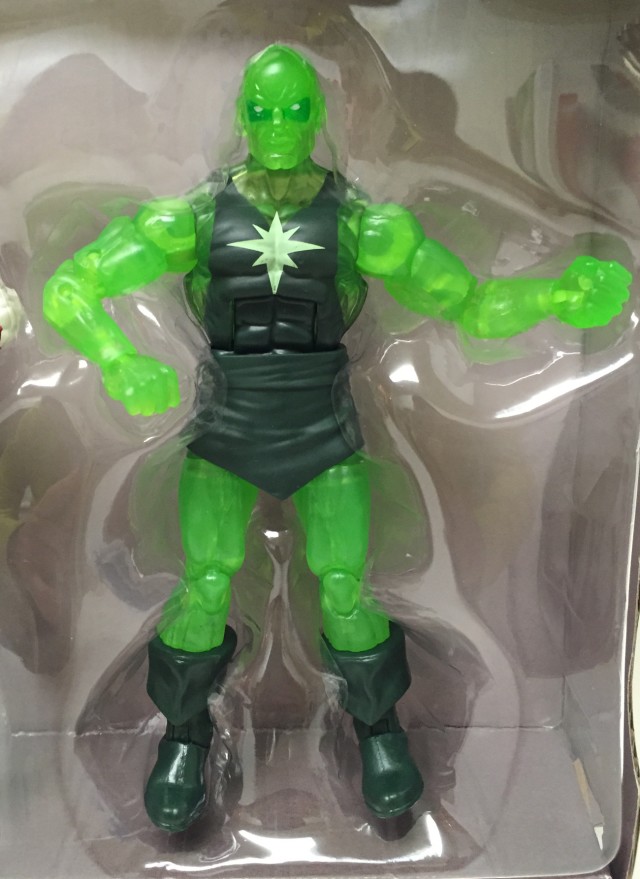 Additionally, Radioactive Man is a brawler-type character that doesn't necessarily need articulation, but Hasbro was good enough to give him a bulky body mold loaded with it. From double-jointed elbows and knees to an upper torso ab crunch and ankle rockers, the Marvel Legends Radioactive Man figure is probably capable of taking on any pose you want to put him in.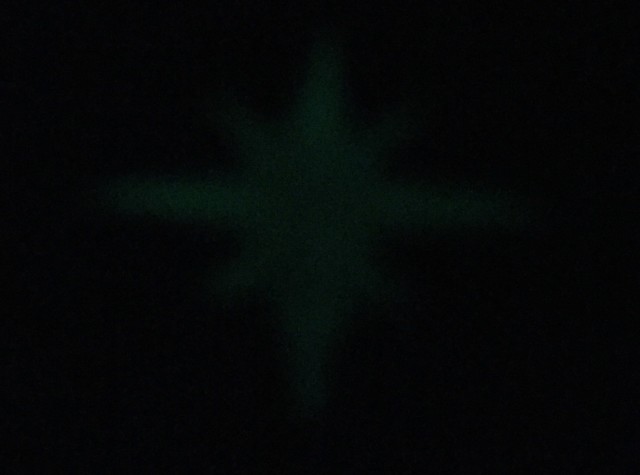 One final cool feature about the Hasbro Radioactive Man 6″ figure is the fact that the emblem on his chest's tunic is painted with glow-in-the-dark paint! I'm not sure why Radioactive Man's clothes would glow and not the walking isotope himself, but hey, what the heck–far be it from me to not commend a glow in the dark toy feature.
The Wrong:
Sadly, this figure of ol' Chen Lu is not perfect. The biggest problem I have with the ML Radioactive Man figure is the lower part of his tunic, which is an added-on plastic piece.
Because the upper half of the Radioactive Man costume is painted on and the lower half is molded plastic, it ends up looking ridiculous–more like Radioactive Man is wearing a tank top with a skirt than a one-piece tunic. Maybe I'm being too harsh, but the tunic looks really silly and unacceptable to me.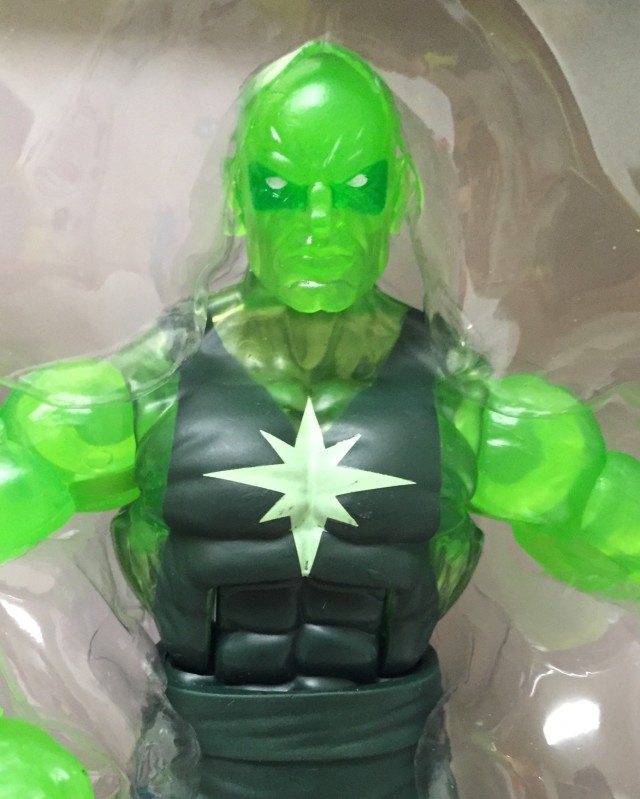 In addition, I hate that Hasbro chose to give Radioactive Man shaded in sockets around his eyes. I know what Hasbro intended with these, but they end up making Radioactive Man look like he has silly raccoon eyes, which is just stupid. Again–not a deal breaker, but definitely a jarring detail.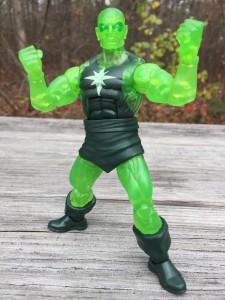 The Marvel Legends Radioactive Man action figure is part of a Target exclusive Marvel Legends three-pack. If you want Radioactive Man and/or his pack mates, check your local Target or the Target website now.
Overall: I desperately wanted the 6″ Marvel Legends Radioactive Man figure to be a rare Hasbro Marvel Legends figure that received a perfect store. It doesn't. The lower part of Radioactive Man's tunic looks like a dress and hinders his articulation, and his raccoon eyes really distract me. That said, the translucent green plastic used for the figure is tremendously cool, as is the fact that I can say I own a Marvel Legends 6″ Radioactive Man figure. He's far from perfect, but if you have warm and fuzzy feelings for Radioactive Man like I do, he's a definite must-have, especially as part of the value-priced Marvel Legends three-pack. Recommended.
GRADE: B