They say that the third time is a charm, but in this case, it's actually the fourth time that's charmed! Collectors have been asking for a super-articulated 6″ Marvel Legends Beetle figure for well over a decade now, and after the weird robot Beetle released by Toybiz and the female and Ultimate Beetle figures released by Hasbro, finally he has arrived: the Spider-Man Homecoming Marvel Legends Beetle figure is now available online, and is the classic Beetle fans have been demanding!
The Right:
When I was a kid, I thought that the "Deadly Foes of Spider-Man" limited series was one of
the
coolest comic book series ever. That's why, even though he's not exactly in the upper-echelon of iconic Spidey villains, I've always had some affection for Abe Jenkins in his classic Beetle costume.
I actually thought that the Marvel Legends Ultimate Beetle and female Beetle figures Hasbro released were both very fun toys, but this is the classic Beetle that I (and most people) have been pining away for. And now that he's here–he's thankfully pretty great!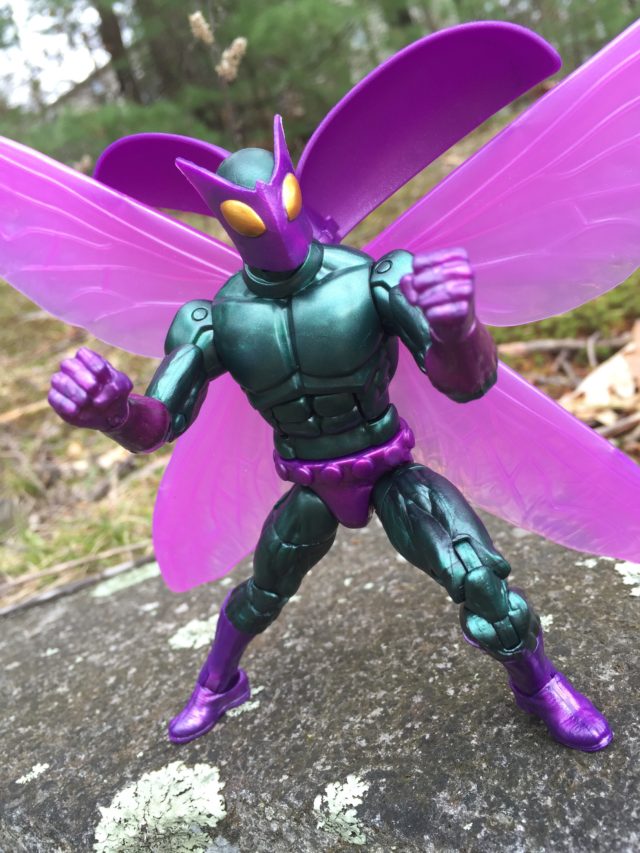 One of the reasons that I think this iteration of Beetle has been passed up over the years (besides the fact that Abe Jenkins has been Mach-IV and up and not the Beetle for two decades now) is that the design for this B-List villain is a little, well… complex.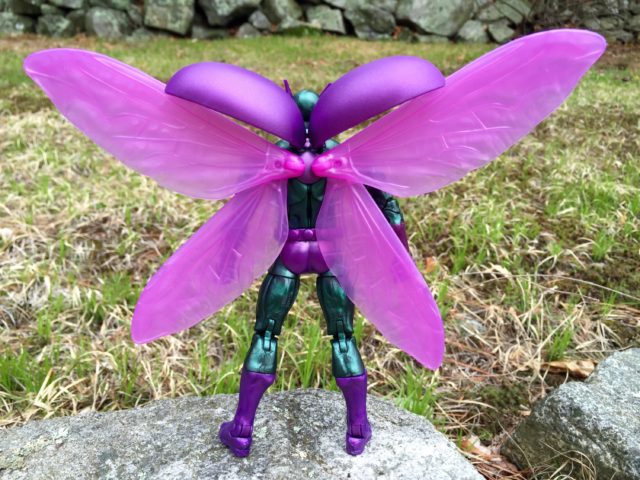 Not only does Beetle require a new head and belt, but also a "carapace" that's uniquely tooled and four wings. That's a lot of work for one semi-minor villain iteration that's been retired for eons.
But thanks to the Marvel Legends Wasp wings that came out in 2015, Hasbro didn't have to develop too too much to make an accurate Spider-Man Legends Beetle figure a reality, and they've done just that in the Spider-Man Homecoming movie wave.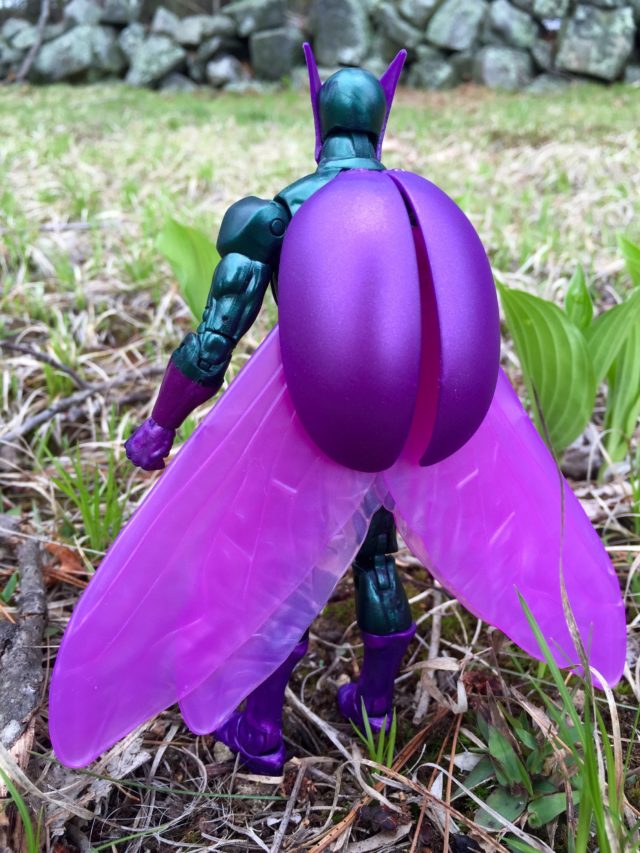 The bug-eyed Beetle head sculpt is spot-on perfect, and the reused pink Wasp wings and new poseable "carapace" pieces look spectacular on this figure. It's really pretty fun to open and close the carapace, too (I'm easily amused).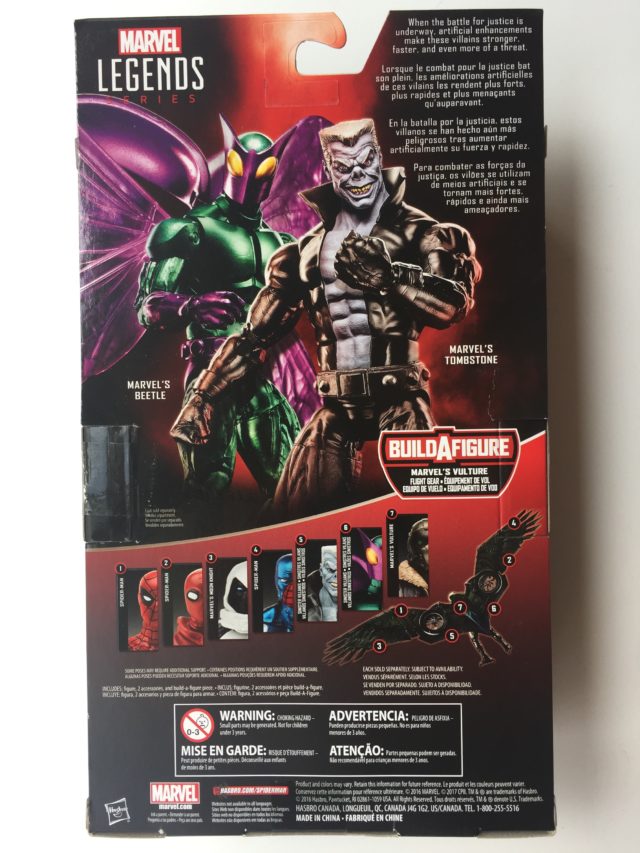 Hasbro picked shiny, iridescent green and purple paint for Beetle's costume. I raised an eyebrow a bit the first time I saw the sparkly paints, but now that I have the toy in hand I love them.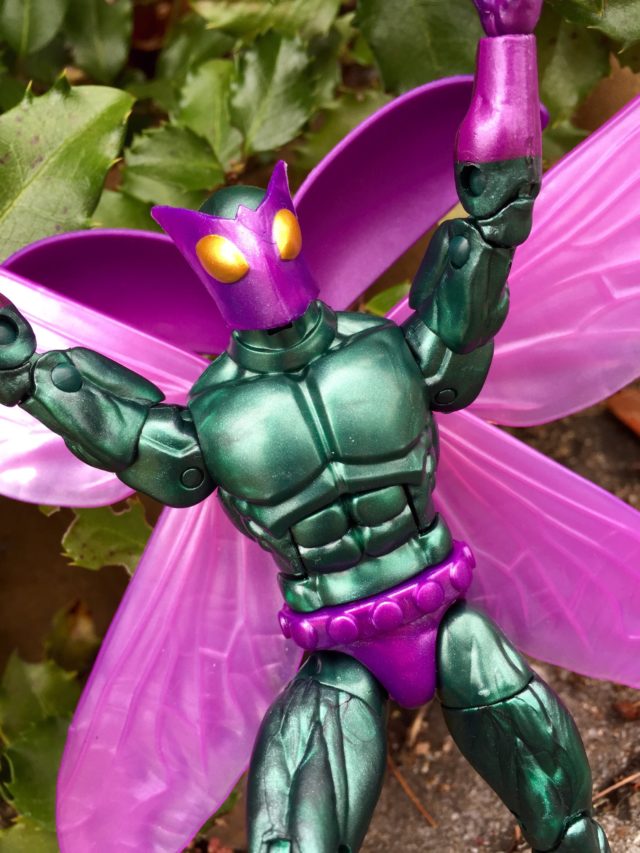 I'm sure some collectors will balk that they wanted matte paint, but the metallic-looking paint for Beetle's armor is pure win in my eyes. The actual paint applications themselves are also neat and clean, so props to the Hasbro factory workers.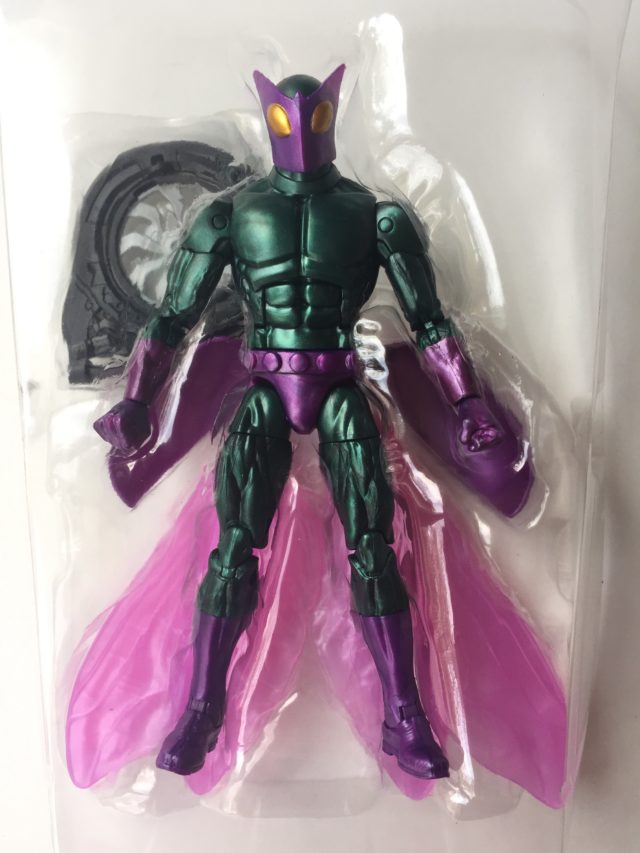 Beetle comes with seven total accessories: two carapace pieces, four wings and a piece of the Vulture Build-A-Figure wings. There's no interchangeable hands, but Beetle already has the perfect choice for his hands: fists. That's what this character primarily does–fly around and punch stuff–so I've got no complaints about that.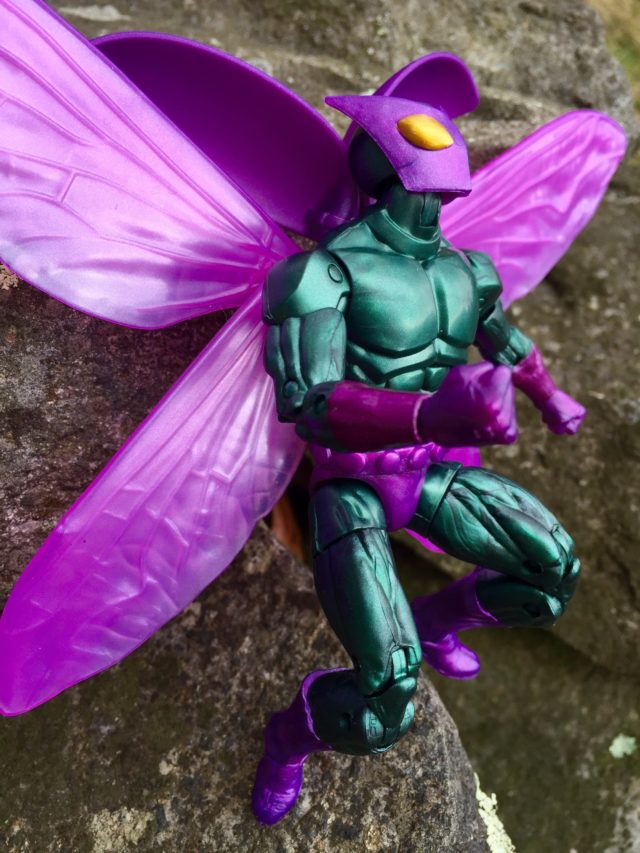 Finally, the articulation: it's rock-solid super-flexible, exactly as we expect from the modern Marvel Legends series. Ball-hinge head/shoulders/wrists; double-jointed knees and elbows; swivel waist/biceps/thighs/calves; ab crunch and ankle rocker hinged ankles.
All of the articulation points are nice and tight, and the excellent lower-body articulation makes it reasonably easy to achieve poses that balance out the unavoidable back-heaviness of all the wings.
The Wrong:
You guys know I love to nitpick, but to my own surprise, I've got nothin' in this instance. I love the paint choices and the sculpt, Beetle has a whopping
seven
accessories included, the paint apps are well-done, the fists are what they should be, and the articulation is solid as ever.
Other than giving us a flight stand for dynamic poses and to help counteract a bit of his back-heaviness–which is probably too much to ask for since this is already likely an expensive figure–there's really nothing more I'd improve.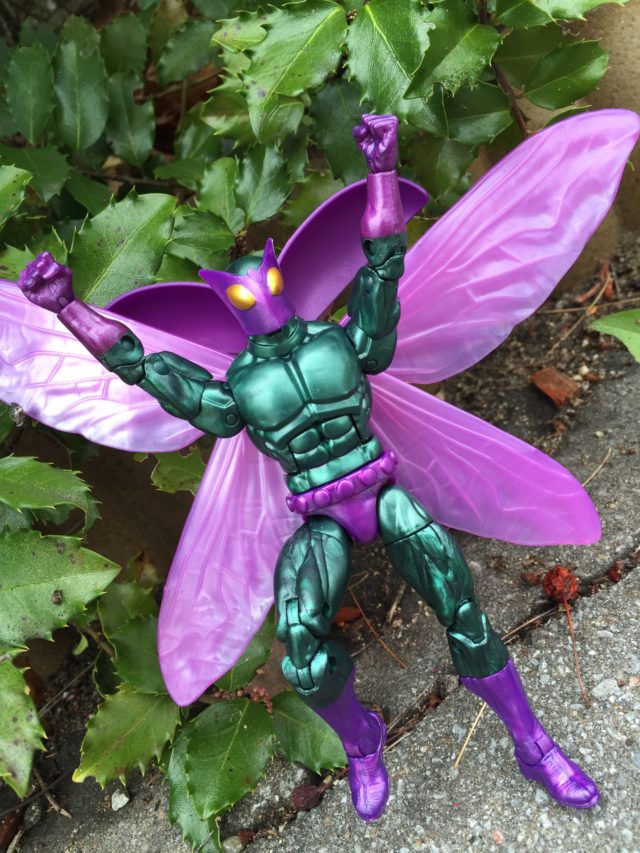 Overall: After four 6″ Marvel Legends figures over the course of a dozen years, the perfect Beetle Marvel Legends figure has finally arrived. Everything about this figure was designed and executed brilliantly, and unless at some point Hasbro decides to go back and do the original Beetle costume, I don't think we ever need a 6″ Beetle action figure again. To my shock, this is my favorite figure in the wave.
GRADE: A+