'Twas the week before San Diego Comic Con, and although news was quite slow, Diamond Select was stirring, with two waves of Marvel Minimates to show! *Achem* The excruciating wait for SDCC 2017 comes to an end in just a few days, but perhaps not wanting their latest 2″ figure reveals to get lost in the veritable avalanche of Marvel toy news we'll be buried in next week, DST has given us a little treat with early reveals of Marvel Minimates Series 74 and Walgreens Minimates Series 6–including Black Bolt, Surtur, King Hulk, Medusa and more!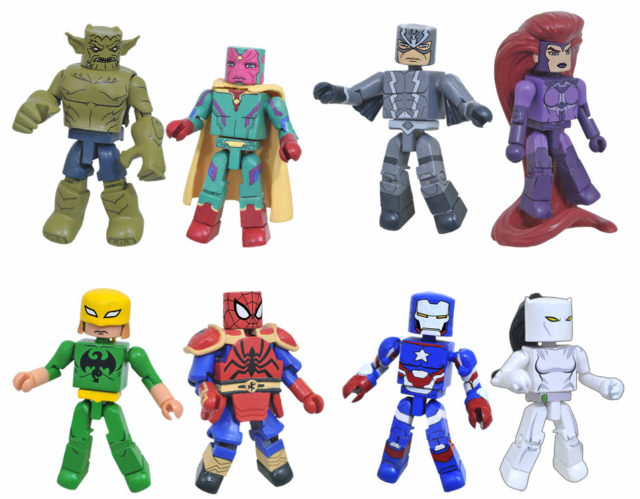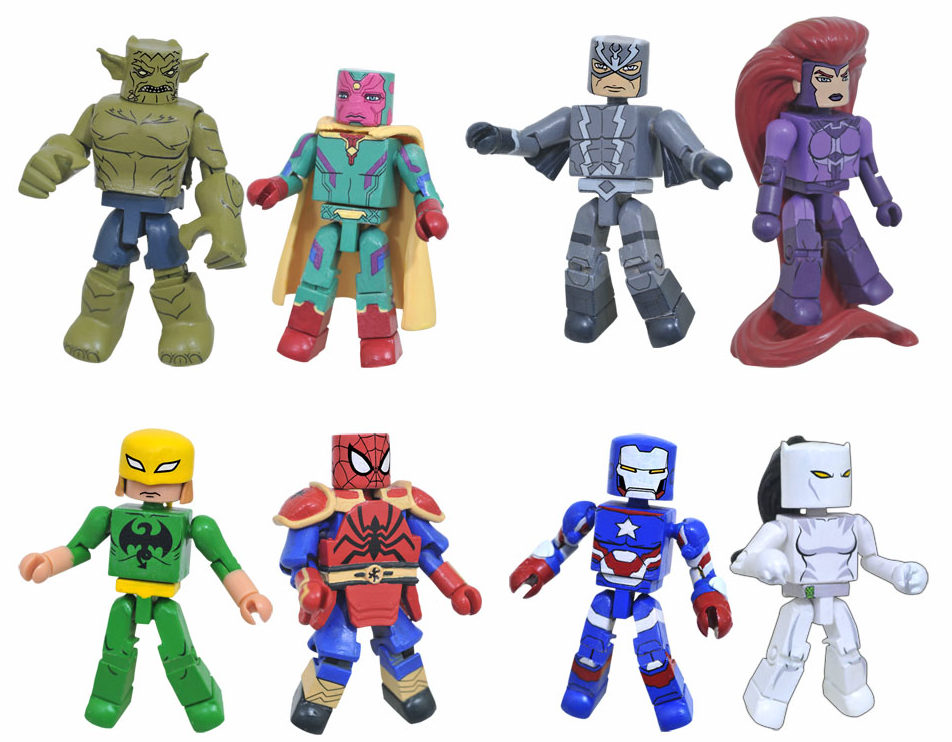 With literally hundreds (perhaps thousands at this point) of new collectibles being shown at San Diego Comic Con each year, it's easy for some of the more niche lines to get lost in the flow of major news and information coming out of the show.
And so, perhaps to avoid the announcement of their newest waves of Marvel Minimates getting drowned next week, Diamond Select Toys has now announced the next two waves of 2017 Marvel Minimates figures a wee bit before all the other world-shattering reviews from SDCC can occur!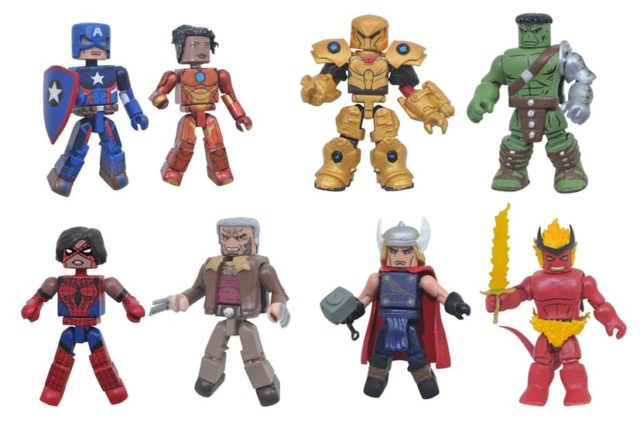 First up, we've got the Greatest Stories Marvel Minimates Wave 74 figures two-packs, which include:
Classic Thor & Surtur
Ironheart & Secret Empire Captain America
King Hulk & Red King
Old Man Logan & Ashley Barton Spider-Woman (AKA Spider-Bitch)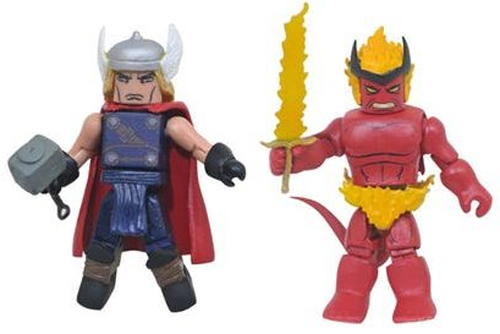 While this is a fully comic-based series of Minimates, I don't think it's a coincidence that we're getting new Old Man Logan, Surtur and World War Hulk figures in the same year as all those characters are appearing in live-action movies. I'm actually very surprised that it's taken 74 series to get to a major Thor villain like Surtur for the first time.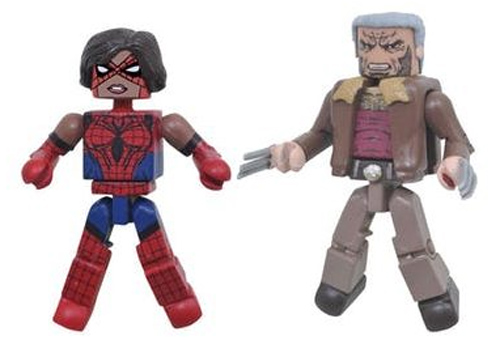 In addition, I'm taken aback that Ashley Barton Spider-B*tch is getting a second figure to follow up last year's Marvel Legends figure. Now there's a character I never thought we'd see toys of in consecutive years…!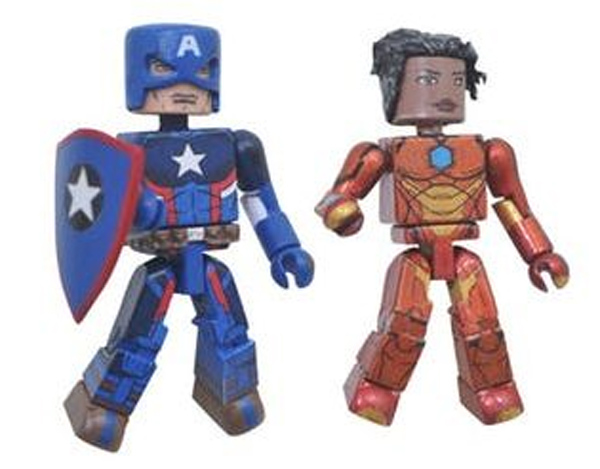 Meanwhile, we get (secretly Hydra) Captain America in his most recent pre-Hydra costume, along with the first Riri Williams Ironheart action figure released by any company. Riri is not the best-loved young character in the Marvel comics, but I still think there will be plenty of fans eager to scoop her up–especially considering she comes with the traitorous Hydra Cap figure.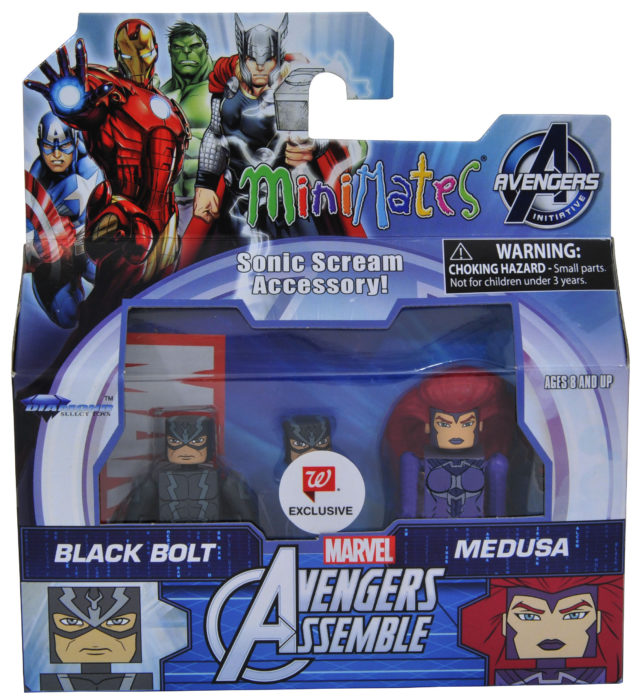 In addition to that upcoming mass release wave, there's also the new Walgreens Exclusive Marvel Animated Minimates Series 6, which contains:
Medusa & Black Bolt (Avengers Assemble)
Vision & Abomination (Avengers Assemble)
Iron Fist & K'un-Lun Armor Spider-Man (Ultimate Spider-Man)
White Tiger & Iron Patriot (Ultimate Spider-Man)
As a whole this wave looks quite nice to me, even though the bright lime green paint on that Animated Iron Fist figure sort of makes my eyes bleed. I imagine that the wacky K'un-Lun Armor Spider-Man figure is also going to be one of those figures that only appeals tokids and not collectors, as it's a wee bit too "whimsical" for many adult collectors.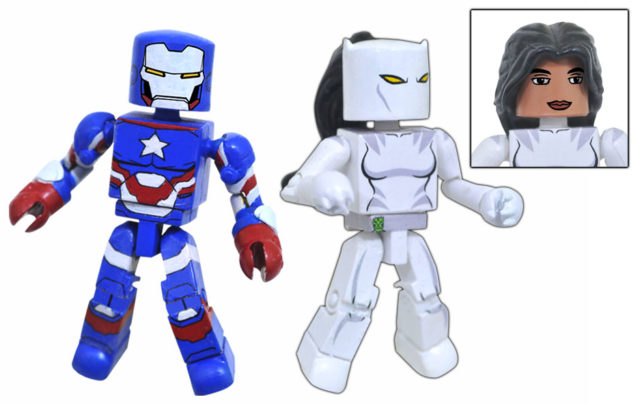 While it's nice to get some characters we don't see toys of very often such as White Tiger (with an unmasked head!) and Iron Patriot back into circulation, I was shocked–shocked–to read that this is the first-ever Medusa Minimate figure!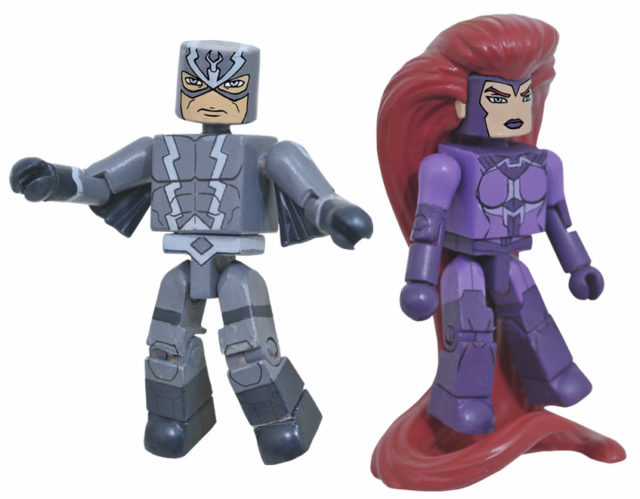 You would think that with hundreds upon hundreds of Marvel Minimates released over the years, the Queen of the Inhumans would have been done a long time ago (in fact, I legit thought that she had been and I had her), but finally Medusa gets her 2″ figure day in the sun! I'm also very intrigued by the "Sonic Scream" accessory mentioned on the packaging for Black Bolt.
The Marvel Minimates Walgreens Wave 6 figures are expected to be released in Summer 2017, with the mass retail Series 74 going up for order soon and arriving in the fall. You'll have to hunt for the Walgreens exclusives at retail–as usual–but Wave 74 pre-orders should open up online later this summer, so keep watching if you want to get your Minimates ordered ASAP.
Thoughts on the latest dozen-plus additions to the humongous Marvel Minimates universe? Are any of these packs must-haves for your collection, and at this point, what comic-based and animation-based characters are still left that you'd like to see Diamond Select Toys add to this line?