2017 will go down in history as the year that the Marvel Cinematic Universe TV Series such as Daredevil and Jessica Jones finally started getting the kinds of collector-level merch that fans have been waiting for. But there's one MCU TV series that pre-dates both of those that's been mostly ignored by all companies (bar a handful of POP Vinyls): Agents of SHIELD. But for the very first time, Agents of SHIELD is about to feel some high-end love: the Toy Fair Exclusive Hot Toys Ghost Rider figure is now up for order!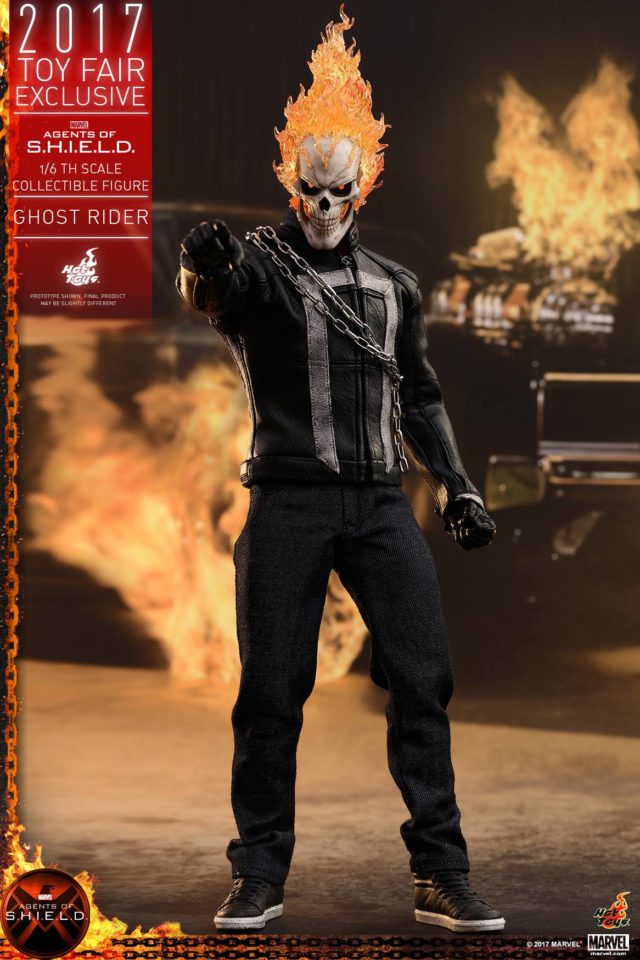 I know it's not always a popular opinion, but I feel no shame in saying that I love me some Agents of S.H.I.E.L.D. Yeah, yeah–I know Netflix Daredevil and Jessica Jones are allegedly vastly superior shows, but I've just never felt like Agents of SHIELD received the cred that it deserved (particularly that first season, which I maintain is pretty brilliant).
Perhaps because of the mixed reception for the series, AoS has never received a whole lot of toy love. We got a trio of Funko POP Vinyls (plus Lola)… and that's basically it. But finally–finally!!–Hot Toys decided that there was something in the show that collectors would definitely pay top-dollar for: Ghost Rider!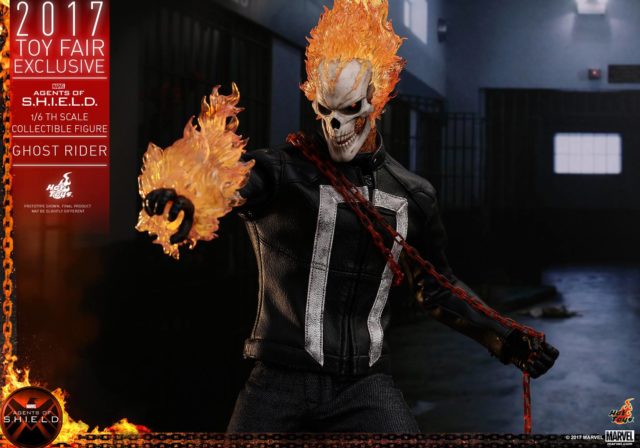 Now, I'm not gonna lie: I would've preferred series regulars Fitz-Simmons, Melinda Mae or even Daisy Johnson (Quake) to glorified guest star Ghost Rider, but when it comes to Agents of S.H.I.E.L.D. toys, I'll take what I can get.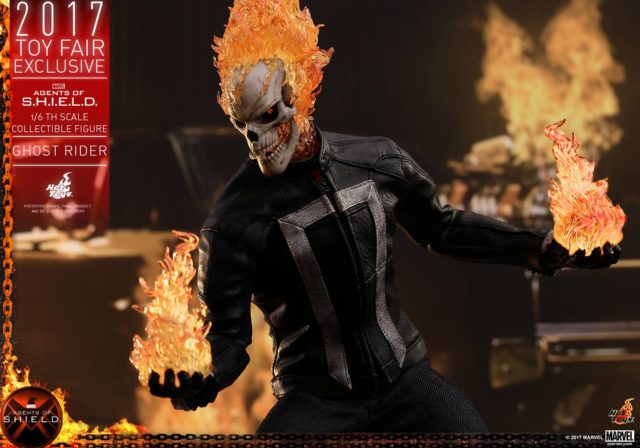 While Hot Toys has previously released a Nicholas Cage Ghost Rider movie figure, this version is specifically the Robbie Reyes Ghost Rider seen in Agents of SHIELD (who also happens to be the modern Ghost Rider in comic books).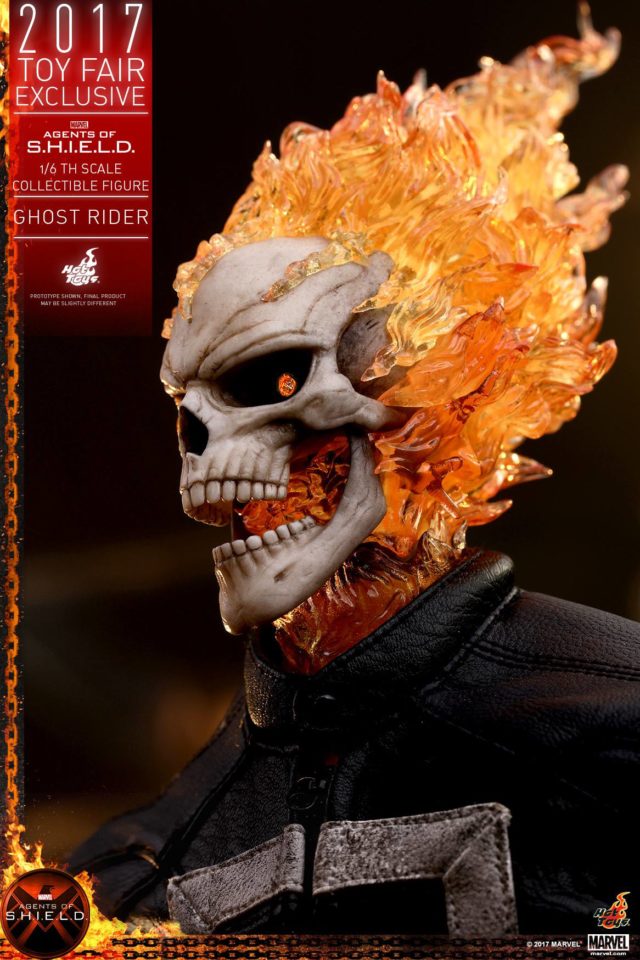 The body of the Movie Masterpiece Series figure itself here is pretty simple (though the real leather jacket looks slick as hell), but what really stands out is the awesome head sculpt here.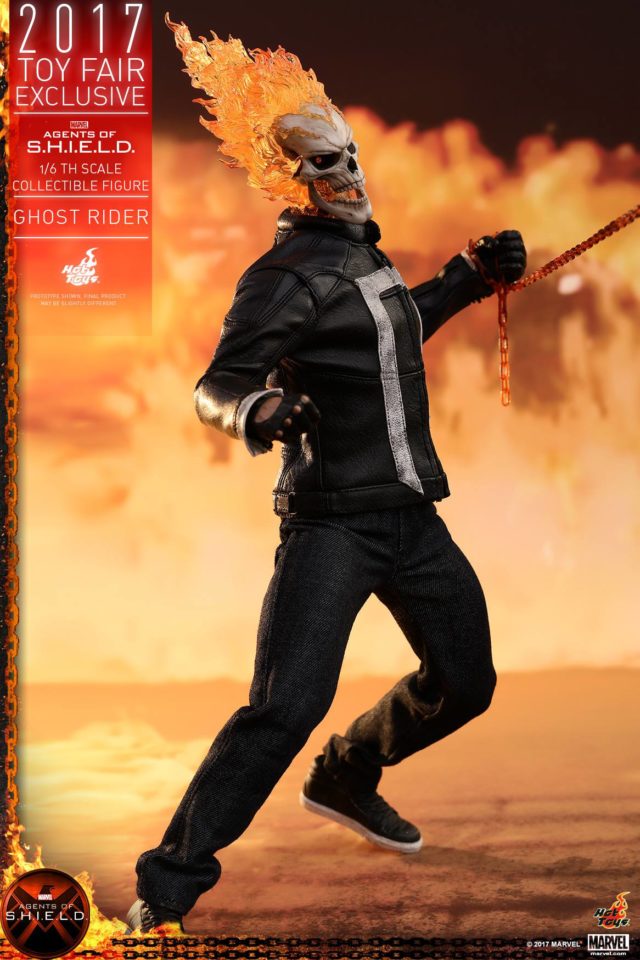 Not only do we get an impressively sculpted flaming skull head, but it actually has both an articulated jaw (which is the most fun point of articulation for any Ghost Rider toy) and also LED light-up flames.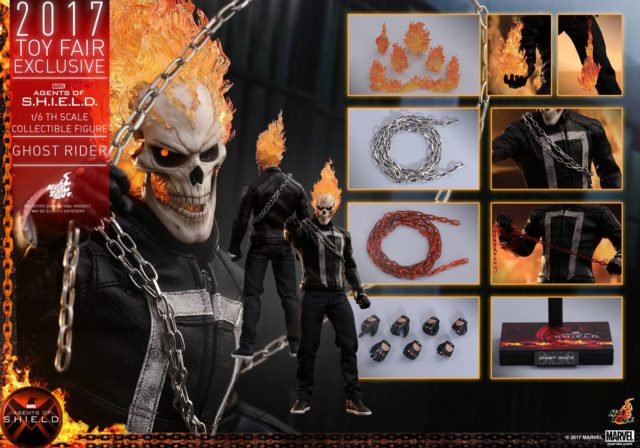 While we won't be getting a non-flaming skull Robbie Reyes head sculpt, we are getting some pretty neat accessories with this MMS figure, including both a metal chain and a flaming orange chain, as well as as fire effects pieces for Ghost Rider's hands and even his base.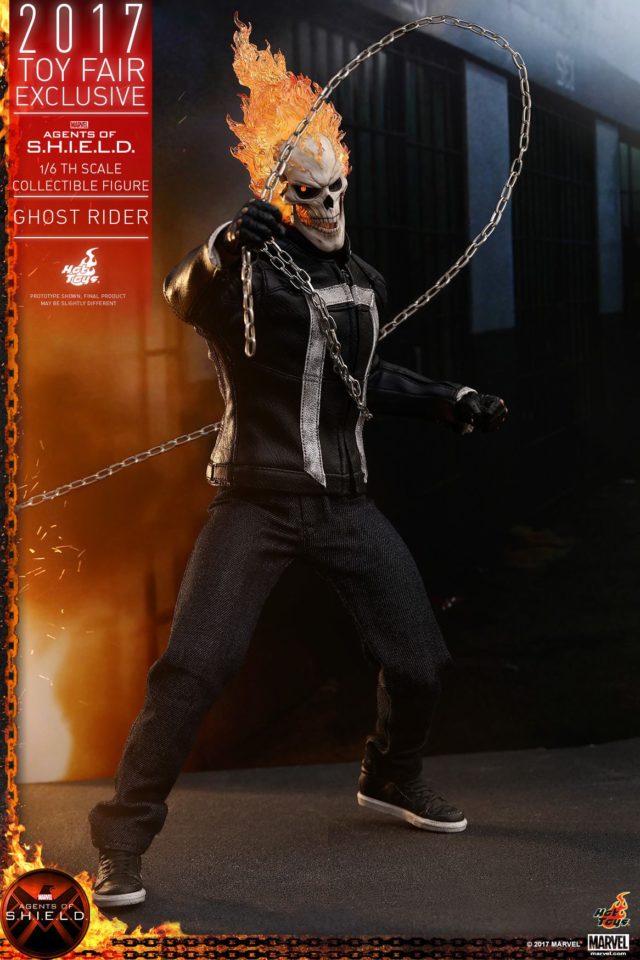 To manage expectations, for those who are holding out hope for a 1/6 flaming car to complement the Robbie Reyes Ghost Rider MMS–don't hold your breath. Hot Toys has shown off several vastly more iconic vehicles (like the Batman '66 Batmobile) and then cancelled them in recent years, so the chance of a corresponding car being made for a figure that's already a limited exclusive is basically zero.
And speaking of which–this 1/6 Ghost Rider is a "Toy Fairs Exclusive", which means that it will only be available in the United States in limited quantities via the Sideshow Collectibles website (so no BBTS or whoever this time out).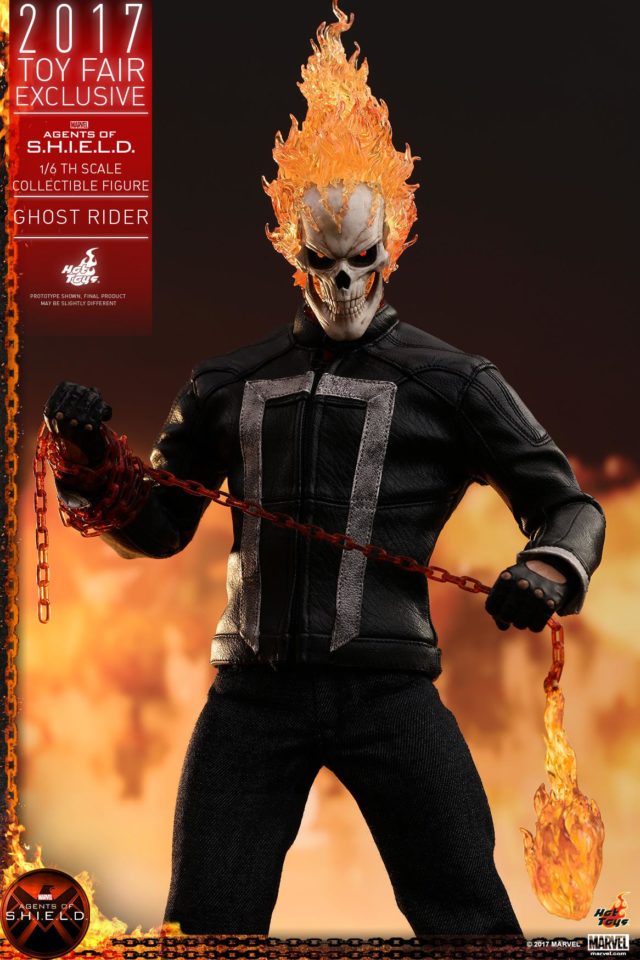 The Hot Toys Agents of SHIELD Ghost Rider 1:6 figure is now up for order, with an expected release date in fall 2017. The figure is a limited exclusive, and like the Shades Iron Man figure that went up for order earlier in the month, I'd expect it will sell out within a day or two. If you want this one–and I know I absolutely do–get those orders in early!
Alright, Marvel collectors–sound off! How do you like the new Ghost Rider Hot Toys figure, and are you planning to add it to your collection? What other characters from Agents of SHIELD–if any–would you like to see Hot Toys release as Movie Masterpiece Series figures?