As I think we've probably all been expecting, Marvel toy news has been a little bit sparse the last few days (what with San Diego Comic Con–the biggest toy reveal event of the year–being next week and all). But while there's nothing newly revealed to talk about, that makes this the perfect time to discuss something newly-released! While we've had the Hasbro and DST Doctor Strange movie figures for quite some time, we've had a bit of a wait for the Asian import. But at last, the SH Figuarts Doctor Strange figure will be shipping in the US this month–and we've got some in-hand photos and impressions of the Doc!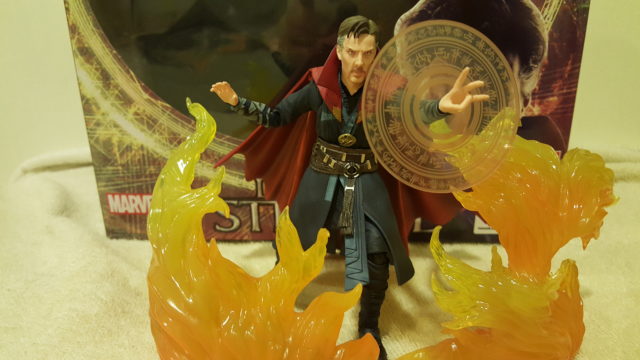 I haven't exactly been quiet about the fact that the Doctor Strange movie was
not
what I was hoping for, but I still have faith that the good doctor will grow on me in figure MCU films. And so, though I didn't like his movie (at all), I've still got my eye on the various movie figures of the character being released.
And after a lengthy wait for it to arrive (though not nearly as lengthy as the Hot Toys version), the SH Figuarts Doctor Strange figure has arrived overseas and should be reaching the United States in the next two weeks!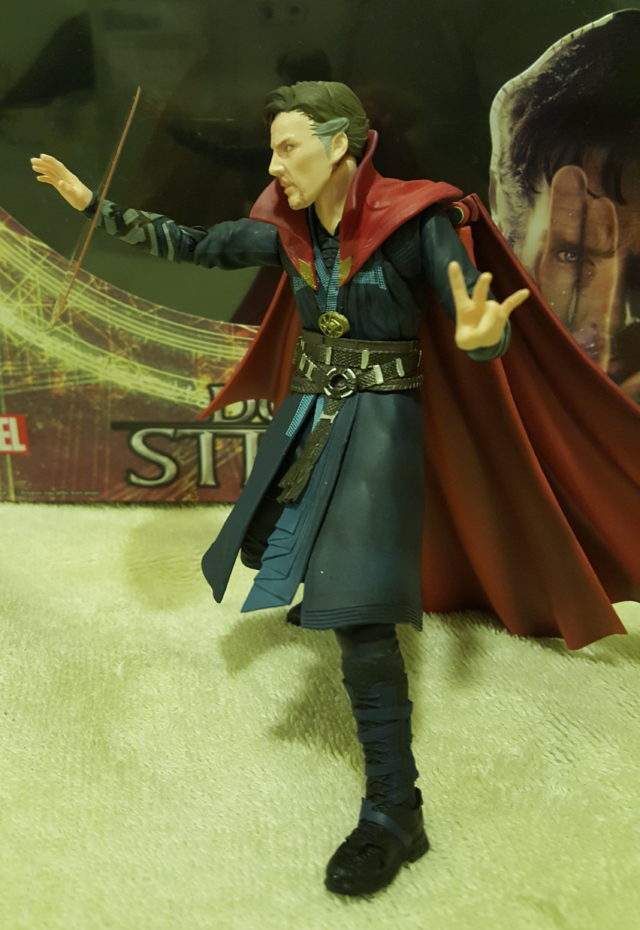 I'm still waiting for my own Bandai figure of the Sorcerer Supreme to ship, but bman already received him and was nice enough to send in some in-hand photos and a short review for other readers who may be on the fence!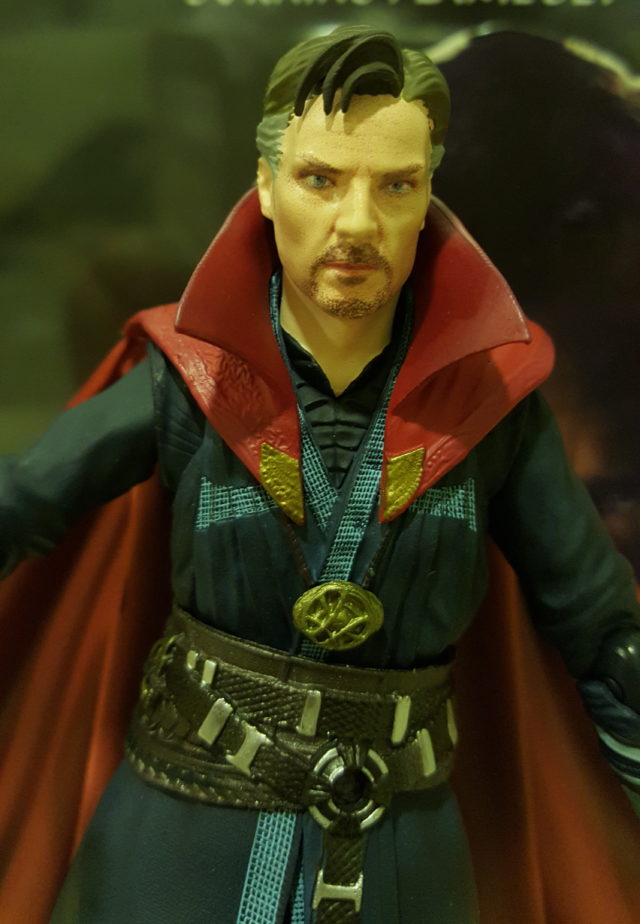 Sculpt: 7.5 out 10
To be honest, I think the overall figure sculpt is great, but there are two things holding it back from a higher score. First off is the face. While it is clearly Benedict Cummerbatch, the eyes look a bit far apart and there are plenty of other figures where the resemblance is better than this one.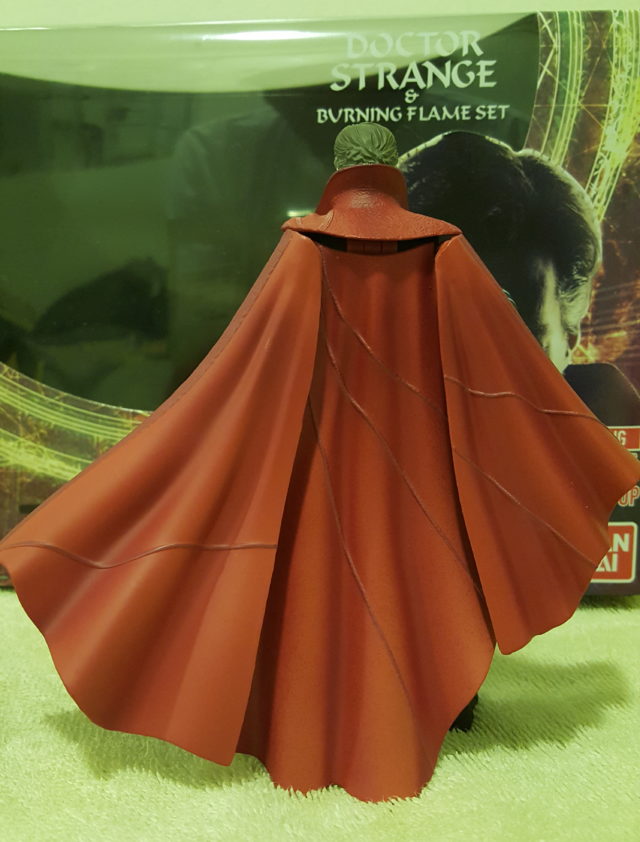 Secondly, the cape is a 3-piece hard plastic molding like Thor's. I would have much preferred it if it was cloth. I'm definitely not a fan of S.H. Figuarts 3-piece capes. It's awkward in quite a few angles. It would've been better and I would have much preferred it if Bandai had used rubber or cloth for the cape instead.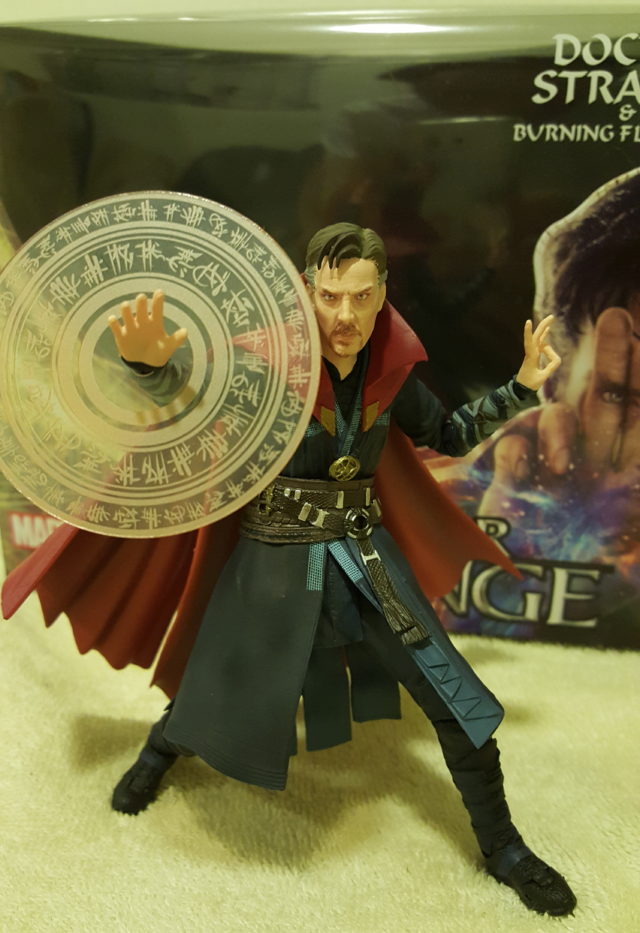 Paint: 9.0 out of 10
The paints are rich and vibrant and there is little to no over-sprayed areas. The only area I'm deducting marks from is the magic discs for his hands for the spell effects–the colors look dull even though they tried to use some metallic for a shine. In my opinion, it would have turned out better if they just used a bright yellow and a bright green. Also, the paintwork on the face could be slightly better.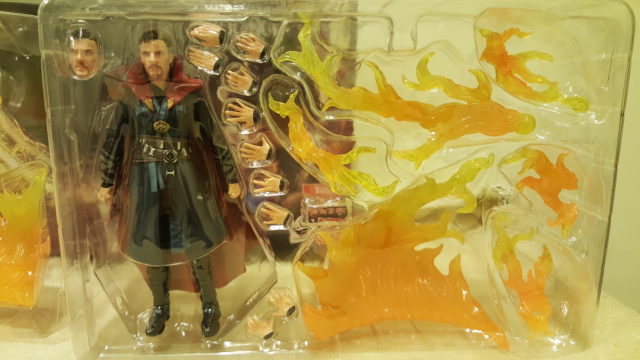 Accessories: 9.5 out of 10
With 5 pairs of hands, 2 heads, the magic effects and the flames this is overloaded with accessories. I really like the flame effects. I bought the DX set for them [Doctor Strange is available both with and without the flames overseas–in North America he's only available with the effects pieces], as I can use these with other figures.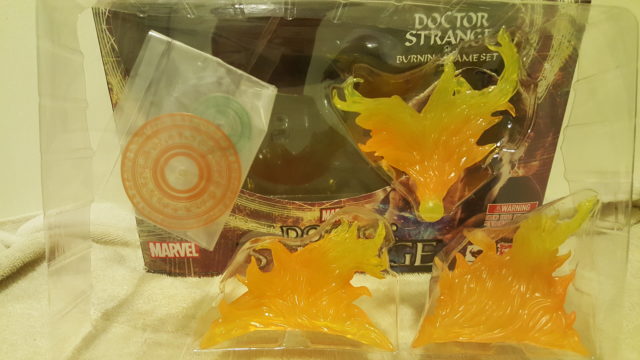 It cost about $15-$20 more to the get the DX version with the flame effects, but I really think these would look good with most figures (thinking of Human torch or Sunfire specifically) The one complaint I have with the accessories is that the face plates could look better.
Articulation: 7.5 out of 10
While good, it's not great. To be honest, I dislike hard plastic capes as they look unsightly and are rigid. I would have much preferred a cloth or even soft rubber cape. And the fact that he has a tunic impedes some of the lower torso articulation (but not too much). All in all, still an admirable job.
Overall: 33.5 out of 40 [8.4 out of 10]
A solid addition to SH Figuarts line up and I'm glad I held off on the Marvel legends Dr. Strange to get this one instead.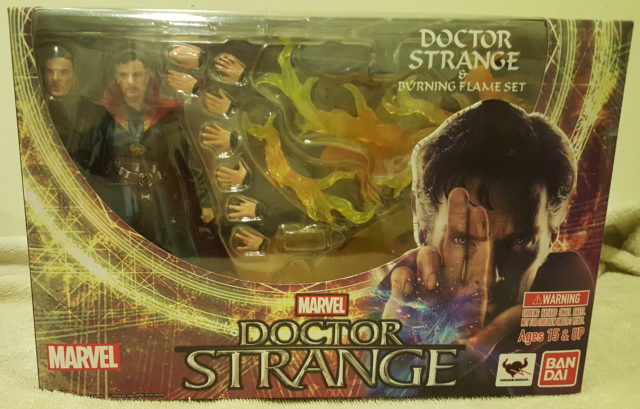 The Bandai S.H. Figuarts Doctor Strange figure will be shipping later this month in the U.S. from all major online retailers that carry the line. Prices are pretty standardized across the board on the good doctor and they're all likely to receive their shipments within days of each other, so if you want him, pretty much any online retailer is as good as the next one.
How many of you ordered or are thinking of ordering this Doctor Strange Figuarts figure, Marvel collectors? Based off the in-hand photos and impressions, are you pleased at Bandai's first-ever take on the Master of Mysticism?