Some of you have probably noticed that pre-orders opened this week for the imported Bandai SH Figuarts Doctor Strange figure, and are wondering why I haven't talked about it here on Marvel Toy News. No, it's not pure laziness (this time)–I've actually got a really good reason! I haven't been promoting the import Doctor Strange Figuarts figure to North American readers because I don't want you to overspend: the SH Figuarts Doctor Strange figure is now up for order in the U.S.–along with North America exclusive accessories!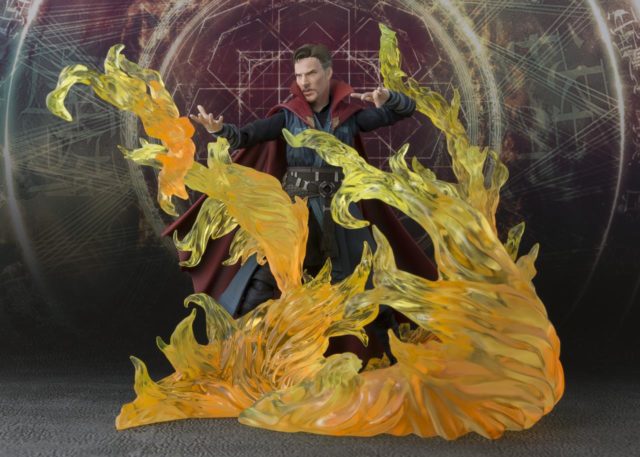 When Bandai Tamashii Nations/Bluefin Distribution announced last week that they'd be bringing over the Bandai Japan S.H. Figuarts Doctor Strange figure, they immediately had my attention–and my curiosity piqued.
I suspected that the upcoming SH Figuarts Iron Man figures were only being permitted in the U.S. because of the bundled in Hall of Armor pods, but I had no idea how Bluefin was going to get around the license restrictions for Dr. Strange.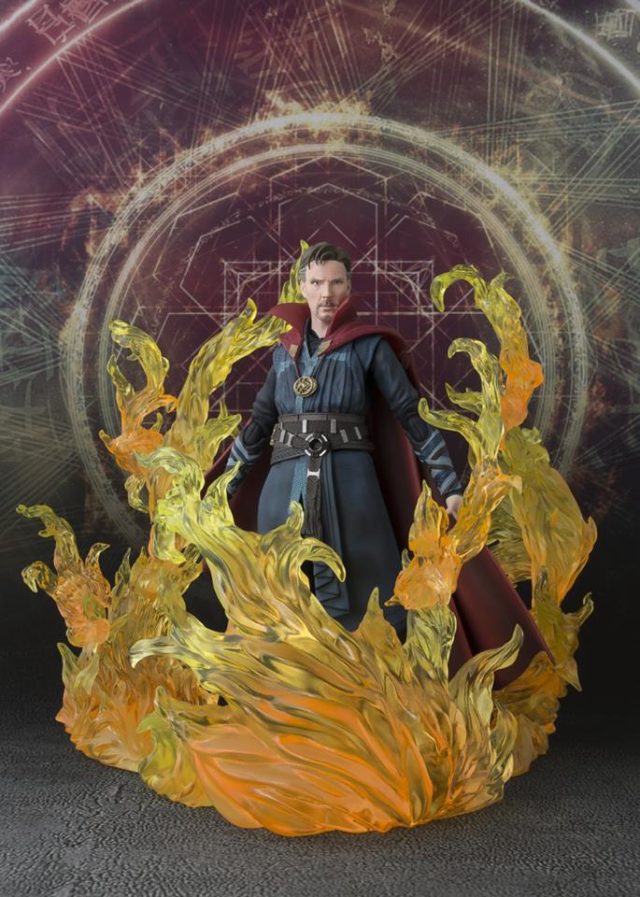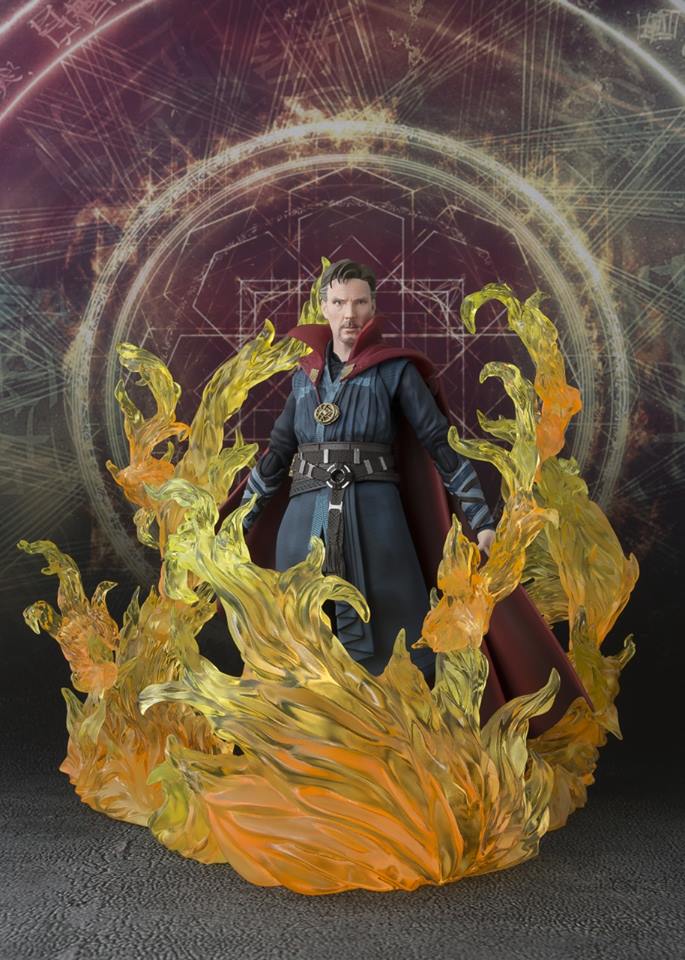 Well, seeing is believing, and the clever way they've come up with to sell the Sorcerer Supreme to all us North American folks is by selling him as a pack-in with the exclusive "Burning Flame Set".
We've had these Bandai Effects Piece sets in the U.S. before, and they're beautiful pieces of work. In fact, I already have Bandai Flame Effects. Even so, if that means being able to buy the SH Figuarts Doctor Strange domestically for under 85 bucks and getting more fire effects as part of the deal, sign me up!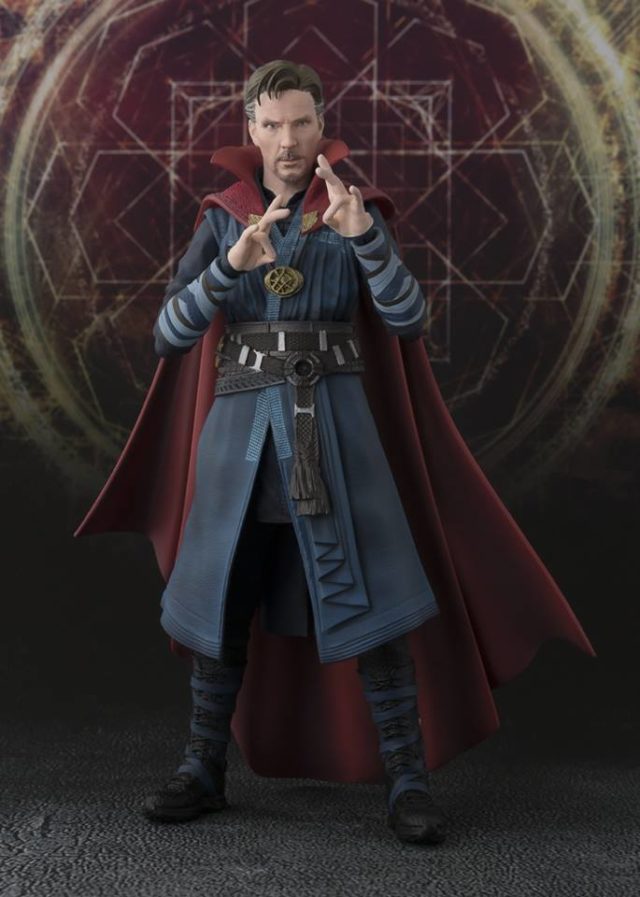 Along with seven (!) fire effects pieces, the movie Doctor Strange Figuarts figure will include four magic effects pieces (two big and two small), four pairs of interchangeable hands (including awesome spellcasting hands), a pair of effects-holding hands, and even an interchangeable extra head.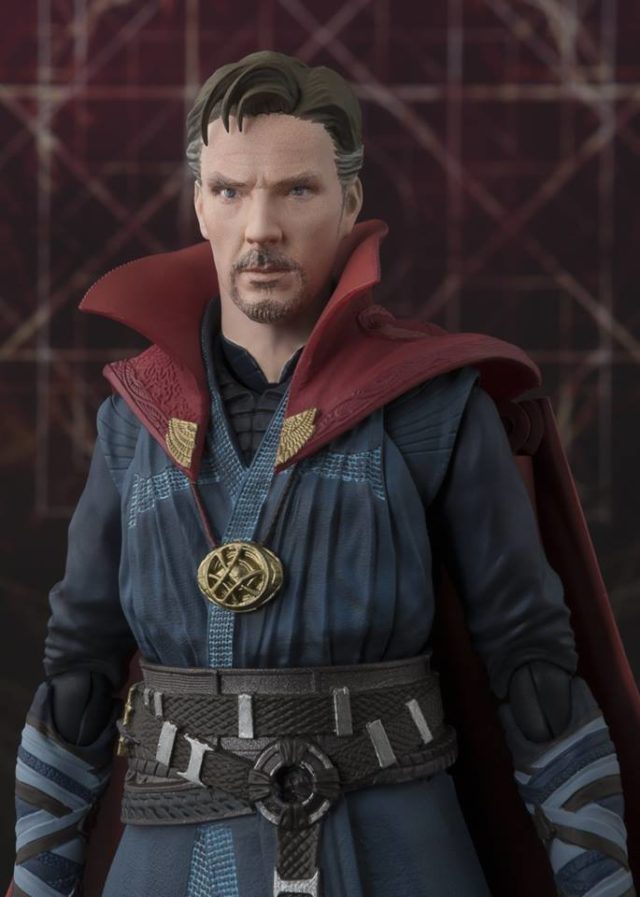 The extra head is listed in the specs for the figure, although I honestly don't see any difference between any of the heads in the official photos from Bandai. That's a pretty nice Benedict Cumberbatch portrait for a 6″ figure, though, don't you think?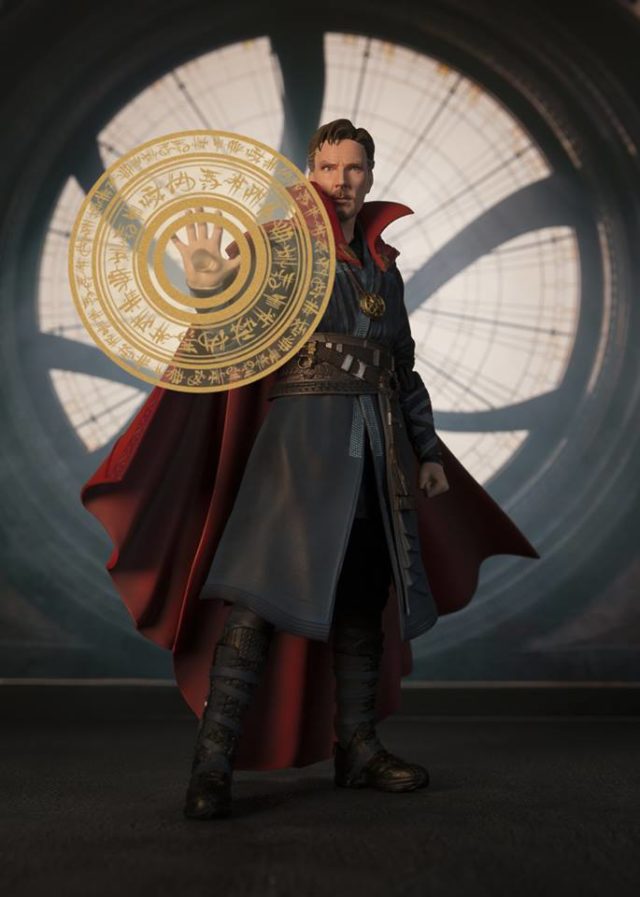 While this figure is yet another Bandai Premium Web Exclusive overseas, we're lucky enough to have it available to use in North America. This is only the second Marvel Figuarts figure sold domestically, with the first being the Iron Man Mark III figure solicited late last year. I'm praying (well, that's hyperbole) that the SH Figuarts Guardians of the Galaxy figures get a North America release by Bandai Tamashii Nations as well!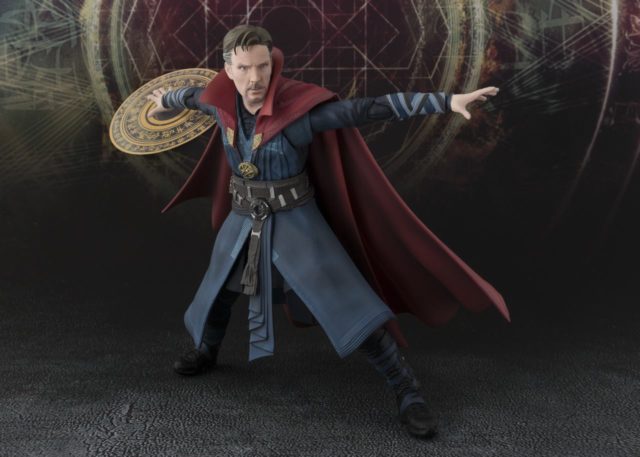 As far as accessories go, this super-articulated Bandai 6″ Doctor Strange figure is absolutely
loaded!
 He's a bit pricey at almost 85 bucks, but with superior sculpt, paint, accessories and articulation to the Hasbro Marvel Legends version, I suspect this figure is going to be hugely popular with Marvel collectors.
You can order the figure via import from BBTS right now if you want the Japanese web exclusive version, but you're going to pay substantially more if you do it that way and you won't be getting any of the exclusive flame effects pieces. As I don't like to advocate spending a lot more to get a lot less, I don't recommend this unless you really hate effects pieces (for some crazy reason).
BBTS has now updated their listing, as they will only sell the American version of Doctor Strange at the MSRP. If you really want the Japanese version for more money and less accessories, looks like you'll have to place an overseas import order to get it!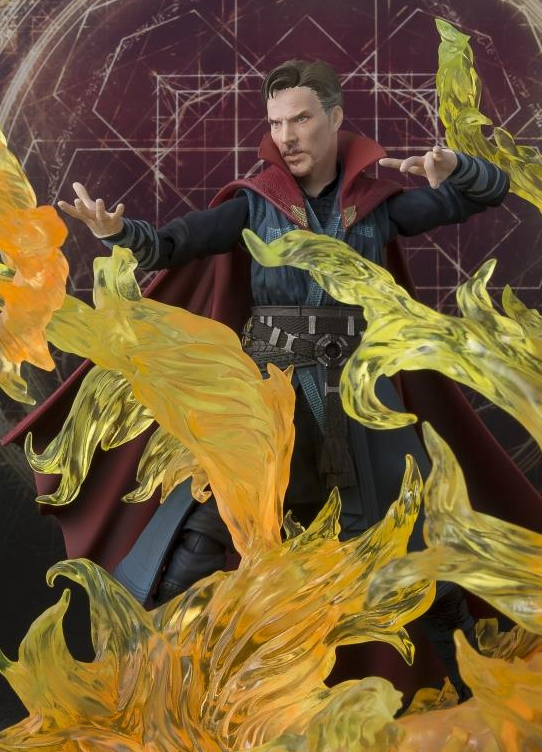 The SH Figuarts Doctor Strange and Burning Flame Set is now up for order in the United States, and is scheduled to be released in June 2017. Amazon will have free shipping on the set guaranteed and their usual pre-order price guarantee, making them the best spot to pre-order the set.
Alright, let's hear it, Marvel collectors: Who's ordering the U.S. release of the Bandai Doctor Strange SH Figuarts figure? Are you okay with buying diorama-style accessories like the Hall of Armor cells and flame effects pieces if that's the only way Bluefin Distribution is able to distribute these Bandai Japan toys in North America?