Need more proof that we're living in a true Golden Age for Marvel toys and collectibles? How about the fact that an alternate universe Spider-Man can have his first appearance, take part in a couple stories and then an amazing super-articulated action figure in our hands in just over two years? Though he's still slightly obscure and available for below MSRP online, the Hasbro Marvel Legends Spider-UK turns out to be a surprisingly awesome action figure…
The Right:
With the first official and packaged photos of the X-Men Marvel Legends 2017 figures
popping up online late last week, I figured now was the time to stop dilly-dallying and get completely caught up to-date with my review of the final Hasbro Marvel Legends Spider-Man 2017 Wave 1 figure: Spider-UK!
[And on a side note, if you're looking for my discussions of the other seven figures in the Sandman Series, you can find all those in the occasionally up-to-date Reviews Index!]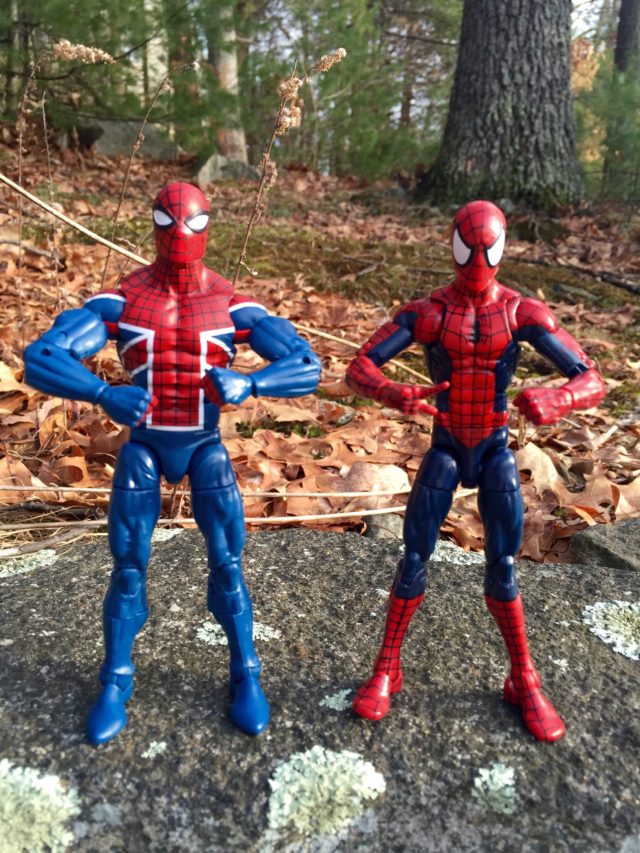 The moment you get the Hasbro Spider-UK figure out of the package and into your hands, you'll realize that this is a very different Spider-Man than the ones we've become accustomed to.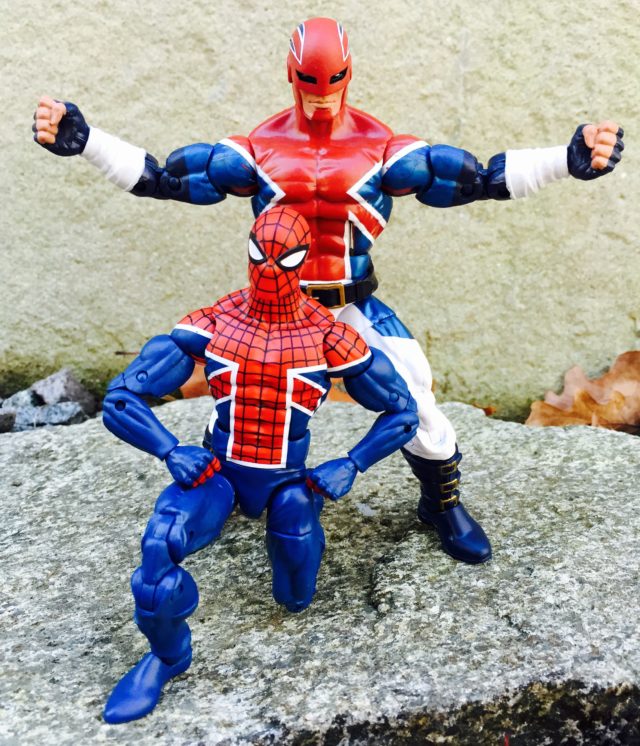 While we're used to thin, flexible Spidey figures these days, Spider-UK is the beefcake of Spider-Men! Seriously–the Captain Britain Spider-Man of Earth-833 is totally ripped, and makes a great visual contrast to all the slim Spider-Man action figures that have been released the past few years.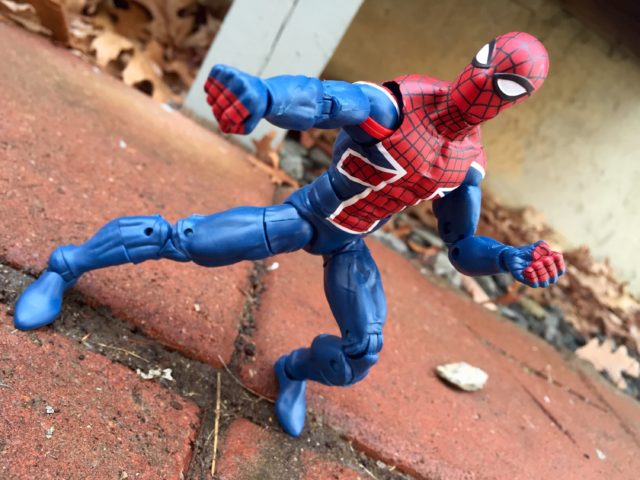 If you've been waiting for a Spider-Man toy that looks just as ready to flex his muscles as to kick some super villain's face in, then this is the action figure that you've been waiting for.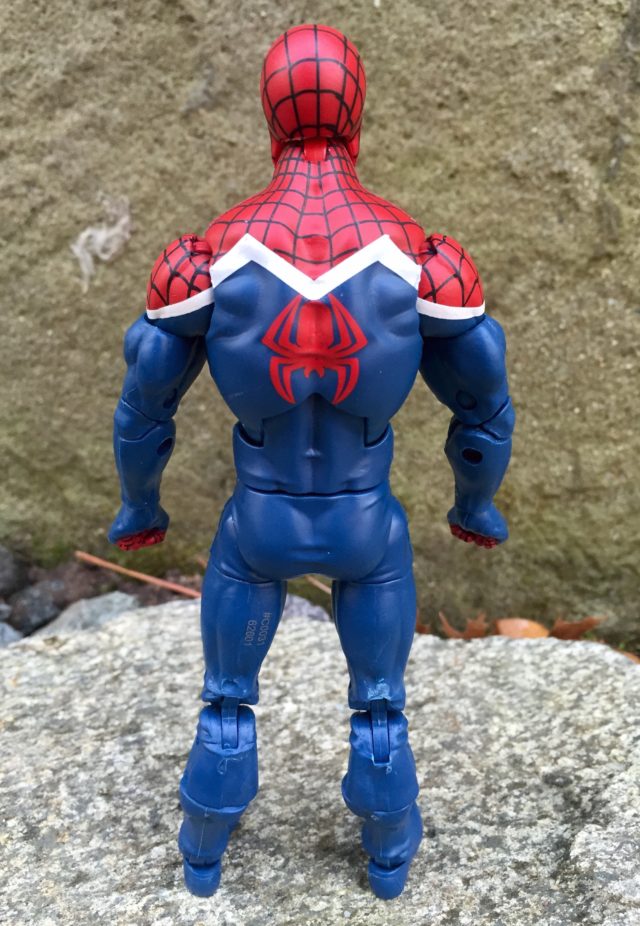 The addition of the Union Jack to the classic Spider-Man costume makes for a more complicated design that I was a little worried the Hasbro factories might botch. But nope–the paint applications on this figure are absolutely gorgeous they're so pristine. I'm amazed with the quality of paint on this figure–it looks fabulous.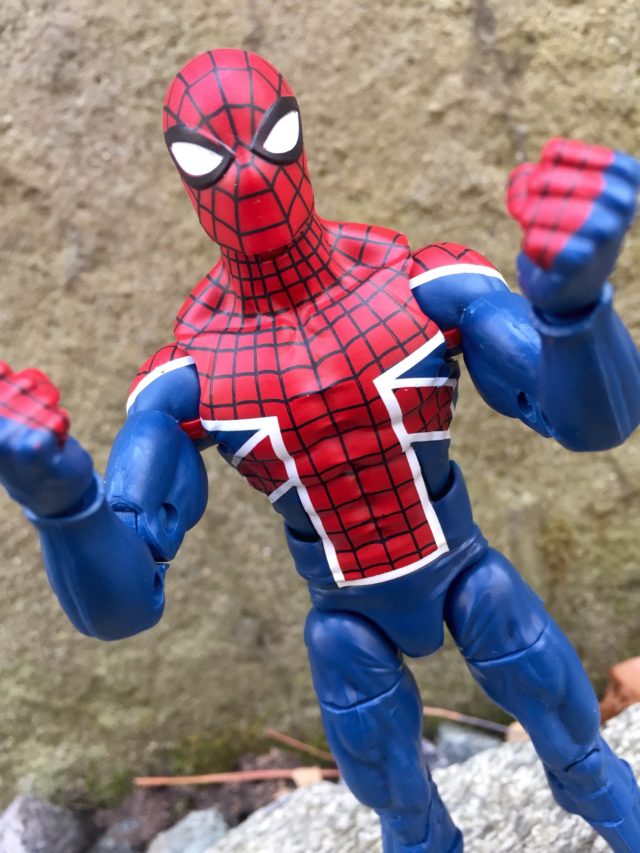 In fact, the paint looks so good that I genuinely didn't realize there was even an upper torso an crunch built in until I tried to pose the Spider-UK Legends figure! Oftentimes the ab crunch joint can look a little wonky, but this is the single best-hidden one that I've ever seen.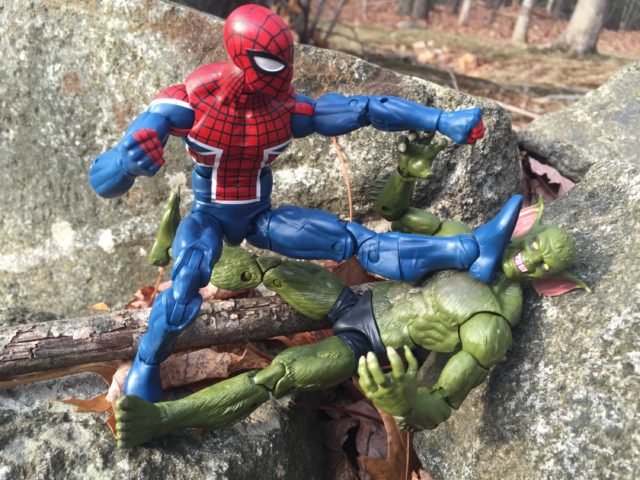 And while this figure is lacking the butterfly shoulders of Pizza/Raft Spidey, every other iota of articulation I'd want is present: ball-hinge neck/shoulders/wrists; an crunch, swivel biceps/waist/thighs/boots; double-jointed knees and elbows; ball-jointed hips and hinged ankles with rockers. Excellence.
Also, I want to make a note that the construction on this figure is top-quality. There's no rubbery plastic, no stuck or loose joints, and no feeling whatseover like anything is going to break. I don't always point that out, but after my experiences with Ms. Marvel and All-New Spider-Man 2099 in this series, I definitely wanted to mention the solid QC on Spider-UK.
The Wrong:
As nice as the Marvel Legends UK Spider-Man base figure is, when I pay $20 for a 6″ figure, I like it to come with more than just a Build-A-Figure piece (in this case, a Sandman BAF arm).
William Braddock is an all-new Spidey that isn't Peter Parker, so how about an unmasked Billy Braddock head? Or if tooling that is too expensive, what about just some interchangeable grappling hands, web-slinging hands… anything?
As a Spider-Man, I'm just not big on the idea that Spider-UK is only good for bashing things, which is what coming with only fists implies.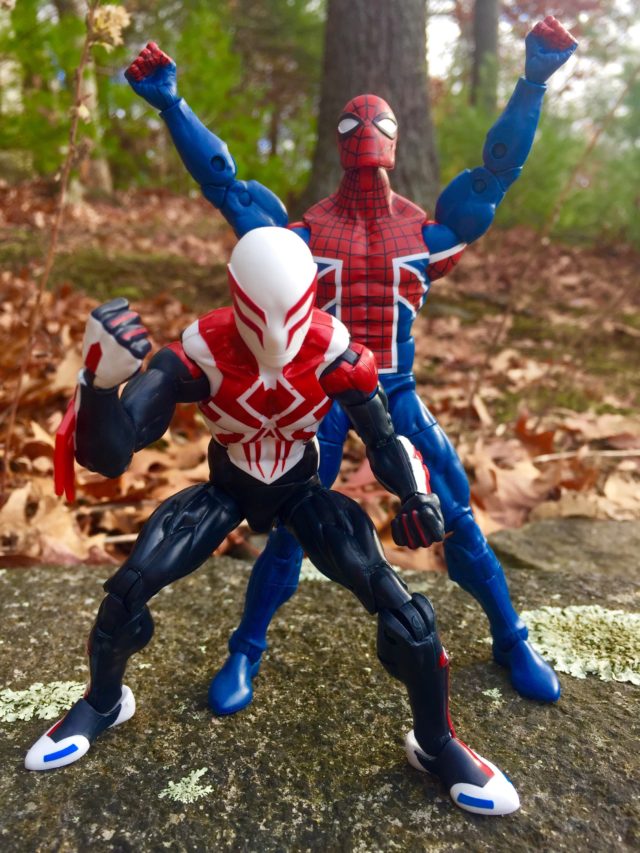 Overall: Hasbro did a really fantastic job of making an excellent figure of a little-known, recent character here. The paintwork and "hidden" an crunch are exceptional, and the "buff" physique makes the Spider-UK Marvel Legends figure stand out from the crowd. The lack of any kind of interchangeable hands or an unmasked head knocks this figure down from being perfect, but if the idea of a Captain Britain Spider-Man figure appeals to you, I sincerely doubt there will ever be a better figure of Spider-Man UK.
GRADE: A-