I thought the timing of Mezco Toyz teasing their upcoming 1/12 Deadpool and Spider-Man figures this morning was a bit peculiar, what with none of the Marvel ONE:12 Collective figures for this year that we've preciously seen even being available for order yet. Of course, what I should have suspected is what turns out to be the case–those sneak peeks were to get us all hyped up to order this first figure in the line! And it worked on me–the ONE:12 Collective Captain America figure is now available for order!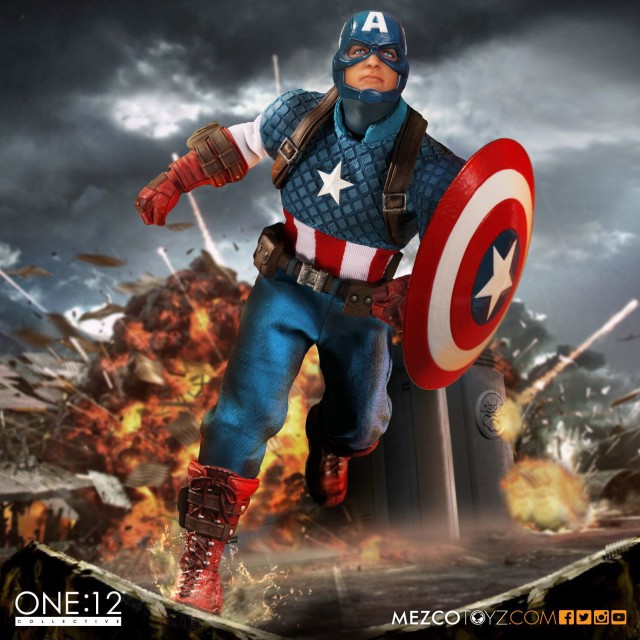 Predictably, the teasers of upcoming ONE:12 Collective Marvel line earlier this morning were actually a ploy to get us all psyched up and ready to buy, buy, buy the first figure in the line: Captain America! As "the First Avengers" (well, if you ask MCU-only fans, anyway) and also the first figure shown off to tease this toy line as a whole, it's only right that the first figure Mezco Toyz puts up for sale is also this classic Captain America 6.5″ figure!
Now, at 6.5″ tall, these figures are slightly bigger than Marvel Legends and slightly larger than 1/12th scale (yes, I know, that is ironic given the name of this line), but stylistically, I'm not sure you would want to mix this line in with Hasbro Marvel Legends 6″ figures anyway–because quite frankly, they blow those figures out of the water.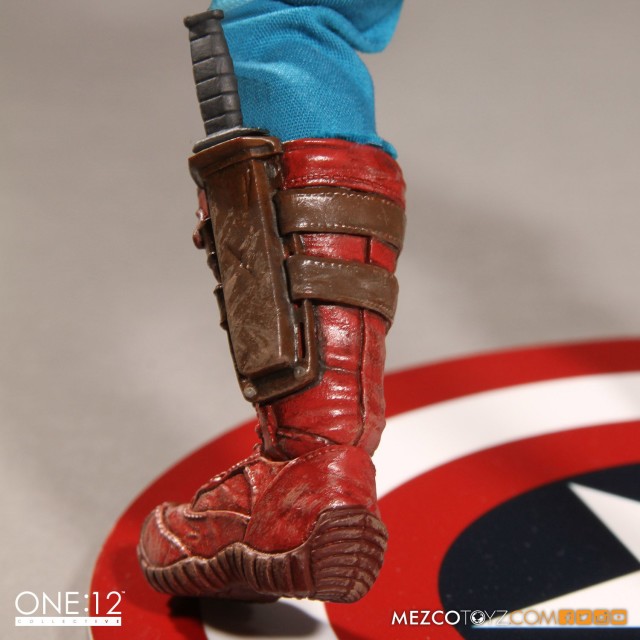 The level of sculpting detail and paint deco that Mezco has put into the "plastic" parts of this figure are off the charts–I actually had to go back and refer to the product specs just to make sure that Cap's boots weren't made of actual leather! They look that good!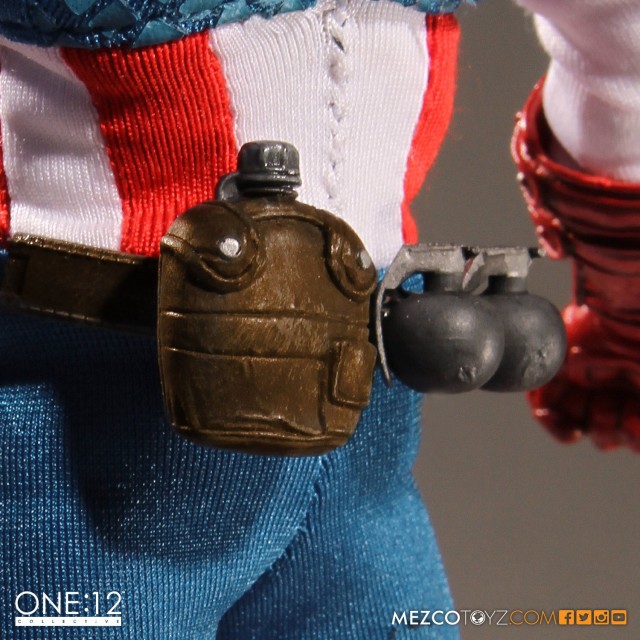 Meanwhile, the soft-goods fabric costume that Cap is wearing looks far beyond the level of any soft goods that I've ever seen on a 1/12 scale action figure before. These are basically smaller, comics-based Hot Toys figures! For those who don't have the space or money to collect Hot Toyz, I think Mezco is about to have a major hit on their hands.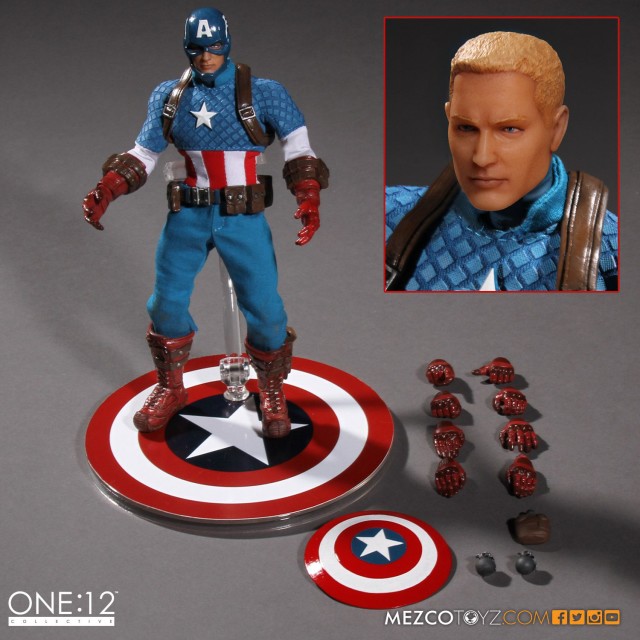 Along with being super-articulated with over 32 points of articulation, the Captain America figure also features magnetic gauntlets and a ton of accessories, including:
Standard helmeted portrait
Unmasked Steve Rogers Portrait
Fists (L&R)
"Thumbs Up" hand (L)
Saluting hand (R)
Pointing hand (R)
Posing hands (L&R)
Holding hands (L&R)
Shield throwing hands (L&R)
Shield with magnetic attachments
Harness with magnetic attachment
Knife (fits in sheath on the boot)
Grenade set (can clip onto the back of the belt)
Interchangeable pouch and canteen (can clip onto the belt)
Display base with posing post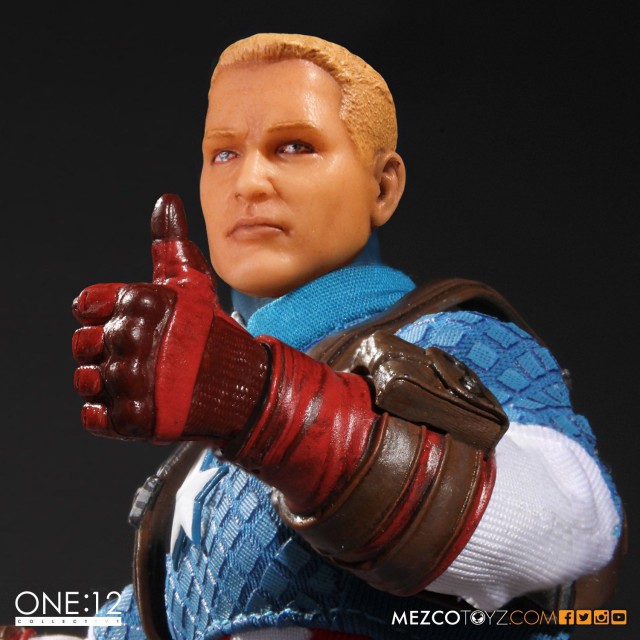 Even the packaging for this figure sounds pretty phenomenal, as each figure will come in a five-panel window box with a removable slipcover and the ability to take Captain America in and out of the package without damaging the collector's box.
One area where this figure does not shine, however, is the alternate Steve Rogers head. That head is just… yikes. I'll take the "Duke" head sculpts that Hasbro gives us over this one, sadly.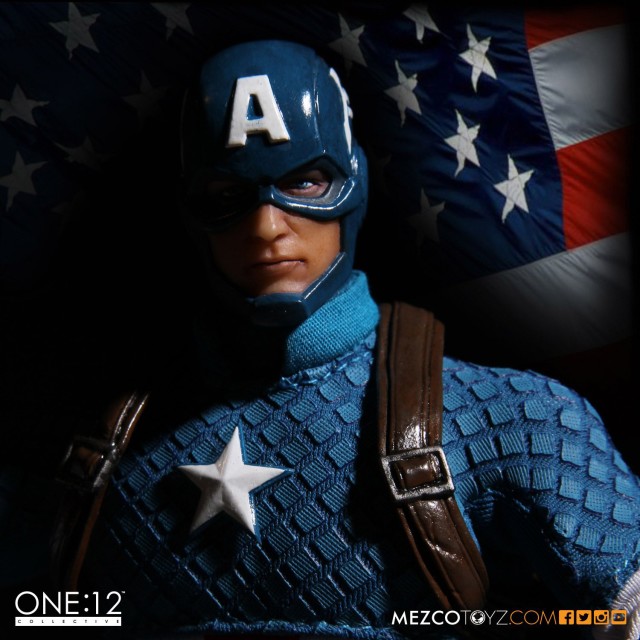 There's one and only one other downside to this figure, and it's what I suspected from the start: the price-tag. While all of the previous Mezco Toyz One:12 Collective action figures have been priced at $60-$75, the price has gone up to $80 for their Marvel Universe action figures. And I have to admit–I am not altogether thrilled about that beginning price-point on these 6.5″ figures.
That said, when you take into consideration that these are half the size of a Hot Toys figure and about one-third of the price, it doesn't seem that bad. There's no movie likenesses here, mind you, as these are all comics-based toys, but it'd be pretty hypocritical for me to write off this line because of the price, what with my insane Hot Toys addition and all.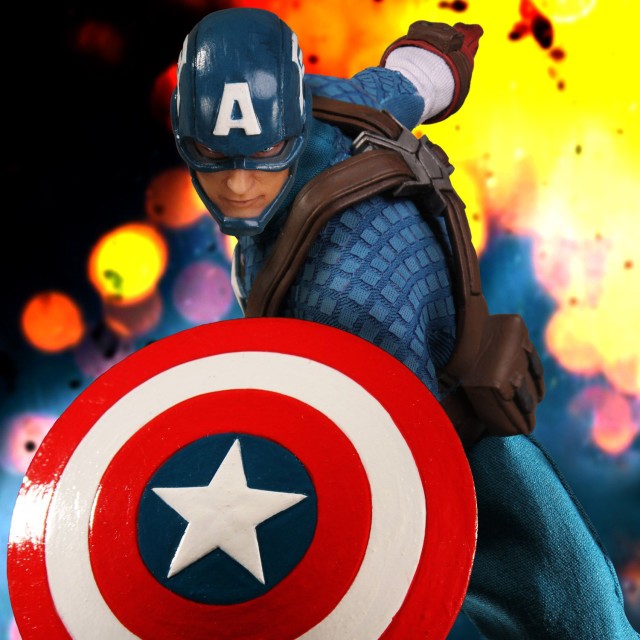 The Captain America ONE:12 Collective figure is now available for order, and is scheduled to be released in August/September 2016. While every retailer I've seen taking orders thus far is charging the $80 MSRP for the figure, I linked out to EE, who has the best price when you factor in their free shipping offer. I may end up being all-in for this line, because I'm "all-in love" right now, so I went ahead and pre-ordered Cap. I'm not gonna miss this!
What do you think of the first figure to go up for pre-order in the Mezco Marvel ONE:12 Collective figures line, Marvel collectors? Are you impressed with what you see? And moreover, are you willing to drop 80 bucks for it?