As we approach Thanos's arrival next year as the supreme boss villain of the current Marvel Cinematic Universe in "Avengers: Infinity War", pretty much every major high-end Marvel collectibles company has their own recent Thanos statue on the market. But of all the ones that have been up for sale lately, only one of them is a purely classic Thanos resin statue that retails for under 150 bucks–the DST Marvel Premier Collection Thanos statue is now released and shipping!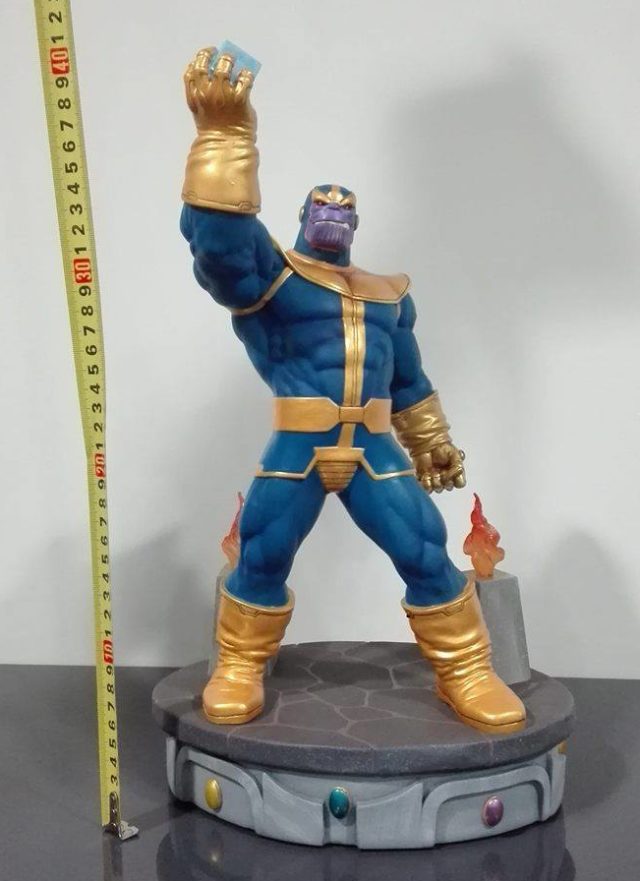 It seems like Diamond Select Toys has a new Marvel statue shipping just about every week this summer because, well… they do! But whereas most of those statues are the smaller ~$40 Marvel Gallery PVC statues, there's a few of the outstanding 1/6 Marvel Premier Collection resin statues in the mix as well.
And while there have definitely been some hits in the Premier Collection lineup thus far (love that comic-based Gamora statue!), none of them has had the hype surrounding it that the latest release has generated: Thanos!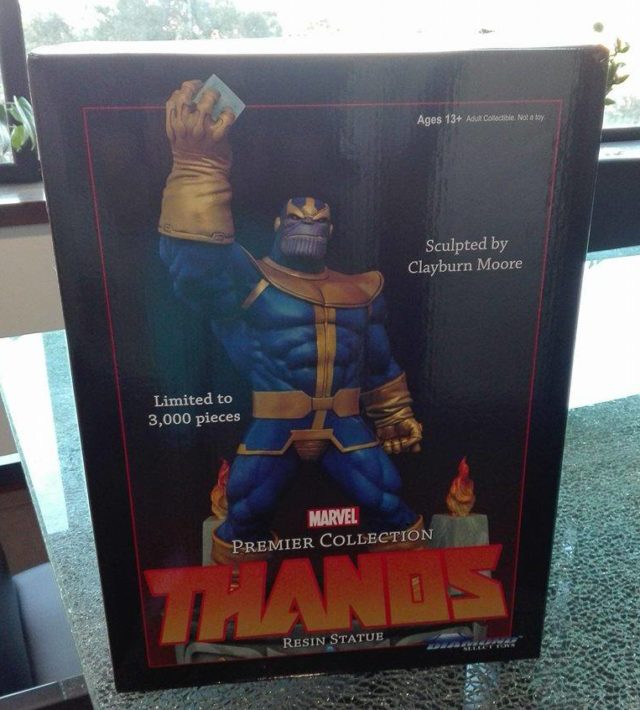 Thanos comes in a full color art box. The packaging is pretty simple compared to some of the beautiful boxes Sideshow Collectibles has done lately (like that gorgeous Black Cat box), but the main item of importance here is of course the statue and not the box that it comes in.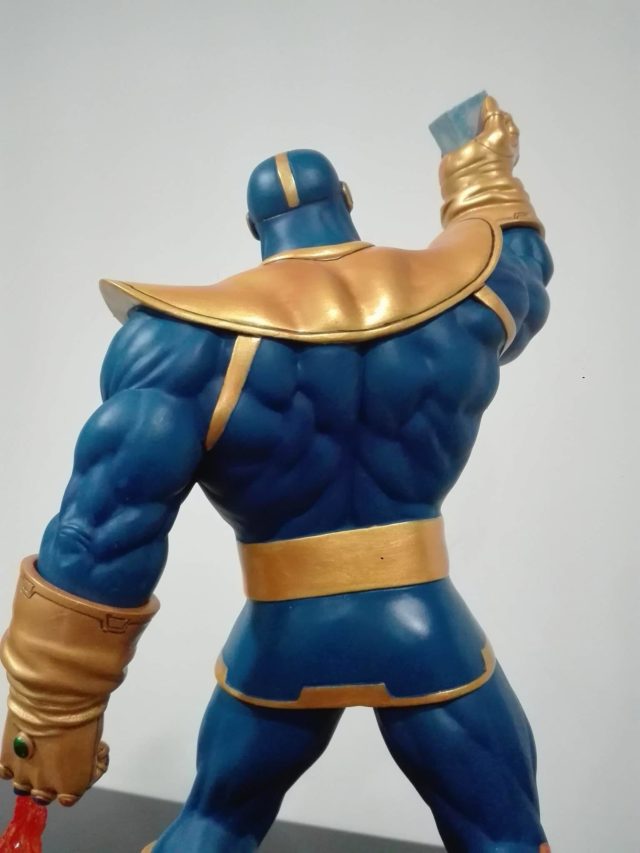 While Kotobukiya decided to make their recent Thanos Fine Arts statue a fully modern version of the character, Diamond Select's is about as classic as it gets!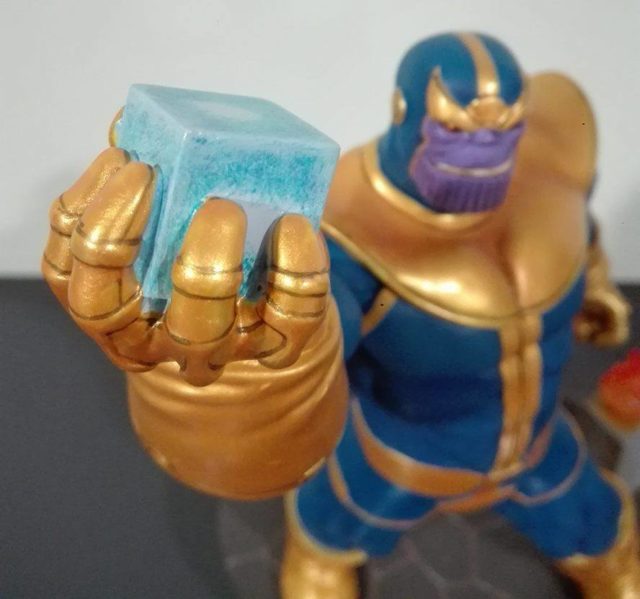 Just like in his very first appearances, Thanos is covering the power of a Cosmic Cube. Rather than making it a one-color or translucent object, DST chose to give some paint deco to the Cosmic Cube, which makes it feel more comic book-y to me.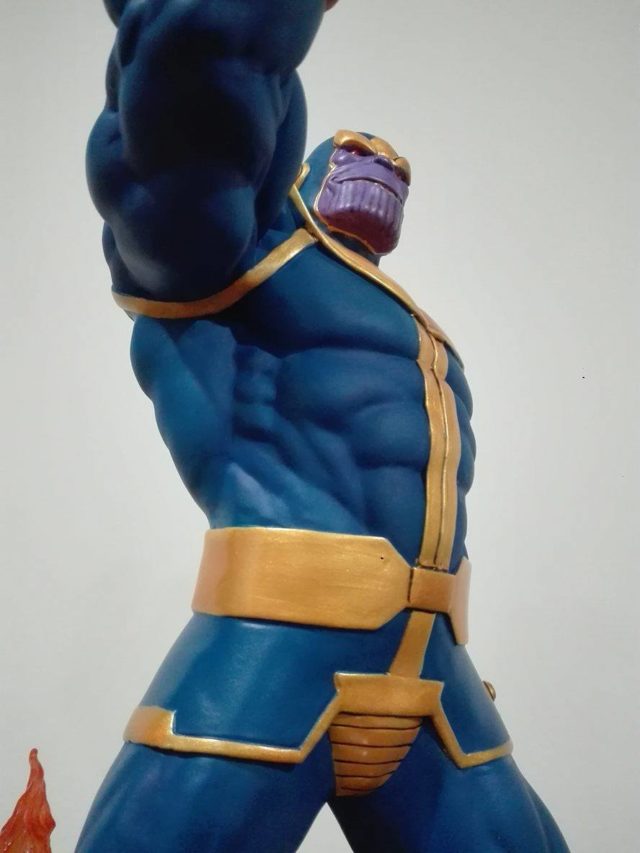 I don't have unlimited funds, so I haven't managed to pick up this particular Thanos yet myself, but Lúis Ferreira has received his already and was kind enough to send in a ton of photos of the piece! Thanks, Lúis! You are a superstar!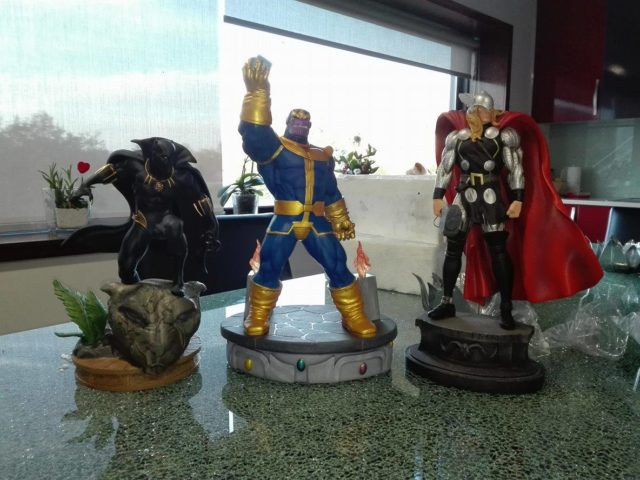 The big question that I know many 1/6 statue collectors have about this piece is: "How does it look scale-wise alongside Bowen Designs and Kotobukiya ARTFX statues?"
Well, as you can see from the photos, the answer is "terrific!" It fits in basically seamlessly alongside both the Koto and Bowen Designs statues in both size and detail. And with such a frequent release schedule, DST really is starting to feel like the modern-day Bowen Designs!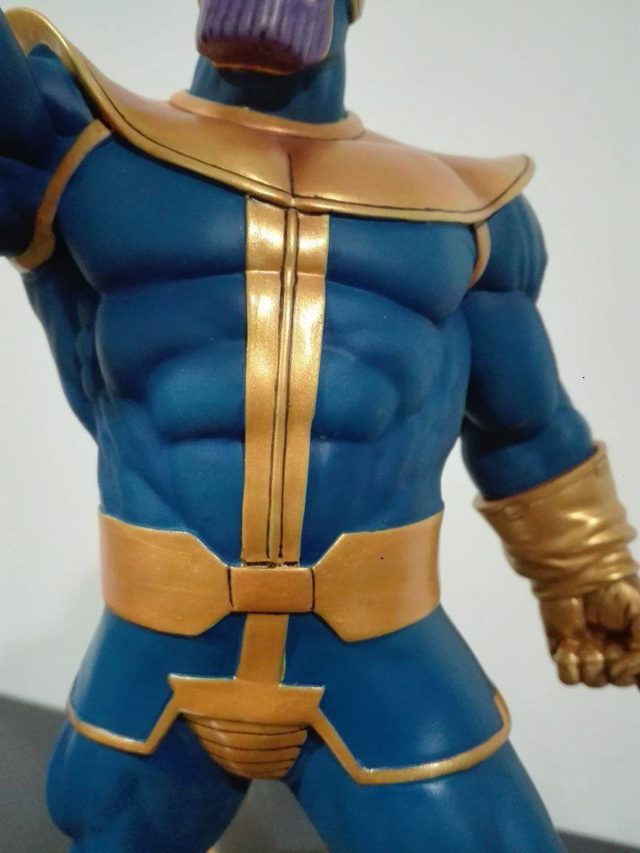 One thing that everyone I've talked to about this statue has agreed upon is that even though this piece is "only" 12″ tall, it is heavy! No worries about this beast being hollow, that's for sure!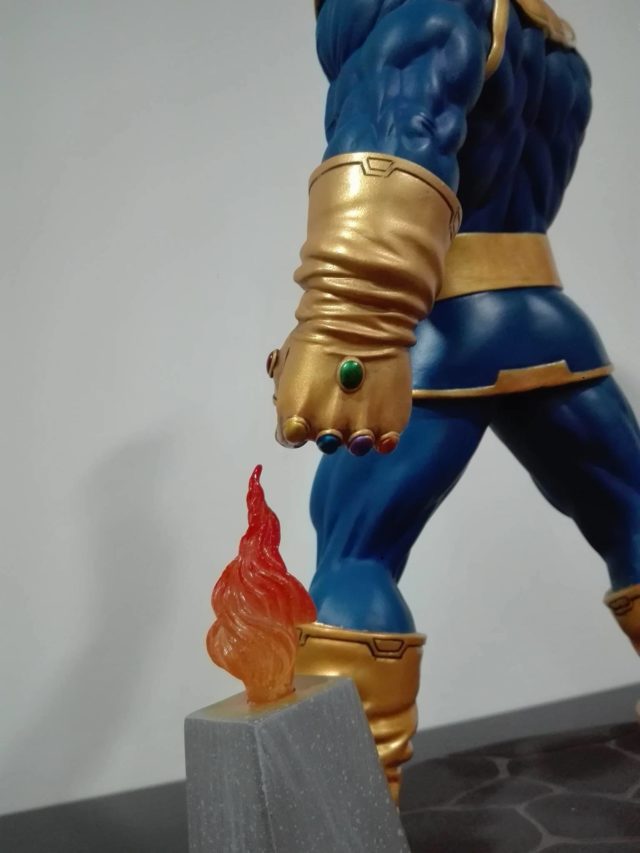 Thanos comes with four interchangeable hands: a pair of "plain" hands, a right hand holding the Cosmic Cube, and a left hand with the infamous Infinity Gauntlet.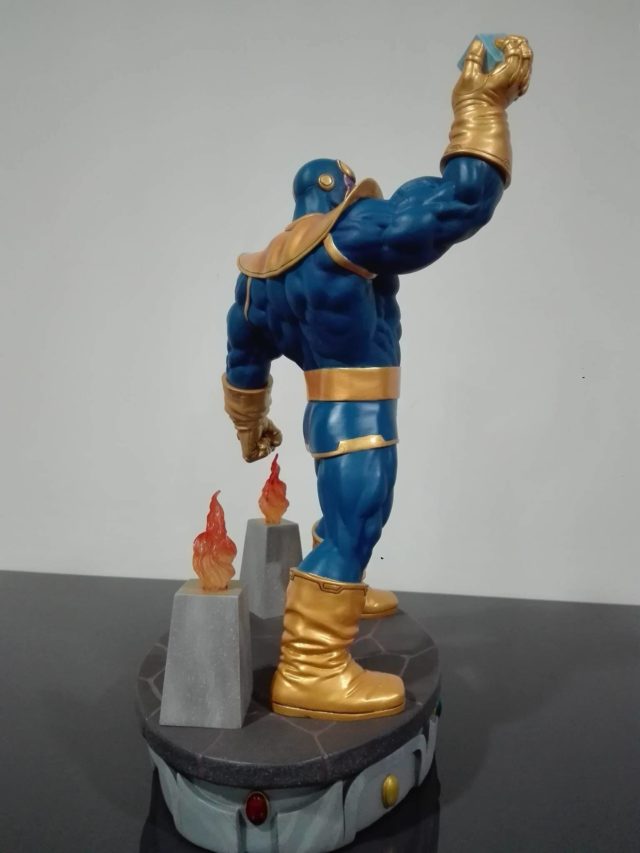 The Infinity Gauntlet is basically synonymous with the Mad Titan at this point, so I'm thrilled that DST is giving us a choice to display this statue with or without it equipped.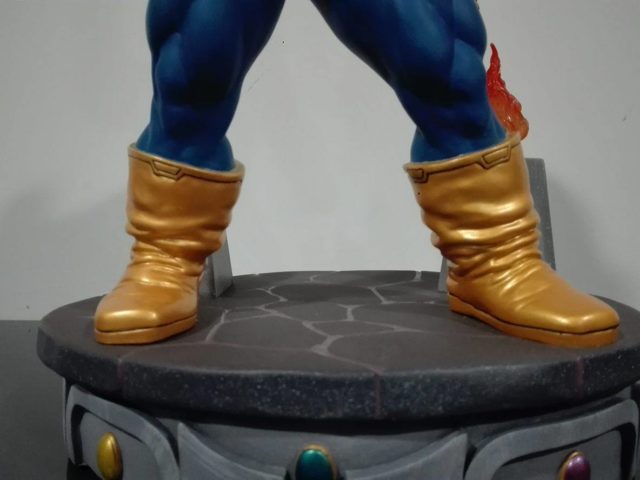 The statue base is also Infinity Gauntlet themed, with the individual gems embedded in the perimeter of the circular base. On paper this sounds like it could look really gaudy, but DST makes it work. I like it.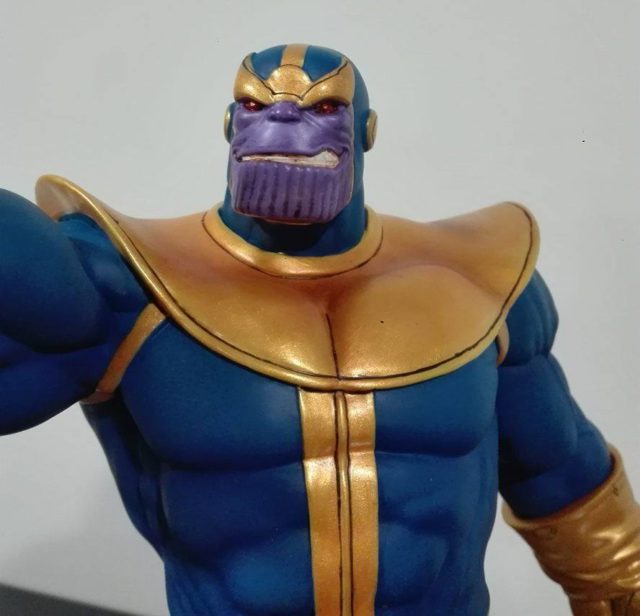 The Thanos Premier Collection statue also comes with a certificate of authenticity, which isn't pictured in any of the photos.
The Clayburn Moore-sculpted statue is limited to 3,000 pieces produced and retails for $149.99. That's a lot cheaper than any other 1/6 resin statue producing company's prices on the market today, and I'm genuinely surprised that Diamond Select Toys is able to keep quality on this line super-high and prices almost rock bottom-low.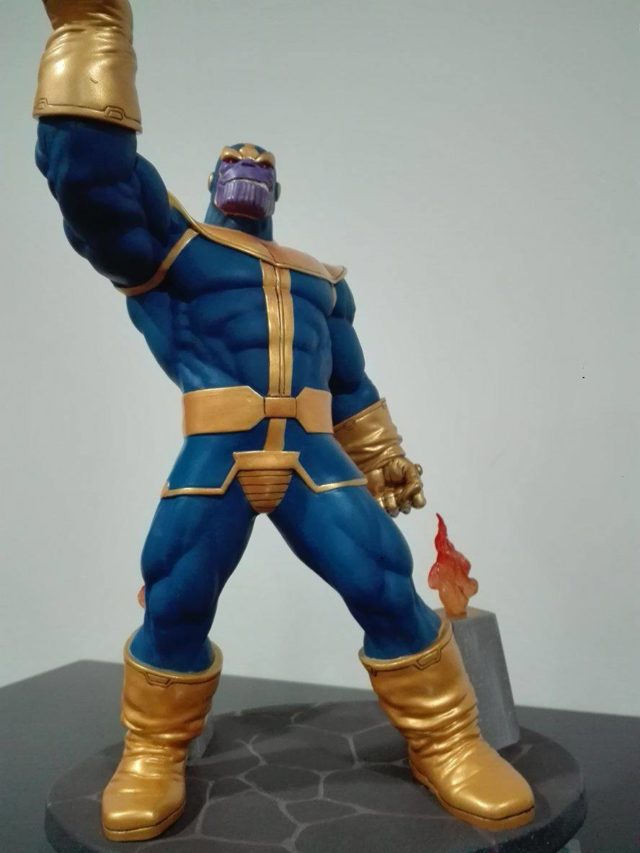 The Marvel Premier Collection Thanos Statue is now available for order online, although some stores have started running out of their first shipment of the statue. As of writing, Amazon still has some in-stock, while BBTS and EE are waiting for a new shipment coming this month. EE has it for 12 bucks cheaper than the current Amazon price if you can stand to wait a few more days.
How do you like the newest release in the DST Marvel Premier Collection, Marvel collectors? Anyone pick up this piece yet or planning to? And for those of you who own the Bowen and Koto 1/6 Thanos statues, how do you think this compares? Huge thanks again to Lúis Ferreira for sending in his shots of this statue!