When the Marvel Select Unmasked Spider-Man figure from the Amazing Spider-Man 2 movie surfaced for sale a few weeks ago with no prior announcement whatsoever, I made a pretty big deal of how flabbergasted I was that Diamond Select Toys managed to secretly get a figure through design and production and into collectors' hands without the secret leaking out. Well, they've done it again! Though it most likely wasn't meant to appear just yet, a new Disney Store exclusive Marvel Select Savage Hulk figure has appeared for sale online this weekend!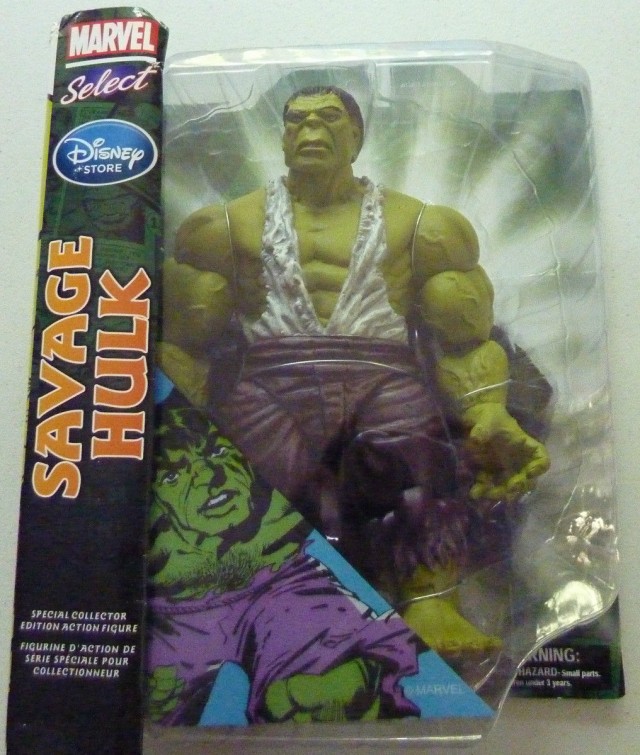 Well, color me surprised! After the Amazing Spider-Man 2 Unmasked Spider-Man exclusive's surprise debut last month, I didn't expect another feat like that to occur for quite some time. But Diamond Select Toys has done it again! This weekend, as ebay auction turned up for this yet-to-be-announced and never-before-seen Savage Hulk Marvel Select action figure!
Diamond Select Toys has yet to verify the existence of this new Savage Hulk Marvel Select action figure at all, but we don't really need their confirmation since, well… we can see it. It's real. (
Update:
DST has now confirmed the legitimacy of this Savage Hulk.)
We even know exactly where this figure is going to be for sale as an exclusive! The front of the Savage Hulk's package is sporting the "Disney Store" logo right under the Marvel Select logo, so this is obviously going to be another exclusive Disney Store Marvel Select release.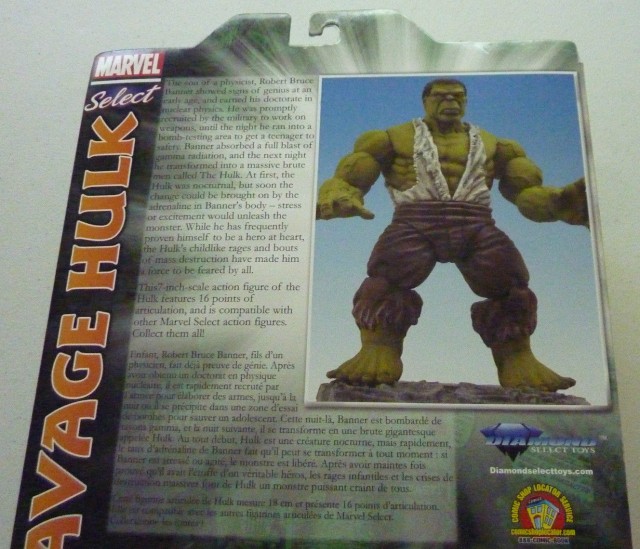 I think the classic, vintage look of this Savage Hulk action figure is straight-up awesome. I sort of miss the days when the Hulk was a hideous brute and didn't look as "cool" as he does in the modern comic books and movies, so this new Marvel Select exclusive Savage Hulk is a great blast from the past. Even the artwork on the spine of the packaging shows an old school Hulk in all his ugly, monster-like glory!
The Marvel Select Savage Hulk action figure is humongous–about the size of the behemoth Marvel Select Juggernaut figure that was first released a few years ago! And while the shirt is sculpted onto this Marvel Select Silver Age Hulk figure and is non-removable, he still has sixteen points of articulation, so he should be fairly poseable despite the shirt.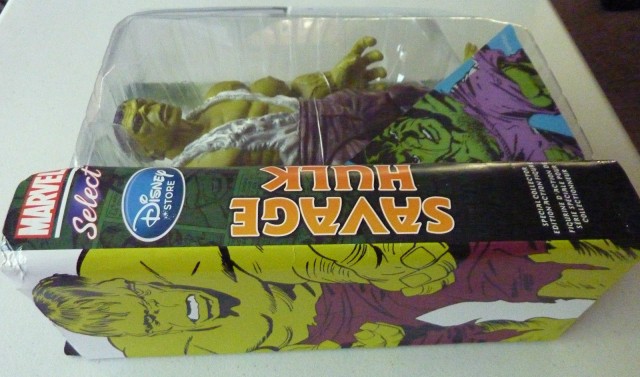 I'll post an update to the Marvel Toy News Facebook Page once Diamond Select Toys officially confirms when this Savage Hulk Marvel Select figure is meant to be released in the Disney Stores (yes, the Disney Store typically does have release dates for its exclusives, and they sometimes do follow them).
What do you think about this newest Disney Store Marvel Select exclusive, Marvel collectors? Does your collection have room in it for a new very big (and very classic) Marvel Select Hulk figure?