Another week, another ONE:12 Collective Wolverine figure! Mezco Toyz shocked collectors last week when they unleashed pre-orders for an Old Man Logan ONE:12 Collective figure that hadn't been shown or even announced at New York Toy Fair 2017 last month, but this week they're back with the version of Wolverine that we actually were expecting: The Mezco ONE:12 Collective Wolverine figure is now up for order! And because this figure received some criticism from its Toy Fair appearances, it's undergone a change for the better…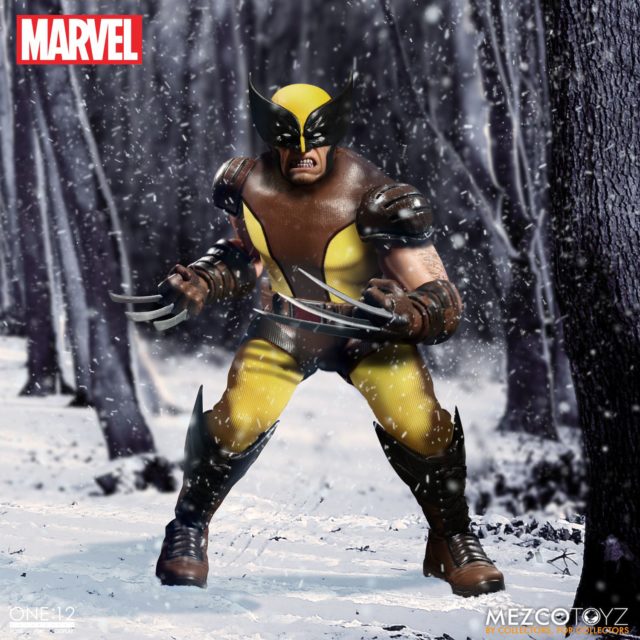 When Mezco Toyz debuted their new upcoming Marvel ONE:12 Collective figures for the year at their 2017 pre-Toy Fair event last month, for the first time, one of the figures in the line was met with a lot of criticism from collectors.
That figure was Brown Costume Wolverine, and the criticism was well-warranted–because Wolverine looked absolutely ridiculous in his brown "biker shorts". I wasn't at all pleased with that aspect of the figure myself when I saw him at Toy Fair (see my photo below), and as such I had some worries about whether or not this was going to be fixed.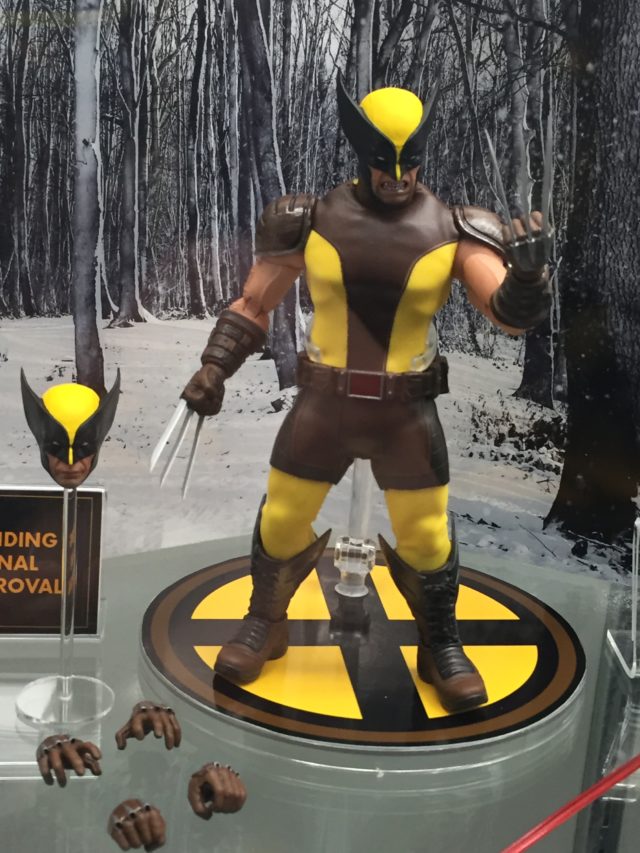 Thankfully, Mezco heard collectors' cries and made at least a minor change to the figure, slightly shortening the length of the "shorts" and somewhat improving the figure's aesthetics. I still don't think this costume looks quite right (Sideshow did it way better on their immensely underrated 1/6 Wolverine), but the aesthetic is at least somewhat improved.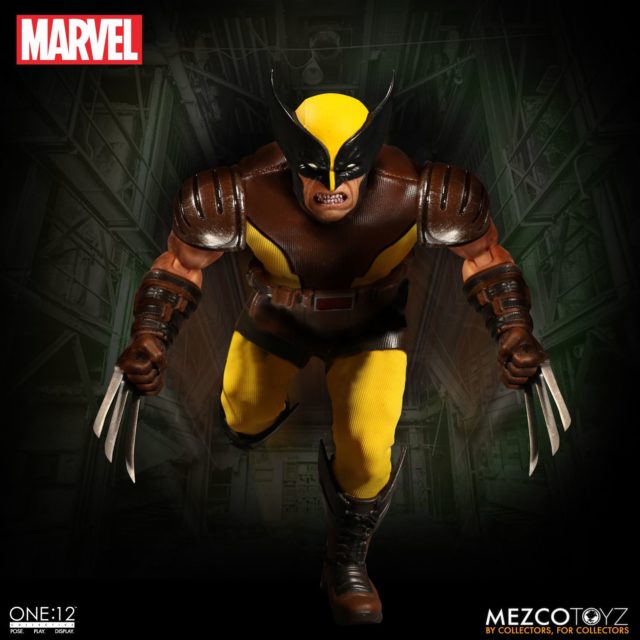 I also want to give Mezco Toyz mad props for developing an all-new body for this Wolverine figure to authentically capture the character's size and build. Logan is a short guy, and as such the "usual body" wasn't gonna cut it. At just over 15 cm tall (about 5.9″), Wolverine will be a bit shorter than the rest of the Marvel ONE:12 Collective figures–just the way he should be.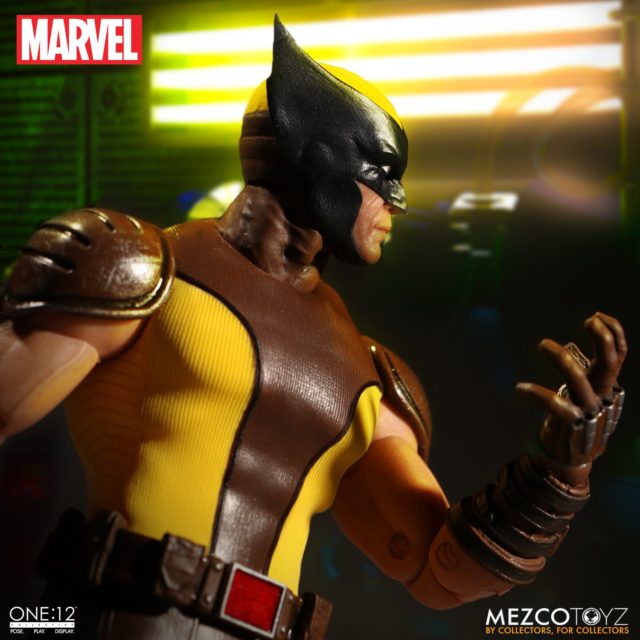 I'm also really pleased the Mezco is giving us two different masked Wolverine heads–one with an angry expression and one with a neutral look on his face that just screams "classic".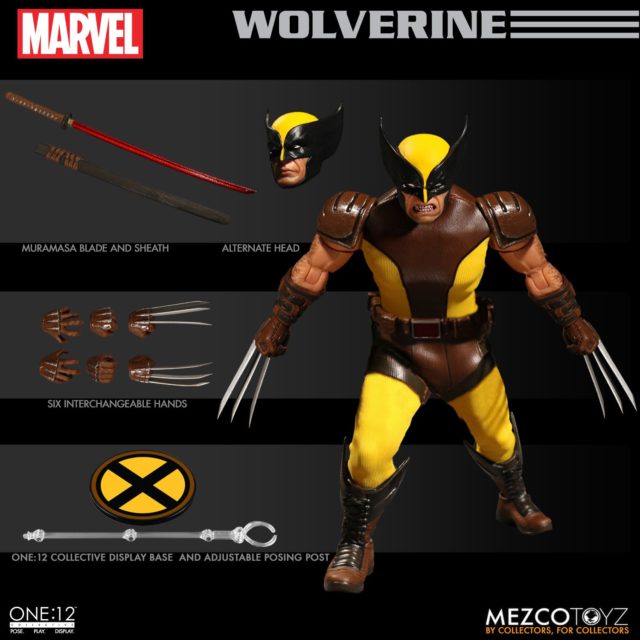 Since this is a Mezco Marvel ONE:12 Collective figure, there's also a decent assortment of accessories in addition to the heads (although perhaps less than you might be expecting–I'm definitely disappointed myself that no unmasked Logan head is included).
The Brown Costume Wolverine ONE 12 Collective figure includes two interchangeable heads (one neutral and one angry), three pairs of hands, a collector's stand with flexible display pole, and the famous Muramasa blade and sheath.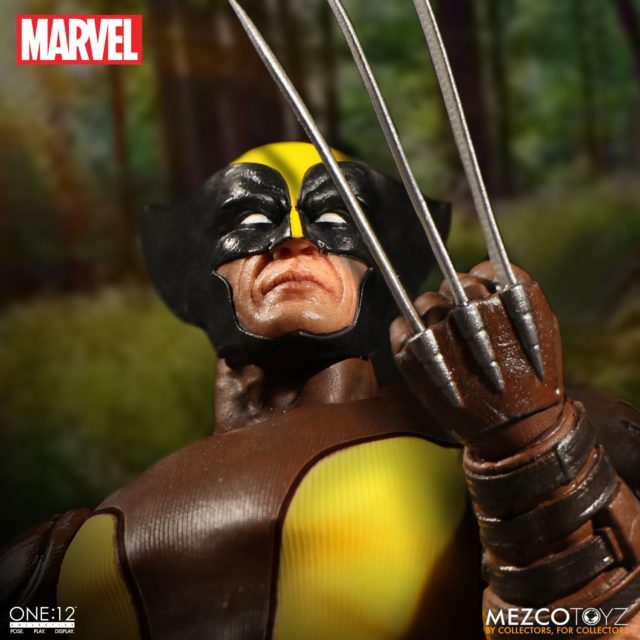 The Mezco Wolverine ONE:12 Collective figure is now available for order with free shipping, and is scheduled to be released in the window of August to October 2017. I had initially thought that this might be a good line to wait on ordering to hope for discounts on, but as many of the figures are selling out during pre-orders and then quickly exploding on the aftermarket, it might be a good idea to lock in an early pre-order just in case this Wolverine is another quick sell-out.
What do you think of the ONE 12 Collective Wolverine figure, Marvel collectors? With the revised costume with shorter "shorts", are you satisfied with the final look of this prototype? Will you be adding this Brown Costume Wolverine figure to your 6″ Marvel figures shelf, or are you happy with last year's (really great) Hasbro Marvel Legends version?