One of the things I never quite got around to talking about from San Diego Comic-Con 2015 earlier this month is the unpainted prototypes of the Marvel Play Arts Kai Captain America and Black Widow figures that debuted at the event. Luckily, Square-Enix has now rendered that a moot point (or at least half of one), as today they sent out the first photos of the painted Black Widow Play Arts Kai figure!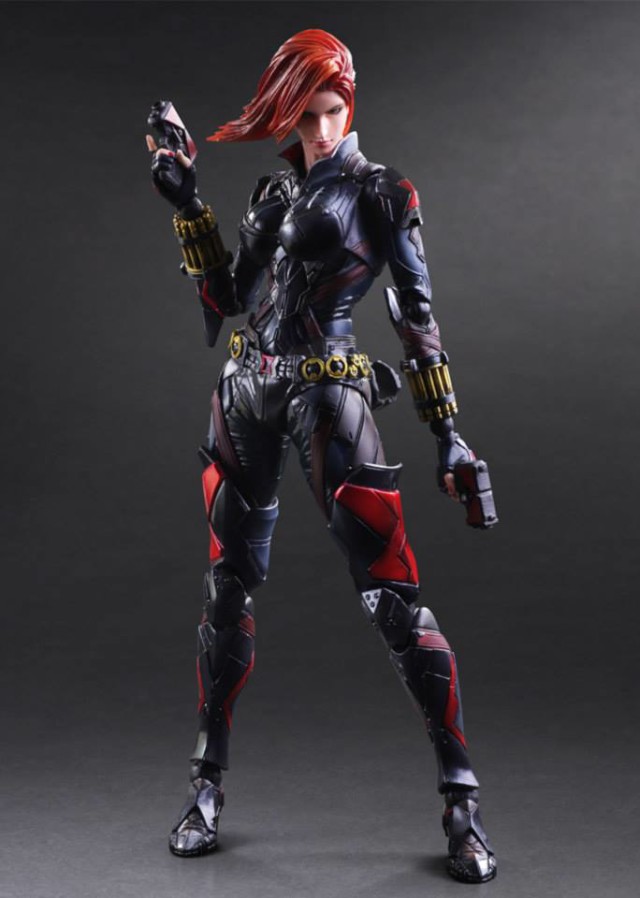 When Square-Enix had an upcoming Play Arts Captain America figure at their SDCC 2015 booth, I didn't bat an eye. Let's face it–we all saw that coming. It was a sort of miracle that Thor and Venom went into production before Cap, honestly. It's definitely a more tech-inspired, armored Captain America than we're used to seeing, but I'm looking forward to seeing it painted in the next few months.
But it's not Cap that I'm talking about today–it's the other figure Square Enix brought along to Comic-Con! After a very male-dominated beginning to the Marvel vairna tline, Square-Enix has decided to jump ahead a little bit, and before creating figures like Play Arts Kai Hulk or Hawkeye, they're skipping to their first female Marvel character: Black Widow!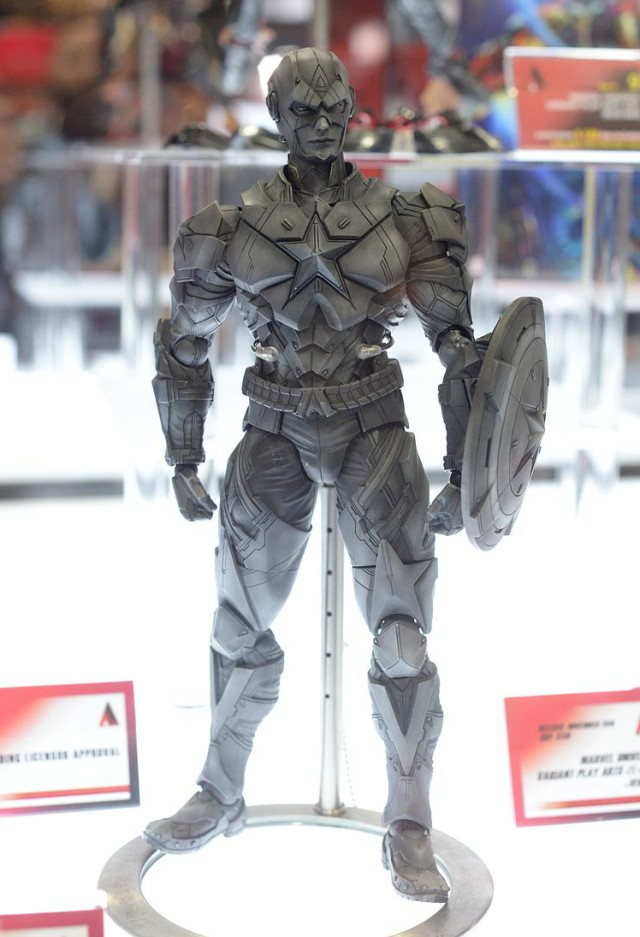 As with all of the figures released this far in the Play Arts Kai Marvel variant line, Black Widow is highly-stylized. There is no Scarlett Johansson in this facial sculpt. None–just like it should be for a line of artistic reinterpretations of classic characters.
At first the windswept hair on Widow threw me for a bit of a loop, but it quickly grew on me–in fact, from the proper angles it looks reminiscent of both short-haired and long-haired Black Widow from the comics.
The large areas of red added to Black Widow's costume for this Play Arts Variant figure were also unexpected, but I can't say that I dislike them–in fact, I may prefer this costume to the Tron-like Age of Ultron costume that Scarlett Johansson was sporting in this year's movie!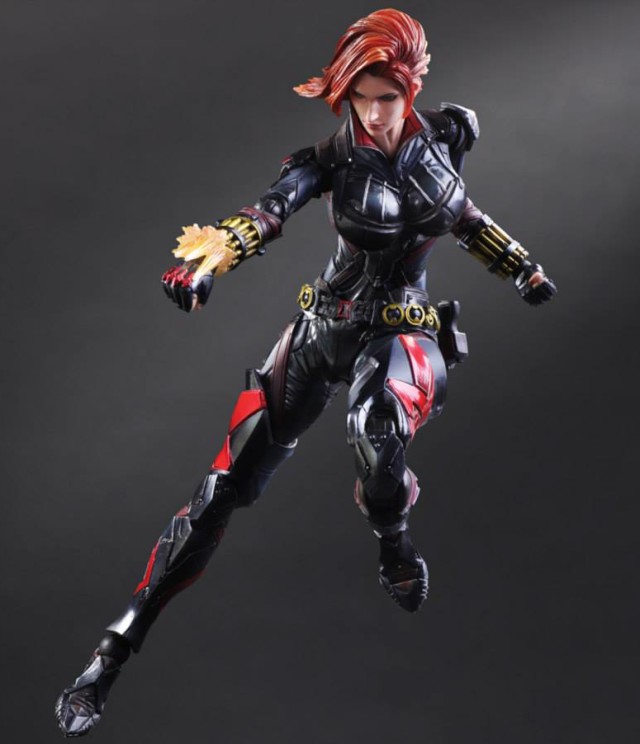 Bandai Japan may be the king of effects pieces, but Square-Enix is no slouch either. The effects pieces that attach to Black Widow's bracelets look terrific, and I'm hopeful that effect pieces for her pistols will be included as well (especially since Natasha's pistols are looking a little, well… stubby).
What's not stubby, however, is Black Widow's bust–it's huge. Much larger than we typically see for Black Widow in any form of media, and a bit distracting–but I guess this is an artist's custom interpretation, so anything goes (any I suppose Natasha's increased cleavage could be an asset when she's using her powers of seduction undercover).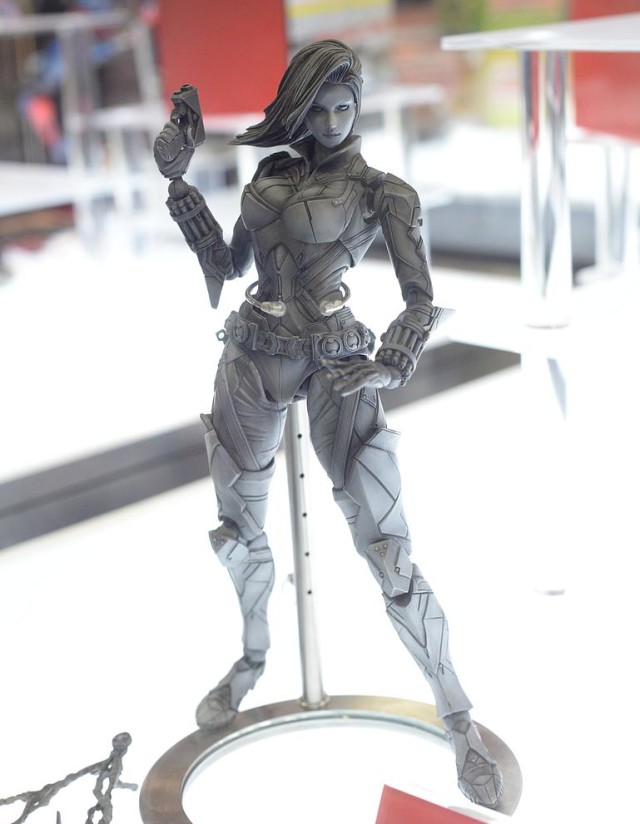 The Play Arts Kai Black Widow variant figure should be available for order in early August 2015, with a release date window during this upcoming window. None of the first four Play Arts Marvel variant figures have sold out early (though I suspect Venom is going to), so collectors may have a while to decide if they want Black Widow. I'll post an update once more official photos and order details are made available.
Thoughts on the 10″ Black Widow Play Arts Kai figure, Marvel fans? Will this super-stylized, super-articulated super-spy be joining your Marvel figures collection this winter?